10 of the Best Calming Aids and Anti-Anxiety Products to Help Reduce Your Dog's Stress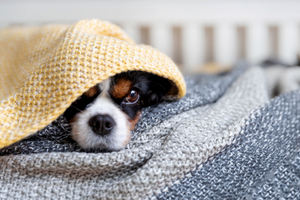 Disclaimer: Please note that some of the links below are affiliate links. If you purchase an item, we may receive an affiliate commission at no extra cost to you. We only recommend products we know and love, and all opinions expressed here are our own.
Do not let that goofy grin and wagging tail fool you — dogs can have anxiety, just like humans do. In fact, nearly 75% of dogs show some type of anxious behavior. Some walk around subway grates or dart behind furniture during thunderstorms. Others tuck their tails between their legs in unfamiliar locations. Many also have indoor "accidents" when they are left alone. Symptoms vary widely and can include barking, destructive behavior, excessive panting, or pacing.
To make matters worse, more than 30% of dogs have "out of the blue", generalized anxiety that does not have a cause or trigger. What is the most common type of dog anxiety? Noise. Approximately 33% of dogs suffer from sound anxiety. One recent Finnish study found that Italian water dogs and Wheaten terriers are the most sound-sensitive. But Staffordshire bull terriers and miniature schnauzers have the lowest noise anxiety.
While your dog's living environment can cause canine anxiety, some breeds are just more likely to suffer from emotional problems. Scientific Reports found Shetland sheepdogs, Spanish water dogs, and mixed breed dogs are the most anxious breeds. Smaller dog breeds also tend to have higher anxiety.
Got a pup that shakes like a leaf or snaps out of nervousness? There is hope. In this DJANGO Dog Blog post, we round up 10 of our favorite dog calming aids and anti-anxiety dog products found on Chewy.com.
Drown out booming thunder or the crumb-guzzling vacuum with Yogasleep's Dohm Classic Sound Machine. It makes a soothing "shushhh" sound without any wafting arctic air. It also has a low- and high-speed option to control tone and volume. Featuring a compact and contemporary design, the Dohm Classic Sound Machine has an 8-foot cord and comes in black, white, or pink.
These PetHonesty dog treats contain a soothing blend of chamomile, ginger, and valerian root. Designed by veterinary nutritionists, these organic, chicken-flavored dog chews are designed to relieve stress and nausea in 45 minutes. The U.S.-made dog chews are also formulated for senior dogs, puppies, and adult dogs of all sizes.
This veterinarian-recommended anxiety vest is like swaddling a bawling baby or hugging a sad friend. It puts constant, gentle pressure on your pup's chest and back. That releases happiness-boosting hormones like endorphins and oxytocin. They calm your dog's anxiety, fear, or over-excitement.
In a 2013 study, 89% of pet parents reported the Thundershirt helped treat their dog's thunderstorm phobia. The patented anxiety wraps are made from lightweight, breathable, machine-washable fabric. They are also available in sizes XXsmall (under 8 lbs) to XXlarge (over 110 lbs).
This self-heating dog donut cuddler bed will please burrowers and snugglers alike. It is covered with fake, vegan shag fur that might remind Rover of his mom and littermates. The Calming Donut Dog Bed has high, plush sides that create a sense of security. It is also filled with AirLoft fibers that cradle your pup's achy joints and provide relaxing sleep. This bed comes in 5 colors, including lavender and sage.
These liver-flavored probiotic supplements will help your dog deal with separation anxiety, unfamiliar visitors, stressful sounds, and changes in routine. That is because they include a strain of good bacteria called B. longum BL999. This 6-week supply of supplements was created by Purina nutritionists, researchers, and veterinarians. They decrease your dog's heart rate and a "stress hormone" called cortisol. They will also boost his immune system and curb his anxious behaviors. Think excessive barking, jumping, pacing, or spinning.
Is a car alarm rattling your windows? Are hammers banging away at a nearby construction site? Rest assured, this adorable plush dog toy will be there to help. It has a realistic, pulsing heartbeat and a disposable heat pack. This simulates the same sense of security your puppy had when he was lying with his mom and littermates. With a heartbeat that lasts 336 hours on a single set of AAA batteries, the Snuggle Puppy will help your canine companion cope with unexpected and everyday anxieties.
This adjustable dog collar contains dog-appeasing pheromones. They mimic a mother dog's natural nursing pheromones. They are activated by body heat. And they put your dog at ease during stress-triggering situations like air travel and emergency surgeries. Recommended by vets, the Adaptil On-the-Go Calming Dog Collar is odorless and will last up to 4 weeks.
This fleece and faux suede weighted blanket will put a comforting weight on your anxious pup's shoulders while taking the weight off yours. It is filled with glass sand and weighs 3-8 pounds. Buddyrest's Soothe Weighted Blanket uses pressure therapy. It activates your dog's rest and digest system (also known as the parasympathetic nervous system). During stressful events, it lowers his heart rate and blood pressure. It also stimulates the release of saliva to help your dog digest his food.
Target your dog's stress with this homeopathic solution by Rescue Remedy. It is made from Clematis, Jewel Weeds, Rock Roses, Grass Lilies, and Cherry Plums. These natural stress and tension relief drops are non-habit-forming and alcohol-free. They are also odorless and tasteless. Add 3 drops to your four-legged friend's water bowel 30 before a stressful event like tooth brushing.
Take a bite out of fear with the KONG Classic Dog Toy. Chewing helps calm your pup's brain. That is because it relaxes the adrenal-pituitary axis (i.e., hypothalamus, pituitary gland, and adrenal glands). This releases pain-killing hormones called endorphins.
This uber-bouncy, snowman-shaped dog toy also has a hollow center. Pack it with dog-friendly peanut butter. Or pair it with KONG's Calming Dog Chews. These all-natural, anti-anxiety dog treats are made from a calming blend of lemon balm, tryptophan, and green tea extract.
DJANGO is a U.S.-based, family-owned small business. We create rugged, weather-resistant adventure and travel gear for dogs and dog owners.
DJANGO Dog Blog is a USA dog blog that focuses on pet travel and adventure and canine health and nutrition. It also covers dog training and premium pet products. DJANGO Dog Blog has been recognized as one of the top blogs across the broader online pet community (e.g., Feedspot, Blogging.org, Pet Life Today, etc.). 
Connect with DJANGO on Facebook, Instagram, Pinterest, and YouTube. Learn more about our celebrity dachshund Django here.
Additional resources
Leave a comment
Comments will be approved before showing up.