How to Prepare Your Dog for a Baby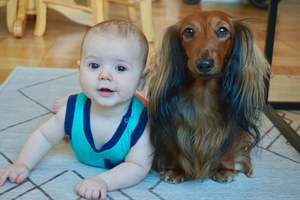 A few months ago, Mike and I (Steph) welcomed a baby boy into our family, and our longhaired dachshund Django - a very loved and very spoiled only child up until this point - got a new little brother.
Django is an exceptionally chill, well-mannered, and well-trained dog, and he loves everyone he comes across. Django has also met a few babies and toddlers in his life, and he's acted like a perfect little gentleman throughout each interaction. Needless to say, I was not at all concerned about introducing our newborn baby to Django.
When Mike and I came home from the hospital, the only thing I wanted to do was get in my bed and cuddle Django. I was absolutely exhausted and craved a nap in my own bed with Django by my side. Unfortunately, our arrival at home wasn't as peaceful as I expected. What happened when we walked in the door with our new little boy? To put it simply, Django freaked out. He then proceeded to freak out for 3 more weeks.
Django was extremely excited, curious, and jealous for the first 2-3 weeks after meeting his brother. Whenever Mike and I were holding the baby, Django would aggressively jump up and try to lick or nip the baby's pajama-covered feet. Django would also scream with excitement and jealousy if one of us went into another room with his baby brother. Our normally calm little dachshund would aggressively paw at the door and bark and cry until we let him in. When we did open the door, Django would immediately throw himself up at the baby or try to jump on the furniture to get closer. To prevent Django from hurting himself and accidentally injuring the baby, Mike and I kept the boys separated for a solid two weeks. The whole experience was exhausting, overwhelming, and distressing.
How to Prepare Your Dog for a Baby
Mike and I did not properly prepare Django for his brother's arrival. We now realize we should have done a lot more to help Django's transition from only child to big brother. Here are several things you can do to help prepare your dog for your baby's arrival.
Obedience training. A well-trained pup makes life as a dog parent a lot easier - especially when you add a baby to the mix! Now is a great time to brush up on simple commands like "sit", "stay", and "down" or "off". Even now, Django will sometimes get excited and jumpy when I pick up or place down his little brother on the carpet. I've gotten in the habit of telling Django to "sit" and "stay" well before I move his brother. Django is well-trained and *usually* patiently waits until I'm done moving his brother.
The baby gear and nursery. Dogs sense all changes in their home, including a sudden influx of baby furniture and toys. Consider setting up your baby nursery well before your little one's arrival so your dog has time to adjust to the changing environment.
A safe space for your dog. Consider carving out a new, comfortable spot for your dog in the baby nursery or in your bedroom. Before Mike and I left for the hospital, I set up the baby bassinet and put all of our baby bedding, swaddles, and burp clothes on the bassinet's lower shelf. When we got home from the hospital and put our little boy in his bassinet, Django immediately climbed onto the bassinet shelf with all the bedding and claimed it as his new bed. Django slept here every night until his brother moved into his crib.
Your dog will be confused and even jealous when you bring your baby home - he or she won't understand why this little human baby is sleeping next to you and getting your attention around the clock. Make your dog feel special and safe by giving him or her a new special spot to rest and visit when he or she feels anxious and overwhelmed.
Your dog's new routine. Will a new family member or dog walker be taking out your pup once the baby arrives? Your dog will notice and be confused by any sudden changes to his or her routine. To help transition your pup to the new schedule and reduce any potential stress or anxiety, consider implementing these changes 2-3 weeks before the baby's arrival.
How to Introduce Your Dog to Your New Baby
Bring home a baby blanket or swaddle. Before you come home from the hospital, have Dad, a family member, or a friend bring home a used baby swaddle or other worn clothing item. This is a wonderful way to first introduce your baby's scent to your pup. Allow your dog to smell and explore the used article of clothing. My parents were watching Django and brought him two used baby swaddles. Django ended up sleeping on these every night until Mike and I came home with our new little boy.
See your dog first without the baby. Baby or not, your dog is going to be extremely excited when you get home after a few days in the hospital! For this reason, it is a great idea to see your dog before bringing the baby inside. Have someone wait outside with your newborn while you give your pup love and cuddles and allow him to get all his energy out.
Maintain a distance and use a leash. Let your dog adjust to the baby's presence from afar before introducing them in closer proximity. This may be easier said than done, of course. Even if your dog isn't a jumper, use a leash as a precaution. Before we brought Django's brother home, he never jumped on or off furniture. This changed as soon as he saw his new brother getting all of our attention. Django would get very excited and jealous in the first 2-3 weeks and aggressively jump up and try to lick or nip the baby's pajama-covered feet. To prevent Django from accidentally hurting the baby or himself, we regularly used a leash inside.
Praise and attention. It is very normal for your dog to be jealous of the new baby. After all, your full attention is suddenly being directed at this new little stranger! Try to give your pup as much love, praise and attention as possible, especially in the first few days after getting home from the hospital. If the baby is napping in the bassinet, curl up on the floor with your dog for a cuddle or play fetch with his or her toys. If your dog is sleeping soundly on the floor by the baby bassinet, praise him or her for being so well behaved. Small, simple reminders that your dog is still very loved will help stave off or at least minimize jealousy and other unwelcome behavior.
Dog toys and treats. Two weeks after our baby's arrival, Mike's mom sent us a care package. In addition to adorable baby clothes and similar baby goodies, she included a few toys for Django including a small pink stuffed bird. To this day, the small pink bird is Django's favorite toy.
There is a good chance your dog will initially be jealous of the new baby. After all, your baby is getting your undivided attention 24/7! For this reason, consider spoiling your pup a little bit once the baby comes. Get him or her a new dog toy and long-lasting treat like a bully stick. In addition to making your dog feel special and loved, the toy or treat will keep your pup distracted for a while (making your life more relaxing as a result!).
Always take precautions. Especially in the beginning weeks, never leave your dog and newborn together unsupervised. Even if your dog is calm and well behaved, he or she still may act in a way that puts the baby at risk (i.e. jumping, playing nipping, excessive licking, or even humping). Our little boy is now over 6 months old. Although Django has grown into an incredibly loving and protective big brother, there are still times when he gets over excited or even jealous. For this reason, Mike and I are always supervising Django, watching how the two siblings interact, and making sure everyone stays safe.
One last thought...
Your dog may be perfectly calm and unbothered when you bring home your newborn. More likely than not, however, your dog will need some time to adjust to his or her new life as older sibling. Just know that time absolutely helps. It may take a few days or weeks for your dog to adjust to the new environment, but be as patient as possible and get help if need be. If necessary, ask a family member or friend to watch your pup a few days a week when you first get home from the hospital to make your life with your new baby more relaxing. If your dog is especially aggressive or anxious, consider enlisting the help of a professional dog trainer.
Things WILL get back to normal, or at least reach a new normal :) Django and his Lil Bro are now adorable together. They get excited when they see each other, nap together, and are even starting to play together. Our first few weeks with Django's new baby brother were crazy, exhausting, and overwhelming, but now we wouldn't want life any other way.
Additional resources
4 Responses
Leave a comment
Comments will be approved before showing up.