The Best Winter Coats For Dachshunds and Other Hard-To-Fit Adventure Dogs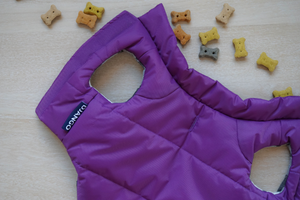 After living in New York City for several years, Mike and I (Steph) moved to Portland, Oregon in mid 2016 with two suitcases and our long-haired dachshund Django. Every weekend we would drive east with Django and go hiking in the Columbia River Gorge. Django's sausage dog legs are about four inches tall, but he would keep up with us on the trails, wade in cold mountain streams, and fetch sticks around the most stunning waterfalls.
October rolled around, and Mike and I began to understand why Portlanders call rain the "Portland mist". It seemed to drizzle and rain continuously. Unfortunately, this meant that by the end of every hike, Django would be cold and soaked with a mud-caked underbelly.
Our rainy adventures in the Pacific Northwest inspired us to design two performance dog coats: the Reversible Puffer Winter Dog Coat and the City Slicker All Season Dog Jacket & Raincoat. Both dog jackets protect against cold, rain, mud, provide full coverage - including the chest and upper belly! - and are designed to withstand countless cycles in the washing machine.
The Reversible Puffer - For Cold Mountain Trails and Snowy Sidewalks
The Reversible Puffer was DJANGO's first dog coat design and is now a best selling dog coat on Amazon. Our goal when designing this dog puffer vest was to create something warm enough for the coldest winter adventure yet comfortable enough to sleep in. We're incredible proud of the end result.
The Reversible Puffer has three layers: a durable water-resistant exterior shell, a cozy 100% cotton fiber lining, and a hidden layer of insulation that traps heat against your dog's body. All together, these layers create a super durable and warm dog coat that protects your pup from the elements without weighing him or her down. Additionally, in line with other high performance insulated coats designed for humans, our Reversible Puffer allows enough airflow to prevent overheating.
Fully reversible, you say? Absolutely. Our Reversible Puffer was designed for you to enjoy two distinct looks in one. Just keep in mind that the coat's interior lining is cotton fiber and therefore not water-resistant. For this reason we definitely recommended using the water-resistant exterior shell on snowy, slushy, or rainy days.
Insulated vs. Non-Insulated Dog Coats
While certain breeds are biologically equipped for winter conditions (i.e. Alaskan Malamutes and Bernese Mountain Dogs), most dogs are just as sensitive to the cold as we are. As a rule of thumb, if it is too cold for you to be outside, then it is too cold for your dog. Hairless or short-coated dogs with no undercoat, toy breeds, dogs with low body fat, and dogs with short legs are most vulnerable and can easily get hypothermia if left outside in freezing temperatures.
A high quality insulated dog coat is an essential addition to your pup's winter wardrobe. As mentioned above, the added layer of insulation will trap heat against the body, keeping your dog much warmer than any non-insulated jacket. With that said, there are times when your dog will not need the triple-layer protection and warmth of an insulated jacket like our popular Reversible Puffer.
Non-insulated dog jackets are designed to provide a lightweight and breathable layer of protection without the extra built-in-layer of insulation. They  effectively repel wind, water, mud, and sand and can be used all year round.
The City Slicker - A Lightweight Dog Jacket Designed for Rain, Shine, and Everything In Between
DJANGO's City Slicker All-Season Dog Jacket is an incredibly versatile non-insulated dog coat. The water-repellent exterior shell is 100% nylon and single-coated with water-slicking polyurethane. The end result is a water-repellent and lightweight performance dog coat.
Mike and I currently live in New York City with Django and our new baby boy. On any rainy or wet NYC day, you'll find Django strutting down the busy NYC sidewalks in his City Slicker. The City Slicker is also our go-to dog jacket on cold (but not freezing) fall days. Today, for instance, was a sunny but very brisk autumn day. It was barely 50 degrees this morning when we left for an early morning walk in Central Park, and Django was sporting his Topaz Blue City Slicker to stay warm. 
Waterproof vs. Water-repellent vs. Water-resistant
The Reversible Puffer's exterior shell is water-resistant, meaning that it is difficult for water to penetrate the fabric but not impossible. Said differently, the Reversible Puffer will keep your pup warm and dry in snow and light rain. Extended periods of heavy rain, however, will eventually penetrate the shell and weigh down the dog coat.
The City Slicker's exterior nylon shell is treated with a strong water-repellent coating and therefore provides ample protection from rain, slush, and snow - more protection than the Reversible Puffer. Since the City Slicker is not technically 100% waterproof, however, extended time outside in severely wet conditions (i.e. a tremendous downpour) may result in water eventually seeping into the fabric. 100% waterproof means there is no way for water to seep into the fabric.
We definitely researched using a 100% waterproof fabric for our City Slicker dog jackets but quickly decided against it. Why? The most common and cost-effective waterproof fabric used for dog coats is Polyvinyl chloride (PVC). If you see a waterproof dog raincoat in PetSmart or Petco, I can almost guarantee the fabric used is PVC. Unfortunately, PVC is also the most environmentally damaging plastic and has contributed to an abundance of of toxin buildup in our water, air and food chain. As you can guess, we were not willing to use the highly toxic and eco-unfriendly PVC fabric just so we could call our dog jackets 100% waterproof.
DJANGO dog coats are designed for most small and medium-sized dogs
"Are you a dachshund-only dog clothing company?"
We've gotten this question so many times! And the answer is a resounding NO. DJANGO dog gear company designs dog apparel, dog accessories, and dog travel carriers for ALL small- and medium-sized adventure dogs.
It is definitely true that DJANGO has an amazing number of dachshund friends and customers which we're incredibly thankful for. All credit for this goes to our adorable long-haired dachshund and social media star Django. Django's huge audience across Instagram and Facebook has undoubtedly led to an incredible number of doxies across the world sporting DJANGO gear.
With that said, DJANGO designs high quality travel and adventure dog gear for ALL small- and medium-sized dog breeds. Both Mike and I grew up around several different dog breeds and wouldn't have it any other way :)
Before you go...
Introducing the newest addition to our Reversible Puffer Dog Coat collection... Violet Purple! Our Violet Purple Reversible Puffer boasts the same water-repellent exterior shell, heat-trapping insulation, and a beautiful gray and white tone buffalo check plaid lining made of 100% cotton fiber. See more Violet Purple here >>
ADDITIONAL RESOURCES
1 Response
Leave a comment
Comments will be approved before showing up.