The Farmer's Dog Food Review | Our Experience with the Fresh Dog Food Subscription Service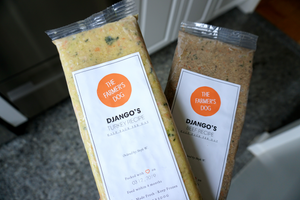 Disclaimer: Please note that some of the links below are affiliate links. If you purchase an item, we may receive an affiliate commission at no extra cost to you. We only recommend products we know and love, and all opinions expressed here are our own.
Updated April 2022
About two years ago I (Steph) did some research into kibble dog food. I realized I knew very little about what kibble actually is... How is it made? Why is every single piece of kibble identical in shape and size? Is it considered processed (quick answer: YES, very processed)? And most importantly, is even the highest quality dog kibble the most nutritious food option for my dachshund Django?
I quickly learned that feeding Django the same kibble diet day in and day out was not in his best interest and explored other nutrient-rich options. I soon came across fresh dog food brands including The Farmer's Dog. Fast forward two years and The Farmer's Dog is now a regular part of Django's diet. Do Mike (my husband and Django's dad) and I exclusively feed Django The Farmer's Dog? Nope. We're big proponents of mixing up Django's meals to some degree. Mike and I feed Django a mix of high quality organic or all natural dry dog food and nutrition-dense freshly made food (aka The Farmer's Dog).
Below is an honest review and comprehensive overview of The Farmer's Dog. All opinions are our own and based on our own experience feeding our dachshund Django The Farmer's Dog meals. We value your opinions and would love to hear about your own experience with The Farmer's Dog (or another fresh dog food brand). Please don't hesitate to leave a comment below!
What is The Farmer's Dog?
The Farmer's Dog is a subscription dog food service that sends freshly-made meals directly to your door. Unlike dry dog food which is cooked at extremely high temperatures and de-moisturized to extend shelf life, Farmer's Dog food is gently cooked at low temperatures to preserve the nutritional value of each ingredient. The food is then quickly frozen (not deep frozen) and shipped to your home. No preservatives are ever used in The Farmer's Dog recipes, so the food has a much shorter shelf life of 4 days once it is thawed in the refrigerator. If kept frozen, the packaged meals will stay fresh for 4 months.
Subscription? Yes. The Farmer's Dog is an auto-renewing subscription with no long-term commitment. When you first sign up for a 2-week taste trial (more on this below), you simultaneously enroll in an ongoing meal plan subscription. You can select how much food you want to receive with each order, and you can obviously cancel unprocessed orders at any time.
The Farmer's Dog Unboxing
Each Farmer's Dog box is shipped out and delivered incredibly quickly. Our box typically reaches us in 2 days time once our order is processed. Each box is insulated and packaged with dry ice, creating a makeshift freezer that ensures meals are 100% frozen upon delivery.
Something also worth mentioning... The Farmer's Dog has taken deliberate steps to keep its packaging environmentally friendly. The main cardboard box is recyclable, all insulating materials are biodegradable, and the food storage container that is included (see photo above) is also biodegradable. Even the meal packages are made from BPA-free and non-toxic materials.
In addition to the frozen pre-portioned dog meals, each order comes with a food storage container and feeding guide. Mike and I actually never use the food storage container and prefer to store refrigerated meals in a reusable tupperware container.
Recipes, Nutrition, and Quality of Ingredients
Recipes & Guaranteed Analyses
The Farmer's Dog currently offers four dog food recipes: turkey, beef, chicken, and pork. Each recipe is a blend of real whole foods, vitamins, and minerals and balanced to meet AAFCO standards by veterinary nutritionists. We include the ingredient list for each recipe below as well as the respective guaranteed analyses. You'll notice high quality USDA animal protein is always the first ingredient, and each recipe is complemented by nutrition-dense legumes, carbs and vegetables such as chickpeas, sweet potatoes, broccoli and carrots. Essential vitamin and mineral supplements are also included and identified as 'TFD Nutrient Blend' and 'TFD Nutrient Pack'.

Quality of Ingredients
In terms of ingredient quality and nutritional value, The Farmer's Dog fires on all cylinders. 
The Farmer's Dog uses high quality ingredients that are sourced from restaurant suppliers, local farms, and other human food purveyors that meet USDA standards. All Farmer's Dog meats are all-natural and antibiotic free with no hormones added. This last point is especially important to Mike and I. We only purchase organic meat or all-natural meat for our family that is made without antibiotics, added growth hormones, or animal by-products in feed.
Feed-grade ingredients (i.e. lower quality ingredients used for animal feed) are never used, and ingredients are never processed to extend shelf-life. As mentioned earlier, meals thawed in the refrigerator should be used within 4 days; frozen portions can stay in frozen for 4 months.
The Farmer's Dog's cooking and delivery process always preserves the nutritional integrity of the ingredients. Recall that the food is cooked at very low temperatures, frozen immediately, and delivered to your door within days of cooking.
Django the Dachshund's Taste Test
Django can't express in words how he feels about his Farmer's Dog meals, but I can tell you this... Every time we open a container of Farmer's Dog, Django gets very excited - to the point where he starts barking and/or jumping up if we don't put his dinner bowl down fast enough! It was actually incredibly difficult to capture photos of Django with a bowl of Farmer's Dog because he kept trying to jump on me and attack the bowl as I kneeled down to snap photos! So while I can't tell you which Farmer's Dog recipe he prefers or why, I can confirm that Django undoubtedly loves The Farmer's Dog. His behavior clearly suggests he favors this fresh dog food over any dry kibble we've ever given him.
How to order
To sign up for your dog's meal plan and determine pricing, head over to The Farmer's Dog website and click "REDEEM 50% OFF" - make sure to use one of our links so you get the 50% off discount. You'll enter a user-friendly portal that asks for your information (name, email) and your dog's information (age, weight, breed, dietary restrictions, etc). From here you will select your preferred meals: turkey, beef, chicken, pork, or a combination of the four. You can select up to three recipes to be delivered with each order. We always choose a mix of the recipes since we favor variation in the animal protein and legumes that Django eats.
The first box you receive is a 2-week taste trial consisting of 14 daily meals. Since Django weighs 14lbs, our first box included 7 pre-portioned meal sleeves (3 beef, 2 turkey, 2 pork). You will receive more or less pre-portioned meals depending on your dog's breed and weight.
Keep in mind that when you place your first order, you are simultaneously enrolling in an ongoing meal plan subscription. After checkout, you can alter how much dog food you want to receive with each order, and you can obviously cancel unprocessed orders at any time.
How much does The Farmer's Dog cost?
The Farmer's Dog pricing will vary based on your dog's weight. To give you a ballpark estimate for cost, we priced out three scenarios based on different dog breeds and weights: a 14 lb dachshund (what our sausage dog Django weighs), a 25 lb french bulldog, and 50 lb standard poodle. We highlight cost per day for (1) the 2-week test trial period (2) every billing cycle thereafter. Keep in mind these daily pricing include shipping costs and assume you are exclusively feeding your pup Farmer's Dog meals. The cost per day will obviously be cut in half if, for example, you feed your dog half Farmer's Dog and half organic kibble (like we do with Django).
You'll notice that shipment frequency depends on dog size. For a smaller dog like Django, our meal plan bills and ships every 8 weeks. For a 25 lb frenchie, the plan bills and ships every 5 weeks. For a 50 lb standard poodle, the plan bills and ships every 3 weeks.
Click here to go to The Farmer's Dog main website and calculate the cost of a meal plan for your dog.
Is it worth it? One final thought.
Mike and I have tried almost every fresh dog food subscription service out there, and The Farmer's Dog is a clear favorite of ours. We'll continue to add the turkey, pork, and beef recipes to Django's dinner bowl so long as the quality and nutritional value of The Farmer's Dog remains stellar and Django continues to drool over the meals.
What is the one downside of The Farmer's Dog for us? The cost. The daily cost of feeding Django The Farmer's Dog is obviously greater than the cost of just feeding Django dry dog food. Like meal delivery services for humans, we are paying more for fresh, high quality ingredients that are packaged conveniently and delivered straight to our door in record time. All of this understandingly demands a higher price than standard dry dog kibble which can stay packaged on a store shelf for years.
If you are looking to save a few dollars, a great way to combat the cost of The Farmer's Dog is to use the meals as a 'topper' on top of a high quality dry dog food. Mike and I often do this at home with Django to significantly extend the lifespan of each Farmer's Dog box. The best part? Django doesn't seem to notice - he's just happy to be getting fresh, homemade dog food in his dinner bowl!
Additional resources
32 Responses
Leave a comment
Comments will be approved before showing up.