Django vs. Hoover's SmartWash Advanced Pet Carpet Cleaner (Video)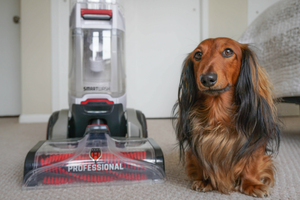 This post is sponsored by The Home Depot.
If you've been following our adventures here on DJANGO's dog blog or social media, you know that we are an outdoors-oriented family. During the early mornings and evenings of the work week, you can find me (Steph) and Mike walking Django around the city streets of Philadelphia. Django's hairy little paws and low-riding underbelly collect every bit of city soot and dirt, which ultimately ends up on our bedroom carpet and white area rug.
On weekends our adventurous lifestyle takes over, and we are hiking in Pennsylvania's Poconos, hanging out with friends in New York City, or driving down to the New Jersey shore so Django can scream with delight as he runs to the water's edge and rolls in the sand. We come home with our adorably dirty or sandy sausage dog and immediately put him in the bathtub. Regardless, mud, soot and sand seem to find their way on our lightly-colored carpet and rug.
When Home Depot reached out to me to test and review their new Hoover SmartWash Advanced Pet Carpet Cleaner, I welcomed the opportunity. We were getting ready to move out of our Philadelphia apartment (a one bedroom rental) and the light cream carpet in the bedroom showed clear signs of Django's presence. In additional to many smudge marks, there was one very noticeable pee stain.

I was slightly overwhelmed when our new SmartWash arrived. I dragged the heavy branded box into our bedroom, opened it (Django immediately jumped in, see the video below!) and grabbed the user manual, expecting an hour of uncertain 'product assembly'. I couldn't have been more wrong.
Setting up our new SmartWash was quick, intuitive, and ridiculously easy. It took no more than 10 minutes to fully review the user manual and assemble the product so it was 100% ready for use. The 'getting started' steps are literally as simple as (1) Insert the handle into its slot until you hear a 'click' (2) Fill the Clean Water Tank and reattach to the cleaner (3) Fill the Cleaning Solution Tank and reattach to the cleaner. I commend Hoover for making such a powerful carpet cleaner so incredibly user-friendly.

Using the carpet cleaner on our cream-colored master bedroom carpet was similarly hassle-free. With the click of the power button, I was effectively shampooing our bedroom carpet and removing all of the smudges and stains that had accumulated since we moved in eleven months earlier. I went over Django's pee stain thoroughly and was happy to see it completely disappear after two slow slides of the carpet cleaner over the mark.
Another component of the SmartWash Advanced Pet Carpet Cleaner worth emphasizing is the cleaning solution. Before assembling and using our new SmartWash, Mike and I opened every window in our bedroom and living room apartment, expecting a strong odor from the cleaning solution to fill the air. We were surprised by the pleasant and very faint scent of the solution.
Two more standout features are the SmartWash pet carpet cleaner's 'rinse' and 'dry only' modes. By leaving the clean water tank in place, removing the solution tank, and going over the carpet a second time, I effectively removed (or 'rinsed') any residual solution and odor from the carpet. The final step was the drying mode. With the click of the 'Dry Only' button, I was able to go over the carpet a third and final time until it was no longer damp.
It is worth noting that Django did not seem bothered or even interested in the scent of our newly cleaned carpet - a sign that the Hoover's 'rinse' mode indeed did its job at removing residual solution. Django spent at most ten seconds investigating the washed carpet then moved on to his bedroom basket of toys.
As you can see below, our bedroom carpet looked brand new immediately after the cleaning. Mike and I were both incredibly impressed by the effectiveness of our new SmartWash Advanced Pet Carpet Cleaner and simplicity of use. I would gladly recommend the product to anyone in the market for a powerful and easy-to-use advanced carpet cleaner.
Check out our video below! I think you'll agree it's useful, kinda hilarious, and all-around entertaining :) Let us know what you think in the comments below!
You can purchase Hoover's SmartWash Advanced Pet Carpet Cleaner at homedepot.com.
I acknowledge that The Home Depot is partnering with me to participate in the promotional program described above (the "Program"). As a part of the Program, I am receiving compensation in the form of products and services, for the purpose of promoting The Home Depot. All expressed opinions and experiences are my own words. My post complies with the Word Of Mouth Marketing Association (WOMMA) Ethics Code and applicable Federal Trade Commission guidelines.
6 Responses
Leave a comment
Comments will be approved before showing up.