Minimizing the risk of IVDD and back injuries: The best pet gates, dog ramps and bedside stairs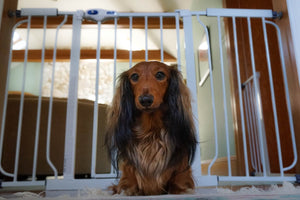 Disclaimer: Please note that some of the links below are affiliate links. If you purchase an item, we may receive an affiliate commission at no extra cost to you. We only recommend products we know and love, and all opinions expressed here are our own.
This article was updated in June 2022.
When Django was a baby, our 'walks' consisted of him sitting in the middle of a busy Brooklyn sidewalk while Mike and I (Steph) tried to get Django to go to the bathroom. Django would stare up wide-eyed at every passerby, hoping they'd stop to pet him. They usually did :)
Many people who stopped to pet Django were dachshund owners. And so many of these doxie lovers had a story to tell us about their dog and Intervertebral Disk Disease (IVDD).

IVDD, per PetMD, "is a condition where the cushioning discs between the vertebrae of the spinal column either bulge or burst into the spinal cord space… [they] press on the nerves running through the spinal cord causing pain, nerve damage, and even paralysis." If you're unsure of what this means, don't worry! We recently published a comprehensive and easy-to-understand article explaining IVDD in dogs: what it is, causes, prevention, symptoms, and treatment options. You can find the article here:
DJANGO Dog Blog: Intervertebral Disk Disease (IVDD) in Dogs | Causes, Prevention, Symptoms, and Treatment Options
When Django was 4.9 lbs of cuteness, kind and well-meaning New Yorkers told Mike and I countless stories about IVDD. We heard horror stories about dogs with chronic back pain or permanent paralysis, and a few heartbreaking tales of dogs in so much pain that they had to be euthanized. Many people told us to never let Django jump on and off furniture or even climb stairs. So that's what we did.
Mike and I have never allowed Django to jump on and off furniture, and we don't let him climb even a short flight of stairs. Extreme? Maybe. But after hearing so many terrible tales of IVDD, we decided to take drastic action. We recognize that Django is still at risk of IVDD - no stairs or jumping aside. His body is extra long and his legs are amusingly short... he's unfortunately at risk no matter what we do.
Django is unusually chill, so teaching him to never jump or climb stairs was actually easy. Now Django sits patiently at the bottom of a staircase until we're ready to say "pick up!" and carry him upstairs. Of course, not all dogs are as eerily calm as Django.
Whether you have a healthy puppy, a middle aged dog with a sensitive back, or a senior dog who has (or hasn't) experienced IVDD... consider minimizing the risk of future back problems with pet gates, dog ramps and shallow pet stairs.
Yes, some breeds are more genetically at risk of IVDD. These chondrodystrophic breeds include dachshunds, bulldogs, basset hounds, beagles, corgis, cocker spaniels, pekingese, shih-tzus and even poodles. But all dogs grow more susceptible to back problems as they age, including non-chondrodystrophic breeds.
Here are the most popular and well-rated indoor dog gates, pet ramps and stairs.
The Most Popular Indoor Dog Gates (we own #1 on the list)
Consider a high quality pet gate to keep your pup safe in one section of your home or to prevent your dog from climbing and descending steep staircases. Mike and I use Top Paw's Extra Wide Pet Gate at my parents' home to prevent Django from leaving the living room and running up the stairs. Consider the second option below if you don't need the extra wide reach and want to save a few dollars.
PRODUCT HIGHLIGHTS of Top Paw Extra Wide Pet Gate:
All-steel construction
Pressure-mount installation (i.e. no drilling holes in your wall)
29-52 inch adjustable width, 31 inch height
One-touch walk through door with childproof safety handle
Small inset door allows smaller pets to pass through while containing larger pets
PRODUCT HIGHLIGHTS of Carlson Pet Gate: 
All-steel construction
Pressure-mount installation (i.e. no drilling holes in your wall)
29-35.6 inch adjustable width, 31.5 inch height
8 x 8 small pet door lets smaller pets pass while keeping everyone else out
Safety lock feature and non-toxic finishes
The Best Indoor Dog Ramps and Pet Stairs for Beds and Furniture
Pet ramps and stairs are an excellent tool to prevent your pup from jumping on and off furniture in the home. Pet ramps have a modest incline and are best for dogs with sensitive backs or pups with mobility problems. Ramps are also the best option for dogs genetically at risk of IVDD. Pet stairs are most popular for young, non-chondodystrophic breeds and will take up a little less space in your home.

PRODUCT HIGHLIGHTS of Best Pet Supplies Foam Pet Stairs:
Machine-washable and removable ultra-soft fleece-like cover (replacement covers also available)

Available in three sizes to best match your furniture's height: 3-step (13.5" high), 4-step (18"), and 5-step (22.5")

Anti-slip base

USA-sourced foam does not contain ozone depleters, PDBW flame retardants, mercury, lead and other substances/chemicals that can be harmful to pets

Supports dogs up to 100lbs
PRODUCT HIGHLIGHTS of Pet Gear's Easy Step II Pet Stairs:
Carpet tread is removable and washable for easy care

Rubber grips on base prevent stairs from sliding

Step height measures 6 inches. Top step depth is 12.25 inches and lower step depth is 11.5 inches

Easy installation; Snaps together very easily, no tools required 

Measures 22 x 16 x 16-inches and supports pets up to 150-pounds
This is a great option for dogs at greater risk of IVDD, like Django, as the scalloped design is significantly easier on dogs' back then true 'stairs'.
PRODUCT HIGHLIGHTS of Snoozer's Scalloped Pet Ramp:
PRODUCT HIGHLIGHTS of Solvit Wood Bedside Ramp: 
Fits alongside most queen and king-size beds without sticking out, even when using a nightstand (m

easures 70" L x 16" W x 25" H)
Gentle climbing angle that is great for pets that are timid or unable to use stairs due; generous landing gives pets confidence when moving to and from bed
Cleans nicely with wood polish and carpet cleaner


Supports dogs up to 120 lbs.
PRODUCT HIGHLIGHTS of PETMAKER's Folding Plastic Pet Stairs:
Additional resources
4 Responses
Leave a comment
Comments will be approved before showing up.