Interview: Around the World with Django & Chloe, Instagram's Most Well-Traveled Pups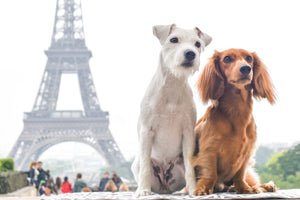 Django and Chloe might be the world's most well-traveled dogs. Hailing from Rio de Janeiro, Brazil, these two pups are only 4 years old and have already bounced around several continents with parents Bruna and Luiz.
We met this globetrotting family last year while living in southern California. Bruna and Luiz were traveling up the California coast with Django and Chloe and stopped by our home in San Diego to hang out and let the pups run around La Jolla's Windansea Beach at sunset. We caught up with Bruna again last week to hear about her most recent adventures around the world and get a few tips on traveling internationally with dogs.
Django and Chloe are quite the traveling pups! Which countries have they visited with you?
We live in Brazil and have already traveled with them to the US, Portugal, Spain, France, Germany, Austria and Sweden.
That's amazing! We had our first taste of international pet travel last summer when we brought our little guy Django to France and Italy. We definitely didn't regret it and were even surprised how easy it was to travel with him overseas.
Of the places you've visited, which is your favorite?
This is always a hard question. Munich was by far the most pet-friendly. The dogs were accepted almost everywhere! But our last trip was super special. We finally took the dogs to our favorite place in the world, New York City.
I wish we were still living in NYC when you visited so we could have seen you again! What other countries are on your wishlist?
Greece, Denmark, Japan, and Mexico.
All incredible destinations... Do you have any tips for dog owners that are looking to travel internationally for the first time with their pups?  
Do your research and you'll be fine. Traveling internationally with dogs is not as hard as it seems. There is some bureaucracy, and every country has its own rules, as well as each airline. Know your rights and your duties and be respectful of the rules.

Our major tip before flying: We always try to tire out Django and Chloe on the day we travel. We usually take them to the park to play and expend their energy. This way they will be tired and sleep during the flight (we never medicate them). When we are traveling on especially long flights, 9 to 10 hours in duration, we try to choose overnight flights - the time Django and Chloe would normally be sleeping.

Also, train your dog in advance so he/she will feel comfortable in his/her travel crate or bag. Introduce the travel carrier to your dog well before your trip - let him/her see it, sniff it, and even ride in it so your dog knows its a safe and comfortable space. Your dog will grow to love his/her carrier as it means he/she is joining you on an adventure!
Those are all great and important points. We always tell our friends two things... First, plan your pet-friendly travels well in advance of your departure date. Some countries require pets to be tested or re-vaccinated for rabies months before travel. Japan, for instance, requires that dogs and cats be tested for rabies at least 180 days prior to entry into Japan. Even if a dog has been vaccinated for rabies, Japan wants proof that the animal has immunity to the viral disease.
Second, locate a veterinarian in the neighborhood where you'll be staying just in case anything happens. We found a wonderful vet in Paris just 2 blocks from our hotel and ended up getting Django an EU Pet Passport there.
We loved meeting you, Django and Chloe last year in San Diego! Have you met other Instagram friends and celebrities around the world? If yes, anyone we know?
We loved meeting you guys too and can't wait till we meet again somewhere! During our recent trip to California we had the chance to meet lots of Instagram friends: @harperleescorsese in Venice, @mybuddyfriday in Los Angeles, and @dareochu and @chelseatheterrier (also in LA).
What's next for you and the family - any big trips coming up this summer?
We're coming back to California in June. We'll go to Los Angeles again, San Francisco and Napa Valley. We're pretty excited as we've never been to Northern California. We'll also go to Las Vegas!
And Django and Chloe are coming with you on this California trip?
Of course!
Be sure to follow the international adventures of Django and Chloe on Instagram: @django_and_chloe
Planning an international trip with your pup this year or next? Check out DJANGO's international pet travel resources:
Leave a comment
Comments will be approved before showing up.