Interview: Dexter, the Brittany Spaniel, Learned How to Walk on his Back Legs After a Tragic Accident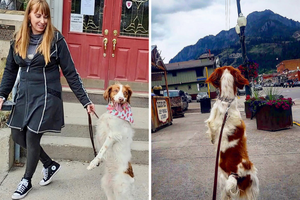 Dexter is an adventurous and strong Brittany spaniel dog from Ouray, Colorado, with an incredible story. When he was not even a year old, Dexter was hit by a van and had to have his front right leg amputated. While going through rehabilitation, Dexter taught himself to walk on his back legs, just like a human! Although Dexter's three remaining legs are healthy and strong, to this day Dexter prefers getting around on his back legs.
Dexter's incredible talent and unique gait have made him a doggy celebrity on social media, and he has helped teach the world about the resilience and positive spirit of disabled dogs. Followers are inspired by Dexter's story, amazed by his two-legged skills, and uplifted by his happy and friendly disposition.
We had the pleasure of catching up with Dexter and his loving dog mom, Kentee Pasek, to learn more about Dexter's injury, rehabilitation, and special story.
It is so nice to speak with you, Kentee! Tell us more about Dexter's accident. How did Dexter get hurt, and how old was he at the time?
Dexter was almost a year old when he escaped the yard, as Brittany dogs are well known for. We started looking for him immediately. When we finally found him, he had his nose to the ground on a deer trail scent. He crossed the highway right in front of a moving van.
How absolutely horrifying. I am so sorry that happened to Dexter and can only imagine how tragic the ordeal was for you.
What kind of rehabilitation did Dexter go through after his front right leg was amputated?
I was the one to do rehab with him. I made up movement exercises with my background in personal training, and I knew I had to keep him moving. I had paw movement exercises, range of motion, stretches, and muscle-building exercises. I would do this workout therapy up to 3 times a day. I also included massage therapy and heat therapy.
It is wonderful you took the initiative to do physical therapy with Dexter after his accident! We (Steph and Mike) are currently going through our own recovery and rehabilitation process with our long-haired dachshund Django. 
Django had spinal surgery for Intervertebral Disc Disease about two months ago. Before and immediately after his surgery, he was partially paralyzed in his back legs. Multiple physical therapy sessions each day since surgery have helped Django regain strength in his back legs and start walking again.
Was it challenging for Dexter to eat and/or use the bathroom after his accident?
Dexter had soft food at first, which helped him eat. But he never really lost his appetite. We had to carry him outside to go to the bathroom. He would go potty with us holding a towel under his stomach as the vet showed us, and we would have his weight on the towel. Later on in rehab, when he was not putting weight on his front leg and he was stronger, he would pee standing upright. He does not do that anymore. He looks like a normal dog with three legs.
We also had to support Django during potty breaks after his surgery. The first week was definitely challenging, even though Django is a smaller dog at 13 lbs. I imagine it was that much more difficult for you given Dexter is a larger dog.
Was it hard to pay for Dexter's medical and rehabilitation bills? We were definitely not prepared for the significant cost of Django's IVDD surgery.
We took out our savings to help save Dexter. It was tight for us to pay for him.
Does Dexter still need to regularly see the vet?
Yes, Dexter needs to see a vet regularly. He sees his vet whom he adores every 6 months.
That's so nice that Dexter loves his vet!
Let's switch gears and talk about Dexter's incredible talent... When did he start walking on his hind legs??
It happened gradually with little hops then standing up. It was so gradual and such a slow everyday process. I did not really even notice it at first. One day, 2 months after the surgery, he walked upright up the front porch stairs and it shocked me.
That is amazing, and I can only imagine how surprised you were when you saw him strut up the front steps to your home on his hind legs!
What kind of attention does Dexter get when he walks around town?
Dexter creates attention and crowds. A lot of times, I find quiet backroads that are off the main street to walk him, because it can be a lot. He loves people and loves the attention. It is so funny to watch him around people because he smiles and shows off around them.
He certainly seems to know he is very special and enjoys the attention and love from strangers as a result! Aside from enjoying this adoration, do you think the accident affected Dexter's personality in any significant way?
Dexter's personality has not changed. He has always been very happy and positive. When he is off-camera, he is mostly a bit more chill, but he still acts like a puppy even at 6 years old. This is typical for Brittany dogs. When the camera is on or like in the case of the parade, he is a showman. He will look right into a camera and almost smiles. He loves the attention, and he puts it on for the show.
I am wondering if walking on two back legs puts extra pressure on Dexter's joints and ligaments. Have you discussed with your vet whether it will be harder for Dexter to walk when he is a senior dog?
That could be the case, but some other Brittany dogs walk upright even with four legs, and they live to 13 years old without any problems. Brittany dogs are not known for a lot of hip problems.
Can Dexter still use his front left leg?
Yes, Dexter can actually use his front leg. It is pinned at the elbow, so he has a completely straight leg. But it bends at the paw, so he can walk around.
Does he ever walk on all 3 legs?
Yes, he does…when he wants to slow down or go for a sniff.
Some people believe that dogs should not walk on their hind legs because it is unnatural and abusive. Dexter, however, chooses to walk on his back legs and is living his life to the fullest. How are you personally fighting against this stereotype?
At first, these accusations really hurt a lot because Dexter is so loved and lives a very spoiled life. Once I understood many people just did not understand his story, I began telling it to people. As I understand it, there have been cases where other dogs were mistreated to walk upright, especially in other countries.
Part of my mission is to get Dexter's story out there for others to understand that there are other options for you if something happens to your dog. I want the world to see this miracle recovery and believe that we all can push our boundaries in what we think is normal to become something better. I think we need to really see the world differently, and we can find ways to always be happy while doing hobbies outside of our own comfort zone.
Perfectly said, and I hope this interview helps Dexter's incredible story reach many more loving and compassionate dog lovers like yourself.
Dexter loves to go on walks—and even full speed runs—on his two back legs, protect his family from chipmunks, and protect the world from vicious deer! How do you keep him safe?
Dexter wears a forest green DJANGO dog collar and matching forest green hands-free leash. Both are amazing, as they showcase our lifestyle and are super easy for him to wear. I love the leash as it is easy to put around him collar free or around my waist and be hands-free.  What a great quality set it is!
That's so nice to hear you and Dexter love your DJANGO dog collar and hands-free leash! I'm so glad the walk set has worked out nicely for you both.
It is clear that Dexter loves people, but how about other dogs? How does he interact with other pups?
He loves other dogs. But they find his upright walking almost aggressive or just strange, and many breeds of dogs do not like that. The breeds which seem to love him all the time appear to be smaller dogs, other Brittany dogs, and poodles for some reason.
There is an idea that special needs dogs cannot play easily. What is playtime like with Dexter?
Dexter plays with toys, loves tug of war, and will play a bit of fetch. He will find treats that are hidden in the room. Dexter loves to play with other dogs but does not like it when they put any weight on his back because of that weak front leg. He runs with other Brittany dogs and is just like any other dog when playing except when he stands upright.
What is something else you wish your followers knew about Brittany spaniels?
Brittany spaniels are the best dogs ever. They snuggle with you, and they love everyone in your house. The drawback is they escape if given an inch of space. They get super wound up with small game and birds because they are hunting dogs. They are not the easiest breed to train and have a mind of their own. When you train them intentionally, they will do what you ask. They are super loyal to their family and their pack.
How has Dexter inspired you and/or changed your life?
I have learned to push my own boundaries and to find other ways to live. I have learned how to wake up each day positive and that a lot of our life is our mindset. If we dig deep, we can turn any setback into a positive outcome. If we let our minds engage in positive self-talk, we can achieve our dreams. Dexter shows that with each little step forward in life we can make our life amazing, positive, and successful, even if we choose the path less traveled.
Dexter is truly an inspiration, Kentee! He is a wonderful reminder that even when life throws us challenges, we can fight to overcome them and even turn them into favorable paths forward.
Ok, last question before we let you go... What is Dexter's favorite food or treat?
Dexter likes food... all food... we have him on a diet to make sure the pressure of added weight is not there with the way he walks, but he will eat anything except lettuce!
Follow Dexter on Facebook, Instagram, Pinterest, and TikTok.
7 Responses
Leave a comment
Comments will be approved before showing up.