New Puppy Checklist and Free Printable PDF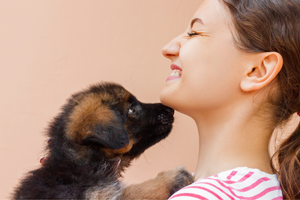 Disclaimer: Please note that some of the links below are affiliate links. This means if you purchase an item, we may receive an affiliate commission at no extra cost to you. We only recommend products we know and love, and all opinions expressed here are our own.
Mike and I (Steph) were extremely excited when we decided to welcome an adorable 4.5lb dachshund puppy into our home back in late 2015. We had found a reputable breeder in upstate NY (we were living in Brooklyn at the time) and were counting down the days until Django could come home.
When Django's breeder unexpectedly called us a week early to say she was coming to NYC the following day and could drop Django off at our apartment, Mike and I freaked out. We hadn't yet had time to prepare for Django's arrival and had zero new puppy essentials—no dog food, no dog crate or bed, no dog harness or leash—you get the point. Ultimately, we postponed Django's arrival by a week so we could figure out what puppy items to buy and how we'd keep Django safe in our tiny one-bedroom Brooklyn apartment.
If you are about to bring home a puppy, you might not be aware of everything you need for the new dog's arrival. In this DJANGO Dog Blog article, we cover essential puppy items to pick up before bringing home your new best friend. We also include a free downloadable and printable New Puppy Checklist PDF to help you plan for your new dog.
Tap on the image to open and print our free New Puppy Checklist PDF.
New Puppy Essentials: Everything you need before bringing home a new dog
Not sure what to get before you bring home your puppy? Need some product recommendations? Here is a list of essential puppy items to pick up before bringing home your new best friend. We also link to some of our favorite products.
1. Dog harness, collar, and leash
Every puppy and adult dog needs a high quality dog harness, dog collar, and comfortable dog leash. Mike and I have always used high quality dog harnesses like DJANGO's padded, lightweight, and weather-resistant Adventure Dog Harness. Another fun fact? Popular U.S. pet care services dog walking service Wag! nominated DJANGO as one of the top U.S. dog walking products companies of 2021 (check out our official Wag! badge below).
2. ID tags
Dog ID tags are absolutely necessary and should always be attached to your four-legged family member's harness and/or collar. In the off-chance your dog runs away or gets lost, the ID tag provides crucial identification and contact information should a stranger find your dog.
What goes on dog ID tags? The most important information to include is your dog's name, a primary contact number, and a second contact number. You might also consider including your full name, permanent address, and any crucial medical information (i.e. daily medications needed, serious allergies).
Our dog Django has an ID tag on each one of his dog harnesses (and he has a LOT of dog harnesses!). Fortunately the cost of buying and customizing a dog ID tag is very reasonable and can be done at most big box pet stores including PetSmart and Petco. In addition to "DJANGO" in big, bold letters, Django's ID tags also clearly state my personal cell phone number and my husband's personal cell phone number.
If you're looking for a stainless steel dog ID tag, consider GoTags' customizable and very popular dog and cat ID tags on Amazon. GoTags also offers bright, colorful, and equally popular ID tags made of anodized aluminum. Need something for low light adventures? Consider LuckyPet Glow-in-the-Dark ID Tags which are lightweight, durable, and glow-in-the-dark. They come in three different sizes and five different designs, with up to five lines of customized engraving on the front.
3. Food and water bowls
Food and water bowls are obvious puppy essentials. Consider using stainless steel dog bowls like these popular and USA-made ones. A 2018 study found that plastic bowls collected bacteria fastest, while ceramic dog bowls tended to have more harmful bacteria, such as E.coli, salmonella, and MRSA.
4. Healthy dog food
Before bringing home your new best friend, ask your breeder or animal shelter which food brands they were feeding your puppy. Keeping your puppy on a consistent diet—especially in the first few months of life when the stomach is most sensitive—will help prevent vomiting, stomach upset, and other canine gastrointestinal issues.
As your dog grows, consider switching to a high quality organic or all-natural dry dog food and/or a fresh dog food delivery service. We outline our favorite fresh dog food brands here.
5. Dog treats
Once your puppy reaches 8-10 weeks of age, you can consider giving him or her the occasional dog treat as a small reward during training exercises, for good behavior, as a snack when you're out together, etc. Here is a list of the best organic, all-natural, and grain-free dog treats.
Mike and I got Django while we were living in New York City. Once Django was vaccinated, I'd take him everywhere with me. One of our favorite training exercises was to "heel"down a busy sidewalk in Manhattan. Django would walk by my left side and follow my pace perfectly. How did Django learn to heel so nicely at such a young age? I'd hide an incredibly smelly and delicious dog treat in my left hand and only give it to Django when he heeled perfectly down the block. To this day, Django walks perfectly whenever he knows a treat is involved!
6. Poop bags
Dog poop is going to happen. A lot. Mike and I go back and forth between these AmazonBasics unscented dog poop bags and these EarthRated extra thick dog poop bags. Both are available on Amazon.com and reasonably priced with free shipping for Prime members.
7. Dog crate
Dogs love having their own cozy and comfortable sanctuary for sleep, play, and everything in between (they're den animals after all!). If you don't provide your puppy with a den, he or she may make do with whatever is around—your recliner, the space under your bed, or your pillow. 
Dog crates are a wonderful way to (1) provide your puppy with his or her own "safe space", (2) keep your puppy safe while you're away from home or sleeping, (3) housebreak your puppy more quickly. Regarding the last point, puppies and adult dogs strongly dislike soiling themselves and their "dens". For this reason, puppies that are crate trained ultimately learn to hold their bladders more quickly than puppies left to roam around the house.
Mike and I have used this MidWest Homes folding dog crate since Django was a puppy. Even though Django is 5 years old and fully housebroken, we still keep our MidWest Homes dog crate out for Django. We never close the door on Django these days. Rather, Django loves going in his crate to nap during the day while I work, to hang out with a chew toy, to play, etc. The dog crate is Django's personal space—he knows it and he loves it.
8. Dog bed
All dogs need a dog bed—a cozy spot to sleep, hang out during the day, and curl up with a chew toy. While young puppies sleep 18 to 20 hours per day, they tend to rip up their dog beds when they are stressed out or bored. For this reason, consider a lower cost dog bed option like the MidWest Homes deluxe pet bed for the first few months of your puppy's life. This dog bed has a 1-year manufacturer's warranty, is covered in ultra-soft synthetic fur, and has a non-skid grip on the bottom.
When your puppy is six months of age or older, consider upgrading to our and Django's favorite Runyon Orthopedic Pet Bed by Brentwood Home. The Runyon dog bed is incredibly comfortable (I've rested my head on it countless times), made with high-quality and non-toxic fabrics, and has a removable and machine washable cover. Django has been sleeping on his Runyon dog bed for over 4 years and it has held up beautifully with every wash.
9. Toys, toys, toys!
When your dog is a puppy, he or she is going to chew, destroy, and try to eat everything. For this reason, it is best to consider puppy-friendly chew toys and avoid stuffed toys or ones that can be easily torn apart. The last thing you want is a trip to the emergency vet because your puppy digested toy stuffing.
As a puppy, Django loved Nylabone's flexible, plastic chew toys - especially the peanut butter and chicken-flavored ones. These chews are designed for puppies and are super durable. They also help clean your puppy's teeth and freshen his or her breath. Once your dog matures, consider these best selling plush, interactive, and tough dog toys.
To prevent your puppy from getting bored, rotate his toys weekly. Make only four or five toys available at a time. If you want to introduce new toys to your pup each month, consider signing up for a popular monthly subscription box for dogs like KONG Box. We've been huge fans of KONG pet products for years and absolutely love their subscription box. Read our thoughtful review of KONG Box (and see unboxing pictures!) here.
One more popular monthly subscription box for dogs is BarkBox. The New York-based company will send your dog two themed toys, two all-natural bags of treats, and a chew every month.Go here to learn more and signup for a subscription to BarkBox. For super aggressive chewers, get your dog Bark's Super Chewer Box. Each toy is made with strong rubber and nylon to stand up to the toughest chewers.
10. Potty training pads
Potty training pads are a great way to begin housebreaking your puppy and prevent accidents elsewhere in the home. The pads are designed to attract dogs when nature calls. Over time, your puppy will learn to pee or poop directly on the pad and not on your carpet, your sofa, or duvet cover. Amazon has several popular puppy training pad options including these best selling puppy pads by Glad.
One downfall with potty pads? Puppies can sometimes get too used to them and prefer going on them instead of outdoors. To combat potty pad dependence: slowly move your dog's potty pad toward the door. Every time you move the pad, let your dog watch. Once your puppy uses the pad in its new spot, offer him all-natural and grain-free dog treats. Eventually, bring the pad outside and let your dog get used to peeing on the pad in the great outdoors (again, reward your pup with a treat when he or she does this!). Before you know it, your puppy will be going outside willingly and without the potty pad.
11. Carpet cleaner and enzyme spray (for accidents)
Expect your pup to have a few accidents in your house. They are a normal part of potty training but should be cleaned up within minutes if possible. Regular household sprays are made with ammonia. The chemical smells just like pee to puppies, and they love going where they have gone before. But enzyme cleansers like Rocco & Roxie get rid of odors that only your dog can smell, reducing the reminder that he's gone potty or vomited indoors.
12. Dog carrier bag
Puppies are not supposed to be out and about and in contact with other dogs until they have received all of their vaccinations (around 16 weeks old). That doesn't mean, however, you have to leave your puppy at home. Consider investing in a high quality and comfortable dog carrier bag so your new best friend can safely join you on every outing and adventure.
DJANGO's best selling waxed canvas and leather dog carrier bag is a great example of a high quality, functional, and comfortable pet tote that works well for both puppies and adult dogs. The bag was ranked the #1 overall best dog carrier bag by Business Insider soon after it launched. The pet tote has a silky, durable, and water-resistant lining and features soft leather handles, a sturdy footpad, and a bag-to-harness tether. The best seller also has four zipper pockets to ensure essentials (your wallet, cell phone, poop bags) do not get lost in the shuffle.
If you plan on flying with your dog, consider an enclosed pet travel carrier like this Amazon Basics one. Airlines require that dogs riding in the passenger cabin be fully enclosed within their pet travel carrier at all times.
13. Cold weather dog apparel
How cold do dogs get? Many people believe that dogs are naturally protected from the elements. While certain breeds are biologically equipped for winter conditions, most dogs are just as sensitive to the cold as we are. Puppies are especially sensitive to the cold and need to be protected during the chilly autumn season and cold winter months.
Keep your dog warm and protected with high quality dog coats, rain jackets, and other insulating dog apparel. Small dogs, dogs with short hair, puppies, and senior dogs have most difficulty controlling body heat and are in extra need of layers during the cold weather months. High quality performance dog coats like DJANGO's best selling Reversible Puffer Winter Dog Coat and City Slicker All-Weather Dog Jacket will protect your dog and enable safer and warmer outdoor adventures. In sub-zero degree temperatures. Consider pairing your dog's winter coat with a comfortable dog hoodie or sweater.
14. Grooming tools
The most essential grooming tools to always have on hand include a pet hair brush, a doggy toothbrush (dog toothpaste optional), and dog-friendly shampoo.
When your puppy rolls in wet grass, dirt, or comes home from the beach full of sand (Django, we're looking at you!), he or she will inevitably need a bath. Many human shampoos are too severe for puppies and adult dogs. They can strip away their thinnest layer of skin (acid mantle) which protects the outer layer of skin (stratum corneum) from bacteria, parasites, and viruses. Instead of reaching for your own shampoo bottle, use a gentle baby shampoo (we use Johnson's Head-To-Toe Gentle Baby Wash & Shampoo on Django) or a dog-friendly shampoo with natural ingredients like buttermilk, oatmeal, or aloe vera.
15. Dog gate, dog pen, and/or dog ramp
If you are getting a puppy, you can expect a lot of "accidents" all over your house until your new little one is housebroken. Puppies are also prone to chewing everything. When Django was a puppy, he chewed through a lamp cord (luckily it was unplugged at the time) as well as the molding in our Brooklyn apartment (goodbye, security deposit!).
Whether you are trying to protect your home, keep your puppy out of trouble, or give your new dog a safe space to play, you will need a puppy gate and/or dog pen. Carlson's extra-wide walk through pet gate is one of the most popular pet gates on Amazon and is made from steel. The pet gate expands to fit openings between 29 and 36.5 inches wide and has a safety-lock feature and wall mounts for extra security. Mike and I bought two very similar pet gates for my parents' home to prevent Django from running upstairs and going down into the basement.
If your puppy is a chondrodystrophic breed (with short legs and a long back, like the dachshund or basset hound), then he or she is considered "at-risk" for Intervertebral Disk Disease. It is best to limit jumping for dogs that are at increased risk of IVDD. Sudden shock to a dog's back, from jumping off furniture for instance, puts stress on a dog's spine and can lead to a disc injury. If your dog is able to jump on and off furniture including beds and sofas, consider investing in a high quality pet ramp or pet stairs. 
A very popular pet stairs option is this foam pet stair by CertiPUR-US. These foam pet steps come in three sizes and are made with mattress-grade cushioning to relieve pressure on your puppy's paws and joints. They are also covered in ultra-soft fleece fabric that is removable and machine washable.
DJANGO's beautiful, modern, and widely acclaimed waxed canvas and leather dog carrier bag is designed for daily outings and weekend adventures. A soft and sturdy footpad and bag-to-harness tether ensures our four-legged family's comfort and security. Four exterior and interior zip pockets ensure essentials (phone, keys, poop bags) don't get lost in the fray.
Walking Supplies
Additional resources
2 Responses
Leave a comment
Comments will be approved before showing up.