KONG Box: Unboxing and Review of the Monthly Dog Subscription Box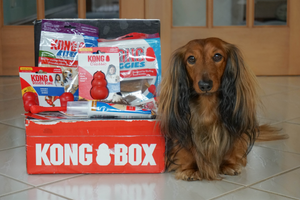 This post is sponsored by KONG Box. We only recommend products we know and love, and all opinions expressed here are our own. Please note that some of the links below are affiliate links. If you purchase an item, we may receive an affiliate commission at no extra cost to you.
Editor's note: KONG Box was updated to KONG Club in March 2022. Read our KONG Club review here. 
Updated November 2022
One of the first dog toys we (Mike and Steph) ever bought Django was a KONG Classic rubber dog toy. Easily one of the most popular dog toys on the market, our durable toy has lasted through the years. Just yesterday, Django spent almost 20 minutes carefully licking every ounce of peanut butter out of his KONG toy.
Over the past five years, KONG has been one of our go-to dog toy companies. The brand is known for its high quality products and premium dog treats. We were therefore very excited to learn that KONG introduced its own monthly subscription box for dogs back in late 2019.
After being customers of KONG for years, what do we think of KONG Box? Is it worth it? How much does KONG Box cost?
The following is a comprehensive overview and review of KONG Box based on our own personal experience getting the monthly subscription box for our long-haired dachshund and photogenic dog model, Django. If you want to share an experience you had with KONG Box or if you have any questions, please don't hesitate to leave a comment below. We'd love to hear from you!
What is KONG Box and how does it work?
KONG Box is a monthly subscription service that delivers dog toys and treats to your home. Every KONG Box comes with an assortment of high quality KONG products based on your dog's size, age, personality, and chewing style.
Unlike other doggy subscription services that offer a one-size-fits-all box of goods, KONG lets you select your 'style' of KONG Box based on your dog's unique attributes and chewing behavior. As of writing, KONG Box allows you to select from 8 categories that best describe your dog's needs: Boredom, Chewing, Crate Training, Digging & Barking, Separation Anxiety, Teething, Weight Management, and 'None'. If your dog is a heavy chewer, you can also update your box to 'Extreme Chewer'. This will update the dog toys in your box to KONG's more durable ones.
How does the subscription work?
When you sign up for KONG Box, you sign up for an auto-renewing service. When ordering your first KONG Box, you can select the desired length of your subscription: month-to-month or 6 months. Billing occurs right before your monthly box ships, and you can cancel your subscription at any time.
Go here to sign up for a KONG Box subscription.
If I don't want to do a recurring monthly subscription, can I buy one-off KONG Boxes?
Yes. In addition to the 6-month subscription option, KONG Box offers 'Monthly' and 'Every Other Month' subscriptions. For these subscription options, you are only billed in the month(s) that you receive a box. If you want to purchase only one box today, you can simply cancel the recurring monthly boxes after checkout.
One thing to keep in mind is that the cost per box drops when you sign up for a 6-month subscription. If you want to receive only a couple boxes per year or send one box as a gift to a friend, the monthly option is great. Otherwise, it is more economical to get a 6-month subscription. We include more details on subscription options and pricing below.
What is inside a KONG Box?
Every KONG Box comes with 2 unique KONG dog toys (a rubber toy and a non-rubber toy), 3 KONG treats, training tips, and a recipe card. You also receive a KONG Classic toy and cleaning brush with your first box.
Boxes are often themed around the holidays. For instance, the box Django received last Thanksgiving included Thanksgiving-themed dog treats and an oversized, plush turkey toy that loudly gobbled loudly when chewed. It is also worth mentioning that our plush turkey has held up incredibly well. As of April 2021 (5 months after receiving the toy!), we still have the turkey toy, it still gobbles perfectly, and it is somehow not torn to shreds.
KONG Box Unboxing: Here is everything inside Django's first KONG Box. 
Django is a smaller dog at 14 lbs, but he is an aggressive chewer and typically destroys plush toys within minutes of getting them. For that reason, I (Steph) selected 'Chewing' as the target behavior for our KONG boxes. Here is what was inside Django's first 'Chewing' KONG Box:
KONG Goodie Bone Dog Toy
KONG Wild Knots Dog Toy
KONG Bites Chicken Dog Treats
KONG Stuff'N Ziggies Dog Treats
KONG Stuff'n Real Peanut Butter Dog Treat Tube
KONG Classic Dog Toy and KONG Brush
Blueberry 'Great-Danish' Recipe Card
Testing our KONG Box + Django's Review
Here are my thoughts on each of the items we received in Django's first 'Chewing' KONG Box:
KONG Goodie Bone Dog Toy. This is a durable, natural rubber toy with openings on either end to insert treats, pastes, or peanut butter. I've given the toy to Django with peanut butter inside as well as firmer dog treats like KONG's Ziggies (more on these below). Django has spent a lot of with this toy gnawing at the treats within and licking out peanut butter. Given the Goodie Bone is a food-focused toy, Django gets very excited whenever he knows I'm preparing it with a treat. Whether or not you subscribe to KONG Box, this is a great and super practical toy for any dog owner to have in their home.
KONG Wild Knots Dog Toy. This particular toy is made for tough chewers. Rather than being full of stuffing—which typically ends up in Django's mouth after 5 minutes of playtime—this squeaky toy is made with knotted rope. As of writing, Django's been playing with the toy for two weeks and it has held up well. Truthfully, our toy was a little smaller than I expected (especially compared to toys received in other boxes), but Django's hasn't seemed to mind at all. He played with this toy almost obsessively for almost a week after receiving this box.
KONG Bites Chicken Dog Treats, 5 oz. bag. These all-natural bite-sized dog treats insert nicely into the ends of Django's KONG Goodie Bone toy and have a really strong odor that Django loves. The ingredients are natural and limited in number (always a good sign): chicken, potato flour, vegetable glycerin, tapioca starch, bacon fat, gelatin, lecithin, natural flavors, citric acid and mixed tocopherols. Overall these are quality, healthy dog treats and something I'll definitely buy again on my own when the bag runs out.
KONG Stuff'N Ziggies Dog Treats, 7 oz. bag. These are daily dog chews that help clean teeth and freshen doggy breath. We brush Django's teeth a few times a week, but any extra help we can get with his doggy breath is always welcome! The Ziggies fit perfectly into Django's KONG Classic and Goodie Bone rubber toys.
KONG Stuff'n Real Peanut Butter Dog Treat Tube. Django is obsessed with peanut butter, so you can imagine how much he enjoys this peanut butter paste. I'll squeeze some peanut butter Stuff'n into one of Django's rubber toys as a mid-day treat or afternoon exercise. The tube is super convenient and easy to use.
Blueberry 'Great-Danish' Recipe Card. Every KONG Box comes with a recipe card. Our first box included a doggy treat recipe that can be used in our rubber toys. Truthfully, I haven't made this recipe yet, but the directions are simple and the end-product (a mixture of blueberries, apple sauce, oats, low-fat cream cheese) sounds like something Django will love.
KONG Classic Dog Toy and KONG Brush (first box only). First-time subscribers receive KONG's widely popular rubber toy and a cleaning brush. We first bought Django a few Classic rubber toys years ago and still have the originals. I don't think we've ever not had one of these in our house! They're great for lining peanut butter or other dog-friendly pastes inside. Before getting this box, I never knew a KONG brush existed. It incredibly useful, as peanut butter always gets stuck deep inside the narrower parts of Django's KONG Classic.
Django's KONG Box Review
Django can't put into words how he feels about KONG Box, but I can tell you this... Whenever we get a new box delivered to our home, Django immediately knows it's for him and gets crazy excited. I don't know if he recognizes the box or smells the toys and treats inside (probably both), but he is over the moon excited when I start to open a new box!
All of the plush dog toys have been a huge hit with Django. Whether bigger or smaller, Django's has obsessively played with each for weeks and even months after getting a new box. In a few instances, Django has been able to chew off small parts of a toy (i.e. the end of the thin, un-stuffed tail of our turkey toy). For the most part, however, our toys have held up incredibly well. There's a reason KONG is considered a higher quality dog toy and dog treat brand. The quality of its subscription box contents match this standard.
How much does KONG Box cost?
Pricing depends on the length of your subscription. The longer your subscription is, the more you save. Here are current prices as of August 2021:
6-month subscription: $44.95 per box (12% discount)
Month-to-month subscription: $49.95 per box
Billing occurs monthly and immediately before each shipment. Since the 6-month boxes are discounted from the start, cancelling one of these subscriptions results in a small one-time fee.
Is KONG Box a good value?
The retail value of KONG Box items can easily add up to $75. Compare this number to a 6-month subscription price of $44.95, and the savings are notable.
When I think about the convenience of having dog toys and treats delivered to our home and how ridiculously excited Django gets whenever he receives a new KONG Box, the decision to continue our subscription is a no brainer.
A few more cool things about KONG
KONG products are non-toxic, made with FDA-approved materials, and tested for safety.
All of KONG's popular rubber dog toys and dog treats are manufactured here in the USA.
KONG Box supports our military men and women (and their dogs) and offers a military discount upon request. You just have to email support@kongbox.com if you are eligible.
KONG has been making high quality pet products since 1970.
Our verdict on KONG Box.
If you want to spoil your dog and are looking for a premium monthly dog subscription box with high quality dog toys and treats, KONG Box is the way to go. Since all toys and treats are KONG brand, the quality of each box's contents never disappoints. I personally love the mix of plush and rubber dog toys since each provides a different style of entertainment and exercise for Django.
Overall, KONG Box is an awesome monthly dog subscription box and a fantastic value, especially if you do a multi-month subscription. Give it a try if you haven't already, and let us know what you think!
4 Responses
Leave a comment
Comments will be approved before showing up.