KONG Club Unboxing and Review of the Monthly Dog Subscription Box and 1:1 Pet Care App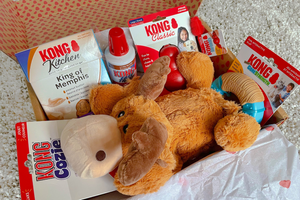 This post is sponsored by KONG Club. We only recommend products we know and love, and all opinions expressed here are our own.
We (Mike and Steph) have been getting our dachshund Django KONG products since we brought him home 7 years ago as an adorable 4.5 lb puppy. One of Django's very first toys was a Classic KONG, a durable rubber dog toy that can be used for chewing, playing, and treat time. To this day, we regularly fill Django's Classic KONG with a tiny dab of peanut butter for a midday snack. Another all-time favorite is Django's KONG Wild Knots Bear plush dog toy. Despite endless hours of aggressive chewing, gnawing, and playing with this toy, somehow the bear is still in one piece!
KONG is one of the most popular dog toy and treat brands in the U.S., and we've been huge fans of this pet brand for years. Therefore, we were stoked to learn that KONG Box was upgraded to KONG Club in March 2022. 
KONG Club is a monthly subscription pet box for dogs and cats. Django has received a few KONG Club dog boxes this year already, so we are excited to share our feedback on and experience with the new monthly subscription dog box. 
After being customers of KONG for 7 years, what do we think of KONG Club? Is this members-only club worth it? What comes in a KONG Club box, and what is included with the subscription? How much is KONG Club, and is it worth it?
In this DJANGO Dog Blog article, we provide a comprehensive overview and review of KONG Club based on our experience getting KONG Club and using the KONG Club app for our dog Django. If you have any questions or want to share one of your own experiences, please leave a comment below. We cannot wait to hear from you!
WHAT IS KONG CLUB? 
KONG Club is a monthly subscription pet service that combines KONG's best-selling pet toys with AskVet's mobile pet health management platform. Available for both dogs and cats, each month KONG Club members receive a box stocked with a fun assortment of KONG toys, treats, tips, and seasonal recipes based on their pet's size and age. Members also receive 24/7 live access to licensed veterinarians via a mobile app and access to a Rainy Day Fund which will pay up to $1,000 to help cover emergency vet visits (more on this below).
Here is a full rundown of what KONG Club members receive on an ongoing basis:
A monthly wellness-themed box filled with pet toys, treats, recipes, and tips.
24/7 live support from licensed veterinarians via the

 

KONG Club phone app.
AskVet's Rainy Day Fund will pay up to $1,000 to help cover emergency vet visits. Every month your membership is active, KONG Club deposits $45 into your Rainy Day Fund. After a 7-day waiting period, it can be used for any pet with a KONG Club profile.
1:1 pet coaching and Personalized Pet Plans based on your pet's breed, life stage, medical conditions, and environment in the

 

KONG Club mobile app. 
Exclusive access to KONG Club's searchable library. As of October 2022, this resource includes more than 200 articles. It covers 8 different topics (i.e., breeds, cats, dogs, fish, healthy lifestyle, just for fun, pet care, and

 

puppies).
Entry to the

 

AskVet Clubhouse

 

on Facebook where you can share experiences,

 

ideas, 

and knowledge with other pet parents.

 

AskVet's

 

animal experts also post info on training and behavior, general wellness, and preventative care.
UNBOXING: WHAT'S INSIDE A KONG CLUB BOX? 
Django has received a few KONG Club monthly boxes already. Each monthly KONG Club Box comes with:
To give you an even better idea of what comes inside a KONG Club box, the photo above shows you everything Django received in his first ever box. Here is a more detailed description of each item from his first box as well as some personal feedback on each:
Marvin the Moose, a super plush and squeaky KONG Cozie toy that Django is obsessed with. The toy has held up well despite Django's aggressive chewing, and the squeakiness today is as loud and vibrant as it was when the toy arrived on our door step (Django will often pop the squeaker in low quality toys within a day or two).
KONG Classic, the best selling durable natural rubber chew, chase and fetch toy. We've been using these for years and already know from experience this is a long-lasting favorite of ours and Django's. Although he once used this toy for chewing, now he only plays with it when there's a treat stuffed inside. 
KONG CoreStrength Bamboo Ring, a tough bamboo toy with an appealing aroma designed for chewers. The raised nubs and ridges help clean teeth and gums. Django has chewed on this a little, but truthfully he hasn't been as interested in this as his Marvin the Moose plush toy. He almost always gravitates towards plush toys over anything else.
A box of KONG Kitchen 'King of Memphis' peanut butter, banana, and bacon soft and chewy dog treats. This is definitely a winner in our KONG Club box! Django loves these so much that I (Steph) have been using them as high value training treats when we go out on walks. The ingredients are simple and natural—oat flour, peanut butter, bacon, banana, rolled oats, coconut glycerin and coconut oil, honey—and the treats are made in the USA.
KONG Easy Treat Liver Recipe, a great product that we use to fill Django's KONG Classic. Django seems to love the flavor, and the treat-stuffer is 5-star rated and loved by dog owning customers on other sites.
KONG pet bandana with a cute red and white paisley print.
KONG Brush for cleaning our KONG Classic rubber roy. Before I knew this existed, I used to use my fingers to clean our Classic KONG toys (not ideal!). This item makes cleaning Django's KONG Classic toys incredibly quick and easy.
A recipe card for 'Sweet 'n' Savory Surprise', ingredients that are easy to prepare and can be used as stuffing in our KONG Classic.
New KONG Club subscribers receive a KONG Classic dog toy and a KONG dog toy cleaning brush. Every KONG Club Box also has a surprise monthly bonus. Here are bonus items that have been sent out in the past:
DJANGO'S PERSONAL REVIEW OF KONG CLUB BOX
Ok, I admit that Django cannot use words to explain how he feels about KONG Club. I can, however, explain how Django reacts as soon as a new KONG Club reaches our front door.
The last time Django received his monthly KONG Club box, I took it and put it on a shelf in our garage. If I bring it in the house before I'm ready to open it with Django, Django will go crazy and try to jump up to get it. Given Django had back surgery for Intervertebral Disc Disease earlier this year, jumping these days is a big no.
I thought the cool, fresh air of our garage would prevent Django from knowing it was there. Well, was I very wrong! While working from my home office one afternoon, I heard a scratching noise. It would last for a few seconds, stop for a few seconds, then continue. I finally closed my laptop, went downstairs, and saw Django pawing passionately at the door to our garage. He got more excited when he saw me coming, spun in a few circles with his tail wagging, and began to whine!
What was Django excited about? You guessed it! His KONG Club box was sitting on a high shelf just outside the door to our garage. Django could smell the KONG Club box toys and treats through the door and was determined to get them!
So how does Django feel about his monthly KONG Club boxes? He loves them so much that he'll do anything to get them! And once he finally gets to open his box inside, he goes a little crazy over each and every toy and treat inside.
KONG CLUB CAT BOX & QUEENIE THE CAT REVIEW 
One of our DJANGO team members received the KONG Club Cat Box for her 7-year old Manx mix cat, Queenie. Queenie is notorious for hating new cat toys and treats. Here is how Queenie reacted to each of the items she received in her first KONG Club Box:
KONG Halloween Teaser Spider Cat Toy (bonus item). Queenie hates loud sounds, so she refused to play with this bell toy for days. Frustrated, I hopped onto the KONG Club app for a 30-minute Zoom session. The cat behaviorist suggested dragging the spider across the floor instead of swinging it through the air. The cat behaviorist was a cat whisperer, because Queenie played with the toy once I started dragging the spider like she suggested.
KONG Refillables Rat Cat Toy (medium). It is rare that "her royal highness" loves anything immediately. But the moment this refillable catnip rat toy flew through the air, I caught a glimpse of the energetic and playful kitten I rescued at 6 weeks. Queenie loved this toy from the start. Although the love affair died down after a few days, she is not completely ignoring it these days. The fact that she still goes back to this toy is amazing.
KONG Classic Cat Toy (small) + KONG

 Brush Treat Dispenser Cleaner (first box only)

. After a few days, Queenie discovered this purple, snowman-shaped toy could bounce erratically and actually played with it for a solid 30 minutes! Again, amazing.
Kong Wild Tails Cat Toy. Queenie was not impressed by this rattling ball toy with a feathery tail at first, but she quickly warmed up to it. She loves to stand on top of it and kick it with her back feet.
KONG Play Spaces Camper Cat Toy. Queenie is so picky that my family bet on how many KONG Club products she would like. We knew this might be the only item she loved. As expected, she was obsessed from the moment this cat camper toy popped open. She even quickly evicts any toys that land inside.
VetriScience Perio Plus Feline Bites, 4.23 oz bag. 

These veterinarian-formulated cat treats support healthy gums, fight plaque, and freshen breath. Queenie sniffed a single treat and then walked away. Because these are some of the biggest cat treats I have ever seen, I tried cutting them in half. Unfortunately, they were still a no-go.

KONG Halloween Cat Collar. This orange, breakaway cat collar is ideal for Halloween cat photos. Its buckle is an adorable black cat's face, and the bell can easily be removed if your kitty is skittish.
KONG Club Welcome Card. With Halloween just around the corner, this welcome card stresses that chocolate is toxic to felines. It also discusses how important it is for your cat to have a safe space to unwind during the hustle and bustle of the upcoming holiday season.
TESTING OUR KONG CLUB APP
The KONG Club app gives loving pet owners peace of mind no matter what stage of life their pet is in. Below we review the key features of the KONG Club app: the Live Vet Chat Option, Rainy Day Fund, Kong Club Library, and AskVet Clubhouse.
 1:1 VIRTUAL TRAINING & COACHING
You can schedule a 1:1, 30-minute Zoom session with a Certified Pet Lifestyle Coach on the KONG Club app anytime of the day. Having a licensed vet on hand is invaluable. Our long-haired sausage dog once chewed through a lamp cord and the baseboard molding in our NYC apartment. In situations like these, speaking to someone quickly is key.

If you are not able to schedule a 1:1 Personal Care Plan session (Monday-Friday, 8 a.m. to 5 p.m. EST), you can use KONG Club's Live Chat option. I asked Dr. Patricia Wilfert what questions KONG Club members ask most often. She said, "What food should I feed my dog?" and "How do I safely treat my dog's fleas?"
RAINY DAY FUND 
After receiving our first KONG Club Box, $45 was deposited into our Rainy Day Fund. The emergency funds were available after 7 days. Thankfully, we did not need to use them. 
With that said, the Rainy Day Fund would have been useful when Django started shaking and was slightly wobbly on his back legs in January 2022. Mike and I could have logged into the KONG Club app and immediately spoken with a licensed vet. After the KONG Club veterinarian confirmed that Django might need IVDD surgery, we could go to any veterinary clinic. Then after we paid his $8,600 hospital bill, KONG Club would have reimbursed us up to $1,000. 
KONG CLUB LIBRARY 
As of writing, the KONG Club library has 212 blog posts. Approximately 69% of the articles are about dogs, healthy lifestyles, and pet care. The KONG Club library might not be the best resource if you have a small or exotic pet. But you can quickly search for terms like potty training and bookmark your favorite topics.
Mike and I wish we could have accessed the KONG Club library while potty training Django. Dachshunds are very difficult to potty train. As a result, Django had regular accidents in our Brooklyn apartment until he was 8 months old.
ASKVET CLUBHOUSE 
With 3,000+ members, the AskVet Clubhouse is the perfect place to swap pet stories and give and get support and advice from other dachshund owners. We have only been members of the AskVet Clubhouse for a week, but we were able to suggest the best winter coat for a 6-month-old field dog. As the parents of a rambunctious 3.5-year-old toddler and a 6-month-old baby, we also love that the AskVet Clubhouse has a webinar on pets and toddlers. We have worked hard to teach our oldest son, William, to respect Django's boundaries.
HOW MUCH DOES KONG CLUB COST?
The cost is based on how long your KONG Club subscription is and what type of pet you have. If you sign up for a 6 month or 12 month subscription, you will save 11%-29%. Here are the current prices as of October 2022:
HOW TO SIGN UP FOR KONG CLUB
Your first KONG Club Box is easy to order. Here is how:
Step 2: Enter your name, email address, and cell phone number. Tick the checkbox that says, "Virtual vets cannot write or renew prescriptions for food or medicine. I'm at least 18, and I agree to KONG Club's terms of service."
Step 4: Select how often you want to receive your KONG Club Box (i.e., monthly or every other month). Then pick your subscription plan (i.e., month-by-month, 6-months, or 12 months).
Step 5: Then enter your shipping address and payment method. KONG Club accepts Visa, Mastercard, American Express, JCB, Discover, and PayPal.
A FEW MORE COOL FACTS ABOUT KONG CLUB
In 1970, Joe Markham founded KONG. His German shepherd, Fritz, only wanted to play with destructive items like rocks and sticks. While Joe was fixing the suspension on a vehicle, he threw out a snowman-shaped rubber part. It was the first dog toy Fritz was interested in. 
KONG Club's best-selling, all-natural rubber dog toys and dog treats are

made in the

 USA.
DJANGO'S VERDICT: IS KONG CLUB WORTH IT
The KONG Club Box is the perfect way to spoil your dog. The premium monthly dog subscription box is stuffed with high quality dog toys and treats that seldom disappoint. We (and Django) love the mix of both plush and rubber dog toys; they provide a different style of exercise and entertainment for Django. Django absolutely loves the novelty of receiving new toys each month and, as described above, he goes completely crazy every time he receives a new KONG Club box.
As for the KONG Club app, we love knowing there are licensed vets at our fingertips 24/7. Although the vets on the app cannot write or refill pet prescriptions, they can answer any health and wellness questions that arise throughout the year.
Though we hope our long-haired dachshund does not need emergency care. It is great to know that we are gradually building an emergency pet care fund. After all, peace of mind is priceless. 
Overall, KONG Club is a fantastic value, especially if you select a 6 Kit or 12 Kit plan. If you have not already tried KONG Club, join now, and let us know what you think!
Leave a comment
Comments will be approved before showing up.