Interview: Gunnar's Wheels, a Nonprofit that Donates Free Pet Wheelchairs to Paralyzed Dogs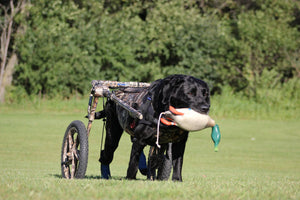 It is a devastating situation you never expected. Your dog experiences a traumatic back injury and is paralyzed. He might have been hit by a car and left to be a paraplegic from the devastating accident. Or perhaps your dog jumped off the couch one day and was suddenly unable to walk. After being diagnosed with intervertebral disc disease (IVDD) and undergoing complicated and costly back surgery, he now needs help getting around since his back legs still do not work properly.
The cost of care after a dog back injury is tremendous in and of itself. Factor in prescription medications, a crate or pet corral for post-op recovery, a high quality dog harness and leash that doesn't disrupt your pup's incision site... all of these items and their costs add up quickly.
If your dog has been paralyzed from a back injury, you will also want to acquire a dog wheelchair so your pup can move around freely and without difficulty. Dog wheelchairs are expensive—as much as $500—and may not be affordable to those who need them.
Enter Gunnar's Wheels. This wonderful Wisconsin-based nonprofit company donates dog wheelchairs and carts to disabled pets in need.
We caught up with Jason Parker, founder of Gunnar's Wheels, to talk about his beloved black labs, Gunnar and Bennie. We discuss why Gunnar's Wheels was founded and what types of pet wheelchairs it provides. We also chat about the paralyzed animals it has helped and how Gunnar's Wheels stays afloat with donations from Facebook or GoFundMe. 
It is nice to speak with you, Jason! Can you tell us what inspired you to start Gunnar's Wheels?
My dog Gunnar was hit by a vehicle in February of 2014, and he was left  paraplegic. We took him to the University of Minnesota, and an MRI showed that he had a broken back. To give him the best chance at recovery, we paid for back surgery. It cost $6,000-$8,000. We maxed out our credit cards to save Gunnar's life. They said the surgery was only 50/50.
When we got him back home, I started researching the best way to care for a paralyzed dog. I did not even know there were dog wheelchairs. For his size, wheelchairs run about $500. That was money that we just did not have. A local newspaper reached out and wanted to do a story on him. They set up an account at a local bank where people could donate to Gunnar's ongoing care. That is how we afforded his first dog wheelchair. I have never been a person to ask anybody for anything. I was like, "How am I going to repay these people? They helped out a dog they never met." I started Gunnar's Wheels in 2016. Unfortunately, Gunnar passed away in 2017.
I am so sorry for what you and Gunnar went through. We (Steph and Mike) went through our own harrowing experience earlier this year when our dog Django became temporarily paralyzed due to Intervertebral Disc Disease (IVDD). Fortunately, Django had surgery immediately, was able to regain feeling in his back legs, and has been able to make an almost-full recovery since his operation.
How does Gunnar's Wheels work?
Gunnar's Wheels is a lifetime loaner program. It does not cost our recipients anything. We ask them to return the pet wheelchair when they are done with it. Currently, we have over 3,500 chairs worldwide and have helped over 5,000 animals.
I have people ship their pet wheelchairs back to my work address. It is cheaper to ship a pet wheelchair to a business than a private residence. When we ship dog wheelchairs out of the country, we never ask for them back. We ask pet parents to find an animal in their country that can use the wheelchair. It is expensive to ship them to Osseo, Wisconsin, from another country. Gunnar's Wheels has wheelchairs in Canada, Africa, and Italy. You could throw a dart at the world and land in a country where we have a dog wheelchair.
What kind of pet wheelchairs does Gunnar's Wheels offer?
Many types of pet wheelchairs have been provided, not just rear-wheel or four-wheel. We have also supplied front-wheel carts. These custom pet wheelchairs are built by a company out in Montana. Unfortunately, it was sold within the last year. We do not do too many front wheelchairs because we have so many rear wheelchairs and rear wheel recipients on the waiting list.
It is easier just to give people the information about where they can get a front-wheel cart and then try to help them through the process. With funds being limited, they get the same discount that I do. I do not get as deep of a discount with that company as I do with the commercial pet wheelchair manufacturers.
Does Gunnar's Wheels only help paralyzed adult dogs and puppies? What about other animals?
We have helped rabbits, goats, sheep, baby fawns, possums, and raccoons. We helped HandicappedPets design the first ever tortoise wheelchair. Scoot Reeves was hit by a truck, and I reached out to HandicappedPets, who manufacture the Walkin' Wheels brand of pet wheelchairs. We went to work and figured it out, and Scoot Reeves is still using his custom wheelchair. Now, there are 6 wheelchairs for tortoises that are disabled in their hind legs around the country.
How long does it take you to refurbish a dog wheelchair?
The whole process takes about 36 hours. I have a workshop below our house. I bring the pet wheelchair there and spray it down with disinfectant. It sits there for about 24 hours to kill bacteria and viruses that might be on the cart. I clean all the support harnesses, leg rings, and stirrups. Then hang dry them outside. I wash about three laundry loads of soft parts per week. I use different color zip ties to track what came with each chair.
What measurements do you need to take for paralyzed pets?
Pet wheelchairs use weight and Fold of the Flank (FOF) measurements. Cats are built like dogs, so you can just use an extra small cart for them. We have had some small puppies in extra small carts, and those things are really tiny. Some of the pet wheelchairs are more custom like Eddie's Wheels. They have 15-16 measurements that people have to do because they are custom wheelchairs.
The pet wheelchair manufacturers that I deal with generally make adjustable wheelchairs. Walkin' Wheels makes what I like to call convertible carts. Because I can turn that cart from a rear wheelchair into a quad with just one attachment. They do make a front wheel attachment for the Walkin' Wheels. If I have a boxer that needs a quad wheelchair in the end stage of degenerative myelopathy (DM), the next dog that gets that chair may need a hind wheelchair. I can take that front wheel attachment off and match it with another dog wheelchair. 
What kind of dogs are at the top of Gunnar's Wheels waiting list?
Rescue and shelter animals are always first on our list. Sometimes animal rescues will not take a chance on a paralyzed pet because they think, "We have to buy a $500 wheelchair and still get vetting done." We provide them with a free dog wheelchair. Then, hopefully, they can go through the adoption process. Animal shelters are now looking at disabled animals in another light because they have us in their corner helping them get a wheelchair. Military working dogs and police dogs are also granted a pet wheelchair. I believe in those animals. They put their lives on the line for soldiers and police officers. When K9s are injured in the line of duty, we help them. 
Can you tell us a little bit about how you match up dogs and wheelchairs?
When people send their dog wheelchairs back, we ask them to include a picture and a brief bio of their pet for the next recipient. It helps with the grieving process and gives the next owner of the wheelchair a little bit of hope. Some people have connected and become friends because of these notes and pictures. If I get a dog wheelchair with a story and a picture of a pug, I send it to another pug owner. 
It is hard to read some of the notes and see pictures of animals I have never met. I know the heartbreak of losing an animal and what that animal meant to them. It makes me think about losing Gunnar. It is like tearing the scab off again. Some of these letters are just heartbreaking, tear-jerking letters. We also get a ton of thank you letters inside the dog wheelchairs. They are pinned on a bulletin board in my workshop. 
Does Gunnar's Wheels have any corporate sponsors?
My sister, Jaimee, takes care of all our corporate fundraising. Last year, the
Sunshine Foundation
donated $10,000, and we earmarked that money for rescue and shelter animals. 
Where else do you get donations from?
When the pandemic began, I shut down fundraising. I would rather see people keep a roof over their heads and food in their bellies than donate to a disabled dog. It was a hard decision for me to make.
We still have an active GoFundMe page. We get sporadic donations from that. With the pet wheelchairs that we have in stock and the wheelchairs we get back every day, we operate on our Facebook donations. We have a donate button on our Facebook page because we are a 501(c)(3) nonprofit organization. It covers all our freight, which costs about $700 per month. Depending on what size chair a dog needs, if we do not have it in stock, Facebook donations cover 5-6 new chairs per month. We get between 5-10 requests per day for wheelchairs for dogs. There are 50-60 pets on our waiting list.
We also have a Gunnar's Wheels credit card, and we itemize everything. We ensure every penny is accounted for, and every cent we raise goes towards this project. 
We are so sorry to hear that Gunnar passed away. Can you tell us a bit about the new canine ambassador for Gunnar's Wheels?
We adopted Bennie through the Beagle Freedom Project. Our black Lab-mix puppy was a Chinese meat trade survivor. He has got a rear wheelchair because his back legs are paralyzed. Bennie hops like a kangaroo.
While Gunnar could hold his poop and his pee, Bennie is incontinent. He wears a disposable diaper, a onesie, many pairs of kids' shorts, and then a washable diaper over the top of everything. We have to change them 3-4 times a day. But I would not trade Bennie for the world.
Bennie is lucky to have found such a loving family to care for him. Thank you for sharing Gunnar's Wheels with our audience, Jason!
To request a free dog wheelchair, contact Gunnar's Wheels on Facebook or email Jason Parker at twobirddogs@hotmail.com. 
To donate or learn more about Gunnar's Wheels, visit Gunnar's Wheels' Facebook and GoFundMe pages. You can also select Gunnar's Wheels as your charity on AmazonSmiles.
YOU MAY ALSO BE INTERESTED IN
18 Responses
Leave a comment
Comments will be approved before showing up.