25 Best Poodle Gifts for the Whole Family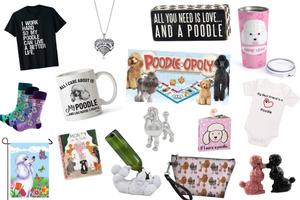 (Updated June 2023)
Disclaimer: Please note that some of the links below are affiliate links. This means if you purchase an item, we may receive an affiliate commission at no extra cost to you.
Poodles are faithful companions, fast learners, and affectionate family pets. These all-around athletes are also considered one of the most intelligent and capable dog breeds.
Looking for the perfect present for yourself or a poodle lover in your life? We have rounded up 25 poodle gift suggestions for the whole family. We included Poodle Gifts for Her, Poodle Gifts for Him, Poodle Gifts for Children, and Poodle Gifts for the Home.
POODLE GIFTS FOR HER
POODLE GIFTS FOR HIM
POODLE GIFTS FOR CHILDREN
POODLE GIFTS FOR THE HOME
POODLE GIFTS FOR HER
1. WATERPROOF POODLE COOKING APRON WITH POCKETS
2. POODLE OIL AND WINE BOTTLE HOLDER CADDY FIGURINE
From the tip of her fully-feathered ears to the end of her pom-pom tail, this whimsical 5.5-inch tall poodle figurine is an oil and wine holder that is so adorable you will want to cuddle her. This outrageously cute poodle will not only hold your vino with charm, but she also looks like she is drinking it too.
3. CUSTOM POODLE TRAVEL TUMBLER
This one-of-a-kind poodle-themed travel tumbler is available in two sizes - 16 oz and 20 oz. The light-pink, stainless steel tumbler has a spill-proof lid and is insulated to keep drinks piping hot for up to 6 hours or icy cold for up to 24 hours.
4. DJANGO WAXED CANVAS AND LEATHER DOG CARRIER BAG
Looking for an easy way to take your miniature poodle with you? DJANGO's dog carrier bag is tried and tested for travel and adventure. Ranked as the "Best Dog Carrying Bag Overall" by Business Insider and with over 175 5-star reviews on Amazon.com, this modern and stylish dog carrier bag has soft leather handles, four interior and exterior zipper pockets for storage, and a soft sherpa-covered and machine washable footpad. It comes in medium (for dogs up to 15 lbs) and large (for dogs up to 30 lbs).
5. 'POODLE MOM' SILVER HEART NECKLACE WITH CUBIC ZIRCONIA
This 'poodle mom' heart pendant necklace has sparkling cubic zirconia diamonds and a high-polish sterling silver finish. The pendant is a ½ inch wide and a ½ inch tall. It comes with an 18-inch link chain and lobster claw clasp for easy wear.
6. CHARIOT HARDSIDE POODLE LUGGAGE SET
This adorable hardshell poodle-themed luggage set will allow you to travel in style. Each lightweight carry-on has a built-in 3-digit combination lock, a fully-lined interior with zipper pockets and tie-down straps, a telescopic handle, and wheels that spin 360 degrees. The smallest suitcase in the set is 20 inches and weighs 6.4 lb while the largest suitcase is 28 inches and weighs 9.8 lb.
7. 'JUST A GIRL WHO LOVES POODLES' T-SHIRT
This poodle tee for women is high-quality, soft, and made from 100% cotton. Choose from 10 great colors, including baby blue and kelly green.
8. INSTANTARTS POODLE-PRINT COSMETIC MAKEUP AND TOILETRY BAG
This light pink cosmetic makeup and toiletry bag is perfect for organizing your everyday essentials. It features squeal-worthy black and brown standard poodles wearing adorable white hair bows. The roomy makeup bag measures 8.5" in length by 5.7" in height, and it easily fits inside a purse, carry-on bag, or backpack.
9. DJANGO "ADVENTURE BUNDLE" WALK SET: MATCHING DOG HARNESS, DOG COLLAR, DOG LEASH, AND CHIC WASTE BAG HOLDER
DJANGO's dog adventure bundle is designed for rugged adventures and everyday wear. It includes DJANGO'S high quality, comfortable, and 5-star rated Adventure Dog Harness, stylish and rugged Adventure Dog Collar, classic Standard Adventure Dog Leash, and chic Waste Bag Holder. All items feature beautiful, rust-resistant solid brass hardware.
POODLE GIFTS FOR HIM
10. 'ALL I CARE ABOUT IS MY POODLE' COFFEE CUP
This sarcastic coffee cup is the perfect gift for poodle dads who are just doggone funny. The 10 oz. white orca ceramic mug is also dishwater and microwavable safe. 
11. 'I LOVE MY POODLE' CREW SOCKS
You have standards, but your man has STANDARD poodles. So there is nothing better than this 3-pack of superfly 'I love my poodle' crew socks. 
12. SIMON CARTER | POODLE CUFFLINKS
13. 'I WORK HARD SO MY POODLE CAN HAVE A BETTER LIFE' T-SHIRT
Show 'em you are a hard-working poodle dad when you wear this classic-fit, cotton-blend tee. Comes in black, asphalt, dark heather, heather blue, and purple. 
POODLE GIFTS FOR CHILDREN
14. 'MY BEST FRIEND IS A POODLE' BABY ONESIE
It will not be hard to spot the cutest baby on the block when he's wearing this 'My Best Friend is My Poodle' onesie. This poodle-themed piece is made from 100% combed ring-spun cotton that is 50% stronger than traditional baby bodysuits. It has 3 sturdy snaps and comes in 8 eye-catching colors. 
15. 'IF I WERE A POODLE' BABY BOARD BOOK
Toddlers will la-la-love this 6" inch, poodle-themed baby board book. It features colorful, textured pictures and has a plush, wagging tail attached to its back cover.
16. POODLES GO AROUND THE WORLD COLORING BOOK
You will flip for this best-selling poodle-themed coloring book designed with tweens, teenagers, and young adults in mind. It features a poodle that loves to travel to famous cities like New York and Paris. It also contains 26 beautiful, single-sided illustrations in different styles and a link to a free bonus coloring eBook. 
17. FORUM NOVELTIES FLIRTIN' WITH THE 50'S POODLE HANDBAG
This throwback fuzzy pink poodle purse is perfect for any lil' Pink Lady. The '50s novelty bag is just the right size for carrying keys, makeup, or money. 
18. MONTY AND THE POODLES HARDCOVER PICTURE BOOK
Monty is a scruffy and homeless orphan that will melt your heart and give you hope for a better world. The black stray dog makes friends with Ginger, a pampered, white poodle who lives in Poodle Mansion. It has a strict poodles-only policy, so Monty and Ginger turn an abandoned cinema into a home where all dogs are welcome.
POODLE GIFTS FOR HOME
19. 'ALL YOU NEED IS LOVE AND A POODLE' BOX SIGN
Showcase your love for poodles with this classic wooden box sign. The black and white sign is made from high-quality wood, sits freely on any flat surface, and has a vintage, farmhouse style. It measures 3.5 x 2.5 x 3 inches.
20. KISSING POODLE CERAMIC SALT AND PEPPER SHAKERS
You will gladly let your kitchen go to the dogs with this vintage kissing ceramic poodle set. These 4" tall salt and pepper shakers have magnetic noses, so they will stay lip-locked on the countertop.
21. POODLE WALL ORGANIZER WITH HOOKS
Made in America, this poodle-themed key hook and keychain holder will add a bit of charm and character to any entryway. It features 5 rounded hooks for hanging keys, fobs, leashes, necklaces, facemasks, and other small items. This powder-coated black wall organizer is also available in two sizes and comes with matching black screws for easy mounting. 
22. BEST OF BREED WHITE POODLE BUTTERFLY GARDEN FLAG
This poodle-themed home garden flag will extend a warm welcome to your guests.  The 12-by-17 inch flag is made from two pieces of water-proof and sun-resistant polyester that will withstand the wildest weather. 
23. PREMIER KITES PETITE POODLE SPINNER
Spruce up your garden with this petite poodle-themed whirligig. The 17-by-11 inch pinwheel is made from lightweight, water-repellent ripstop polyester. It also has pre-glued wings, so you will not have to pick up pieces after severe storms. 
This stunning metallic poodle statue measures 8.74 x 4.13 x 11.42 inches and weighs 1.32 lbs. Available in 10 different eye-catching shades, this unique ceramic dog figurine will add a pop of color to any space.
25. CHFUKEW SUPERSOFT FLEECE BLANKET THROW
Spread this oh-so-soft and cozy poodle-themed throw over your couch, sectional, loveseat, recliner, or bed. The eco-friendly and lightweight blanket is made from premium 100% microfiber polyester that is fade- and shrink-resistant.  It comes in 3 sizes:  40" X 50" for toddlers, 50" X 60" for children, and 60X80 for adults.
You may also be interested in
Leave a comment
Comments will be approved before showing up.