The Best Gifts for Dogs and Dog Lovers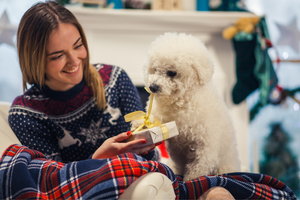 Disclaimer: Please note that some of the links below are affiliate links. This means if you purchase an item, we may receive an affiliate commission at no extra cost to you. We only recommend products we know and love, and all opinions expressed here are our own.
Updated June 2023
Looking for the perfect gift for a dog lover in your life? Need some gift ideas for your four-legged family? We've got you covered! We've compiled the best gifts for dog lovers this year including beautiful custom and personalized pet gifts, rad accessories, popular stocking stuffers, and a few family-friendly finds. We also listed our all-time favorite gifts to spoil your dog with this holiday season.
The Best Gifts for the Dog Lover on Your List
Custom and Personalized Pet Gifts
Paint My Pooch Pet Portraits takes things a step further, offering a range of production options such as pet phone cases, custom pet blankets, and pet mugs. These make perfect gifts or keepsakes, offering a unique way to celebrate your furry friend.
The pet blankets they create are fashioned from plush, superior-quality materials and adorned with a custom image of your pet, making for a truly snug and endearing keepsake. Offering more than just warmth, these blankets embody a unique sentiment that's sure to be cherished by any pet owner.
Stellar Villa is a Brooklyn-based art company offering stunning custom designs by artist Laura. Stellar Villa offers many custom pet art options including minimalistic line art (left image), mid-century style pet portraits (right image), carton-style pet art, custom paintings, and even custom pet tattoo designs. As the two below examples show, Laura's artwork is truly exceptional and tends to have a modern flair.
West & Willow offers fun and modern custom pet portraits and custom iPhone cases. The pet portraits feature gallery grade paper, real hardwood frames, and modern, custom illustrations of your four-legged family. Choose from several portrait background options including white, dusty pink, charcoal gray, and other limited edition options. 
We ordered a custom pet portrait of Django and couldn't be more thrilled with the artwork. The portrait itself is gorgeous and a perfect likeness of our adorable and fluffy sausage dog. The frame is clearly high quality and classy. It's a perfect addition to my (Steph's) home office.
Get an extra 10% off your West & Willow custom pet portrait order with this link.
Does the dog lover on your list like dogs? And coffee? These stunning custom pet mugs by PetCanva are an essential for the cupboard.
Now you can protect your phone AND carry your four-legged family with you everywhere you go. West & Willow phone cases feature a solid back and flexible sides that make it easy to take on and off. Wireless charging compatible. Save 20% on all phone cases when you also purchase a portrait.
Use this link to get an extra 10% off your order.
Rad Accessories and Tech for Dog Lovers
DJANGO's dog carrier bag is a beautiful waxed canvas and leather pet tote designed for daily commutes and weekend adventures. A soft and sturdy footpad and bag-to-harness tether ensures dogs' comfort and security. Four exterior and interior zip pockets ensure essentials (poop bags, keys, your passport) don't get lost in the fray.
In addition to being available on djangobrand.com, you can also shop DJANGO's dog carrier bag on Amazon.
Tractive's GPS DOG LTE Tracker is easily the best dog tracker on the market, and one we can get behind from personal experience. The incredibly lightweight and powerful device securely and easily clips on to your dog's collar or harness and then pairs seamlessly with your smart phone. Tractive's Gift Bundle For Dogs comes with both the tracker as well as a gift card for 1 year of Tractive's BASIC subscription, and you can use promo code DJANGO for $15 off your order.
Within the Tractive mobile app, dog owners enjoy knowing where their dog is at all times and even get notified if their pup wanders a little too far from the backyard. Two other cool things? The tracker is 100% waterproof and maintains battery power for up to 7 days.
Mike and I (Steph) have our own Tractive GPS DOG LTE Tracker for Django and can attest to its quality, ease-of-use, and the peace of mind it brings us. Highly recommend for any and all dog owners.
This modern and rad shop has some of the coolest dachshund-themed apparel and accessories for women including tees, tanks, sweatshirts, and face masks. I myself own a few of their items and can highly recommend them.
If you're looking for additional gift ideas for sausage dog lovers, check out our Dachshund Lovers Gift Guide.
DJANGO's Adventure Dog Harnesses and Leashes are high quality, comfortable, and adventure ready. The harnesses feature a padded and weather-resistant neoprene body, four points of adjustment for a custom fit, and beautiful solid cast brass hardware. The leashes are made with heavy-duty webbing and feature a padded comfort handle and the same gorgeous brass hardware. Save when you complete your set with an Adventure Dog Collar and chic Waste Bag Hodler via DJANGO's 'Adventure Bundle'.
DJANGO's Nolita Belt Bag is a modern and ultra-functional essential for dog lovers, travelers, and explorers. The sleek and stylish fanny pack features a water-resistant exterior, spacious main compartment, and multiple interior and exterior zipper pockets for safe stashing. Looking for a secure place to store your earbuds? Use one of the two front zipper pockets. Need easy access to doggy treats when you and your pup are strutting down the sidewalk? Use the front mesh pocket. Additional features include a secure key clip, three credit card slots, and a discreet built-in poop bag holder and dispenser.


Family-Friendly Gifts for Dog Lovers
Social distancing doesn't have to be so boring. Get the dog lover on your list this dog-themed 1000 piece Ravensburger jigsaw puzzles for adults.
Bgraamiens' 'Puppies' Party' is 1,000 pieces worthy of any skilled puzzler who's practicing social distancing and quarantining at home.
Consider this other best selling dog-themed jigsaw puzzle on Amazon. Unlike the 1000 piece Ravensburger puzzle we featured above, this one is 'only' 500 pieces and equally entertaining.
Stocking Stuffers for Dog Lovers
This dog-friendly deck of playing cards features a few of our favorite breeds: basset hounds, Dalmatians, miniature schnauzers, Pembroke Welsh corgis, and West Highland white terriers.
Based on the hilarious @dog_feelings Twitter and Instagram feeds by Matt Nelson of WeRateDogs, this calendar offers sweet, endearing thoughts from the paw-spective of a good dog. The pontificating pup's reflections on life always bring laughs or melt hearts.
This best selling pet keepsake is a lovely pawprint kit. Rated 5 stars by over 1,000 Amazon customers, the kit includes 70g of white clay, roller, circle cutter, hole puncher, assorted color ribbons, 2 display stands, and bonus stencil kit for a personalized pet keepsake or Christmas ornament.
The Best Gifts to Spoil Your Dog
Popular Dog Toys
BarkBox has a few of their best-selling plush dog toys listed on Amazon, and each of them is adorable and awesome in its own way. Gordon the Giant Sloth, for instance, is covered head-to-toe in super-long, super-strong hair that dogs absolutely love (including our dachshund Django!). There's also our personal favorites Odd-Ollie the purple octopus and Consuela the Cactus.
Whether the day's agenda calls for thrashing, ripping, or just curling up under the blankets for 15 hours, dogs love this toy. Non-toxic plush from high-quality manufacturers ensures that this toy is safe for all pups to play with.
We've always been huge fans of KONG dog toys and products. Not only are KONG dog toys super durable and well made, but Django also loves each KONG toy we've gotten him! I was pretty pumped when I saw KONG came out with their own monthly subscription box of dog toys, treats, and training tools. If you're looking for a fun and fresh assortment of toys to keep your dog entertained and excited throughout the month, definitely consider KONG's great monthly boxes.
Dogs love playing with this plush toy's 3 adorable donuts and digging them out of the 'coffee cup' holder or fetching them with you. Django has a few of these hide-and-seek dog toys, and he never seems to grow tired of them!
If you want to make your dog extremely excited and happy every month... this is the gift to get. BarkBox is a subscription service that delivers 2 original dog toys, all natural dog treats, and an all-natural chew directly to your doorstep. Django absolutely loves BarkBox and somehow knows the box is for him every time.
If you don't want to subscribe to a monthly service, no problem. Dog owners can purchase one-off boxes at any time throughout the year. One-off orders are a great way to do something special for your pup without the ongoing cost of a monthly membership.
Django's favorite hobbies including eating, cuddling, and absolutely obliterating new toys. He loves nothing more than taking a perfectly new toy and ripping it to pieces. We stopped paying more for premium "destroy-proof" toys since Django would ruin them in minutes! You can imagine Mike and I were thrilled when Bark rolled out its Super Chewer monthly subscription box for dogs who play harder and demand more of a challenge with their toys.
Each monthly Super Chewer box includes 2 tough toys, 2 full-size bags of treats, and 2 meaty chews. Each box is themed around different types of play and senses such as fetch, mentally stimulating puzzles, and scents for nose work.
Best Stocking Stuffers for Dogs
The Bully Buddy is a durable, easy-to-use, veterinarian-vetted, and dog-approved device that tightly secures bully sticks, preventing dogs from choking on the tail-end of the treat.
If your dog loves going outside in the fall and winter but gets chilly when the temperatures drop, consider sneaking into his stocking a super cozy DJANGO Dog Hoodie. DJANGO dog hoodies are soft, stretchy, and designed for outdoor adventures and everyday wear. Designed for comfort and function, the dog hoodies are fully lined and have a reinforced leash portal, a stretchy elastic waistband, and are machine washable.
This gift might be too big for a stocking, but it would make an amazing and thoughtful addition to your dog's holiday gift list this year! Puffy's Memory Foam Dog Bed is an incredibly comfortable and well made bed for four-legged family. High-density memory foam evenly distributes weight and has cooling qualities to prevent dogs from getting too warm while they rest. The bed cover is also removable and machine washable (an absolute must for our dog Django who sheds like no other and manages to track in dirt and debris after every outing!). One more huge plus? Puffy's dog bed comes with a lifetime warranty.
Benebone's Wishbone bacon-flavored dog chew is designed for aggressive chewers. The long-lasting, durable chew is flavored with real bacon and incredibly tantalizing to dogs of all shapes and sizes. Made and sourced in the USA.
Best Organic and All-Natural Dog Treats
Castor & Pollux's Organix lines of dog treats and dog food are wonderful, high quality organic options for dogs. We actually recommend this brand's 'Organic Grain-Free Small Breed' dry food recipe in our article "The Best Organic, All Natural, and Grain Free Dog Foods". The first ingredient of this particular Organix recipe is USDA Organic free-range chicken. In addition to being a favorite among dogs (and dog owners), a bag of these crunchy treats averages only $6-7 - a very reasonable price compared to other organic dog treat options out there.
We (Mike and Steph) visited Polkadog's retail location with Django in South Boston last year. We were both impressed by the quality of Polkadog's ingredients, their simplistic recipes, and the fact that every bag of Polkadog treats is made in the Boston area. Unlike other dog treat brands which outsource manufacturing, Polkadog Bakery owns and controls their own manufacturing facilities. Does your dog prefer fish instead of chicken? Try Polkadog's dehydrated cod skin sticks. Django LOVED these crunchy treats when we visited Polkadog in Boston, and we ultimately went home with a 2lb bag of them.
These peanut butter and banana organic dog treats by Wet Noses are a favorite among health-conscious dog owners and a top seller on Amazon (for good reason). All five ingredients are USDA Organic and non-gmo. Because the treats do not contain any animal protein (rather, organic pea flour is used as a source of protein), the crude protein content is slightly lower than other treats on this list at 15%.
We've been giving a selection of Spot Farms treats to our sausage dog Django for years and often recommend the brand to our dog loving friends. These treats contain nutritious, human-grade ingredients like antibiotic-free chicken, high-fiber brown rice and antioxidant-rich apples. Dogs absolutely love the rich meat flavor in these small bite-sized treats, and dog owners love Spot Farms' simple list of honest and high quality ingredients.
Dog owners rave about these 100% organic beef sticks by Green Butterfly Brands. The limited, high quality ingredients are organic, human-grade, and American sourced, and the treats contain no artificial flavors, colors, fillers or preservatives. In addition to being packed with protein, these crunchy beef sticks are great for dogs of all sizes. Although the sticks themselves are a good size, they're very easy to break into bite-sized pieces for smaller dog breeds.
Drool-Worthy Fresh Dog Food
Our dachshund Django is absolutely obsessed with The Farmer's Dog and Pet Plate (more on that one below). The Farmer's Dog purchases high-quality, human-grade ingredients from local farms and food suppliers that meet USDA standards. Pre-made meals arrive in recyclable cardboard boxes with dissolvable cornstarch insulation. The New York-based company freezes multiple servings in each non-resealable package. They must be stored in the freezer and thawed in the fridge before serving.
Pet Plate is another very high quality fresh dog food delivery brand with tons of raving customers (both two-legged and four-legged). The company has a Cornell University-trained veterinary nutritionist who ensures its recipes meet or exceed AAFCO standards. The meals are gently cooked in small batches and then flash-frozen in USDA kitchens. Each microwavable-safe container has two, pre-portioned meals. Pet Plate also has a topper plan if you want to mix fresh dog food with kibble. 
Additional Resources
1 Response
Leave a comment
Comments will be approved before showing up.