The Ultimate Corgi Gift Guide for Corgi Lovers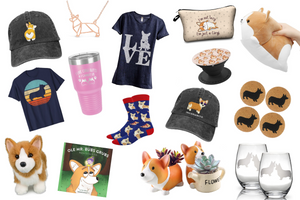 Disclaimer: Please note that some of the links below are affiliate links. This means if you purchase an item, we may receive an affiliate commission at no extra cost to you. We only recommend products we know and love, and all opinions expressed here are our own.
Looking for the perfect corgi-themed gift for you or another corgi lover? We've compiled our favorite corgi-themed goods for every member of the family. Each one of these items is adorable, high quality, and rated 5-stars by corgi-loving Amazon customers.
Whether you're looking for an awesome accessory for a fun loving corgi mom or a retro-style tee for a classic corgi dad, we've got you covered.
DJANGO's Adventure Dog Harnesses and Leashes are designed for corgis and all other adventurous small and medium sized dog breeds. The harness and leash sets are built for rugged adventures and everyday use. The Adventure Dog Harness features a weather-resistant and padded neoprene exterior with reflective piping, breathable sport mesh lining, supple and colorfast webbing, and four points of adjustment for a custom fit. The Adventure Dog Leash features heavy-duty and colorfast webbing, an ultra-padded neoprene handle for max comfort, and a functional D-ring. Solid cast brass hardware adds additional strength, durability, and sophistication to the adventure-ready designs.
Corgi Gifts for Her
Thread Tank offers super comfortable and high quality tees like this one. Showcase your corgi love while your lounging around the house or out and about with this soft, relaxed-fit tee. 
This engraved stainless steel tumbler comes in a ton of great colors and two sizes - 20oz and 30oz. The tumbler is spill-free, air-tight, and insulated to keep both hot and cold drinks at their desired temperature for an extended time.
This distressed baseball cap is high quality, comfortable, and made from 100% cotton denim. The hat features an adjustable plastic back buckle closure and is one size fits all.
This corgi phone grip is a great accessory for any corgi mom or corgi lover. The grip attaches to the back wall of your phone, providing a secure hold for easier texting, calling, photos, and selfies. The grip's advanced adhesive allows you to remove and reposition the item most devices and cases.
These durable and water-resistant cosmetic and toiletry bags are high quality and perfect for organizing one's essentials. Each bag in this set of three measures 8.7" in length by 5.3" in height and is lightweight, portable, and functional.
This Pembroke Welsh Corgi mug is a hilarious gift for women who have a fun sense of humor. The 11oz. mug is incredibly highly rated on Amazon by corgi lovers across the board.
This corgi tee for women is soft, high quality, and made from 100% cotton. Choose from 5 great colors including this popular heather gray shade.
This rose gold corgi-inspired pendant necklace is great for everyday wear or special occasions. The pendant measures 1.5" x 2" x 17" and comes with a rose gold chain and lobster clasp closure for easy wear.
Corgi Gifts for Him
This vintage-inspired dachshund tee is a subtle way for any corgi dad to show his corgi pride. Available in multiple colors and sizes.
How can you resist a cute pizza-loving corgi? These men's corgi- and pizza-themed socks are soft, comfortable, and perfect for the corgi-loving pizza enthusiast in your life.
These one-of-a-kind cork coasters are a perfect gift for any corgi lover. They add a minimalist and rustic accent to any table. The absorbant, functional coasters measure 4 inches across and are 0.25 inches thick and protect surfaces from scratches and stains.
This distressed denim style 'Incorgnito' baseball cap is an awesome addition to any corgi dad's closet. The cap is 100% and soft. A built-in sweatband wicks away sweat, and the adjustable closure allows for a perfect fit for most men.
While this t-shirt isn't specific to just corgi dads, it is seriously the perfect gift for any dog dad! The shirt is slightly tapered to be a little less boxy than the old style of mass-market t-shirts and is designed by the Ann Arbor T-shirt Company.
Corgi Gifts for Children
Any corgi-loving kid will absolutely adore these colorful corgi stickers. The stickers in this 50-pack sticker set are 100% vinyl and incredibly durable, waterproof, UV-resistant, and anti-wrinkling. They can be placed on tons of surfaces (waterbottles, notepads, etc) and won't leave residue when removed.
Louie the plush Welsh Corgi stuffed dog features a huggable, white and gold coat, made with soft, quality materials that are durable and designed to stand up to hours of play. Louis the Corgi measures 10 inches in length.
This children's paperback is an adorable book with only 5-star reviews from corgi-loving customers. From the Amazon description, "Ole Mr. Bubs Grubs is a curious corgi who loves watching the fairies of the forest play until one day when they disappear! Learning to be brave, he sets off on a great journey that shows why corgis are very special dogs. Inspired by an ancient Welsh legend, this book teaches kindness, bravery and why corgis have such big ears.Ole Mr. Bubs Grubs is a children's book for kids ages 1 - 6, although any corgi lover can enjoy! Ole Mr. Bubs Grubs is inspired by the authors oldest corgi, Rufio, and represents all of the wonderful aspects of a corgi."
This fun and colorful corgi-themed throw blanket is the perfect addition to a nursery or children's room. The blanket is incredibly soft, cozy, and machine washable. The throw measures 50 x 60 inches.
Corgi lovers of all ages will enjoy this beautiful and fun coloring book.
Make learning more fun with this adorable Corgi-themed composition book. The book features 50 lined pages with standard wide-ruled margins and a table of contents to help keep track of each topic.
175+ 5 star reviews on Amazon? Yep. This ridiculously cute corgi stuffed animal pillow has adorable round eyes, a smiling little mouth, a fat body, and a cozy, plush design.
This corgi coloring book was specifically made for Corgi lovers. The easy-to-color cartoons are silly, fun, adorable, and guaranteed to keep any child entertained.
Corgi Gifts for the Home
These adorable corgi planters are the perfect home accent for corgi and succulent lovers alike. The flower pots are well made and include small holes at the base to keep soil drained and ventilated. The two planters' exteriors measure roughly 5x4x2.4 inches and 4x4x4 inches.
Corgi and wine lovers, these wine glasses are for you! Each stemless glass has 2 etched silhouettes of an adult corgi on the outside, and the special breed name etched into the bottom. Comes in a set of 2 for sharing!
This queen and corgi-themed salt and pepper shaker set is the perfect gift for a corgi lover or British royalty fan! The ceramic shakers are very well made and each measure roughly 3.5 inches.
This adorable and hilarious corgi butt throw pillow is soft, plush, and cozy. It's a perfect accent to any bedroom, living room, home office, or kid's nursery.
This wooden sign is a perfect way to showcase in your home your love for everything corgis. The sturdy sign is made from real wood, stands freely on any table or shelf, and has a rustic, distressed style. The wooden sign measures 5 x 6 x 1.5 inches.
This corgi wall organizer features 5 rounded hooks for hanging keys, leashes, lanyards, medals, necklaces, or other small items. The powder-coated black organizer comes in two sizes and includes screws for easy wall mounting.
This corgi-themed throw blanket is soft, plush, velvety, cozy... and the perfect addition to your bed or couch. The throw is made from 100% microfiber polyester and is hypo-sensitive and lightweight. The blanket measures 50" x 70".
Accent your home and showcase your corgi love with this corgi-themed home garden flag. The flag is double-sided, measures 12 x 18 inches, and is made of all-weather polyester to ensure a long outdoors lifespan.
Bottle up your wine with this adorable and practical corgi dog wine bottle stopper. The stopper has an air-tight seal to preserve opened bottles of wine and is made of food- and dishwasher-safe silicone. The corgi bottle stopper can go into your wine bottles feet first or head first and fits all standard wine bottles.
Additional Awesome Dog Lover Gift Guides
Leave a comment
Comments will be approved before showing up.