The Best Fresh Dog Food Delivery Services (2023 Reviews)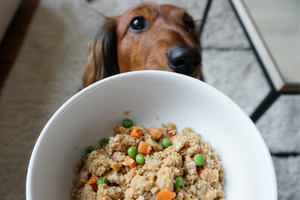 Disclaimer: Please note that some of the links below are affiliate links. If you purchase an item, we may receive an affiliate commission at no extra cost to you. We only recommend products we know and love, and all opinions expressed here are our own.
Mike and I (Steph) have tried almost every fresh dog food delivery service out there. As we kick off 2022, here are our (and Django's) favorite fresh dog food brands based on overall popularity on the market, customer reviews, and years of personal experience feeding the food to our adorable little sausage dog, Django.
We've been feeding The Farmer's Dog to Django for several years now and only have good things to say about this company and their dog food. The Farmer's Dog offers four fresh dog food recipes—turkey, chicken, beef, and pork—that are gently cooked at low temperatures to preserve the nutritional value of each ingredient. Each recipe is also fortified and boosted with The Farmer's Dog Nutrient Blend, a proprietary mix of essential canine vitamins and minerals.
The quality of The Farmer's Dog ingredients stands out. All proteins are high quality ingredients sourced from local farms and food suppliers that meet USDA standards. All ingredients are from the USA, and all meals are prepared and packaged in USDA facilities. One last plus? The Farmer's Dog offers environmentally-friendly packaging. The main cardboard box is recyclable, all insulating materials are biodegradable, and the food storage container that is included is biodegradable. Even the meal packages are made from BPA-free and non-toxic materials.

For a more comprehensive overview and review of The Farmer's Dog, read our in depth review of The Farmer's Dog here.
Recipes: Beef, Chicken, Turkey, and Pork
Shipping: Free shipping across the 48 contiguous states
Pet Plate is another very popular fresh dog food brand that Mike and I know and love. This was actually the first fresh dog food we ever fed Django, and we've since had the opportunity to meet Pet Plate's awesome and dog loving founder, Ronaldo, in New York City. The first time Django ate Pet Plate, he actually carried his bowl out of the kitchen and into the family room so he could continue licking it.
Pet Plate offers 6 dog food recipes: Chompin' Chicken, Barkin' Beef, Tail Waggin' Turkey,  Lip Lickin' Lamb, Power Packed Pork, and Lean & Mean Venison. Each recipe is made with high quality animal protein, whole vegetables and fruits, legumes, and essential vitamins and minerals. You'll notice high quality animal protein is always the first ingredient listed - something to always look for when selecting high quality dog food. Pet Plate meals are slow-cooked, quickly frozen to preserve nutritional content, and formulated to meet the nutritional levels established by AAFCO Dog Food Nutrient Profiles for all life stages. The meals are made in a USDA-inspected facility in upstate New York, following the same food safety protocols used by Whole Foods.
If you're looking to spend less, Pet Plate has popular topper plan. This lower cost plan sends less food to your home and allows you to mix your Pet Plate with a high quality dry dog food.
Recipes: Barkin' Beef, Chompin' Chicken, Lip Lickin' Lamb, and Tail Waggin' Turkey
Shipping: Free two-day shipping across the 48 contiguous states
Nom Nom offers healthy and small-batch dog and cat food that is prepared and slow cooked in Nom Nom USA facilities. All ingredients are restaurant quality and come from U.S. growers and suppliers. Many ingredients are also sustainably-sourced. Recipes are boosted with the NomNomNutrient Mix, a proprietary formula developed by board-certified veterinary nutritionist and containing many essential vitamins, minerals, and nutrients for optimal dog health.
Nom Nom meals are individually packaged, easy to freeze, and quick to thaw. The pre-portioned packages are incredibly convenient– no scooping, measuring, or prep work required.
Recipes: Beef Mash, Chicken Cuisine, Pork Potluck, and Turkey Fare 
Shipping: Free shipping across the 48 contiguous states.
Spot & Tango makes fresh dog food as well as high quality dry kibble. Meats, veggies, fruits, and whole grains are cooked separately then mixed together and frozen to lock in nutrition, texture, and flavor. The individually-packaged meals must be frozen immediately after delivery and will stay fresh for six months. Spot & Tango's kibble is gently pasteurized at a low temperature. Open bags have to be used within four weeks. 
Recipes:
Fresh:

Turkey and Red Quinoa, Beef and Millet, and Lamb and Brown Rice
UnKibble: Chicken and Brown Rice, Beef and Barley, and Duck and Salmon 
Shipping: Free two-day shipping across the 48 contiguous states
Before you go
We'd love to hear from you! If you have any questions, want to share your experience with one of these fresh dog food services, please don't hesitate to leave a comment below.
Additional resources
1 Response
Leave a comment
Comments will be approved before showing up.