Pet Plate Product Review | Our Experience with this Fresh Dog Food Subscription Service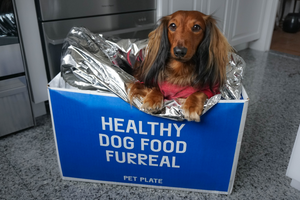 Disclaimer: Please note that some of the links below are affiliate links. If you purchase an item, we may receive an affiliate commission at no extra cost to you. We only recommend products we know and love, and all opinions expressed here are our own.
(Updated November 2022)
The first time our dachshund Django ate Pet Plate, he actually carried his dinner bowl out of the kitchen and into the living room so he could continue licking it. Django had never done that before, and Mike and I (Steph) took it as a very good sign. Fast forward three years, and Django still has Pet Plate in his dinner bowl regularly.
Below is an honest review and comprehensive overview of Pet Plate based on our personal experience feeding Django. All opinions are our own and based on our own experience feeding our dachshund Django Pet Plate meals. If you have any questions about our experience with Pet Plate or want to share your experience with Pet Plate (or another fresh dog food subscription service!), please don't hesitate to leave a comment below!
DJANGO PROMO CODE:
What is Pet Plate?
Pet Plate is a dog food delivery service that ships ready-to-eat, fresh dog food directly to your home. Dog owners order Pet Plate online (petplate.com) after completing a relatively quick survey about their dogs and selecting preferred meals for their pups. Right now, 6 meal options are available: Chompin' Chicken, Barkin' Beef, Tail Waggin' Turkey, Lip Lickin' Lamb, Power Packed Pork, and Lean & Mean Venison. Customers can choose which meals they want delivered in their box. We've fed each of these meals to Django and will provide more detail on each below.
Pet Plate meals are freshly cooked in a USDA-inspected facility in the United States, formulated to meet the nutritional levels of AAFCO, and frozen immediately to preserve the nutritional content of the ingredients. The meals are prepared, pre-portioned, and packaged with your dog's age, weight, and dietary restrictions in mind.
Subscription service? Yes. When placing your first Pet Plate order, you select how often you want to receive the meals. You can choose between a "Full Meal Plan" (i.e. your dog eats exclusively Pet Plate) or a "Topper Plan". It is understandable if you do not want to sign up for monthly deliveries. If that is the case, simply cancel all future deliveries after placing the order for your first Pet Plate box. 
Pet Plate Unboxing
Given the perishable nature of Pet Plate meals, each delivery always seems to arrive at our apartment building in record time - no more than 3 days after I place the order. The meals are packed in environmentally-friendly boxes with dry ice and a layer of insulation that's 100% compostable (photo below), ensuring they are 100% frozen upon delivery. Pet Plate confirms on their website that your dog's food will stay completely frozen and fresh for up to 5 days in transit. Each meal is pre-portioned in recyclable containers (photo of containers below), making all Pet Plate packaging 100% recyclable.
Keep in mind container size will depend on dog size. Django weighs 14lbs and receives 12oz containers in his Pet Plate box. Larger dogs that naturally need more food per meal will receive meals in larger recyclable containers.
Have we had any issues with our Pet Plate deliveries? For full transparency, there was one incident where two of Django's 12oz meal containers were partially thawed and soft upon arrival. All of the other contains were rock hard and freezing. I immediately contacted Pet Plate, and a customer service rep provided us with a credit for two containers that would be applied to the next order. Shipping out two new containers didn't seem like an option at the time, and I was happy to accept the credit. Overall my experience with Pet Plate's customer service team has been very positive. They are responsive, kind, and eager to help - exactly what you hope for when dealing with a company these days.
Recipes, Nutrition, and Quality of Ingredients
Recipes & Nutrition
Pet Plate currently offers 6 dog food recipes: Chompin' Chicken, Barkin' Beef, Tail Waggin' Turkey,  Lip Lickin' Lamb, Power Packed Pork, and Lean & Mean Venison. Each recipe is made with high quality animal protein, whole vegetables and fruits, legumes, and essential vitamins and minerals. You'll notice high quality animal protein is always the first ingredient listed - something to always look for when selecting high quality dog food. With regards to 'whole vegetable and fruits', it is worth emphasizing that Mike and I can actually see each individual ingredient in Django's Pet Plate dinner bowl (turkey, carrots, peas, potatoes, etc). This is a welcome change from dry dog kibble ingredients which highly processed, unidentifiable, and lacking in nutritional value.
Pet Plate meals are slow-cooked, quickly frozen to preserve nutritional content, and formulated to meet the nutritional levels established by AAFCO Dog Food Nutrient Profiles for all life stages. The meals are made in a USDA-inspected facility in upstate New York, following the same food safety protocols used by Whole Foods.
Each recipe is supplemented with essential vitamins and minerals including taurine, vitamin E, zinc oxide, ferrous fumarate, copper gluconate, sodium selenite, manganese gluconate, potassium iodide, vitamin D3.
We include the ingredient list and guaranteed analysis for each meal recipe below.
Quality of Ingredients
This is where Pet Plate truly stands out. The quality and nutritional value of Pet Plate ingredients are superior. The chicken, turkey, beef, lamb, pork, and venison used in the 6 meals are all high quality animal proteins sourced from USDA-registered suppliers. Pet Plate never uses rendered meats or animal by-products, and the ingredients never contain artificial preservatives, colors, or flavors. Because the meals are slow-cooked and flash frozen, each ingredient's nutritional value is largely preserved.
Django the Dachshund's Taste Test
Although Django cannot express in words how he feels whenever we open a container of Pet Plate, I can tell you this... Django is always very excited when we begin preparing his dinner bowl with Pet Plate. As I mentioned in the intro, the first time Django ate Pet Plate he carried his dinner bowl out of the kitchen and into the living room so he could continue licking it! To this day, Django is more energized and excited when he knows we're about to give him Chompin' Chicken or Lip-Lickin' Lamp.
How to order
To sign up for your dog's meal plan and determine pricing, go to Pet Plate's website. 
You'll enter a user-friendly portal that asks for your dog's information (name, gender, breed, age, current weight, ideal weight, etc), preferred meals (choose up to 4), and your email. When selecting preferred meals, we usually choose a mix of all 6 
recipes since we favor a variation in the animal protein and veggies that Django eats. If your dog is a picky eater or has dietary restrictions, you can easily select the meals suitable for your pup.
The last step is to choose between a 'Full Meal Plan' or 'Topper Plan'. The topper plan is a great idea if you want to test out Pet Plate for the first time and/or use Pet Plate as a 'topper' on high quality dry dog food.
Keep in mind that when you place your first order, you are simultaneously enrolling in an ongoing meal plan subscription. After checkout, you can alter how much dog food you want to receive with each order, and you can obviously cancel unprocessed orders at any time.
How much does Pet Plate cost?
Pet Plate pricing varies based on dog weight and activity level. We priced out three scenarios based on various dog breeds and sizes: a 14 lb dachshund (what our sausage dog Django weighs), a 25 lb french bulldog, and 50 lb standard poodle. We highlight cost per day for (1) your initial box which will be 50% off with our coupon, and (2) every billing cycle thereafter. Keep in mind these daily pricing include shipping costs and assume you are exclusively feeding your pup Pet Plate. The cost per day will obviously be cut in half if, for example, you feed your dog half Pet Plate and half organic kibble (like we do with Django).
Shipment frequency depends on dog size. For a small- or medium-sized dog, meal plans bill and ship every 3 weeks. For a 50 lb standard poodle, the plan bills and ships every 2 weeks.
Go to Pet Plate's website and calculate the cost of a meal plan for your dog.
Is it worth it? One final thought.
Feeding your dog an exclusive Pet Plate diet is undoubtedly more expensive than feeding your pup high quality dry dog food. Unlike dry dog food which can stay packaged on a store shelf for months (or years), Pet Plate is fresh and perishable if not kept frozen. It is also shipped to your door in record time. All of these factors make Pet Plate more expensive than your typical dry dog food, but absolutely worth the expense in our opinion.
Mike and I have been feeding Django Pet Plate regularly as a topper for years. A topper? Yes. This is how we keep down the daily cost of Django's meals. Rather than feed Django an exclusively Pet Plate diet - which is of course fine to do if you don't mind the expense - we regularly give Django half organic dry dog food and half Pet Plate (or another high quality fresh dog food). This is how we save a few dollars and extend the lifespan of each Pet Plate box delivered to our door. The best part? Django doesn't seem to mind. He's just happy to be getting Pet Plate in his dinner bowl! 
So long as Django continues to love Pet Plate and the company continues to deliver high quality, superior dog food to our door, Mike and I will continue to feed Django Pet Plate regularly.
DJANGO Dog Blog readers get 50% OFF Pet Plate with this coupon. Just use this link and the discount will be applied to your first order.
ADDITIONAL RESOURCES 
1 Response
Leave a comment
Comments will be approved before showing up.