CBD Dog Chews and Treats: 15 All-Natural Mouthwatering Hemp Products That Will Help Soothe Your Dog's Anxiety and Pain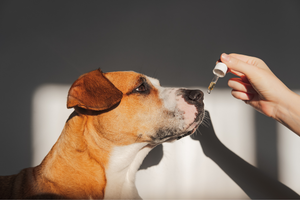 Disclaimer: Please note that some of the links below are affiliate links. If you purchase an item, we may receive an affiliate commission at no extra cost to you. We only recommend products we know and love, and all opinions expressed here are our own.
CBD oil is a popular natural remedy used to treat common health issues, including diabetes, heart disease, and multiple sclerosis, in humans. Because your dog has an endocannabinoid system, CBD dog treats can help him with health issues like anxiety, inflammation, nausea, and joint pain.
Before you choose a CBD dog treat, it is important to understand that CBD oil is a naturally occurring compound that comes from marijuana and hemp plants. It is made by pressing the hemp plant's stems, leaves, and flowers. CBD oil contains less than 0.3% THC (Tetrahydrocannabinol). That is the main chemical in marijuana that makes humans feel high.
CBD dog treats, also called hemp dog treats and dog relaxants, are specially designed with your pup's size and weight in mind.Smaller dog breeds like French bulldogs or Welsh Pembroke corgis will need a lower dose of CBD than larger dog breeds like collies and  Labrador retrievers.
In this DJANGO Dog Blog article, we list 15 of our favorite CBD dog treats and chews on Amazon. They not only come in dog-approved flavors but are also packed with powerhouse ingredients that are scientifically proven to reduce pain and anxiety.
15 Best CBD Dog Treats and Chews
These Healthybud CBD dog treats are made with superfoods like goji berries, reishi mushrooms, turmeric, and yucca. Designed by renowned animal nutritionists, they are formulated to boost immunity and promote calmness. These all-natural, grain-free dog treats are also suitable for all breeds. They can also be used as either a dog food topper or a high-reward dog training treat.
True Leaf's Hemp-Seed Hip and Joint Soft Dog Chews have a stellar list of anti-inflammatory ingredients. They include New Zealand-sourced green-lipped mussel powder and turmeric root extract. Backed by the National Animal Supplement Council, these salmon-flavored treats will improve your dog's joint health and reignite his natural zest for life.
Each soft Hangry Woof Calming Dog Chew has 325mg of cold-pressed hemp seed oil to promote better sleep and relaxation. These peanut butter-flavored dog treats are packed with nutrient-dense ingredients like Alaskan salmon oil, Icelandic sea kelp, and Hawaiian Kona berries. The addition of chamomile, passion, and valerian flowers will also help your pup nibble away his woes and channel a calmer self.
Treatibles Happy Tummy Probiotics features a powerful blend of 9 different species of good bacteria. They will boost your dog's immune system and support his stomach health. The heart-shaped soft dog chews are full of omega-3 hemp seed oil. That is a "good" type of fat that helps your dog's brain and body. Plus, with their delicious bacon and sweet potatoes flavors, your dog will really believe it is treat time.
PetHonesty's Hemp Calming Fresh Sticks are made in the United States with high-quality natural ingredients. These peanut butter pumpkin-flavored dental treats will help soothe your dog during stressful events like fireworks and thunderstorms. They also have hard grooves and ridges that will scrape his teeth clean and control plaque buildup.
Naturvet's Skin and Coat Allergy Aid is formulated with hemp seed oil, grape seed extract, turmeric root, and turkey tail mushroom. These veterinarian-formulated soft chews can promote a healthy and shiny dog coat while easing your pup's seasonal allergies.
Made fresh in Southern California, Holistapet's Stress and Allergy Relief Dog Treats feature organic CBD oil and Colorado hemp seed powder. These peanut butter and green apple dog treats also contain L-theanine, an amino acid found in mushrooms and teas. So they will help your dog find his mellow canine zen.
Premium Care's Calming Dog Treats are made with healthy ingredients. Think organic chamomile, ginger root, passionflower, and valerian root. The duck-flavored treats keep your pup calm and relaxed without making him sleepy. They also help curb destructive behaviors and lower stress from grooming sessions, veterinary visits, and long-distance trips.
Well Loved's Vet-Developed Dog Calming Chews are made with all-natural, holistic ingredients. They also are grain-free, dairy-free, and sugar-free. These U.S.-made dog treats are infused with hemp seed and melatonin. They work within 30 minutes and are formulated for all dog breeds, ages, and sizes.
If your dog trembles like a leaf during thunderstorms or barks at everything that moves, Finn's Natural Calming Dog Chews will make his stress melt away. They contain soothing natural herbs and amino acids. They are also made with real bacon, beef liver, and cheese that will make your dog drool.
Strellalab's All-Natural Hemp Dog Chews promote joint health and cartilage development. The duck-flavored treats are made from anti-inflammatory ingredients including organic sulfur and eggshell meal (a source of collagen). These U.S.-made treats are ideal for senior dogs with hip dysplasia or a ruptured cruciate ligament.
Shameless Pets Calming Chews pair fresh, wild-caught salmon with USA-sourced almonds to support skin and coat health. They are infused with hemp, chamomile, valerian root, passionflower, and thiamin. Made of unused ingredients from grocery stores, restaurants, and orchards, they may reduce your dog's aggression, anxiety, and hyperactivity.
Okoa Pet's Hush Puppy Hemp Calming Treats are made from hemp and herbs that are sustainably grown in Colorado. They can help your dog cope with changes in routine. They also reduce anxiety-related behaviors like excessive barking and destructive chewing. These high-quality, peanut butter-flavored treats are loaded with tryptophan. It is an amino acid found in protein-based foods that will further calm your dog's nerves.
Micro Hemp RX's All-Natural Hemp Oil Dog Chews are made from organically-grown, U.S. hemp. These natural bacon-flavored treats will reduce your dog's joint pain. They will also promote long-term comfort and relaxation for a happier and healthier life.
Made in the USA, Mighty Petz's Hemp Hip & Joint Mobility Support Chews are packed with collagen, vitamin E, and hyaluronic acid. These ingredients lubricate your dog's joints and help them absorb shock during exercise. The chicken-flavored dog treats also come in fun bone shapes that will leave your pup wagging his tail for more.
ABOUT US
DJANGO is a travel and adventure dog accessories and apparel USA small business. Our mission is to help you and your dog get outside, travel, and adventure more often. DJANGO Dog Blog is a popular, thoughtful, and informative U.S. dog blog focusing on pet travel and adventure, dog health, and high quality pet product finds. Follow us on Instagram, Facebook, Pinterest, and YouTube. Find out more about our celebrity sausage dog Django here.
YOU MIGHT ALSO BE INTERESTED IN
Leave a comment
Comments will be approved before showing up.