BARK Super Chewer: Unboxing and Review of the Monthly Dog Box Subscription (Video)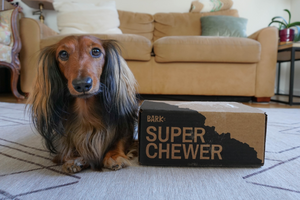 Disclaimer: Some of the links below are affiliate links. This means if you purchase an item, we may receive an affiliate commission at no extra cost to you. We only recommend products we know and love, and all opinions expressed here are our own.
Updated March 2023
Mike and I (Steph) have tried out countless monthly subscription dog boxes for our adorable dachshund Django. Two boxes that we keep going back to are BarkBox and Super Chewer.
Most seasoned dog owners have heard of BarkBox, the super popular monthly subscription box for dogs that includes a fun assortment of plush toys, treats, and chews. We are huge fans of BarkBox in our house, but I readily admit that it is not for some dogs. Our little guy Django is a 14lb tweenie sausage dog, and he has easily chewed through many BarkBox plush toys in a matter of minutes (or maybe seconds). Does that sound like your dog? If so, let us introduce you to Bark Super Chewer.
Super Chewer is Bark's monthly subscription box of "tough stuff for tough dogs." It offers dog owners a curated collection of toys, treats, and chews designed specifically for tough and aggressive chewers.
In this DJANGO Dog Blog article, we provide a comprehensive overview and review of Bark Super Chewer based on our own experiences getting the toy and treat-filled boxes for our dog Django. To give you a very good idea of what to expect with each box, we include photos, details, and personal feedback on one of Django's Super Chewer boxes.
What is Bark Super Chewer? What dog toys, treats, and chews come inside the monthly box? How does the subscription work, and how much does it cost? Is it worth it? Here is everything you need to know.
What is Bark Super Chewer, and how does it work?
Bark Super Chewer is a monthly subscription service that delivers high quality and super durable dog chews, toys, and treats to your doorstep. Every Super Chewer has 6 BarkShop products based on your dog's size and food allergies. Sizes include small (1-20 lbs), medium (20-50 lbs), and large (50+ lbs).
When placing your first Super Chewer order, you can select which ingredients you want to avoid based on your dog's diet or your personal preferences (e.g., no turkey, no beef, no chicken). After you receive your first box, you can even tailor the ratio of toys to treats to chews. This means that you can order a toy only Super Chewer box, if you want!
What is the difference between BarkBox and Super Chewer?
BarkBox and Super Chewer are very similar. They both offer subscriptions to dog boxes full of high quality treats, toys, and chews with fun monthly themes. The two key differences are that (1) Super Chewer dog toys and treats are specifically designed and made for tough, heavy, and aggressive chewers, and (2) Super Chewer includes two chews whereas BarkBox only includes one.
How does the Super Chewer subscription work?
When you sign up for Super Chewer, you are signing up for a subscription that sends you monthly dog boxes and automatically charges you each month before shipping out your new box.
When ordering your first Super Chewer, you can select a month-to-month, 6 month, or 12 month plan. As soon as you sign up for your first box, you will be billed for the first box. If you signed up for a 6 or 12 month plan, you will automatically be charged on the 1st of each subsequent month for the remaining boxes.
Sign up for a Super Chewer subscription here.
Keep in mind that if you select a multi-month subscription, you will be paying for each monthly box until your plan ends. Even if you cancel your subscription in the middle of the period (i.e. 3 months into your 6 month subscription), you will still continue to be charged for the remaining boxes.
One other important detail worth mentioning... Subscriptions auto-renewal at the end of the subscription period. If you do not want your subscription to be renewed for an additional 6 to 12 months, turn off auto-renewal or contact the Super Chewer support team. Want to pause your subscription or get a Super Chewer Box every other month? Call +1 855-520-2275 or email The Happy Team.
"I do not want a recurring monthly subscription. Can I buy a one-off Super Chewer Box instead?"
Yes! You can purchase or "gift" a one-off Super Chewer Box at any time throughout the year. Mike and I actually prefer this (instead of a longer subscription) since Django has a pretty large dog toy collection, and he goes through the dog treat bags very slowly.
It is worth mentioning that the cost per box decreases when you select a multi-month subscription. If you want to save a decent amount per box and plan on purchasing several boxes, then a 6- or 12-month subscription is probably best for you. We provide more details on the cost of Super Chewer below.
UNBOXING: WHAT COMES IN A SUPER CHEWER BOX? (VIDEO)
Each Super Chewer box includes 2 natural rubber toys, 2 full-sized bags of dog treats, and 2 meaty chews. Designed for the toughest and roughest chewers, Super Chewer toys are made with woven nylon fabric, natural rubber, and rubber foam.
Here is what came with one of Django's fun holiday-themed boxes (scroll down for a photo):
Turkey Day Drumstick. This super tough rubber toy had a "meat" scent that drove Django crazy for a few days.
Smash Potato. Django was obsessed with this toy. The exterior cream-colored 'mashed potato' skin was designed to purposely tear off after extensive chewing. Once Django tore through the exterior layer, he was left with a super durable black bouncy ball. We still have the ball today and play fetch with it regularly.
Cran Burly Sauce (extra toy). This stack of apple-scented 'cranberry' slices smelled delicious and was a treat-dispenser, chew toy, and tug toy. Django wasn't too excited about using this as a chew toy, but we've spent tons of time using it as an entertaining treat-dispenser. 
Turducken Dog Treats. Bite-sized, super smelly, and chewy treats made of turkey, duck, and chicken. Django loved these.
Rabchickey Dog Treats. Django also loved these. Truthfully, he's not a picky eater and will generally drool over anything with this much flavor and scent.
Salmon Roll. We've always been fans of 100% salmon skin and 100% cod skin dog chews. With just one ingredient, this chew was very healthy and high in protein. Django loved the fishy smell and refused to give it back to us once he started gnawing on it.
Plato Thinkers Chicken Recipe Dog Treat. This was another healthy dog treat that Django really enjoyed, and one that we've purchased on our own since. I liked how we could break the treat into smaller pieces so Django didn't try to devour the entire thing in one go (or hide the remaining piece under our bed where we can't reach it!). Real chicken is the first ingredient in this limited-ingredient recipe, and there are no artificial flavors, corn, wheat or soy. Chewy.com sells these individual dog chews - you can order them here.
Each Super Chewer Box has a really fun, seasonal monthly theme. The box we highlighted above was obviously a Thanksgiving-themed one for November. Here are other themes that have been shipped out in the past:
HOW MUCH DOES SUPER CHEWER COST?
The price of each Super Chewer box depends mostly on the length of your subscription. The longer your subscription is, the more you will save. Here are Super Chewer prices as of November 2022.

Subscription prices in 2022:
Month-to-month subscription: $40 per box
6-month subscription: $30 per box 
12-month subscription: $25 per box 
Gift prices in 2022:
1 month: $45
3-month subscription: $109 total or $36.33 per box (save 19%)
6-month subscription: $210 total or $35 per box (save 22%)
12-month subscription: $360 total or $30 per box (save 33%)
Extra toy club: For only $7 extra per month, you will get an extra super-tough toy added to your monthly box.

Shipping: Shipping is free inside the contiguous 48 United States and Washington, D.C. There is an $8 shipping fee for shipments to Alaska, Canada, and Hawaii.
Sales tax: Sales tax will also be added at checkout and varies by state. Alaska, Delaware, Montana, New Hampshire, and Oregon do not have an internet sales tax.
"How do returns work?"
Returns are not accepted. Donate any unwanted items to your local animal shelter or share them with a four-legged friend.
"What if my dog chews through a toy within seconds?"
Super Chewer has a very good Guarantee Policy: If something does not work for you or your dog, contact The Happy Team, and they will send you a replacement item 100% free of charge.
IS SUPER CHEWER A GOOD VALUE?
The retail value of all Super Chewer items is at least $50. Compare this number to a 6-month subscription price of $35/box or a 12-month subscription price of $30/box, and the savings are significant (i.e., 30%-40% off the total retail price).
It is incredibly convenient to have dog toys and treats delivered to our home, and Django somehow knows the Super Chewer box is for him every time. As you can see in one of our photos above, he dives into his new box as soon as I tear open the lid! 
If you are looking for high quality and unique toys and treats for your dog and want to make him or her ridiculously excited and happy every month... then a Bark Super Chewer subscription is 100% worth it in our opinion.
HOW TO SIGN UP FOR SUPER CHEWER
It is extremely easy to order your first Super Chewer box. Here is how to do it:
Step 2: Create your dog's profile (name, gender, size, breed, and birthday or adoption day).
Step 3: Confirm if your dog has a beef, chicken, or turkey allergy. You can exclude any or all of these ingredients from your box. If your dog has other food allergies or dietary needs (e.g., low-fat or vegetarian), chat with The Happy Team after you checkout.
Step 4: Enter your email address, and pick your subscription plan (i.e., month-to-month, 6-months, or 12-months). Then choose whether to join The Extra Toy Club (more on this below).
Step 5: Select the theme of your first Super Chewer Box (i.e., the current month's theme, the top-rated theme, or surprise me). Then enter your name, shipping address, and credit card or PayPal information.
A FEW MORE COOL FACTS ABOUT BARK
During your dog's birthday month, you can 

add

 

birthday-themed goodies (e.g., Major Rager Party Cake and a Roll Over Party Blower) to his box.
Bark's natural rubber toys are made with recyclable plant-based materials.
All of Bark's dog chews and treats are approved by a certified veterinary nutritionist and are corn, soy, and wheat free. They are also made in Canada and

 

the United States.
Bark was founded by Meetup.com Co-founder Matt Meeker, Henrik Werdelin  (who is also a co-founder of Prehype), and former Uber employee Carly Strife in 2011. It was inspired by Meeker's 130 lb. Great Dane Hugo.
Bark supports organizations nationwide that provide free or low-cost veterinary care with spay and neuter services.
The BarkGood program donates $25 per box to 3,000 rescues and shelters across the United States and Canada when you subscribe with a special code.
BarkShop regularly donates toys, treats, and chews to animal shelters throughout New York City and Ohio.
Veterans Advantage members can get their first Super Chewer Box for $15. They can also get an Extra Toy Club subscription at no cost. That is a savings of $54-$108 depending on the length of your subscription.
OUR VERDICT ON BARK SUPER CHEWER
If you are looking to spoil your dog with high-quality dog toys, treats, and chews each month, Super Chewer is a perfect choice.
Do Super Chewer rubber toys last forever? Compared to plush dog toys (which generally last a day in our household!), they are like everlasting gobstoppers.
As for the chews and treats, Django LOVES them. The chews and treats are also relatively healthy and well made with limited ingredients, so Mike and I are happy knowing we are feeding Django something decent. Since Django is only 14lbs, we typically don't let him devour the entire treat in one day.
Overall, Super Chewer is an excellent monthly dog subscription box for strong chewers and a great value—especially if you choose a 6 or 12 month subscription. If you have not already, give it a try, and let us know what you think!
ADDITIONAL RESOURCES
Leave a comment
Comments will be approved before showing up.