BARK Bright Dog Dental Kit Review | Our Experience With the World's First Dog Toothpaste and Dental Chew Combo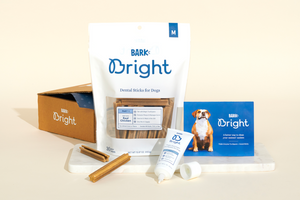 This post is sponsored by BARK Bright. We only recommend products we know and love, and all opinions expressed here are our own.
Updated October 2023
Did you know that nearly 70% of pet parents have never brushed their dog's teeth? And less than half of dog owners only brush their pup's teeth once or twice a week? I have to admit—there have been a few weeks when Mike and I (Steph) only got around to brushing our dachshund Django's teeth once or twice. Between work, managing our rambunctious toddler, caring for our newborn, and life in general... it is unfortunately easy to forget Django's daily tooth brushing!
To make things more difficult, most dogs detest having their teeth brushed. Many pups won't even let their owners come near them with a doggy toothbrush. Our sausage dog Django was the same way when he was younger. He would violently turn his head away from the toothbrush when I tried to start brushing. It was such a problem that I had to get very creative and come up with a way to make Django let me brush his teeth. Here's how I did it, if you're curious!
Brushing your dog's teeth is obviously not always easy or enjoyable. It is also very easy to forget to brush your pup's teeth on a daily basis. Fortunately, one very reputable company, BARK, came up with a way to make doggy dental health much easier for us pet parents.
We discovered BARK Bright's enzyme-powered monthly doggy dental kit last year and have been fans ever since. BARK Bright's chicken-flavored dog toothpaste and delicious dog sticks turbocharge the enzymes in dogs' mouths to keep their teeth clean and breath fresh. What's more, the doggy dental kits are conveniently shipped straight to your door.
Is BARK Bright right for your pup? In this DJANGO Dog Blog article, we provide an in-depth overview and review of BARK Bright. It is based on our own experience getting the dog teeth cleaning kit for our little guy Django.
WHAT IS BARK BRIGHT?
BARK Bright is the only dog-first, human-friendly dental kit. It includes a 30-day supply of triple enzymatic toothpaste and 30 yummy chicken-flavored dental sticks. The powerful combination of ingredients (more on them below) works together to tackle plaque and tartar buildup.
Even better? Dogs love the toothpaste and sticks and do almost all of the work to keep their teeth clean! Rather than spreading the toothpaste on a doggy toothbrush and attempting to pry your dog's mouth open so he lets you brush his teeth, BARK Bright's dental kit works differently. Simply spread the toothpaste inside the full length of the dental stick groove, then give the stick to your pup to enjoy. The tough dental stick works in conjunction with the triple-enzyme toothpaste to scrub away plaque and tartar and freshen your dog's breath.
BARK Bright is unique in that no other dog toothpaste brand uses three powerful enzymes to break down the sugars and starches that cause foul dog breath. In addition to knocking out nasty bacteria in your pup's mouth, BARK Bright's ingredients work to keep dog mouths moist and comfortable. Saliva actually helps reverse the early stages of tooth decay by repairing tooth minerals.
HOW DOES THE BARK BRIGHT SUBSCRIPTION WORK?
BARK Bright has 2 different plans: $30/month for a monthly subscription or $25/month for a 6-month subscription. If you sign up for the 6-month plan, you'll be charged for a BARK Bright Dental Kit each month until your subscription ends.
Here's something else to keep in mind. Your BARK Bright plan will automatically renew at the end of your 6-month subscription period. If you don't want to renew your BARK Bright subscription, simply contact BARK's Happy Team. Want to pause your plan or get a BARK Bright Dental Kit every other month? Call 855-520-2275 or email the BARK Bright support team.
Go here to sign up for a BARK Bright subscription.
UNBOXING: WHAT COMES IN A BARK BRIGHT DENTAL KIT?
Each BARK Bright Dental Kit comes with a month's supply of triple-enzymatic toothpaste and delicious chicken dental sticks. Customer reviews show that dogs love the combo of BARK Bright's chicken toothpaste and drool-worthy dental sticks. Our dog Django is no exception. He actually tried to lick the poultry-flavored toothpaste out of the tube when we opened our first tube. Django now gets very excited every day around 1pm when he knows it's time for his dental stick.
I wasn't sure at first that I would love the subscription model for Django's doggy dental care, but BARK Bright has ended up being a huge lifesaver for us. Before BARK Bright, I was forgetting way too often to brush Django's teeth during the day. Now I have Django's dental kit sitting right above his plush mat in our kitchen. I always see the kit and remember to get out the toothbrush during my lunch break (I work from home). If I happen to forget it's time for his BARK Bright chew, Django never fails to remind me by standing under the dental kit and whining!
INGREDIENTS IN BARK BRIGHT DOG TOOTHPASTE AND DENTAL STICKS
Django is Mike and my first child. We got him four years before our first son was born, treated him as family, and took him all over the world with us. Django's health and wellbeing are a top priority in our household, and we're very deliberate with what dog food we purchase and what treats he's allowed to have.

If you're like us, you will want to know exactly what is in BARK Bright's triple enzymatic toothpaste and dental sticks. Below are the ingredients used in BARK's Dental Kit.
BARK BRIGHT DOG TOOTHPASTE INGREDIENTS
Alginate:

Alginate comes from brown seaweed. It prevents the ingredients in BARK Bright toothpaste from separating from each other and gives it a smooth, creamy texture. 

Cellulose gum (carboxymethyl cellulose):

Cellulose gum

comes from the cell walls of plants like cotton fiber and wood pulp. This vegan ingredient makes BARK Bright toothpaste thick and creamy.

Citric acid:

With a pH between 7.5 and 8

, your dog's saliva is a weak base. Naturally found in citrus fruits, citric acid regulates pH, creating a healthy balance of good and bad bacteria. Citric acid also stimulates saliva that helps repair your pooch's tooth enamel. 

Chicken protein powder:

Chicken protein power

is a low-fat, complete protein that contains collagen and essential amino acids.

Enzymes: BARK 

Bright toothpaste has 3 active enzymes: lactoperoxidase, amyloglucosidase, and glucose oxidase. They work with antibacterial agents like hypothiocyanite in your dog's saliva.

Glycerol:

Glycerol keeps BARK Bright toothpaste moist, allowing it to easily glide from the tube. 

This natural substance also gives the enzymatic dog toothpaste a slightly sweet taste. 
Lactose-free skim milk powder:

Packed with protein, this lactose-free skim milk powder boosts your dog's immune system.

Microcrystalline cellulose:

Microcrystalline cellulose is made from refined wood pulp. It polishes your pup's teeth and even cleans between them. 

Potassium sorbate:

Naturally found in the unripe berries of

the mountain ash tree

, potassium sorbate prevents mold and yeast from growing in the BARK Bright toothpaste tube.

Sorbitol:

This sugar alcohol comes from fruits like peaches and strawberries. It is 60% as sweet as sugar and has 33% fewer calories.

Water: BARK 

Bright toothpaste is made with fluoride-free water to keep it from drying out.
BARK BRIGHT DENTAL DOG CHEW INGREDIENTS
BARK Bright's calorie count includes both the toothpaste and sticks. Each BARK Bright Dog Dental Stick has 14, 41, or 63 calories per chew for small, medium, or large sizes. That's 68% fewer calories than Whimzees Grain-free Dental Sticks at 44 kcal/chew and 73% fewer calories than Weight Management Petite Greenies at 51 kcal/treat.
Chicken:

This lean white meat is packed with high-quality protein and essential Omega 6 fatty acids.

Citric acid:

This weak organic acid makes it hard for bacteria, fungus, mold, and yeast to grow.

Gelatin:

This colorless, flavorless thickener is made from animal bones, ligaments, tendons, skin, and scales. Gelatin is 99% protein and has immune-boosting amino acids like glycine.

Sunflower lecithin:

This fatty substan

ce is made from the gum of dehydrated

sunflower kernels.

It binds opposing ingredients like purified water and soybean oil.

Mixed tocopherols:

Mixed Tocopherols come from nuts, seeds, oils (olive, safflower, and sunflower oils), and leafy green vegetables like Swiss chard. It is loaded with Vitamin E and keeps BARK Bright dental sticks fresh for longer.

Natural smoke flavor:

This all-natural and vegan smoke flavor enhancer is made by condensing smoke from burning hardwoods like hickory and mesquite. 

Pea protein:

Pea protein comes from dried, yellow split peas. The light yellow powder is also low fat and rich in iron.

Potato starch:

This light, white powder is made from crushed raw potatoes.

Potato starch

is a good source of starch for adult dogs and puppies. It also makes the BARK Bright sticks light, moist, and tender.

Sodium hexametaphosphate:

This salt improves the color, aroma, and taste of BARK Bright dental sticks.

Vegetable Glycerin:

Vegetable Glycerin is a slightly sweet, syrupy liquid made from coconut, palm, or soybean oils. Vegetable Glycerin is lower on the

glycemic index

than sugar and honey.
HOW DOES THE BARK BRIGHT DENTAL SYSTEM WORK?
BARK Bright has 2 steps, and you only have to do one yourself. 
Simply squeeze a strip of BARK Bright toothpaste inside the dental chew's deep groove. Next, let Fido do the rest of the work. BARK Bright's tasty dental chicken chew will bust up yellowish or brownish plaque on his teeth and help rid his bad breath over time.
Although this likely goes without saying, you don't have to rinse your dog's mouth. Unlike human toothpaste, BARK Bright Dog Toothpaste is safe to swallow. 
HOW DO THE ENZYMES WORK?
BARK Bright teamed up with Novozymes, a Denmark-based biotechnology company, to create a triple-enzymatic toothpaste made with 100% chicken.
Enzymes aren't alive, and they aren't cells. Enzymes don't have any DNA. They're a special type of protein. 
Enzymes are catalysts that help produce and speed up chemical reactions. Think of them as tiny bullet trains that make something special happen. These are the three enzymes used by BARK Bright:
Amyloglucosidase (or glucoamylase).

This enzyme breaks down carbohydrates called

oligosaccharides

in your dog's mouth. Then it turns them into glucose, a very simple sugar.

Glucose oxidase.

Glucose oxidase is made from a blue-green mold called Penicillium notatum. It's the same stuff used to make the antibiotic Penicillin. When glucose oxidase mixes with oxygen and sugar, it turns into a safe and effective natural cleaning agent called hydrogen peroxide. 

Lactoperoxidase.

Lactoperoxidase is a natural enzyme found in your dog's tears and saliva. When it comes into contact with hydrogen peroxide, it helps combat bad breath and break down plaque and tartar.
HOW MUCH DOES THE BARK BRIGHT BOX COST?
When you add BARK Bright to your BarkBox or BARK Super Chewer, you'll get it for $25 per month. BARK Bright Dental Kits are also available at barkbright.com. As of mid 2022, here's how much it costs:
Monthly subscription: $30 per box 

6-month subscription: $25 per box, or 150 total (save 17%)
Shipping: Shipping is $4.99 in the lower 48 states and the District of Columbia. There is an $8 flat-rate shipping fee for shipments to Alaska, Hawaii, Canada, and U.S. territories.
Sales tax: If you don't live in Alaska, Delaware, New Hampshire, Montana, or Oregon, you will have to pay internet sales tax. Online sales tax varies by state, from a low of 2.9% in Colorado to a high of 7.25% in California.
Money-back Guarantee: BARK Bright Dental Kits have a 100% satisfaction guarantee. If your dog doesn't have noticeably cleaner teeth and fresher breath in 30 days, email The Happy Team or call +1 855-520-2275 for a full refund.
Returns: BARK Bright doesn't accept returns. It isn't safe to resell opened toothpaste or dental sticks. Approximately 25% of returns end up in landfills when they could be used by pups in need. BARK Bright encourages you to donate your unwanted dental kit to local animal shelters and rescues.
HOW TO SIGN UP FOR BARK BRIGHT
Getting your first BARK Bright box is as easy as one, two, chew. Here's how to sign up:
Step 1: Visit the BARK Bright website.
Step 2:

Complete your pooch's profile (i.e., name, sex, size, breed, and birthday or adoption anniversary). Are you a BarkBox or BARK Super Chewer subscriber? Use your account dashboard to

add BARK Bright to your existing subscription

.

Step 3:

Confirm whether your dog is allergic to turkey, beef, or chicken. While dogs with protein allergies have different tolerances, you shouldn't use BARK Bright if your canine is allergic to chicken.

Step 4:

Pick your BARK Bright subscription plan (i.e., month-to-month or 6-months) and then enter your email address.

Step 5:

 

Fill out your name, shipping and billing address, and PayPal or credit card information. BARK Bright accepts American Express, Discover, Mastercard, PayPal, and Visa.
COOL FACTS ABOUT BARK BRIGHT
IS BARK BRIGHT WORTH IT?
If you're tired of wrestling your dog to brush his teeth, BARK Bright is a wonderful dental care option for you and your pup. Django loves the taste of his daily BARK Bright toothpaste and dental stick combo. He treats the dental sticks as a high quality doggy treat and loves getting one each day. The fact that the chew is a teeth-cleaning dental stick in disguise is incredible!
Do BARK Bright dental kits cure your dog's bad breath and dental issues magically? Of course not. They also won't reverse serious dental health problems. If you have any concerns about your dog's dental health, please consult your  veterinarian right away.
With all that said, BARK Bright's dental kits offer an easy, affordable, and convenient way to promote ongoing doggy dental hygiene. By taking action today to prevent dental problems in your dog, you can promote your pup's overall health and potentially save a significant amount of money down the road via lower dental bills.
So yes, we (and Django) highly recommend BARK Bright! If you're not already using the popular doggy dental kit, try it and let us know how it works for you and your dog!
GET BARK BRIGHT DENTAL
Try BARK Bright Dental for your pup. The dental kit combines chews with toothpaste. Easier than a toothbrush and tastes like a treat!
Additional Resources
Leave a comment
Comments will be approved before showing up.