15 Thoughtful Holiday Gift Ideas for Dog Lovers and Their Pups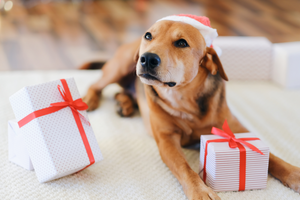 Disclaimer: Some of the links below are affiliate links. This means if you purchase an item, we may receive a small commission at no extra cost to you. We only recommend products we know and love, and all opinions expressed here are our own.
Calling all dog lovers and four-legged family! Unleash happiness this holiday season with our thoughtful dog lovers gift guide that is sure to have tails wagging and hoomans grinning. From beautiful handcrafted cotton rope dog leashes to super stylish weatherproof boots to drool-worthy dog treats, we (DJANGO) have rounded up the crème de la crème of dog gifts for you and every devoted dog lover in your life.
One more thing? We have included incredible discounts for most of our best dog gift recommendations! We have a wide-reaching, dog loving audience, and almost all brands have given us exclusive promo codes for our pawsome readers. Happy shopping, furends!
Best Gift Ideas for Dog Lovers and Their Pups
The most stylish stocking stuffer for you and your pup is here. Elevate your daily dog walking style from ruff to fab with these solid and ombré cotton rope dog leashes by DJANGO.
DJANGO rope leashes are handcrafted from flexible and incredibly soft 3 strand natural cotton rope. Measuring 5 foot in length, the rope dog leashes are both hand-spliced and the ends whipped, resulting in maximum strength and resiliency. Choose from 7 custom colors, including Solid Black, Poppy Seed Gray, and Raspberry Purple Ombre. Gold or silver swivel snap hooks and an O-rings add additional sophistication to these popular rope dog leads.
Limited time only. Use the code DJANGO15 at checkout to get 15% off your entire order.
Healthy and drool-worthy? Yes and yes.
Farm to Pet's single ingredient dog treats are heavy on flavor while packing a nutritional punch for your pup. Made out of the USA small business' Chicago manufacturing facility, the crunchy chip-style treats come in popular flavors like chicken and turkey and are made from human-grade poultry.
In addition to its single ingredient dog treats, Farm to Pet makes powdered treat toppers that make mealtime extra tasty for even the pickiest pups. Looking for more stocking stuffers? This small dog brand offers whole and split wild gathered elk antlers. The nutrient rich dog chews are long lasting and will not splinter.
Use this link to get 25% OFF your entire Farm to Pet order.


Basepaws offers the most scientifically advanced pet DNA and health tests on the market. Its recently launched Breed + Health Dog DNA Test detects genetic markers linked to 280+  health risks. It uncovers more than 30+ unique dog traits, such as coat color, and gives a detailed breed breakdown based on a database of 200+ dog breeds.
Do you have a cat in the house? Basepaws also offers a widely popular Breed + Health Cat DNA Test, an Oral Health Care Test for Cats, and a Whole Genome Sequencing Test for cats. Aside from support from genetic specialists, the Whole Genome Sequencing Test includes 21+ cat breeds and 114+ health markers, including Feline Polycystic Kidney Disease (PKD). It also includes your cat's blood type, an oral health report, and a list of 25+ unique breed traits.
How do these pet DNA tests work? Just swab your dog's or cat's gum and teeth, then mail your test kit back to Basepaws. Your pet's results will be delivered to your inbox within 9-12 weeks.
Cuddle Clones is the best custom pet stuffed animal company we know. This creative USA small business captures your four-legged best friend in a beautiful and memorable way. Whether you want an adorable plush clone of your pet or are looking to honor a recently-deceased furend, Cuddle Clone is a heartwarming way to capture your endless love for your four-legged family.
How does it work? After you upload 9 photos of your pet (face, chest, feet, etc.), you will need to answer questions about your pet's eye color, ear positions, distinguishing characteristics, and age. Cuddle Clone's expert artists then make your plush pet clone by hand using the highest quality man-made fibers. They'll send you images to approve before shipping out your pet's plush clone. Have feedback? Cuddle Clone's team is incredible at listening to customers and working with you to ensure your Cuddle Clone is the pawfect replica of your pet.
Click this link or use the coupon code DJANGO15 at checkout to enjoy a whopping 15% discount on your Cuddle Clone.
Merry People's stylish all weather ankle rain boots are a rising trend amongst dog owners. The Bobbi Ankle Rain Boots are completely weatherproof, comfortable, and made with 100% natural rubber. The flexible neoprene lining is also soft around your feet and ankles and designed to keep your toes cozy in dropping temperatures.
Going on a hike with your pup down a muddy mountain trail? Walking down a snowy city sidewalk with your dog on a cold winter day? Merry People's boots are easy to clean and designed for every type of outing and adventure. Choose from 16 bold and beautiful colors like Lavender & Navy or Mustard Yellow & Black to match your personality and upgrade your style. One more fun fact? Each pair of Merry Boots has a 12 month warranty.
KindTail's PAWD Pet Crate is your dog's dream den. The modern pet crate is also the first stylish dog crate we've come across that actually looks beautiful in the home.
With no sharp edges and a door designed to stay open, KindTail offers your dog a safe space where he of she can take a well-deserved nap or chomp on a favorite chew toy. This modern and lightweight dog crate can also fold into a flat unit with a built in handle for easy storing and pet travel.
Choose from 2 sizes (small and medium) and 4 colors (grey, pink, mint, and white). Best for dogs up to 25 lbs.
Use the code DJANGO15 at checkout for $15 off your entire order.
Bramble is a 100% plant-based fresh dog food delivery service that offers 2 recipes, The Cowbell and The Roost. The frozen, ready-to-serve vegan meals are prepared in a USDA-approved and regulated commercial kitchen. They are made with human-grade superfoods like apples and nutrient-dense veggies, including butternut squash and carrots.
Bramble's recipes were formulated by board certified veterinary and meet the AAFCO Dog Food Nutrient Profiles for Adult Maintenance. They are routinely tested at a third party laboratory for all nutrients and amino acids. Need a pick me up? Bramble donates 1% of its sales to animal welfare organizations.
Use the code DJANGO50 at checkout for 50% off your first Bramble pet food order. 


West & Willow offers many personalized and custom gifts for cat and dog lovers. Their framed custom pet portraits are a personal favorite (see our custom pet portrait of our dachshund Django above!) and hand illustrated by talented artists who do not use apps or filters to create the art. Select a charcoal gray, dusty pink, soft white, or limited edition fine art paper background (e.g., shiplap or sage).
I (Steph) ordered a custom pet portrait of our sausage dog Django from West & Willow for our home office a few years ago. I was amazed by the quality and artistic nature of the portrait. I was also proud to learn that West & Willow donates part of its sales to Best Friends Animal Society, a nonprofit saving cats and dogs in high kill shelters in the U.S.
Click this link to get 15% off your West & Willow custom pet portrait.
With the DJANGO Highland Dog Jacket and Raincoat, your furry friend will transform into the most stylish pup on the block while staying warm and dry on the coldest and wettest days.
The 5-star rated waterproof dog coat has many features customers rave above: a high performance water-repellent exterior, a super soft and striped interior lining that adds an extra layer of warmth for cold weather walkies, a high quality velcro chest closure for easy on and off, and premium gunmetal hardware. There are even hood and hem toggles and an adorable back pocket to secure poop bags and dog treats. With a spacious, no-leak, and easy-access leash portal, you can easily layer this stylish dog raincoat over your favorite DJANGO dog harness and dog leash set.
Choose from 5 colors: Dandelion Yellow (long-time best seller!), Olive Green, Crimson Red, Mariner Blue, and Quartz Pink.
Get 15% off your next DJANGO order with code DJANGO15, and grab a Highland Dog Jacket and Raincoat now before they are out of stock (again).
Chippin sustainable dog treats are absolutely delicious (just ask our pup, Django) and environmentally-friendly. They are made with planet-friendly proteins like cricket and wild-caught silver carp, an invasive fish species destroying native wildlife in the Illinois, Missouri, Ohio, and Mississippi rivers. The woman-owned business also uses packaging that is 29% post-consumer recycled (PCR) materials.
Use the code DJANGO at checkout to get 15% off your entire order.
Give your dog the VIP treatment he deserves with Jolly Pets' signature Jolly Balls - double the tail-wagging happiness guaranteed! Made from JollyFlex material, they come in many mouth-watering scents, including Green Apple, Vanilla, Bubble Gum, and Blueberry.
Jolly Pets toys are also super durable. For one, they keep their shape and do not deflate. They are also designed to take a beating and won't pop due to sharp teeth or aggressive chewing. Looking for a water-friendly toy? Jolly Balls also float and are perfect for water-based games of fetch.
To get 25% off your entire Jolly Pets order, use this link or the promo code JOLLYHOLIDAY25. 
We recently got Sundays For Dogs dog food for our dachshund Django and have become huge fans. Sundays For Dogs offers air-dried dog food made from high quality and human-grade ingredients like nutrient-dense organ meat, muscle meat (i.e. beef steak cuts), and healthy grains.
Why is air-dried dog food a great option? For one, it's much more nutritious and healthy than highly processed dog kibble. As Sundays For Dogs explains, "air-drying locks in peak flavors and nutrients better than kettle cooking 'fresh cooked'." Second, air-dried dog food is less expensive than fresh dog food.
Choose from 3 Sundays For Dogs recipes: USDA Beef, All Natural Chicken, and All Natural Turkey.
Unlock 40% off +  free shipping when you enter the code DJANGO at checkout.
DJANGO's Tahoe No Pull Dog Harness is a comfortable, durable, and stylish no pull dog harness designed for dogs small to XX-large. Engineered for both everyday use and more rugged outdoor adventures, the harness is padded, soft against the body, and built to last.
Customers rave about the Tahoe No Pull Dog Harness' water-repellent and easy-to-clean neoprene exterior as well as the padded harness body which lays gently against the dog's body. Customers also comment on the super soft custom webbing straps that DJANGO uses across its entire dog harness collection. One more thing that makes DJANGO no pull dog harnesses stand out from all others? The sleek, narrow, harness body is specifically designed to eliminate any risk of chafing or discomfort under a dog's front legs.
No pull? Yes! DJANGO's best selling no pull dog harness has two D-rings, one on front and one on back. Use the back D-ring for traditional leash attachment. Want to discourage pulling? Clip your matching DJANGO Tahoe Waterproof Leash to the front D-ring.
Get 15% off your next DJANGO order with code DJANGO15.
BarkBox is the top dog subscription box with more than 3.6 million customers! Each BarkBox has 2 full sized bags of dog treats, 2 original plush dog toys, and surprise games and activities for more playtime with your pup. Each box also has a fun and creative seasonal or pop culture theme. Past themes include everything from Nickelodeon's Spongebob Squarepants to Season's Sweetings.
Each BarkBox is personalize for your canine based on size, breed, age, and food allergies. BarkBox monthly subscriptions range from $20 to $35 per month, depending on the total subscription length you sign up for (i.e. 3 months, 6 months, 1 year).
We've been huge fans of BarkBox for years. Read our detailed review of BarkBox here.
Tired of your pup hogging your precious couch? Get him a luxury Jax & Bones Dog Bolder Bed, and reclaim your spot! Handcrafted in Los Angeles, California, Jax & Bones Dog Beds are packed with Sustainafill—an eco-friendly filler made from upcycled 7Up bottles. These designer dog beds come in 7 styles, including Memory Foam Pillow Beds. They are also available in many colors and patterns, such as Cordova Limon and Hampton Blush.

Use JAX15 at checkout this holiday season to get 15% off your entire order.
MORE DJANGO DOG BLOG POSTS YOU MAY LIKE
Leave a comment
Comments will be approved before showing up.