The 6 Best Dog Box Subscriptions to Buy in 2023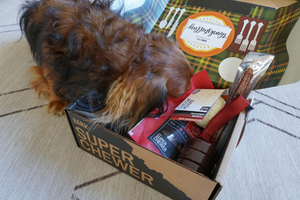 Disclaimer: Some of the links below are affiliate links. This means if you purchase an item, we may receive an affiliate commission at no extra cost to you. We only recommend products we know and love, and all opinions expressed here are our own.
Updated March 2023
Dog subscription boxes are stuffed with treats, toys, and training tools that can help you beat doggy boredom. They come straight to your door each month, and thanks to the ever-growing demand for dog subscription boxes, there is one that suits every special occasion and type of dog. Whether your pup wears his favorite plushie threadbare with marathon snuggle sessions or yanks out its stuffing and leaves a trail of fluff (like our adorable sausage dog Django), these 6 subscription dog boxes have you covered.
The Best Dog Box Subscriptions of 2023
With more than 1 million subscribers, BarkBox is the most popular dog subscription box, and it is easily one of our (Mike and Steph) favorites. Plans start at a very reasonable price of $23 per month. Each BarkBox includes 2 plush dog toys, 2 full-sized bags of all-natural dog treats, and a meaty chew based on an adorable monthly theme. Think everything from wrestling to carnival rides to magic tricks. There are even themes related to pop culture and upcoming holidays.
Each BarkBox is curated for your dog based on his size, age, breed, and food allergies. Beef, chicken, and turkey allergies are built into BarkBox's checkout. Its chews and treats are also manufactured in the U.S. and Canada from domestic and imported ingredients.
Price:
Shipping frequency: Monthly, Bimonthly
Good to know: BarkShop donates 5% of its profit to organizations nationwide that provide low or no-cost spay and neuter surgeries. The BarkGood program also donates $25 per box to 3,000 rescues and shelters across Canada and the United States when you sign up using their code.
Unlike some of the other options we have covered, Chewy's Goody Box does not need a subscription. You can get as many as you like for your dog, or give one to a furry friend for an adoptaversary or special occasion. This one-time box is filled with 5 or more top-notch, hand-picked products. Each Goody Box contains 2-3 top-rated toys, 2 grain-free treat bags, a seasonal, machine-washable bandana, and a recipe card. Limited-edition themes keep each delivery fun and exciting for both dogs and their owners. While Goody Box is not recommended for heavy chewers, it has a "100% satisfaction guarantee" and can be replaced or returned within 365 days of purchase.
Price:
Shipping frequency: Goody Box is not a subscription box but rather a one-off dog box offering. You can buy as many boxes for your dogs as you like. Frequency of ordering is 100% up to you, and Chewy.com ships out each box within 1-3 business days once an order is placed.
Good to know: In the last ten years, Chewy has donated more than $76 million in pet products to U.S. shelters and rescues.
KONG Club
 is a monthly subscription pet service that combines KONG's best-selling pet toys with 
AskVet's
 mobile pet health management platform. Available for both dogs and cats, each month KONG Club members receive a box stocked with a fun assortment of KONG toys, treats, tips, and seasonal recipes based on their pet's size and age. Members also receive 24/7 live access to licensed veterinarians via a mobile app 
and

 
access to a Rainy Day Fund which will pay up to $1,000 to help cover emergency vet visits (more on this below).
Read our in-depth review of KONG Club here after getting the monthly subscription dog box for our sausage dog Django.
Pricing for KONG Club for dogs:
Month-to-month subscription: $44.99 per box

6-month subscription: $39.99 per box (11% discount)

12-month subscription: $34.99

 

per box (22% discount)
Whether your pup shreds plushies and pulls out their squeakers, or chews chunks from his rubber toys, the Bullymake Box is filled with impossible-to-destroy toys made out of nylon, rubber, and bulletproof materials. Each Bullymake Box contains 2-3 durable toys (you can select the materials) and 3 full-sized treat bags.
The company designs and manufactures its own exclusive toys and treats in the U.S. Bullymake also caters to dogs with beef, chicken, and wheat allergies. It offers a "Toy Only" Box that has 4-5 nearly indestructible dog toys. Each Bullymake Box has seasonal theme, such as Deep Sea Chewer, and is tailored to your pooch's play preference (i.e., chewer, fetcher, and tugger.) If your dog turns his chew toys into confetti, Bullymake will send you a free replacement as long as you take a picture of the sacrificed toy. 
Price:
Shipping frequency: Monthly
Good to know: If you would rather be billed monthly or would like to get a Bullymake Box every 2-3 months, contact customercare@bullymake.com after your purchase. 
If your pup loves to rip open plush dog toys and make fluff fly, the Super Chewer Box will make his playtime last longer. Every Super Chewer Box has 2 super tough rubber toys, 2 all-natural meaty chews, and 2 full-sized treat bags. Super Chewer's toys are always stuffing-free and are made with rubber foam, natural rubber, and woven nylon fabric. Made in Canada and the U.S., its chews and treats are corn, soy, and wheat-free. They can be tailored to your pooch's dietary needs (e.g., low-fat or vegetarian) and/or food allergies (i.e., beef, chicken, and turkey).
Each Super Chewer Box has a fun seasonal theme, which is a major draw for dog owners. Last month's Doggone Fishing Box featured a monster-sized bass kicker and a vanilla-scented fishing bobber. But you will also get boxes themed around popular movies, famous cartoon characters, and much more.
The Super Chewer Box has a "100% happiness guarantee". If your four-legged friend hates a toy or turns his nose up at a treat, customer service will replace the item free of charge.
Read our comprehensive Super Chewer Box review, and see our unboxing photos for more information.
Price:
Shipping frequency: Monthly, bimonthly
Good to know: Bi-monthly subscription plans for Super Chewer and BarkBox are not available at sign-up. But you can reach out to customer service after subscribing and/or at any time while your plan is still active to request this option. Veteran Advantage members can also get their first Super Chewer Box for $9. They can save 13% ($26) on a 6-month subscription plan or 7% ($21) on a 12-month subscription plan.
Each Dapper Dog Box includes 2 plush dog toys, 2 full-sized treat bags or chews, and a limited-edition bandana, all curated around a cute theme like Birthday Party, Ready for the Summer, Pupchella, and Southern Charm. Your box is customized based on your dog's size/weight, allergies (i.e., beef, chicken, or wheat), and chewing style. The Dapper Dog Box also sources most of its chews and treats from small business owners in the United States. So you can feel good when you give your pooch handmade dog cookies or superfood nuggets.
The company also offers a Bandana Only Subscription and a Non-treat Subscription Box. The Non-treat Subscription Box contains 2 handpicked, high-quality dog toys and an exclusive, reversible bandana. The Dapper Dog Box even allows you to skip a month, change your dog's size, push back your renewal date, or cancel your plan without talking to customer service (simply log in to your profile).
Price:
Shipping frequency: Monthly 
Good to know: The Dapper Dog Box donates $1 from every sale to a different U.S. dog rescue organization each month.
DOG SUBSCRIPTION BOX PRICE COMPARISON CHART (SEPTEMBER 2021)
The price of each dog subscription box is based on the length of your subscription. As of September 2021, here are the prices for BarkBox, Bark Super Chewer Box, KONG Box, Chewy's Goody Box, Bullymake Box, and The Dapper Dog Box.
As you can see from the table above, subscription dog boxes are cheaper when you choose a 6-month or 12-month plan. KONG Box is the most expensive option on our list while BarkBox has the lowest annual subscription plan. Though The Dapper Dog Box's and BarkBox's 6-month plans are similar in price.  Bullymake Box and The Dapper Dog Box are the only companies that have 3-month subscription plans. But Goody Box and BarkBox have the cheapest monthly subscription fees.
While you may want to pick a dog subscription box based on price, we recommend choosing one based on your dog's food allergies and play preferences. For example, it might make sense to pay more for a KONG Box or Bullymake Box if your pup destroys his dog toys within seconds. Want limited-edition dog apparel and accessories? Consider opting for Goody Box or The Dapper Dog Box.
FOLLOW US
Follow DJANGO Dog Blog on Instagram, Pinterest, and Facebook, and learn more about our celebrity sausage dog Django here.
Have a favorite dog subscription box that your pooch cannot wait to dive into? Share it with us in the comments section.
YOU MIGHT ALSO BE INTERESTED IN
Leave a comment
Comments will be approved before showing up.