Flying with Pets In-Cabin to the United Kingdom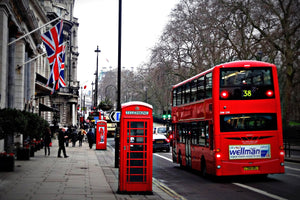 Updated June 2022
Mike and I (Steph) started planning our first pet-friendly trip to London, England a few weeks ago. Mike had just started working for a UK-based company and was going to be traveling to London every few months for his new job. The idea of joining Mike in London with Django was a no brainer. Django and I would fly out on a reasonably priced flight mid-week, spend the weekend exploring London as a family, then fly home on a cheap Monday or Tuesday leg. Django even had an EU Pet Passport from our recent trip to France. Easy, right?
I started skimming one of our popular posts, "International Airline Pet Policies for In-Cabin Travel", and quickly realized Mike and I had a problem. I could not find one airline that allows in-cabin pet travel to the UK. I immediately called the U.S. Department of Agriculture's Animal and Plant Health Inspection Service (APHIS) and confirmed my suspicion.
The facts: Bringing your pet dog or cat to the United Kingdom
Can you bring pets to the United Kingdom? Yes. Are pet dogs and cats allowed to fly in-cabin into the United Kingdom? No.
No airlines offer in-cabin pet travel to the United Kingdom from the United States. The UK includes England, Scotland, Wales, and Northern Ireland. Unless you have a service animal, it is impossible to fly together in the cabin with your pet. The UK government is behind this strict rule and supposedly enforced it to curb the spread of rabies and better control the transport of animals into the UK. The only time pets can fly in-cabin to England, Scotland or Wales is if you are flying from UK countries, the Channel Islands, the Isle of Man, or the Republic of Ireland. 
Service animals are the exception. If you have a true service animal—"a dog that is individually trained to do work or perform tasks for the benefit of a person with a disability", per the U.S. Department of Transportation definition—your dog is allowed to accompany you in the cabin of the aircraft for no fee.
If you are interested in putting your pet in the hold (cargo) area of the plane, here is a list of airlines that currently allow cargo pet transport to the United Kingdom.
Options for Non-Cargo Pet Travel to the United Kingdom
I've flown in-cabin with Django countless times, including two cross-Atlantic flights to and from Europe. Although Django is a frequent and relaxed flyer, I would never put him in the hold of a plane unless I absolutely had to. Although flying pets via cargo is generally considered safe—reputable airlines fly pets in a climate-controlled, pressurized compartment below the aircraft cabin that is kept separate from luggage and other cargo—I still would not want to put Django through the stress of flying alone and in a loud and possibly scary environment. 
With the above in mind, I jumped into research mode to determine what alternative travel routes will get Django and I safely and seamlessly into the UK.
The following pet-friendly routes to the United Kingdom require a direct flight to Charles de Gaulle airport in Paris. Choose from one of these airlines that allow in-cabin pet travel to France. After you arrive in France, there are several options for getting to the UK:
Option 1: Eurotunnel
This is my favorite pet-friendly travel option and the one I'll choose when we arrange our trip to London with Django. It requires you to fly into Paris' Charles de Gaulle airport, rent a car, and take drive-on, drive-off train service to London via the Eurotunnel.
The Eurotunnel, also called the Chunnel or Channel Tunnel, is an undersea roadway linking southern England and northern France. It isn't possible to drive a car through the Eurotunnel, so you must use 'Le Shuttle' train service which operates between Calais, France and Folkestone, England. Le Shuttle is a 35 minute train ride, and onboard passengers stay with their cars in air conditioned carriages. Prices vary based on time of booking and time of day; one way trips currently range from €110-150. If you're willing to paying 2x more, you can book a 'Flexiplus' ticket which allows you to alter the date and time of your journey at any time, subject to availability. Said another way, Flexiplus lets you drive onto the first train leaving, should you arrive in Paris earlier than expected.
The only negative with this option is that you'll have to reverse your journey and return to France before flying home. UK rental car companies, which offer right-hand drive cars, will not accept a left-hand drive vehicle since they cannot rent it out in their country.
One last tip for Le Shuttle: visit Pet Reception in Calais before you depart. An agent at Pet Reception can review and approve your pet's travel papers so you don't have to deal with this once you arrive in the UK. There is also a dog run at the facility.

Option 2: Ferry from Calais to Dover
Similar to Option 1, this travel route requires you to fly into Charles de Gaulle airport, rent a car, and drive to the UK via drive-on, drive-off ferry service. The ferry departs from Calais, France and arrives in Dover, England (just 10 miles north of Folkestone and equal distance to London). The ferry is cheaper than Eurotunnel 'Le Shuttle', but travel time is longer (1.5 hours via ferry versus 35 minutes via Le Shuttle). Both Dover and Folkestone are approximately a 1h45m drive to downtown London.
Same as Option 1, you'll have to reverse your journey with your rental car and return to France before flying home. The other drawback here is that pets must remain in the car during the entire 90 minute ferry ride (passengers usually walk up to the deck). This travel route won't work on a very hot or cold day unless you stay in your car with your pet and keep the AC or heat running.

Option 3: Pet-Friendly Taxi or Chauffeur
This is a great option for those with a big budget. Several taxi and chauffeur services offer pet-friendly car service between Paris and England. Rather than renting a car yourself, these companies simply pick up you and your pet at Charles de Gaulle airport, then drive you to the UK via Eurotunnel Le Shuttle. You can save a few euros and have them drop you off in Folkestone, England where you'll catch the high speed train to downtown London. Alternatively, you can pay up and have them take you directly to your final destination.
Two companies offering this service are Pet Moves and Folkestone Taxi. We requested a quote from Folkestone Taxi in July 2018. The quote for bringing two adults, two suitcases and a dog from Charles de Gaulle airport to downtown London was £530 plus the cost of the Eurotunnel ticket (normally £79, but pricing varies due to availability). The quote for driving us from Charles de Gaulle airport to Folkestone, England was £395 plus the cost of the Eurotunnel ticket. There are extra fees for congestion, if applicable, and early morning pickups. All in all, you're looking to spend a minimum of $625-800 for a one way trip, depending on where you are dropped off.
The huge benefit here is that you can fly home from London with your pet. Pets are permitted in-cabin on flights exiting the UK, although the number of airlines offering this service is limited.
As of 2021, Air France, KLM and Lufthansa all allow in-cabin pet travel from the UK to the US. We spoke to customer service representatives from all three airlines to confirm! With that said, we always recommend calling customer service before booking your flight to ensure (1) the airline hasn't changed their pet policy (2) there is space on the flight for your puppy (some flights limit the total # of pets allowed per flight).
As of 2021, these airlines did NOT allow in-cabin pet travel from the UK to the US: Air Lingus, American Airlines, British Airways, Delta, United, and Wow.
What about the Eurostar train?
Guide and assistance dogs are the only animals allowed on Eurostar, the one and only passenger train between England and France. Emotional support dogs and other animals are not permitted on Eurostar. Although there was a petition a few years back requesting a pet-friendly change in Eurostar's policy, so far Eurostar hasn't budged on its rule. Pet owners with guide or assistance dogs must book their dog's reservation in advance. Here is the link to Eurostar's pet policy.
Sea travel: a safe travel option for larger dogs
If you have a medium or large-sized dog, you may have trouble finding an airline that allows your pup in the cabin. Most international airlines have weight restrictions for in-cabin pets - these usually max out at 20 lbs.
We found one last alternative to putting your larger pup in the hold: sea travel.
Cunard's Queen Mary 2 is the only ship that allows the transatlantic transportation of dogs from New York City to Southampton, England. There are 24 kennels that are overseen by a "Kennel Master" who walks, feeds and cleans the pet area. It is our understanding that the kennels are open at various times throughout the day, so pet owners can visit their dogs somewhat frequently. You can find more about the kennel arrangements by calling Cunard at (800) 728-6273.
When we last looked into Cunard's Queen Mary 2, reservations were sold out months (and even years) in advance. So if you are interested in this option, we recommend looking into it well in advance of your actual departure month.
The downside to sea travel is the time commitment, usually 7 days at sea. The price will also be higher than economy air travel, especially once you account for the cost of your pet's care. With that said, this is a very safe travel option for anyone going to the UK with their larger dog – and the only way to avoid putting him or her in cargo.
What about Emotional Support Animals and Therapy Animals?
In December 2020, the U.S. Department of Transportation revised rules around flying with emotional support animals (ESAs) and stated it no longer considers ESAs to be service animals. The new regulations were updated in the DOT's Air Carrier Access Act (ACAA) which regulates the transportation of service animals by air.
What does this mean for pet owners with previously-documented ESAs? Because ESAs are no longer considered service animals by the DOT, airlines no longer have to accept them on board their aircraft for free. Rather, most U.S. airlines have completed banned ESAs entirely from their cabins and now classify these non-service animals as regular pets. In other words, your ESA will be treated like a standard pet, and you will have to pay the airline's standard pet travel fee.
Service animals are governed under the Americans with Disabilities Act (ADA) and are still allowed by law to be able to accompany their owners in commercial airplane cabins for no fee.
You can refer to this DJANGO Dog Blog article, "New DOT Rules for Emotional Support Animals", for a full overview of the new U.S. Department of Transportation ESA ruling.
We love your comments, questions, and feedback!
Here is a really wonderful message we received after helping a DJANGO Dog Blog reader successfully fly with his french bulldog in-cabin to the United Kingdom.
"A BIG FAN OF DJANGO
May 01, 2020
Hello All,
Just sharing our experience of flying with our French Bulldog from Houston to London with United airlines. First of all, we must say how grateful we were to find out this blog. Thanks to Django and Steph we are in UK with our Frenchie.
We've completed all the required forms from United almost two months before the flight. Then we got the approval from United to fly in the cabin with our dog. However they requested approval from DEFRA. It took us sometime to figure out how to contact DEFRA. Then we found out that getting approval from HARC or DEFRA is actually the same thing. By the way, the 10 days rule for the health certificate is really important!
Our only disappointment was the confusion by the United airlines staff. They were quite rude with us. They didn't want to allow us to do the check-in even with the approved documentation. We almost missed the flight because of this. But there is always someone willing to help. And thanks to those people we were finally able to do the check in. What was funny (not to say "sad") was that after we struggled to do the check-in, when we passed the gate, some other people came to us stating that "pets could not fly in the cabin for international flights". Again, same story. We showed them the documentation and after many calls they realized that everything was actually approved. Unfortunately it was clear that they had no experience with flying with pets.
What really make us sad is that flying with pets should not be so stressful. When are they going to realize that pets are family as well? It's ok that there are people who are allergic to pets or even don't like them. I totally respect everybody. However there should be an easier way of having our furry family members flying with us without exposing them to risks. Flying via cargo should not be an option unless the environment is safe to accommodate them and it's monitored the whole trip. There are many solutions for sure. I bet the airlines that put them in place will attract even more customers.
Anyway, we are in UK! And again, thanks with all our heart to Django!"
Here is another great message from a DJANGO Dog Blog reader whose son successfully flew with his Emotional Support Animal in-cabin to the United Kingdom.
October 2020
"Thanks to the blog - we successfully got my son and his ESA (14-pound, ESA, SilkyTerrier) from CHICAGO to LONDON for the start of his Masters Program at THE MET SCHOOL OF FILM. WHEW. Thank you for the guidance. SO many hoops to jump thru. SO MANY. And upon arrival with all papers in perfect order, manager at American Airlines told him he is not allowed to travel, as the EU was closed. OMG. Fortunately I had done so much homework, and spoke to the "EXCEPTION DESK" for the last 10 days at American and insisted she check again (and again). WHEW." - Michele
Hope you found all of this information useful! Don't hesitate to ask a question in the comments, and definitely let us know about your own experiences traveling to the UK.
Additional Resources
DJANGO's Adventure Dog Harness and Leash Collection includes durable, stylish, and modern dog harnesses and leashes designed for rugged adventures and everyday use. The Adventure Dog Harness features a weather-resistant and padded neoprene exterior with reflective piping, breathable sport mesh lining, supple and colorfast webbing, and four points of adjustment for a custom fit. The Adventure Dog Leash features heavy-duty and colorfast webbing, an ultra-padded neoprene handle for max comfort, and a functional D-ring. Solid cast brass hardware adds additional strength, durability, and sophistication to the adventure-ready designs.
100 Responses
Leave a comment
Comments will be approved before showing up.