Is It Safe to Fly Your Pet in Cargo?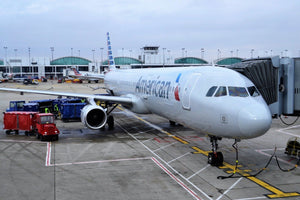 Mike and I (Steph) take our dog Django everywhere. We've adventured with Django throughout British Columbia, camped under the stars with him in Lake Tahoe, and played crabs with Django in Las Vegas as he curiously looked on from his DJANGO dog carrier bag. Django has completed countless cross-country flights, a cross-country road trip, and two cross-Atlantic flights. Mike and I flew with Django across the Atlantic Ocean to honeymoon in France and Italy. For the record, our family thought we were crazy to take Django. We had the time of our life with our hairy little sausage dog and wouldn't have traveled any other way!
Flying with Django has luckily been easy. Django weighs 14 lbs and comfortably fits in his dog carrier that slides under the airplane seat in front of us. So long as an airline with in-cabin pet travel is flying to our destination, all we have to do is pay an extra pet fee and Django can fly with us at our feet.
Unfortunately, not all dogs are allowed to fly in the cabin. Dogs that do not fit under a plane seat in an airline-approved pet carrier are required to fly via cargo. Additionally, some countries including the United Kingdom prohibit in-cabin pet travel entirely.
Is the cargo area safe for pet travel? Will dogs too large for in-cabin pet travel be comfortable in the hold of the plane?
There are preconceived notions that cargo pet travel is unsafe, stressful, and something to be avoided. Rather than jump to this conclusion ourselves, we did a lot of research to better understand pet travel in cargo: what cargo pet travel actually is, potential risks and hazards with putting dogs or cats in cargo, and recent statistics on safety.
How do pets travel in cargo?
If your pet does not fit in a carrier under the seat in front of you, your pet can travel in cargo (also known as the "hold" of the plane). Almost every reputable domestic and international airline offers specialized shipping services for animals that are not allowed in the airplane cabin.
Dogs and cats flying in cargo must travel in a well-ventilated, rigid (a.k.a. hard-sided) kennel. Soft-sided carriers are not allowed for safety reasons. Most airlines required that the kennel have a solid top and base (i.e. without ventilation openings) and at least three sides with ventilation. Some airlines require kennels with four ventilated sides for international travel.
Pets are placed in a climate-controlled, pressurized compartment below the aircraft cabin and kept separate from luggage and other cargo. Although your pet will usually be on the same flight as you, airlines reserve the right to ship your pet via a different flight or route.
To fly your dog or cat via cargo, make sure to book your pet's cargo reservation well in advance of departure. Every airline has slightly different policies, so always review your airline's pet policy page before booking your own travel.
Given the level of stress cargo travel places on pets, most airlines require an up-to-date health certificate from a licensed veterinarian to confirm your dog or cat is in good health. For the same reason, all airlines also prohibit brachycephalic dogs and cats from flying in cargo. Brachycephalic dogs have snub noses and include french bulldogs, boston terriers, pugs, shih tzus, and boxers - to name a few.
Your airline will also likely require a rabies vaccination certificate issued and signed by a licensed veterinarian.
What is it like in cargo?
The cargo area is climate-controlled and pressurized to ensure the safety and well-being of your pet. Reputable airlines also enforce seasonal restrictions and temperature-related rules. Delta Cargo, for instance, does not fly pets during "extreme weather" and prohibits pets from cargo travel when outside temperatures are below 20˚F (-7˚C) or above 80˚F (27˚C). Similarly, American Airlines does not allow pets to travel in cargo when outside temperatures are below 45˚F or above 85˚F. Why these temperature guidelines? Although the cargo area is climate-controlled, your pet may be forced to wait on the tarmac before being loaded onto the plane. Airlines want to ensure your pet is safe and not uncomfortably hot or cold during their transport on the tarmac.
Although responsible airlines do their best to keep your pet comfortable, it is true that cargo travel can be very stressful on animals. A plane's cargo area is loud, dark, and cluttered. Your pet will be transported via strangers (airport personnel) and travel alone in a new, unusual, and understandably scary environment. If your pet is prone to anxiety or in poor health, please reconsider cargo travel and speak to your veterinarian before making any travel plans. 
Does my pet get food and water in cargo?
Yes, but every airline pet cargo policy differs. American Airlines Cargo, for instance, requires pet owners to provide two dishes (one for food and one for water). The dishes must be attached to the inside of the hard-sided kennel but accessible from the outside (so airline personnel do not have to open the kennel). Although American Airlines provides water for pets, pet owners are required to provide enough food for at least 24 hours just in case your dog or cat's flight is delayed, cancelled, rerouted, etc. 
We strongly recommend reviewing your airline's pet policy page before booking any travel plans.
How does my dog or cat go to the bathroom in cargo?
Since pets are not permitted to leave their kennels during flights, most airlines require that you line the base of your pet's kennel with absorbent material, i.e. pet-friendly potty pads.
Is it dangerous for pets to travel in the hold of the plane?
Although the large majority of pets traveling via cargo arrive safely at their destination, it is important to understand the potential hazards with cargo travel.
Dehydration. Although airlines require pets to have ample food and water throughout their journey, there is still risk of dehydration, particularly if your pet is not used to drinking from his or her water source. Before booking travel, please make sure your dog or cat is used to his or her kennel and knows how to drink from the kennel's bowl or water bottle.
Heatstroke. In order to ensure your pet is not overheated (or too cold), select an airline that enforces seasonal restrictions and temperature-related rules for pet cargo travel. As mentioned above, Delta Cargo does not fly pets during "extreme weather" and prohibits pets from cargo travel when outside temperatures are below 20˚F (-7˚C) or above 80˚F (27˚C).
Heart failure. Cargo travel is stressful for any pet, young or old. Senior pets, pets prone to anxiety, or those in general poor health are at increased risk of heart failure during travel. Please consult your vet before travel to ensure your dog or cat has a clean bill of health and is an appropriate candidate for cargo travel.
Other injury. Although unlikely, there have been past incidents where pets were injured after escaping their kennel. Other pets were injured after objects fell on their kennel.
The U.S. Department of Transportation collected data on pet cargo travel in 2017. During that calendar year, 506,994 animals flew in cargo. Of this number, 24 animals died (a 0.005% probability), 15 animals were injured (0.003% probability), and 1 animal was lost (0.0002% probability).
Any avoidable death or injury is absolutely unacceptable. With that said, assuming your dog or cat is in very good health (as confirmed by your licensed vet) and assuming you properly prepare your pet for cargo travel (i.e. ensure he or she knows how to eat and drink from the kennel's bowls), cargo travel should be a safe travel option for your four-legged family.
Before you go
We'd love to hear about your own experiences flying your dog or cat in cargo. Please leave us a comment (or question) below. Also, make sure to follow our globetrotting dog Django on Instagram (@DjangoTheGent). You can also find Django on Facebook.
Additional resources
15 Responses
Leave a comment
Comments will be approved before showing up.