Can large dogs fly in cabin on airlines?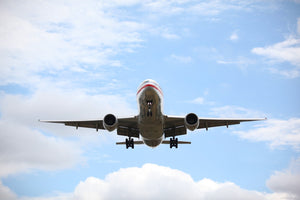 Is there any airline that will allow my large dog to travel with us in the cabin?
This is a question we at DJANGO Dog Blog get frequently.
An increasing number of dog owners are traveling with their pups, both domestically and internationally. Just two years ago, Mike and I (Steph) flew with our dachshund Django to Europe. We spent three weeks bouncing around France and Italy with our little guy. We fortunately had no issues bringing Django since he's 15 lbs and fits comfortably in an airline-approved pet carrier.
Can large dogs fly in cabin?
We wish we could tell you otherwise, but unfortunately no airlines that we know of allow large dogs in-cabin. When we say large, we are referring to dogs that cannot fit under a plane seat in an airline-approved pet carrier.
Are there any exceptions?
The only exceptions are if the dog is a certified service animal (i.e. a guide dog for the blind) or, in some cases, an emotional support animal or therapy animal.
Most U.S. airlines including United, Delta and American allow emotional support dogs. Please do keep in mind, however, that weight and occasionally breed restrictions still apply. United Airlines, for instance, has a 65lb weight limit for emotional support dogs. Delta does not accept pit bulls as service or support animals, and they don't allow ESAs on flights with a duration longer than 8 hours. American Airlines requires that service animals and ESAs fit at your feet, under your seat or in your lap.
We always recommend that you visit an airline's pet policy page prior to booking travel (here are the in-cabin pet policies of every major international airline).
What about business class?
Even if you are willing to pay a first class fare for your pup, unfortunately the same rule applies: no large dogs. In fact, most airlines prohibit dogs in first class entirely. The only exception we are aware of is Lufthansa which allows small dogs and cats in business class on certain transatlantic flights.
Is there ANY way to get overseas with my large dog?
Yes! You have two options for getting overseas with your larger dog.
Option 1: Cargo
Most major airlines allow large dogs to fly via cargo, or in the hold of the plane. And despite 
Dogs that fly via cargo must be transported in rigid, well-ventilated animal crates.  The crates are secured in a climate-controlled, pressurized compartment of the hold apart from the rest of the luggage.
The most reputable airlines have well-defined and enforced animal transport programs to ensure the safety and comfort of your dog. For example, Delta and American Airlines have strict Temperature Policies for warm-blooded animals. American's policy states that dogs are only transported when ground temperatures are between 45 and 85 degrees Fahrenheit. This ensures your pup is never exposed to extreme temperatures if the cargo area's climate-control mechanism fails.
Most airlines also prohibit snub-nosed dogs, or brachycephalic breeds, from flying via cargo. Short-nosed dogs like bulldogs, boxers, pugs and boston terriers can experience respiratory distress when they are stressed or overheated. For the safety of these dogs, you'll find that airlies prohibit their travel via cargo.
Option 2: Sea travel
If you are adamant about not putting your dog in cargo, you have one more travel option: sea travel.
Cunard's Queen Mary 2 is the only ship that allows the transatlantic transportation of dogs from New York City to Southampton, England. There are 24 kennels that are overseen by a "Kennel Master" who walks, feeds and cleans the pet area. The kennels are open throughout the day, so pet owners can visit and walk their dogs as often as they'd like. You can find more about the kennel arrangements by calling Cunard at (800) 728-6273.
The downside to sea travel is the time commitment, usually 7 days at sea. The price will also be higher than economy air travel, especially once you account for the cost of your pet's care. With that said, this is a very safe travel option for anyone going to Europe with their larger dog – and the only way to avoid putting him or her in cargo.
Additional resources
Planning a trip with your pup? Check out DJANGO's additional pet travel resources:
3 Responses
Leave a comment
Comments will be approved before showing up.