Dog-Friendly Central Oregon | Trails, Waterfalls, and Attractions To Visit With Your Pup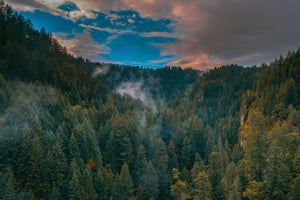 In June 2016, Mike and I (Steph) packed up our small New York City apartment, put almost everything we owned into storage, and flew to the Pacific Northwest with two suitcases and our dachshund Django. We rented a small furnished apartment in downtown Portland and bought a pre-owned Maggiolina Airlander car roof tent for camping trips. Every weekend we'd drive south and explore a new trail in Central Oregon or dog-friendly beach along the Oregon Coast.
What are our favorite dog-friendly places to visit in Central Oregon? We have so many amazing recommendations and finally got around to compiling this pet travel guide. In this article we include our favorite dog-friendly trails, attractions (i.e. waterfalls, lava fields, hot springs), and campgrounds in Deschutes National Forest, Willamette National Forest, and Umpqua National Forest.
Scroll down for a Google Map highlighting every recommendation. Need more information? Click directly on the trail or attraction to see more important info via USDA Forest Service.
IN THIS ARTICLE:

Willamette National Forest
Willamette National Forest is a stunning part of Central Oregon, comprising of almost 1.7 million acres, stretching over 100 miles wide, and including seven major mountain peaks including Mt. Jefferson, Oregon's second tallest mountain, and Three Sisters. The forest includes close to 400,000 acres of designated wilderness and hosts some of Oregon's most unique attractions. 
Waterfalls and Attractions
Proxy Falls (1.6 mile out and back, easy). Proxy Falls is a cascade and plunge waterfall located in the Three Sisters Wilderness of Willamette National Forest. The water feeds from several springs from North Sister Mountain and cascades beautifully over moss-covered rocks. It's no surprise this is one of Oregon's most frequently photographed waterfalls. When Mike and I visited Proxy Falls with Django, we ended up staying at the base of the waterfall for well over an hour so Django could swim and Mike could take photographs. Definitely worth a visit if you're in the area.
Sahalie and Koosah Falls (2.2 mile loop, easy). These are two stunning waterfalls in close proximity right off the McKenzie Highway; they're also only a 10 minute drive (or 5.5 mile hike) from Tamolitch Falls (Blue Pool, see below). The

 

Waterfalls Loop Trail

 

connects the two waterfalls and offers views of the McKenzie River.
Tamolitch Falls (Blue Pool) (3.7 miles out and back, easy). Tamolitch falls (via McKenzie River Trail) is a stunning, turquoise pool located near Blue River. The trail to the pool is just under 2 miles and easy terrain. This is a must see when you visit Central Oregon. With that said, unless you love crowds, we strongly recommend visiting early in the morning or during the off-season. Expect lots of tourists if you go on a summer weekend (or even weekday). Dogs have to be leashed on the trail.
Dog-Friendly Trails
Scott Mountain Loop Trail (9.1 mile loop, modeate to difficult). Scott Mountain Loop Trail is a 9.1 mile loop hike that takes you past several lakes, jagged lava flow, and rewards you with an amazing panoramic view of the Three Sisters from the summit. The length is mostly what makes this hike difficult. Dogs have to be leashed on the trail.
Stahlman Point Trail (4 miles out and back, moderate). Stahlman Point Trail is a popular and moderate dog-friendly trail located by Detroit Lake and Cove Creek Campground. A steep ascent leads you to a great view of Mt. Jefferson.

Triangulation Trail and Boca Cave (4.6 miles, moderate). This is a great trail with amazing vistas, wildflowers along rocky openings, and views of Mt. Jefferson and the Cascades. It's also very close to Detroit Lake and several nice campgrounds (see second bullet point below for more on these). The most challenging part of this hike is the steep descent to Boca Cave, but it is definitely worth a visit if you can manage. Boca Cave is a relatively shallow cave with a wide, gaping entrance that frames Mount Jefferson beautifully when you are standing inside the cavern.
Camping and Lodging
Campgrounds near Scott Lake, Proxy Falls, and Blue Pool.

 There are so many nice campgrounds dispersed throughout Willamette National Forest. Scott Lake Campground is a beautiful and popular spot located right on Scott Lake. From here you can enjoy Scott Mountain Loop Trail (see above) and easily drive to Proxy Falls. When Scott Lake Campground fills up, consider Paradise Campground which is situated right on the McKenzie River. Coldwater Cove Campground is beautifully situated on Clear Lake and close to Tamolitch, Sahalie, and Koosah Falls.
Campgrounds near Stahlman Point Trail, Triangulation Trail and Boca Cave. Roughly 2 hours north of Scott Lake and the above-mentioned campgrounds is where you find Stahlman Point Trail, Triangulation Trail and Boca Cave. There are many popular campgrounds in this part of Willamette National Forest right on Detroit Lake including Cove Creek and Hoover. Whispering Campground is another popular one just east of Detroit Lake, between the lake and Boca Cave.

Sisters, Oregon.

 

Willamette National Forest stretches west of Sisters, a picture-perfect mountain town that Mike and I personally fell in love with and visited on numerous occasions with Django. We actually camped just outside of Sisters a few times. There is a string of quality campgrounds just 20 miles north of Sisters on the Metolius River. We camped at and can recommend Lower Bridge Campground. Others in the area include Candle Creek and Pioneer Ford. There are also endless places in the wilderness to camp if you prefer privacy and quiet. Not into camping? C

onsider staying in Sisters so you have immediate access to Willamette National Forest's many trails and attractions.
Deschutes National Forest
Just outside of Bend, Deschutes National Forest comprises 1.6 million acres in Central Oregon and extends for 100 miles along the eastern side of the Cascade Mountains. Deschutes National Forest is easily one of the most beautiful and diverse landscapes in Oregon. Come here for dense evergreen forests, lava fields, waterfalls, clear mountain lakes, and caves.
Waterfalls and Attractions
Benham Falls (0.5 mile to falls, easy). This fun and short hike just outside of Bend is family-friendly. If you're looking for a dramatic, steep waterfall, this isn't it; Benham Falls is more like steep rapids rather than a high waterfall (but beautiful nonetheless). Hikers and mountain bikers that want more of an experience can take advantage of connecting trails; you have access here to the Deschutes River Trail which leaves to the south towards Sunriver and north towards Bend.
Newberry National Volcanic Monument & Lava Butte Trail (3.8 miles, moderate). Newberry National Volcanic Monument is a great way to experience the Lava Lands of central Oregon. The Monument includes over 54,000 acres of lakes, lava flows, and geologic formations. There are also well over 100 summer and winter trails that vary in difficulty. If you are looking for one trail that showcases the Lava Lands, consider Lava Butte Trail which loops 3.8 miles around the crater at the summit of Lava Butte.
Tumalo Falls (0.25 miles to viewing platform, easy). This beautiful waterfall is located just 13 miles from downtown Bend. The water cascades into Tumalo Creek with a gorgeous backdrop of pine forest. There is an easy and very short trail that leads you to a viewing platform at the top of the falls. We came here with Django and our parents and can confirm the trail is easy and appropriate for all ages. If you want to see more, Tumalo Falls Trail extends another 1.7 miles upstream to a second waterfall, Middle Tumalo Falls (4 miles roundtrip).
Dog-Friendly Trails
Deschutes River Trail (3 mile loop, easy). This is a beautiful trail located right in the heart of Bend and easily accessible from Bend's Old Mill District. The trail extends roughly 1.5 miles south along the Deschutes River and winds through through pine forests and lava flows. You cross the river at a small bridge then loop back the remaining 1.5 miles. Easy terrain. The only downside? Because the Deschutes River Trail is located in Bend, it gets pretty crowded with tourists, sightseers, and bikers during the dry summer months.
Green Lakes Trail (9.1 miles out and back, moderate). Green Lakes is a popular and beautiful trail that gives hikers a taste of everything Central Oregon is known for: waterfalls, mountain streams, lakes, wildlife, and mountain views. Unlike some other less popular trails, dogs must remain leashed when hiking Greek Lakes Trail. The trail is busy even on weekdays, so consider camping nearby (scroll down for great campgrounds in the area) and starting your hike in the early morning.
South Sister Climber Trail (12.2 miles out and back, difficult). This is a nontechnical yet strenuous climb that leads you to the summit of South Sister and offers beautiful views of the surrounding mountains. South Sister is Oregon's third highest peak, and the trail gains roughly 5,000 feet of altitude over the 6 miles trek to the top. The last section of the trail is particularly steep and rugged with lava rocks. It can be extremely tough on paws - some hikers even recall seeing dogs with bleeding paws -so we strongly recommend bringing hiking dog boots for your adventure dog.
Tam McArthur Rim Trail (5.1 miles out and back, moderate). Tam McArthur Rim Trail is a perfect hike for those looking for a moderate challenge and spectacular views. Because the trail is beautiful and close to Bend - just an hour's drive from downtown -  dogs must remain on leash. There are two nice campgrounds right by Tam McArthur Rim Trail, Driftwood and Three Creek Lake. More on them below.
Camping
Devils Lake & Soda Creek Campgrounds. These two campgrounds are located right by Green Lakes Trail (more on this popular trail above). Devils Lake Campground is the most popular given it's (1) right on Devils Lake and (2) free on a first come, first serve basis. There are nice hot showers and clean rest rooms.

Driftwood Campground.

 Driftwood is a lovely campground on Three Creek Lake offering immediate access to the popular and dog-friendly Tam MacArthur Rim Trail (more on this trail above). If Driftwood's ~20 spots are full, consider Three Creek Lake campground right nearby.
Umpqua National Forest
Mike and I fell in love with the Umpqua National Forest and spent many weekends here camping, hiking, and fishing with Django This stunning part of central Oregon is adjacent to Crater Lake National Forest. Umpqua National Forest is a 4 hour drive from Portland, a 3 hour drive from Bend, and a 3.5 hours drive from Sisters.
We list our personal favorites for Umpqua National Forest below. One thing to keep in mind is that all these places get crowded during summer weekends. If you have flexibility with timing, we recommend visiting the attractions during early morning weekdays. September and early October are also wonderful times to visit these spots.
Waterfalls and Attractions
Brice Creek / Trestle Creek Trail

 (4 miles, moderate). Trestle Creek Trail is a 2 mile narrow trail that winds through Trestle Creek canyon and leads you to the base of Trestle Falls, a 60-foot fan waterfall.
Toketee Falls (1-mile to viewing platform, easy). Beautiful waterfall but the trail doesn't lead to the base of the water... rather it simply leads to a viewing platform high above the fall. Still a very cool spot and worth visiting when you're in the area.
Umpqua Hot Springs (0.3-mile trail, easy).

 Mike and I had a chance to visit these natural hot springs with Django in early October when there were few visitors. Despite being off-season, we still came in the early morning after camping nearby to avoid crowds and tourists. After following along a short and relatively boring trail, you reach 5-6 natural geothermal pools built into a mountain. The hot springs are unique and fun to experience, but please know they see tons of traffic in the popular summer months. Recent visitors (in July 2019) have sadly reported a lot of trash and even graffiti at the springs. We didn't experience anything negative, but again we came on a chilly October weekend morning.

Watson Falls (0.4-mile trail, easy).

Watson Falls is the highest waterfall in southwest Oregon with a 293 foot drop.
Dog-Friendly Trails
Camping and Lodging
Campgrounds along the North Umpqua River. Mike, Django and I camped at Eagle Rock campground on two separate occasions. Eagle Rock campground is lush, relaxing, and right on the North Umpqua River. Because it is one of the more popular campgrounds along North Umpqua Highway, this particular campground books up early for summer weekends. If you can't get into Eagle Rock, consider Boulder Flat and Horseshoe Bend which are both a short drive away. And keep in mind there are tons of other campgrounds in the forest. The above three just happen to be ones we stayed at with Django.
Steamboat Inn. For lodging we recommend the pet-friendly Steamboat Inn. Pets are allowed in their Hideaway Cottages and Campwater Houses. We stayed in one of the Campwater Houses which are positioned right on the North Umpqua River. Beautiful location and peaceful environment.
Below: Steph and Django at Umpqua Hot Springs in Umpqua National Forest 
Additional resources
1 Response
Leave a comment
Comments will be approved before showing up.