Do any national parks in the United States allow dogs?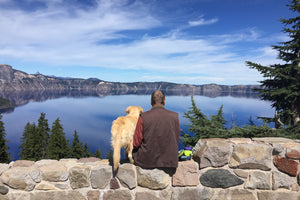 Updated July 2019
In mid 2016, Mike, Django and I (Steph) left New York City. We were both working remotely at the time and decided… what the heck… let's leave the concrete jungle and experience something new. So we flew to the Pacific Northwest with two suitcases and our dachshund Django and rented a small furnished apartment in downtown Portland. Every evening after work, we'd drive 30 miles east into the Columbus River Gorge with Django to go hiking and swimming in the most beautiful Oregon streams and waterfall plunge pools.
One weekend we decided to drive 4 hours south to Crater Lake National Park. The plan was to spend two days hiking along Crater Lake's beautiful rim trails with panoramic views and camp in the surrounding wilderness.
We received a cold welcome when we pulled up to the Crater Lake Visitor Center and immediately learned that dogs are not permitted on any Crater Lake trail or backcountry area. Our weekend plans quickly came to a halt.*
Why aren't dogs allowed in U.S. national parks?
Did you know that out of 58 national parks in the United States, only 7 in the continental U.S. are dog-friendly? Dog-friendly means that a significant percentage of trails and/or backcountry areas are accessible to dogs.
There are several reasons why dogs are not permitted throughout most U.S. national parks. One main factor is environmental and wildlife preservation. In addition to trampling vegetation and disturbing animals' natural habitats, dogs can introduce diseases and harmful pathogens to wildlife. Diseases like canine parvovirus and leptospirosis are transmitted via feces and can cause serious illness or even death in wildlife.
The risk to dogs is also great. Mountain lions, coyotes, and bears have attacked free-roaming dogs on trails, in backcountry areas, and even in suburbs. Just a few weeks ago, a mama bear went after a man and his dog in Los Angeles after the dog went after her bear cub.
Finally, dogs can pose a risk to or diminish the experience of other park visitors. While most public trails have pet policies (i.e. dogs must be leashed at all times), park goers do not always adhere to these guidelines. There are countless headlines every year about park visitors being bitten or attached by unleashed dogs. Our dachshund Django was attacked by a large off-leash dog while hiking outside of Portland. Luckily Django was wearing his harness and leash, and Mike was able to yank him up off the ground as the dog charged at him.
These are the only dog-friendly national parks in the continental United States
Keep in mind that dog-friendly national parks still have pet-related rules and regulations. For instance, all of the below parks require that dogs be on a leash up to 6 feet long at all times. Dog owners must also clean up after their pets. Click on the national park titles to go directly to the parks' pet policy pages.
Located on the coast of Maine, Acadia National Park is one of the most dog-friendly national parks. The park is known for its woodland, rocky beaches and granite peaks - including famous Cadillac Mountain, the highest point on the east coast.
The 49,000 acre recreational area offers 100 miles (161 km) of pet-friendly hiking trails and 45 miles (72 km) of dog-friendly carriage roads. Three campgrounds allow dogs: Blackwoods, Seawall, and Schoodic Woods. On Isle au Haut, pets are permitted for day hiking only.
From the NPS, "pets are not allowed in most lakes, in public buildings, in Duck Harbor Campground and on the following trails: Precipice, Beehive, Ladder Trail to Dorr Mountain, Beech Cliffs Trail, Perpendicular Trail (Mansell Mountain), Jordan Cliffs Trail between Penobscot East Trail and the carriage road." There are other trails that are not recommended for pets, although they are not strictly off limits.
Acadia was the 8th most visited U.S. national park in 2016, receiving over 3.3 million visitors.
Cuyahoga Valley is a 33,000 acre national park located between Ohio cities Cleveland and Akron and offers over 110 miles of pet-friendly hiking trails. The park follows the Cuyahoga River and is known for its lush landscape and many waterfalls.
In addition to 110 mies of trails, pets are allowed on a 20 mile stretch of the popular Ohio and Erie Canal Towpath Trail and within the Stanford Campground. Pets are not allowed in park buildings nor on the Cuyahoga Valley Scenic Railroad Train.
Cuyahoga Valley National Park was the 12th most visited national park in 2016, receiving over 2.4 million visitors.
Hot Springs is a 5,500 acre park located in central Arkansas, adjacent to the city of Hot Springs. Pets are welcome on all trails and in the campground. Only park buildings are closed to pets.
Hot Springs National Park is known for its natural hot springs that flow from the western side of Hot Springs Mountain. According to Wikipedia, "the hot spring water has been popularly believed for centuries to possess medicinal properties, and was a subject of legend among several Native American tribes." The city of Hot Springs has flourished around the park's natural attractions.
Hot Springs National Park was the first piece of land in the U.S. to receive federal protection. In 1832, the government established the park as a protected, recreational area. The park did not become nationally recognized until 1923.
Hot Springs is one of the most popular national parks in the U.S., receiving over 1.5 million visitors in 2016.
Shenandoah National Park, located in north central Virginia, allows pets on a large majority of its trails. Only 20 miles of its 500 miles of trails are off limits to dogs and other pets.
Shenandoah National Park encompasses almost 200,000 acres including a portion of the Blue Ridge Mountains and the Shenandoah River and Valley. Almost half of the park's land has been designated as wilderness.
The park was the 17th most visited park in 2016 when it received over 1.4 million visitors.
Petrified Forest National Park, located in northeastern Arizona, covers over 221,000 acres and was named for its large amount of petrified wood (plants that transitioned to stone). The park is also known for its colorful badlands and proximity to the Painted Desert. Petrified Forest National Park received over 640,000 visitors in 2016.
Petrified Forest is an extremely pet friendly national park. The official National Parks Service website actually encourages visitors to take along their four-legged companions: "Please take your furry friends on trails, even backpacking in the Wilderness Area." The only places pets are prohibited are government and public buildings.
Great Sand Dunes National Park, located in south central Colorado, offers one of the most spectacular landscapes in the continental United States. It is only one of the few dog-friendly national parks, allowing pets throughout all of the Great San Dunes Preserve.
If you are looking to adventure beyond the preserve and backpack throughout the Dunefield (outside the main use area), leave your four-legged companion at home. pets are not allowed beyond the preserve and are prohibited from undeveloped parts of the national park.
Congaree National Park, located just 17.5 miles southeast of South Carolina's capital Columbia, offers over 26,000 dog-friendly acres. Pets are allowed on all trails, including the boardwalk, as well as in the campgrounds.
Congaree is known for its lush vegetation and trees, boasting some of the tallest trees in the eastern United States. According to Wikipedia, Congaree forms "one of the highest temperate deciduous forest canopies remaining in the world". Almost 60% of the park is considered wilderness.
When you're kicked out of Crater Lake... *
After our Crater Lake plans were scrapped, we drove west into Umpqua National Forest, a lush and mountainous region along the North Umpqua River. We spent the next two days visiting the most beautiful waterfalls, relaxing in Umpqua's natural hot springs, camping on the North Umpqua River in our Maggiolina roof top tent, and watching Django fetch stick after stick out of the freezing cold river.
Additional resources
2 Responses
Leave a comment
Comments will be approved before showing up.