How to Make Your Pet Instagram Famous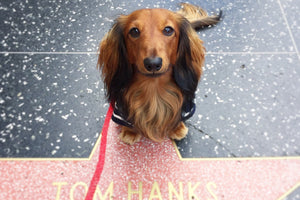 Updated October 2019
Instagram has become one of the most popular social networks for photo and video sharing. With over 800 million monthly active users at the start of 2018, the mainly mobile photo sharing app had reached 1 billion monthly active users by June 2018.
Thousands of people are being launched into stardom via Instagram. Fashionistas, fitness experts, and mom bloggers are growing massive followings and enjoying the perks of social celebrity (namely free products and compensation for sponsored posts). In addition to people, pet accounts are seeing their own success stories. Suddenly it's not that crazy to see a celebrity dog with 100,000 followers and a book deal!
How did these savvy pet owners grow their Instagram followings? It's not rocket science! Seriously, anyone can do it. I know because I (Steph) did it myself! In late 2015, I launched my dog Django's Instagram account, @djangothegent. Fast forward three years, and Django has 80,000 Instagram followers and friends all over the world. He has been featured by countless media outlets and sponsored by some really great brands.
So here it is... here is everything I've learned about Instagram after rocketing my long-haired wiener dog to social media stardom. Here are 11 tips to grow your Instagram account, boost engagement, and get more followers.
Tip 1: Image and Video Quality
Posting high resolution images and videos are a must. You'd be surprised how many people post out-of-focus, blurry or grainy photos! High quality content with a clear subject matter is more likely to be noticed and liked by your followers as they scroll through their main feed or Instagram's "Explore" tab.
What do we mean by clear subject matter? If you're posting a picture of your pet, make sure your pet stands out in the photo. Does your dog blend in with the photo's busy or colorful background? Is he or she out of focus? Instagram users are most likely to open and double tap photos that stand out - photos that compel them to pause and take a closer look.
Photo layout is also important. Generally speaking, vertical photos do much better than horizontal (or landscape) images. Why? Think about scrolling down your Instagram feed on your phone. When you come across a vertical photo, it takes up your whole screen! Horizontal photos, on the other hand, only take up a fraction of your screen and are easier to overlook and scroll past without double clicking. If possible, make sure your vertical photos have an aspect ratio of 4:5. This is the maximum size photo Instagram will allow. Anything more than 4:5 (i.e. 4:6) will be cropped by Instagram.
One other huge tip? Post puppy photos and videos. Seriously. Instagram users cannot get enough puppy content, and engagement is tremendously higher for adorable puppies. Have you ever noticed how very big Instagram dog accounts will frequently post 'throwback' puppy photos? This is because puppy photos naturally get more likes, comments, and shares. No one can resist clicking on and fawning over a puppy golden retriever or adorable baby dachshund... then sharing it with three friends. If you have high resolution puppy photos and videos, use them to your advantage and post one every 1-2 weeks.
Tip 2: Post More Videos
Video content is extremely powerful on Instagram. High resolution and engaging videos (i.e. they are funny, relevant, adorable, etc) generally get higher engagement than photos. These days, users are more likely to engage with and share a video versus a photo.
Instagram now allows users to post videos up to 60 seconds long, but this doesn't necessarily mean your videos should be this long. Most users get bored after 20-30 seconds, so try to cap your videos at this time stamp.
Tip 3: Leverage Hashtags & Location Stickers
Relevant hashtags and location stickers will introduce your content to a large, targeted audience. Instagram allows a maximum of 30 hashtags per post - why not use these to your advantage? Focus on the 30 most relevant and niche hashtags for each post; avoid unspecific tags. What do we mean? If you're posting a picture of your brindle french bulldog, tag #brindlefrenchie, #brindlefrenchbulldog and #frenchbulldog. Your post is more likely to be featured by Instagram via the hashtag #brindlefrenchie than a generic tag like #dog and #dogsofinstagram.
Tons of people search Instagram by location, so take advantage of this feature. If your post performs well, it is likely to appear as a featured post when someone searches for photos in your location. Again, be specific. If you're posting from Windansea Beach in San Diego, California, use the location sticker "Windansea Beach, San Diego" instead of "California" or even "San Diego".
Tip 4: Instagram Stories
In addition to posting on your main feed, you should also post Instagram Stories to boost engagement and reach. Unlike main feed posts which are on your profile indefinitely, Instagram Stories are perfect for photos or videos that you may not want on your profile forever. Rather, these Stories disappear after 24 hours. And keep in mind that you can and should include hashtags and location stickers in Stories.
How do Stories help boost overall engagement? If you publish high quality content to your Stories, your followers will likely engage with the content (i.e. messaging you, sharing the content with friends, etc). The more engagement your Stories get, the more likely it is that Instagram features your content alongside other 'trending Stories' on the main feed. Now your Stories are suddenly being shown to tons of new people!
You can also use Stories to drive traffic to existing posts or to stir up demand for a pending post. To share a main post to your Stories, click the paper airplane icon just below your post the select "Add post to your story". Consider including a fun "New Post" sticker or caption to the Story.
Tip 5: How Often Should I Post on Instagram?
Every post (accompanied by 30 high quality hashtags) is an opportunity for a new audience to discover you. This doesn't mean, however, you should post 10 times a day. Excessive posting may turn off your followers and result in a wave of unfollows.
The general rule of thumb for Instagram is to post consistently and average 1.5 times per day. Consistency is key. It is ok to post every 2, 3 or even 4 days, so long as you keep up this cadence.
If you post infrequently or let a few weeks pass without any activity, you risk losing followers and fans. Your audience may forget that you exist and find new accounts to follow.
Do I post each and every day to Django's account? I should, but I don't. I have a full-time job and don't always have the time or energy to keep up daily activity. That said, I do post regularly and rarely let more than 3-4 days pass without new content.
Tip 6: Build A Base of Followers
As soon as you get on Instagram, start following other similar accounts. If, for instance, you're launching your pug's new Instagram account, follow other pug accounts and pug "community" accounts (i.e. @pugsofinstagram).
Spend time each day interacting and engaging with your new Instagram friends. Like photos, respond to comments, and comment on posts you love. These accounts will give you inspiration for posts. You'll also get on their radar - a bunch of these accounts will probably follow you back.
Tip 7: "Sometimes I Pretend to be Normal, But It Gets Boring So I Go Back To Me" - Ain Eineziz
Personality is what makes everyone unique and special, so pour your personality into your captions and hashtags. Friends and followers will love getting to know you through your posts.
When I first launched Django's Instagram account, I was a unsure of how to proceed with his captions. Do I let my fun-loving, dry and occasionally crude sense of humor let loose, or will that turn off followers? Over time I became increasingly comfortable letting my personality shine. Not only did I notice better engagement, I also started having more fun with Django's account. Now I have one rule when posting - I have to make myself laugh or smile with each post. If I can entertain myself, I consider the post successful.
One more tip? Share personal and humanized content - something people can relate to and emotionally connect with. Your post is more likely to be liked, commented on and shared if your followers identify with your experiences or see themselves in your content.
Tip 8: Get Featured!
Over the past two years, Django has been featured consistently in the online and offline neighborhood. Django has been featured by huge "community" Instagram accounts, publications like Subaru's Drive magazine, and internet powerhouses like People.com. Each feature has resulted in new exposure and followers.
How can you get featured? Start with big "community" accounts on Instagram. If you post great shots of outdoor adventures with your dog, reach out to @adventuredogsofficial via direct message or email, send them your most engaging high resolution photos, and ask to be featured.
Getting feature in offline publications like newspapers and magazines is definitely more difficult, but it is also doable. Usually huge online media sites like People.com have a few writers that focus on specific content, i.e. pet-related posts. See if you can reach out directly to one of these writers. Introduce yourself, your account, and ask them to consider including your account in relevant future content.
Tip 9: Cross Promote With Other Influencers
As you engage with your following and audience, you'll slowly start to get to know the people behind the accounts. Consider cross promotions with similarly sizes accounts. Cross promotions can include shoutout-for-shoutouts or jointly-hosted giveaways.
Another rising trend is "engagement groups". In engagement groups, an average of 10-15 similarly sized accounts join a group DM (direct message group) and agree to engage with each other's posts. The the idea is to trick Instagram's algorithm by boosting engagement on your friends' and your own posts. So how exactly does this work? Whenever someone in the group DM posts on Instagram, they share the post in the DM group. All the others in the DM group then go over to the new post and like and comment on it. All of a sudden, a brand new post has 10-15 more likes and 10-15 more comments. Instagram will see this sudden engagement, assume the post is doing well overall, and therefore boost the post across the the news feed. Engagement Groups are especially powerful when large Instagram accounts (25k+ followers) team up.
Tip 10: Celebrate Milestones with a Giveaway
There are a few ways to host a giveaway on Instagram. Thrive Hive provides a great resource for the various types of giveaway.

Once your account reaches 1,000+ followers, consider reaching out to a brand you love and ask them to sponsor your giveaway with one product. Brands usually welcome exposure to a new targeted audience and are willing to offer one free product in exchange.
In my experience, the most effective giveaways are those where Django works with one brand and gives away one high quality product, i.e. a dog hoodie, pet camera, or a dog bed. We keep the contest rules simple: (1) Follow Django and the brand (2) Like this post (3) Tag 2 friends. These rules guarantee simplicity (i.e. higher probability people will enter the giveaway), engagement, and new followers.
Below is an example of a giveaway Django hosted for animal non-profit More Than a Cone. More Than a Cone wanted to raise awareness for their cause, and a giveaway on Django's Instagram was a wonderful way to get in front of a new dog loving audience. The giveaway prize was a huge box of Kong dog toys. To enter the giveaway, friends just had to follow Django and More Than a Cone and tag a friend.
Tip 11: Boost Your Brand On Facebook and Other Social Media Channels
After Django's Instagram account surpassed 50,000 followers, I decided to launch his Facebook page. Facebook introduced Django to a brand new audience of dog lovers, and many of these new Facebook friends ultimately started following Django on Instagram.
Connect your Facebook and Instagram accounts, if you haven't already. Sharing content from Instagram to Facebook became incredibly easy after Facebook bought Instagram in 2012. What this means is you can post a photo, video or story to Instagram and immediately upload it to your Facebook page with one click. Instagram also allows you auto-follow your Facebook friends in seconds. By connecting with your Facebook friends on Instagram, you will automatically introduce them to your Instagram account.
Outside of Facebook, consider expanding your presence on other social media platforms. Do you post video content? Then create a YouTube channel! We launched DJANGO's YouTube channel in 2017. Our content includes a mix of hilarious Django videos, educational dog content (here's a great example), and product videos.
Do you prefer Pinterest? We launched DJANGO on Pinterest just recently and have since become huge fans of the platform. One Pinterest strategy we recently discovered is to pin your Instagram photos to Pinterest. Make sure each Instagram photo 'pinned' links back to your original Instagram post. Whenever someone comes across your Pinterest post and clicks, they'll automatically be taken to your Instagram post. All of a sudden you are driving new traffic to your Instagram page!
Tip 12: A Well-Trained Pet Makes Things Much Easier
When Django was a baby, I spent 30 minutes every morning doing "school" with him. We practiced sitting still - I would walk around the apartment while Django sat patiently in one spot, waiting for me to give him the OK to run over and grab a treat. I also taught Django to look at the camera whenever I am taking a photo. How? I would tell Django to "Look!" at me. Whenever he caught my eye, I would praise him with "Good look!" and give him a treat. You can imagine that this makes taking photos of Django so much easier!
One last thought.
It is very easy to compare your account growth, follower count, and engagement with other accounts... and get frustrated if your account isn't performing as well or growing as quickly. As soon as you start letting these thoughts creep into your head, your fun-loving Instagram account becomes a stressful job. What is the point of posting fun images of your pet if you suddenly hate doing it?
There are now over 1 billion monthly active Instagram users, and Instagram's algorithm inexplicably dictates which of these accounts see above-average growth.
Unless you are Selena Gomez or a Kardashian, your account will never be the biggest or most successful. And it shouldn't have to be! With 1 billion users, Instagram is offering an incredibly opportunity to amass hundreds, thousands or even millions of followers. Stay savvy (i.e. follow the above tips), be yourself, and have fun.
BEFORE YOU GO
We would love to hear from you and check out your Instagram account! Drop us a comment below (include your Instagram account name!) and remember to follow our sausage dog celeb Django on Instagram. DM us on Instagram when you do so we can follow you back!
DJANGO's Adventure Dog Collection includes durable, stylish, and modern dog harnesses and leashes designed for rugged adventures and everyday use. The Adventure Dog Harness features a weather-resistant and padded neoprene exterior with reflective piping, breathable sport mesh lining, supple and colorfast webbing, and four points of adjustment for a custom fit. The Adventure Dog Leash features heavy-duty and colorfast webbing, an ultra-padded neoprene handle for max comfort, and a functional D-ring. Solid cast brass hardware adds additional strength, durability, and sophistication to the adventure-ready designs.
100 Responses
Leave a comment
Comments will be approved before showing up.