The Best Dog Life Jackets (2022 Reviews)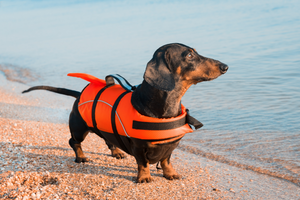 Disclaimer: Please note that some of the links below are affiliate links. If you purchase an item, we may receive an affiliate commission at no extra cost to you. We only recommend products we know and love, and all opinions expressed here are our own.
Updated May 2022
Whether you and your dog will be swimming, boating, or kayaking this summer, you should absolutely consider investing in a high quality dog life jacket. Even the strongest four-legged swimmers can find themselves quickly overwhelmed by rough waves, strong currents, and deep water. Here is a useful guide to water safety and when it is appropriate to use a dog life jacket.
We've compiled a list of the highest quality and most popular dog life jackets. Our dachshund Django (@djangothegent) currently wears #6 on the list.
IN THIS ARTICLE:
What to look for in a dog life jacket:
Buoyancy

.

 We know this is an obvious one, but you'd be surprised how many low quality life jackets with limited buoyancy are out there... The best dog life jackets offer excellent float. In other words, they keep your dog's head above water and his body lifted at all times in the water.
Color. Vibrant colors help increase your dog's visibility in the water. The most effective life jacket colors are fluorescent yellow, brilliant orange, hot pink, and red.
Safety features. Top quality dog life jackets include several standard safety features: reflective strips, a top-positioned safety grab handle, and a top-positioned D-ring for leash attachment. Reflective strips help increase the visibility of your dog in the water, especially during evening hours and low light conditions. Safety grab handles are also a must-have. These top-sided handles allow you to easily pull your dog up out of the water and are must-haves in case of a "dog overboard" situation".
Materials. Look for a lightweight quick dry, and durable outer lining fabric such as nylon or neoprene (what wetsuits are made of).
Sizing and Fit. Look for life jackets with adjustable straps and quick-release buckles that ensure a proper fit. Your dog's life jacket should be snug and secure around the body. There should be no way he or she can break free of the jacket or slip a leg through one of the adjustable straps.
DJANGO's Top Dog Life Jackets of 2022
The Paws Aboard Dog Life Jacket features a quick dry neoprene exterior and lightweight, breathable mesh underbelly. The adjustable collar and mesh underbelly create a custom fit for all dog breeds and body types, including large-chested pups. Verified customer reviews confirm that this life jacket fits and keeps afloat even the heaviest bulldogs.
RUFFWEAR's Float Coat is one of the more expensive options on our list, but it is also one of the best dog life jackets on the market. In addition to providing excellent buoyancy, the Float Coat features reflective piping and a strong top-sided grab handle. It is also designed for dogs big and small. Float Coat sizes range from XXS (13"-17" chest girth) to XL (36"-42" chest girth).
Vivaglory has several dog life vests including this high quality ripstop option. Ripstop is a strong woven fabric resistant to tearing and ripping. The floatation vest features big reflective strips for low light conditions, a comfortable grab handle, and a strong D ring for leash attachment.
There are a few design features that make the Kurgo 'Surf N Turf' dog life jacket unique. For one, this dog life jacket's floatation padding can be removed so the fabric can serve as a dog raincoat. It is unclear how many customers actually use the vest as rain wear, but the dual functionality is an extra perk. The jacket also features two D rings for leash connections and a bottle opener. Is a bottle opener necessary? Maybe not, but it's a cool feature nonetheless.
The EzyDog floatation life vest is a great option for medium- and large-sized dogs. This life vest boasts up to 50% more buoyant material and a sturdy nylon d-ring for leash attachment. Other features include neoprene belly straps, reflective piping, and a safety grab handle.
We own and recommend this Good2Go dog floatation vest. Django has worn this particular life jacket in deep and choppy waters all over the world... while fetching sticks out of Lake Tahoe, California (scroll down for a photo!), swimming in the deep waters of Lake Como (Italy), and jumping off the side of a boat into the Tyrrhenian Sea (Italy)! We've never had any issues with this floatation vest, and Django never seems to mind wearing it. The Good2Go life vest is high quality, durable, and relatively inexpensive. Overall it is a great option to consider.
For your reference, Django is 14.5 lbs with a 16 inch chest girth and currently wears size XS. There are very few customer reviews on Amazon.com - you can read many more verified customer reviews at Petco.com (we actually bought our life jacket at a Petco store).
Similar to the Vivaglory canine life jacket featured above, this floatation vest is made from ripstop fabric (600D oxford cloth) and features reflective trim and a strong safety grab handle. The life jacket is only designed for medium and large dogs, with sizes range from XS to XL.
This Vivaglory dog life jacket is a great option for smaller pups, with size XS suitable for dogs with 13"-16" chest girth. The main outer fabric is lightweight and comfortable neoprene which is complimented by reflective elements, a top-sided grab handle, and a strong D-ring for leash attachment. Available in 5 bright colors.
Below: Our little man Django (@djangothegent) is wearing his Good2Go dog life jacket (#6 above) while swimming with Mike and I in Lake Tahoe, California
Additional resources
2 Responses
Leave a comment
Comments will be approved before showing up.