What is Dog Kibble and How Is It Made?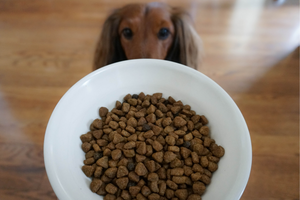 Dry dog food makes up the large majority of our pups' diets, and it comes in many shapes and sizes: organic, all natural, grain-free, and even exotic (i.e. kangaroo and red lentil... weird, right?). But did you ever step back to think about what dog kibble actually is? Is dog kibble healthy? Is it processed? Why is every single pellet of dry dog food exactly the same shape and size? And most importantly, is mass-manufactured dry dog food the healthiest source of nutrition for my dog?
A few weeks ago, I (Steph) walked uptown in New York City to our neighborhood pet store to grab a new bag of dry dog food for my long-haired dachshund Django. I lugged the 15 lb. bag ten blocks home, dragged it into our kitchen, and started pouring out the contents of the bag into a massive Tupperware container. I watched the tiny pellets bounce into the plastic container and began wondering... what exactly is this stuff anyway? Although Mike and I always splurge on an organic and/or premium dry dog food with high quality animal protein and all-natural ingredients - no chemical pesticides, no preservatives, no added hormones, no artificial ingredients - I still wanted to better understand what was going into our adorable little sausage dog's dinner bowl every day.
If you have ever wondered what dry dog food actually is and how it is made, this article is for you. If you have any questions, comments, or want to recommend a dog food brand you love, please leave a comment below!
How is Dog Kibble Made?
Dry dog food is the most popular pet food throughout the United States, Europe, Canada, and the rest of the developed world. Why? Because it is convenient, inexpensive, and has a very long shelf life compared to other forms of dog food. Dry dog food is also very easy to mass manufacture and ship.
Dry dog food is made via a process called "food extrusion". Extrusion is a method where a large mixture of ingredients are heated at extremely high temperatures, forced through openings in perforated plates (aka "dies") to form a specific shape, then cut into bite-sized pieces by sharp blades.
Imagine the ingredients in your dog's dry dog food bag: chicken, lamb, or another animal protein; sweet potatoes, peas, and other vegetables; legumes; fruit; grains; starches; fats; oils... All of these raw ingredients are ground together into a coarse flour-like substance. This is the first step in food extrusion.
The dry flour-like mixture is then poured into a massive barrel-shaped machine and cooked under high pressure and at extremely high temperatures north of 100 degrees Celsius (212 degrees Fahrenheit). Such extreme temperatures are used so the "flour" mixture melts and can be forced through small openings in perforated plates, also known as dies.
Once the melted mixture of ingredients is forced through the dies, the spaghetti-shaped "food" is then chopped by sharp blades into bite-sized pieces. At this point in the process, the ingredients are finally starting to resemble dog kibble.
2 Responses
Leave a comment
Comments will be approved before showing up.