The Best Dog Toys: Plush, Interactive, & Tough Toys for Big and Small Pets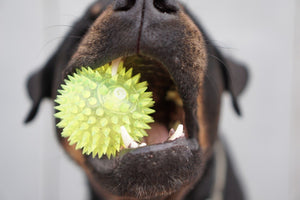 Disclaimer: Please note that some of the links below are affiliate links. This means if you purchase an item, we may receive an affiliate commission at no extra cost to you. We only recommend products we know and love, and all opinions expressed here are our own.
There are an overwhelming number of dog toys on the market. It might seem impossible to know which dog toys are the best quality, which ones will fall apart after two minutes of chewing, and which ones are 100% worth the cost.
We (Mike and Steph) have treated our dachshund Django to countless toys over the years and have done a ton of research on toys in this time! In this DJANGO Dog Blog article, we highlight the absolutely best dog toys currently on the market. Each of the toys we include on this list are loved by dogs, dog owners, and rated 5-stars on Amazon.
We highlight the best plush dog toys, the best durable toys for aggressive chewers, the best interactive dog toys, and the best dog toys for outdoor play. We also provide a concise review of BarkBox.
We hope you find this article useful! If there's a dog toy we missed or if you want to share your experience with one of the products highlighted, please leave a comment below! We'd love to hear from you.
The Best Plush Dog Toys
This is by far one of the most popular dog toys on Amazon and one of our dachshund Django's favorite toys. Each plush 'log' comes with tiny plush squirrels that squeak and hide inside the log. Watch with amusement as your dog rips each plush squirrel out from the log over... and over... and over again.
BarkBox has a few of their best-selling plush dog toys listed on Amazon, and this hairy plush sloth dog toy is one of them. Gordon the Giant Sloth is covered head-to-toe in super-long, super-strong hair that dogs absolutely love (including our dachshund Django!). Whether the day's agenda calls for thrashing, ripping, or just curling up under the blankets for 15 hours, dogs love this toy. Non-toxic plush from high-quality manufacturers ensures that this toy is safe for all pups to play with.
This snuffle mat is a great way to keep your dog busy and entertained while he or she spends time searching the mat for food and small treats. Dogs absolutely love the challenge and ultimately end up playing with the mat even when treats aren't hidden inside. The mat is eco-friendly and made with non-toxic felt fabric. It's durable and machine washable. In fact, the company recommends washing the mat at least twice a week if used primarily as a 'bowl' for food.
Dogs love playing with this plush toy's 3 adorable donuts and digging them out of the 'coffee cup' holder or fetching them with you. The toy is ideal for small- and medium-sized dogs, but not recommended for large dogs and extra tough chewers.
Django absolutely loves his hairy, plush hedgehog dog toy, and he's not an exception. Dogs absolutely love this hedgehog, and dog owners love that the toy is stuffing-free, long-lasting, and mess-free. Each toy includes 6 high-quality round squeakers to deliver more sound to keep your best friend entertained.
The Best Durable Dog Toys for Tough Chewers
Benebone's Wishbone bacon-flavored dog chew is designed for aggressive chewers. The long-lasting, durable chew is flavored with real bacon and incredibly tantalizing to dogs of all shapes and sizes. Made and sourced in the USA.
This chewable stick toy is a wonderful, safe alternative to actual sticks which can splinter and harm dogs' mouths. The chew has the texture of real wood and a BBQ-scented flavor that drives dogs crazy. Dog owners love that the chew is safe, non-toxic and phthalate-free, and able to keep their pup entertained for hours. Four sizes are available for puppies to big adult dogs. Made in the USA.
This EASTBLUE 'Tornado' dog chew toy is designed for the most aggressive chewers and has excellent reviews from dog owners. Dog owners rave that the toy has not only kept their dogs' interest and attention, but also held up well after weeks of aggressive play. The toy is made with natural, non-toxic rubber and can be easily cleaned with soap and water.
This treat-dispensing pineapple dog toy comes in three sizes and is specifically designed for aggressive chewers. Dog owners can insert treats into the toy, and dogs absolutely love spending time trying to get their snacks out of the pineapple. Customers gave this particular toy excellent reviews and appreciated how it held up against the toughest chewers.
Bark's Super Chewer is a themed collection of super-tough dog toys, treats, and chews. Super Chewer toys are specifically designed for the toughest and roughest chewers.
We've ordered Super Chewer boxes for Django on several occasions and have always been impressed with the quality of toys and treats. We offer an honest and comprehensive review of Super Chewer's monthly subscription dog box as well - you can read it here.
The toys absolutely hold up better than plush dog toys (which generally last a day in our household!) yet still hold Django's attention for weeks. Dog owners can order one box or enter a multi-month subscription. Each box comes with 2 fluff-free, tough toys, 2 full-sized bags of dog treats, and 2 meaty chews.
The Best Interactive Dog Toys
'Dog Smart' by Nina Ottosson is a fun, interactive dog puzzle toy designed to keep your four-legged family entertained and mentally engaged. The toy itself is a treat dispenser featuring 9 removable treat-dispensing compartments. Dogs love trying to figure out how to open each dispenser and are rewarded with a small treat when they do. Customers rave about the toy's durability and appreciate how it is easy to clean.
StarMark's Bob-A-Lot is an interactive treat-dispensing dog toy with thousands of happy customers on Amazon. Coming in sizes small and large for dog breeds of all sizes, the toy's large chamber fits a large variety of treats and kibble. To insert treats, you simply unscrew the toy's yellow top. There is a mechanism to change the size of the toy's openings so the treats are dispensed more or less quickly. Customers rave about the toy's durability and ability to keep their four-legged friends engaged for hours.
This interactive dog toy comes highly rated by dogs and dog owners alike. A suction base attaches to any floor, and a soft, spiky, and durable ball (with jingles inside) keeps your dog entertained as he pulls, rings the bells, chews, and tosses the ball. Many customers have said this is their favorite pup's toy and appreciate its quality and durability. Appropriate for dogs of all shapes and sizes.
The Wobble Wag Giggle interactive dog toy is the #2 ranked dog toy balls on Amazon - and for good reason! The Wobble Wag Giggle Ball is a noise-making dog ball designed to engage your pup. Whenever the ball moves, it produces a fun giggle sound that delight dogs of all sizes and encourages continued play. The ball is made of phthalate-free vinyl and uses simple tubes to produce noise (no batteries). This makes the ball safe, dog-friendly, long-lasting, and easy to maintain.
Although Kong's classic rubber dog toy appears quite simple at first glance, we (Mike and Steph) have had at least one of these in our home since getting Django almost four years ago. We spread a thin layer of all natural peanut butter in the inside of the toy, throw it in our freezer for an hour or two, then watch with amusement as Django slowly figures out how to lick all of the peanut butter from the toy. Django is a voracious eater, but he probably spends a solid 30 minutes enjoying his peanut butter-lined Kong toy! Also, it's worth mentioning that this toy is incredibly durable and has literally lasted for years despite tons of use. Highly recommend!
Also, did you know KONG has its own popular monthly subscription box for dogs? We published a thoughtful product review of KONG Box (with unboxing photos and information on pricing) based on our experience getting the box for our little guy Django. Read our review of KONG Box here.
The Best Dog Toys for Outdoor Play
The Chuckit! Sport Launcher boosts any game of fetch by enhancing the speed and distance of your throws. The ball launcher is lightweight, easy to use, and loved by thousands upon thousands of dog owners and dogs. The toy measures just over two feet in length and is slender, lightweight, and very portable. The launcher comes with one ball and is compatible with standard tennis balls. You can also get additional Chuckit! launcher balls here for a reasonable price.
This is an aerodynamic, colorful, and soft alternative to the traditional hard plastic frisbee.  The Chuckit! Flying Squirrel for dogs features four, bright orange "paws" that are eye-catching during the day and glow in the dark at night. The toy is lightweight, easily flung, and soars to exceptional heights with little effort. Dogs absolutely love the tough but soft-on-the-mouth canvas and gentle curves of the toy. One other positive attribute? The Chuckit! Flying Squirrel is also waterproof and doubles as a float for water-loving dogs.
This is another high quality and highly rated flyer for dogs. The Paraflight Flyer's aerodynamic and lightweight design allows for long-distance and easy effort games of fetch. The frisbee is also lightweight and buoyant, perfect for dogs that love a good game of fetch in the water. Soft sides and bright colors make this a safe and fun frisbee alternative for pups.
This interactive tug-of war-dog toy is an amazing way to keep your four-legged family entertained outside. With this dog, dogs basically play fetch with themselves in a fun and highly amusing fashion. The toy is easily installed by (1) tossing its bungee cord over a strong tree limb, looping it, and pulling it snug, then (2) easily adding the rope and boy toy to any desired height that suits your dog. As the company says on their Amazon listing, "the tether tug toy is great for aggressive chewers because you can adjust the height so your furry friend can't sit and chew on the toy constantly. Just make sure you have an attachment point like a tree limb 10 to 12 feet up."
BarkBox Subscription Dog Toy Service: Is it worth it?
If you don't know a lot about BarkBox, we'll fill you in quickly. BarkBox is a subscription service that delivers 2 original dog toys, all natural dog treats, and an all-natural chew directly to your doorstep. Although a subscription saves you a few dollars per box each month, it's not necessary. Dog owners can purchase one-off boxes at any time throughout the year. One-off orders are a great way to do something special for your pup without the ongoing cost of a monthly membership.
Are BarkBox one-off purchases and monthly subscriptions worth it? We've gotten our 4-year old dachshund Django BarkBox boxes on many occasions! We've always elected for one-off purchases (vs. a subscription) because (1) Django already has a massive dog toy collection (2) he never goes through the dog treat bags quickly enough.
What is our honest opinion about BarkBox based on many months of experience? Django absolutely LOVES BarkBox, and for that reason it is 100% worth it in our opinion!
Whenever a BarkBox arrives at our door and we bring it inside, Django immediately knows the box is for him. I'm not sure if BarkBox adds some scent to the outside of the box, but Django absolutely knows what he's about to get. The two plush toys included in BarkBox are adorable, unique, and entertaining for Django. Django received an Australian outback themed wombat stuffed animal toy in his BarkBox from two months ago, and to this day the wombat is his new favorite toy.
Do BarkBox plush toys last forever? Some do, many don't. BarkBox knows their toys aren't always forever and often inserts additional toys within the main plush toy as a special 'surprise' when your dog safely rips the original toy apart.
As for the treats, Django LOVES every bag and chew he receives. Are they the most health treats out there? No, but they're made with real, natural ingredients and never include artificial flavors or preservatives.
So it BarkBox worth it? Django gets so incredibly happy whenever a BarkBox shows up on our doorstep, and this excitement easily lasts for a solid week! So long as BarkBox brings Django joy, Mike and I will gladly keep treating him to the toy and treat boxes.
Additional Resources
6 Responses
Leave a comment
Comments will be approved before showing up.