Interview: Puddin the Blind Dog, Instagram's Most High-Spirited and Courageous Terrier Mix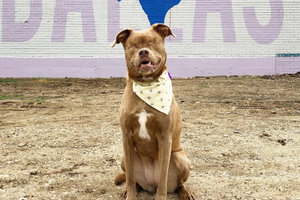 Puddin is a spunky terrier mix and one of Instagram's most uplifting dogfluencers. After being neglected and abandoned at 6 weeks old, Puddin developed a very severe eye infection. By the time the Society for the Prevention of Cruelty to Animals (SPCA) of Texas stepped in and rescued her, Puddin was completely blind. She needed to have her eyes removed and her eye sockets were sewn together.
Despite being unable to see, Puddin has a spirited and brave personality and is now living a normal and healthy life in Lubbock, Texas. We caught up with her new owner, Cory Gonzales, to discuss Puddin's rescue and rehabilitation and to debunk some common myths about blind dogs. Cory also talked with us about traveling with a special needs dog and how Puddin positively impacts his mental health.
It's so nice to speak with you, Cory! Can you tell us a little about Puddin's past?
Puddin's original owners got reported to animal control. When they came out, some dogs and puppies in the backyard weren't doing well. Animal control asked the owners if they could take them away to help or if they would surrender them, but the owners refused. So they had to get the SPCA of Texas involved to have access to the dogs and take the owners to court. That took so long that Puddin ended up losing complete vision in both of her eyes because the infection had gotten so bad. They decided to remove her eyes because they were causing her a lot of pain. She went on month-long bed rest and had a little puppy cone. After about a month and a half, Puddin was put up for adoption.
That is truly heartbreaking. What motivated you to adopt Puddin?
I'm a speech-language pathologist, so I work with special needs kids all the time. When I first saw Puddin's picture, I thought her eyes were closed or she was blinking. Then my mom pointed out, "She has no eyes!" When I saw how spunky and lively she was at the animal shelter, that sealed the deal.
Aside from Puddin's eye infections and surgery, has Puddin had any other health problems? A common myth about shelter dogs is that they all have medical issues or diseases. 
Other than typical vet bills, the only time Puddin cost me any extra money was as a puppy. She just had the worst luck with UTIs. The vet said she was a low squatter. Now we have pet insurance. I've never thought it was an important thing, but it's saved us so much money.
We've done a lot of research on pet insurance. There are so many benefits to having pet insurance, including peace of mind should an unexpected and costly health emergency occur.
How do you keep Puddin safe in your home and yard? Is Puddin able to navigate around the house with ease, or does she often bump into things?
We're in an apartment complex, so we really don't have to worry about a yard yet. We do have a Fi GPS dog collar, and she's also microchipped.
Within the home, Puddin has developed her own little system to help keep herself safe. She reminds me of a goldfish because her ears or whiskers will gently brush across something and she'll whip around really fast like, "I'm going to hit something."  We've also worked on the "watch-out" command. She quickly learned if I said, "Watch out," she was about to run into something.
How well does Puddin adapt to change when it comes to new animals and people? It would be understandable if Puddin were hesitant or even afraid of new dogs given she cannot see.
Puddin is really great with animals. She loves dogs, cats...the whole nine yards. Now do all cats and dogs love her? That's debatable. But she's ready to give kisses and get up all in their business from the get-go.
People can be a little hard for her. I've noticed that Puddin becomes weary and cautious around men. If a man is paired up with a loud, sudden noise, she'll start to bark at him like, "Alright, I don't like this." That's something we've been working on in her training. We want to make sure that she's able to adapt to any situation and function well.
We saw on Instagram that Puddin is attending doggy training classes. What is she learning there?
When we first moved, we enrolled Puddin in a puppy training class for a semester. Then we took a break over the summer because I was leaving to go work an internship. We worked on basic commands: sit, lay down, and leave it. Now we're working on not being afraid of men, loud noises, and distracting smells.
Do you use any special dog treats when training Puddin?
She loves Pup-Peroni treats and Farm Hounds treats, but I think her favorite food is literally anything that comes off my mom's plate. Puddin has trained my mom so well. She just puts her little head on her lap and gives her this slick glance, and my mom is like, "Here's all my chicken!"
There are misconceptions that blind dogs are always very difficult to housebreak and train in general. Did you have any issues potty training Puddin?
We taught Puddin how to ring a bell to go potty. If she has to go potty indoors, she uses a Fresh Patch. This is an actual piece of grass that can be used for potty training. She'll use it for about 2 weeks. Then she's like, "Alright, this is gross. I'm going outside again."
If she rings the bell and walks away and doesn't go back for a second, you've got a little bit of time to get dressed and get ready. But if she rings the bell and then immediately goes back and rings it again, you need to get up there now, or she's going to swat. She's like, "I told you I need to go and let you know it's a now situation." She has a hard time going potty in new places, so I'd rather try to be on top of her and take her out consistently, especially if she's playing.
We also trained our dog, Django, to ring a bell when he has to go potty outside. It's been a game-changer, and it is something we always recommend to other new dog owners.
What is playtime like with Puddin? Are there any toys she loves in particular?
We had to figure out how to adapt and learn what she really liked. Puddin is obsessed with squeaky dog toys. She has a little Halloween skeleton skull that she loves. She has destroyed every squeaky toy except for this one. She also has a high dive pink ball that no longer squeaks, but she adores it. For games that you wouldn't think are possible for her like fetch, we've found balls that have little bells in them. She can track the ball down right to the scent.
That's incredible that she can play fetch so well! Using a bell toy is also a great idea.
How has the coronavirus pandemic affected your and Puddin's routine?
I'll say we've gotten a little fluffy over the last year because coronavirus made it hard to get out and about. We're really trying to get back out there and play fetch, so we can shed the "Quarantine 15".
Did you get to travel at all with Puddin before COVID? Has she been outside of Texas?
The Dodo and dog food company Blue Buffalo sent us to White Sands National Park in south-central New Mexico. We sled down the pure white sand dunes, which were really cool. Though I won't lie to you—Puddin wasn't a fan of sledding. However, she has never dug so much in her life. She lived her best life at that moment. I thought she was going to dig to Antarctica.
Did you have to take any special travel precautions for this trip in light of Puddin's disability?
We were a little concerned. While Puddin had driven with me to and from Lubbock, this trip was 12 hours. We took her to the vet and got some anti-anxiety medication. We gave her one pill on the trip up there, and it seemed to help. On the way home, we didn't have to do that. She was really good. She slept in the crate the whole time and let us know when she had to go to the restroom.
When scrolling through Puddin's Instagram and TikTok, it is clear that Puddin is an incredibly joyful, playful, and loving dog. What has Puddin personally done for your life?
Puddin brought me out of a really dark place. I was going to grad school in Lubbock when I adopted her. I was miserable. I was struggling with some mental health issues. I'd come home and collapse onto my bed. Then there would be this sweet little cuddle monster that wanted to eat my fingers and kiss me at the same time. Though she hadn't quite figured out the difference between chewing and licking yet. Puddin gave me a reason to get out of bed and push forward. I knew she was depending on me to feed, walk, and play with her. She helped me develop a routine, and it was lifesaving.
That is really heartwarming to hear. Dogs are the most incredible companions. What would you say to someone who wants to adopt a blind dog but is on the fence?
If you're on the fence, do it. Special needs dogs will really eat your heart up because they feel that they aren't different. I truly believe that Puddin thinks everyone has no eyes, that we're all just blind dogs like running into each other. I feel like that's why she barks so much at the dog park. She's like, "Hi, I'm here! Where are you?"
Thank you so much for opening up to us, Cory, and sharing your and Puddin's story. How can DJANGO Dog Blog readers see more of Puddin?
You can follow @mydearpuddin on Instagram and TikTok.
YOU MAY ALSO BE INTERESTED IN
Leave a comment
Comments will be approved before showing up.