Pet Insurance for Dogs: What It Is, How Much It Costs, and The Best Plans to Consider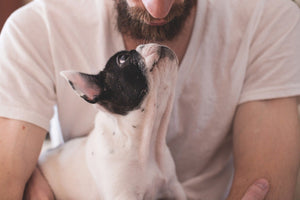 In 2019, U.S. pet owners spent more than $1.5 billion on insurance. More than 2.5 million cats and dogs were covered, according to the North American Pet Health Insurance Association. Demand is driven by the fact that every six seconds a dog owner is handed a bill for more than $1,000. This year, one in three pets also will need unexpected veterinary care.
Have you ever wondered what the benefits of having pet insurance are, and what is not covered? How much does pet insurance cost? What are the most common health insurance claims? Lastly, which pet insurance companies are the best?
Pet insurance policies to protect your dog's health range widely. In this article, we (Mike and Steph) are going to help you understand those differences, so you can make the right choice for your dog.
THE BENEFITS OF PET INSURANCE
Here are the main reasons dog owners are buying pet insurance:
Peace of mind. Having pet insurance allows you to choose the best medical treatments for your dog, without being restricted by your wallet. Most pet insurers will reimburse 60 percent of your total vet bill.
Choose your veterinarian. As long as your vet is licensed, pet insurers will not tell you who you can see. There are also no out-of-network doctors who can charge you a 118 percent higher price.
No breed discrimination. You can insure any dog breed that is over eight weeks.
Budget pet care costs. You can pay your pet care premiums monthly, quarterly, semi-annually, or annually. Most plans also offer a 5 to 10-percent discount when you add more than one pet.
Extend your dog's life. Your dog should visit the veterinarian once a year for an annual health and wellness exam and twice a year once he becomes a senior. Having a pet insurance policy may encourage more frequent trips to the vet, especially when a health concerns arise, since you know you're covered. Routine and necessary visits allow your vet to catch diseases and health problems while they are still treatable.
WHAT DOES PET INSURANCE NOT COVER?
Each pet insurer has its own coverage terms, conditions, and definitions in small print. Here are the most common exclusions found in pet insurance policies.
Pre-existing conditions. A pre-existing condition is any illness or injury that your dog had before your pet insurance policy's start date. Diabetes, allergies, heart disease, arthritis, and epilepsy are considered pre-existing conditions. They are excluded from coverage, so any claim you make on them will be denied.
Preventive care. Preventive care includes spaying/neutering, blood tests, annual exams, medicated baths, vaccines, teeth/ear cleaning, and microchipping. They are usually not covered unless a wellness rider is added to your pet insurance policy.
Office visits and exam fees. When you bring your dog in for an exam, most vets charge an office visit fee. Pet insurance companies that have annual reimbursement limits will cover the $50 fee. But companies that don't have limits on payouts will not cover it.
Hereditary disorders. Hereditary disorders are problems that are passed down from your dog's parents. They include allergies, cancer, hip dysplasia, patellar luxation, and intervertebral disc disease (IVDD). Most pet insurance companies want you to pay an extra fee for genetic conditions.
Elective Procedures. Tail docking, ear cropping, feline declawing, and dewclaw removal are not covered.
Prescription drugs. Pet insurance companies may not cover pills, injections, or liquid medications. They may only cover the initial dose given by your veterinarian.
Behavioral problems. Behavioral problems include excessive barking, jumping, digging, fur pulling, and destructive chewing. Dog obedience training is usually limited or excluded.
Alternative and holistic therapies. Chiropractic care, acupuncture, cold laser therapy, physical therapy, and hydrotherapy are covered on a limited basis.
Non-veterinary related services. Waste disposal, medical records, and credit card fees are excluded.
THE BEST PET INSURANCE COMPANIES
EMBRACE PET INSURANCE
Founded in 2003, Embrace Pet Insurance is rated A+ by the Better Business Bureau (BBB). It provides nose to tail coverage for dogs between 6 weeks and 14 years old. Embrace covers pre-existing conditions that have been symptom and treatment free for a year. It also pays for chemotherapy, emergency care, surgery and hospitalization, physical therapies (such as hydrotherapy), and prescription drugs. The Ohio-based company offers an additional Wellness Rewards program (starting at $250 per year) that covers wellness exams, vaccinations, grooming, cremation/burial, and dental care (up to $1,000 per year).
Enrollment/Monthly Fees: One-time enrollment fee of $25 and a $1 monthly processing fee if you pay monthly.
Waiting period:
48 hours for accidents
14 days for illnesses
6 months for orthopedic conditions (can be waived if your veterinarian signs a "report card" within the first 14 days of the policy) 
Annual deductible: $200, $300, $500, $750, or $1,000
Benefit payment terms: Embrace takes 10 to 15 days for claims to be completed after it receives all the necessary information.
PETFIRST PET INSURANCE
PetFirst Pet Insurance has an A+ rating with the BBB. It covers dogs starting at 8 weeks old. There is no maximum age limit. It offers three plans: Cost-Conscious ($2K/ year), Recommended ($5K/year), and High-Deductible ($10K/year). They cover x-rays, hospitalizations, surgeries, medications, holistic care, etc. PetFirst does not have lifetime payout or per-incident limits. Its annual coverage limits reset every 12 months. The MetLife company reimburses up to 80 percent of your total vet bill. PetFirst also has a Routine Rider that starts at $125 per year. It covers annual vet exams, vaccines, teeth cleaning, spay/neutering, and training.
Enrollment/Monthly Fee: There is not a processing fee if you pay annually, but each monthly payment has a $3 service fee.
Waiting period:
Accident coverage starts at 12:00 a.m. EST following enrollment.
14 days for illness
6 months for orthopedic conditions
Deductible: $250 to $2,500
Benefit payment terms: PetFirst pays claims within 10 to 14 days after it receives a signed claim form, veterinary medical records, and an itemized invoice.
FIGO PET INSURANCE
Figo Pet Insurance has a B rating with the BBB. It insures dogs that are at least 8 weeks old with no upper age limits. It also has a 60 to 100 percent reimbursement option and no per-incident cap on claims. Figo covers hereditary and congenital diseases, stem cell research, prosthetic devices, rehabilitation, behavioral therapy, etc. It also covers your dog when he travels with you in the U.S., Canada, or Puerto Rico. The Figo Pet Cloud features a 24/7 live vet chat, online claims, and a loss prevention tool.
Enrollment/monthly fee:
One-time $9 administration fee
$2 per month or $10 annual fee (waived with direct deposit)
Waiting period:
3 days for accidental injury benefits
14 days for illness or wellness benefits
6 months for knee conditions (can be waived with a healthy knee exam within one month after enrollment)
Deductible: $100, $200, $250, $500, $750, $1,000, and $1,500
Benefit payment terms: Claims are closed within seven to 10 business days.
HEALTHY PAWS PET INSURANCE
Healthy Paws Pet Insurance has an A+ BBB rating. It doesn't cover pre-existing conditions or preventative care. It also does not cover hip dysplasia for dogs over age 6. Senior dogs are restricted to 60 percent reimbursement and a $750 annual deductible. Healthy Paws covers accidents, illnesses, cancer, specialty care, and genetic conditions. It has no annual, per-incident, or lifetime caps, so it pays even if you have met your deductible.
Enrollment/monthly fee: One-time $25 administration fee
Waiting period:
15 days for accident or illness claims
12 months for hip dysplasia or related issues
Deductible: $100, $200, $500, or $750
Benefit payment terms: Claim reimbursements are available via direct deposit or check through the USPS. Claims are processed within 2 business days.
TRUPANION PET INSURANCE
Trupanion Pet Insurance has an A- BBB rating. Because your premiums are based on your signup date and not your dog's birthday, your annual rate will not increase. Hereditary and congenital conditions (such as diabetes, upper respiratory infections, or thyroid disease) are protected. An additional Recovery and Complementary Care Rider (up to $30/month) pays for acupuncture, behavioral modification, chiropractic, homeopathy, physical therapy, and rehabilitative therapy. Trupanion also has a Pet Owner Assistance Package that covers rewards for lost pets, boarding fees, property damage, cremation/burial, and holiday vacation cancellation costs.
Enrollment/monthly fee: One-time $35 administration fee ($25 in WA and $0 in MD and MI)
Waiting period:
5 days for injuries
30 days for illness and knee conditions
Deductible: Between $0 and $1,000
Benefit payment terms: Claims are processed within 60 days (averages 14 days). Trupanion can also provide immediate payment to your veterinarian.
THE COST OF PET INSURANCE
The average annual pet-insurance premium in 2019 was $586 while the average annual vet bill per dog was $204.
Pet insurance prices are based on dog breed, age, and overall health. Using our long-haired dachshund Django, we priced out monthly insurance premiums for Embrace, PetFirst, Figo, Healthy Paw, and Trupanion.
Pet Insurance Cost Comparison Chart (December 2020)
Insurance Company
Puppy
(1 Year Old)

Middle-Age
(6 Years Old)

Senior
(12 Years Old)

Embrace Pet Insurance

$39.97/mo.
$50.28/mo.
$109.59/mo.
PetFirst 

Pet Insurance

$21.05/mo.
$32.74/mo.
*$78.38/mo.
Figo 

Pet Insurance

$26.84/mo.
$33.82/mo.
$83.64/mo.
Healthy Paw 

Pet Insurance

$33.69/mo.

$42.97/mo.

 $196.62/mo.
Trupanion Pet Insurance
$29.81/mo.

$44.29/mo.

$70.77/mo.
*Includes $3 monthly fee.

As you can see in the table above, premiums are relatively low for puppies but sharply rise as your dog ages. Trupanion Pet Insurance, for instance, increases by $26.48 per month once your dog turns 12. That is a whopping $317.76 more per year just because your dog became a senior.
At a quick glance, PetFirst and Figo pet insurance companies have the cheapest monthly premiums for puppies and middle age dogs. For senior dogs, Trupanion and PetFirst offer the lowest monthly premiums. Of course, the specifics of every pet insurance policy is going to differ to some extent.
Although you may be tempted to make a quick decision based on price, we strongly recommend reading pet insurance policy details thoroughly before signing up for a plan. You should ultimately choose the plan that fits both your dog's health needs and your financial needs. In some instances, it may make more sense to pay slightly more for a plan if the policy terms better address your dog's unique health needs.
MOST COMMON HEALTH INSURANCE CLAIMS
In 2018, the most common health insurance claims were for three minor problems, according to DMV 360.
Vomiting and diarrhea
Average cost — $200 to $400
Largest claim — $15,600
Ear infections
Average cost — $100
Largest claim — $9,900
Benign and cancerous masses
Average cost — $300 to $700
Largest claim — $18,400
If your dog has pet insurance and needs a non-cancerous tumor removed, you will pay four times as much even if you have an 80 percent reimbursement rate.
FINAL THOUGHT: IS PET INSURANCE WORTH IT?
Does your dog have no or limited health problems? Do you have enough money stashed aside for an unforeseen emergency pet bill? If yes, pet insurance might not be worth it once you consider the cost of monthly premiums and deductibles over the years.
If money is tight and there is no way you could potentially cover a big health expense, i.e. canine cancer or an unexpected surgery or accident, then you should consider pet insurance. If you are able to cover the ongoing pet insurance monthly premiums without financial burden, then having pet insurance will give you peace of mind and financial flexibility should an unexpected and significant vet bill arise.
If you have any questions or want to share an experience with a pet insurance company, please leave a comment below! We'd love to hear from you.
Additional Resources
1 Response
Leave a comment
Comments will be approved before showing up.