Flying with an Emotional Support Animal from the United States to the United Kingdom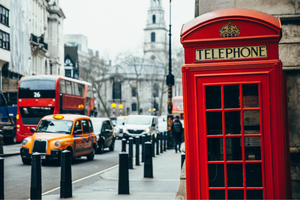 JANUARY 2021 UPDATE: Given the U.S. Department of Transportation's recent regulatory changes around Emotional Support Animals, traveling with an ESA in cabin from the United States to UK may no longer be an option for you. Please refer to our recently published "New DOT Rules for Emotional Support Animals" for a full overview of the new ESA rules in the U.S.
Travel has gotten relatively seamless for frequent flyers with Emotional Support Animals (ESA) and other assistance animals. All major U.S. airlines permit ESAs on board, and an ever-growing number of international hotels now have welcoming pet policies.
When Mike and I (Steph) took our well-traveled dachshund Django to France and Italy on our honeymoon, making travel plans and flying with Django overseas was a breeze. We flew direct with Django in-cabin from New York City to Paris' Charles De Gaulle Airport, flew with Django in-cabin from Paris to Milan (Italy), then finally departed Naples, Italy a few weeks later on a direct flight with Django once again chilling happily at our feet.
Flying to the European Union from the United States with a pet in-cabin is relatively easy, but what about flying to the United Kingdom? When Mike started working for a UK-based company, we started planning a family trip to London with Django. Unfortunately, we quickly learned that flying with pets in-cabin to the United Kingdom is not permitted except (and this is a big except!) for Service Animals and Emotional Support Animals.
Are you looking to fly in-cabin with an Emotional Support Animal to the United Kingdom? Here is everything you need to know.
The facts: Bringing your pet dog or cat to the United Kingdom
No airlines offer in-cabin pet travel to the United Kingdom from the United States. The UK includes England, Scotland, Wales, and Northern Ireland. Unless you have a Service or Assistance animal—and keep in mind Emotional Support Animals and Therapy Animals are sometimes considered assistance animals depending on airline AND departure location—it is not possible to fly together in the cabin with your pet.
The UK government is behind this strict rule and enforces it to curb the spread of rabies and better control the transport of animals into the UK. The only time pets can fly in-cabin to England, Scotland or Wales is if you are flying from UK countries, the Channel Islands, the Isle of Man, or the Republic of Ireland. Again, exceptions include service animals and, in certain instances, emotional support animals and therapy animals.
If you need to travel to the UK with a pet (not an ESA or Service Animal) and do not want to put them in cargo, we cover all of your pet travel options in DJANGO Dog Blog article "Flying with Pets to the United Kingdom".
Can Emotional Support Animals and Therapy Animals fly in-cabin to the United Kingdom?
Yes! But with one exception. Emotional Support Animals and other assistance animals are permitted to fly in cabin to the United Kingdom from the United States. ESAs are not allowed to fly into the United Kingdom from countries other than the United States.
As Heathrow Animal Reception Centre (HARC) explained to us: "Due to this specific type of service animal only being recognized under the American's disabilities act, they are only accepted on direct flight from the USA to the UK."
Does the UK Recognize Emotional Support Animals?
The UK's Department for Environment, Food & Rural Affairs (DEFRA) does not recognize emotional support dogs or cats as Service or Assistance animals and therefore does not technically permit their in-cabin travel into the UK. However, DEFRA also complies with US legislation that recognizes both dogs and cats as ESAs. For this reason, both dog and cat ESAs are permitted to fly in-cabin into the United Kingdom.
Here is a statement from a representative at DEFRA given to DJANGO Dog Blog in July 2020: "It is our understanding that all airlines flying from the USA must comply with the legislation for disabled persons in the USA. Unlike the USA, GB does not legally recognize 'emotional support animals'. However, in order to allow airlines to abide by their obligations under US disability legislation, airlines can agree a [required method of operation] RMOP to allow emotional support dogs, cats and ferrets to travel in the cabin."
In other words, so long as your dog, cat, or ferret is a documented emotional support animal in the US and complies with your US airline's ESA requirements, DEFRA will permit them to fly in-cabin into the UK.
Can cats qualify as Emotional Support Animals and fly in cabin into the UK?
Yes. Cats that are documented Emotional Support Animals in the United States can fly in-cabin from the United States to United Kingdom on certain airlines.
What airlines allow Emotional Support Animals to fly in-cabin from the USA to UK?
Only a handful of international airlines offer in-cabin pet travel service to the United Kingdom. As of this article's publication, we know that U.S. airlines including Delta, American and United all allow emotional support and therapy dogs to fly in-cabin from the United States to the United Kingdom.
Since airline pet policies are always being updated, we strongly advise calling your preferred airline's customer service line and speaking to a representative before booking travel to confirm their pet and ESA policies and/or ensure they have not unexpectedly changed.
Pre-flight requirements when flying with an ESA from the USA to UK
Before booking any flight, passengers should always contact the airline to ensure (1) pet policies have not unexpectedly changed (2) the specific flight you are interested in allows and has room for your assistance animal.
Once air travel is reserved, passengers must then contact the appropriate 'Animal Reception Centre' at the destination UK airport to ensure the proper import/customs paperwork is in order before arrival.Heathrow Airport's Animal Reception Centre (HARC), for example, requires that all assistance dogs traveling to Heathrow are (1) issued HARC's pre-approval letter which is obtained via email (2) compliant with the Pet Travel Scheme (3) arriving on an approved airline. HARC requires at least 72 hours notice before your scheduled departure to issue your pre-approval letter.
Are there documentation requirements?
Yes, there are documentation requirements to complete at home before you depart on your trip with your assistance animal (i.e. getting your pet an International Health Certificate if he or she does not have an EU passport). Here is a great resource detailing the documentation requirements when traveling with a pet to the United Kingdom.
Are there any fees when flying with an ESA to the United Kingdom?
Yes. As of November 2020, London Heathrow Airport charges emotional support animals and other unrecognized assistance animals a checking fee of £390 upon arrival.
We love your comments, questions, and feedback!
Here is a really wonderful message we received after helping a DJANGO Dog Blog reader successfully fly with his french bulldog in-cabin to the United Kingdom.
"A BIG FAN OF DJANGO
May 01, 2020
Hello All,
Just sharing our experience of flying with our French Bulldog from Houston to London with United airlines. First of all, we must say how grateful we were to find out this blog. Thanks to Django and Steph we are in UK with our Frenchie.
We've completed all the required forms from United almost two months before the flight. Then we got the approval from United to fly in the cabin with our dog. However they requested approval from DEFRA. It took us sometime to figure out how to contact DEFRA. Then we found out that getting approval from HARC or DEFRA is actually the same thing. By the way, the 10 days rule for the health certificate is really important!
Our only disappointment was the confusion by the United airlines staff. They were quite rude with us. They didn't want to allow us to do the check-in even with the approved documentation. We almost missed the flight because of this. But there is always someone willing to help. And thanks to those people we were finally able to do the check in. What was funny (not to say "sad") was that after we struggled to do the check-in, when we passed the gate, some other people came to us stating that "pets could not fly in the cabin for international flights". Again, same story. We showed them the documentation and after many calls they realized that everything was actually approved. Unfortunately it was clear that they had no experience with flying with pets.
What really make us sad is that flying with pets should not be so stressful. When are they going to realize that pets are family as well? It's ok that there are people who are allergic to pets or even don't like them. I totally respect everybody. However there should be an easier way of having our furry family members flying with us without exposing them to risks. Flying via cargo should not be an option unless the environment is safe to accommodate them and it's monitored the whole trip. There are many solutions for sure. I bet the airlines that put them in place will attract even more customers.
Anyway, we are in UK! And again, thanks with all our heart to Django!"
Here is another great message from a DJANGO Dog Blog reader whose son successfully flew with his Emotional Support Animal in-cabin to the United Kingdom.
October 2020
"Thanks to the blog - we successfully got my son and his ESA (14-pound, ESA, SilkyTerrier) from CHICAGO to LONDON for the start of his Masters Program at THE MET SCHOOL OF FILM. WHEW. Thank you for the guidance. SO many hoops to jump thru. SO MANY. And upon arrival with all papers in perfect order, manager at American Airlines told him he is not allowed to travel, as the EU was closed. OMG. Fortunately I had done so much homework, and spoke to the "EXCEPTION DESK" for the last 10 days at American and insisted she check again (and again). WHEW." - Michele
We hope you found all of this information useful! Don't hesitate to ask a question in the comments, and definitely let us know about your own experiences traveling to the UK.
Additional Resources
7 Responses
Leave a comment
Comments will be approved before showing up.