How to Prepare Your Dog to Fly in the Airplane Cabin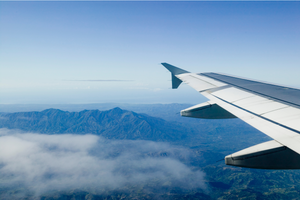 Mike and I (Steph) have flown extensively with with our long-haired dachshund Django. He has been all over the U.S. and even to Europe. Django has jaunted down the busiest New York City sidewalks, looked out in awe over the Grand Canyon, camped under the stars in Lake Tahoe, and snapped selfies with us in Joshua Tree National Park. Django has taken a road trip down California's Pacific Coast Highway and flown in-cabin to France and Italy.
Flying with Django is always relatively easy because he weighs 14 lbs and comfortably fits in an airline-approved pet carrier (dogs that are over 20 lbs usually have to travel in the cargo hold). Django is also calm, quiet, and loves his airplane-friendly dog bag. We are fortunate that he is so well behaved once we're up in the air.
Of course, flying with a dog in the airplane cabin is not always so easy. Dogs who have never flown before may be understandably nervous in the crowded airport and once on board. If you have never flown with your four-legged friend before, you might also be unsure what pre-travel steps should be taken.
If you want to take your dog on an in-cabin flight, there are several things you can do to make your trip as safe and seamless as possible. Here is how to best prepare your dog to fly in the airplane cabin.
BEFORE BOOKING YOUR DOG'S FLIGHT
KNOW YOUR AIRLINE'S IN-CABIN PET POLICIES
Before booking your travel plans, review your airline's unique in-cabin pet policies. What are the maximum dimensions for in-cabin pet carriers? Does your dog need to visit the veterinarian before his flight? Can you bring your dog's favorite dog toy?
We listed the pet fees, crate, and size/weight restrictions for all the major airlines in North America below. For a full, up-to-date list of ALL major international airline pet policies, go here.
IN-CABIN COST COMPARISON AND PET POLICY CHART (APRIL 2021)
Airline

Price per pet

Size restrictions

Weight restrictions

$51 within Mexico

$125 to/from U.S., Canada, Central, and South America (except for Brazil, Chile, and Argentina)

16" x 12" x 8"

20 lbs

$59 within Canada and to/from U.S. (except Hawaii)

$118 to/from international

Hard kennels: 9" x 15.5" x 21.5" 

Soft kennels: 10.5" x 15.5" x 21.5" 

70 lbs 

$100

Hard kennels: 17" x 11" X 7.5"

Soft kennels: 17" x 11" x 9.5"

20 lbs

$100

9" x 16" x 19"

20 lbs

$125

19" x 13" x 19" 

20 lbs

$125 to/from US, Canada, Puerto Rico

$75 to/from Brazil

$200 to/from Virgin Islands/International

Airbus A318, A319/ A320: 24" x 15. 5" x 9.5" 

Embraer E190: 18" x 13.5" x 10" 

No limit 

$99

Personal item: 8" x 14" x 18"

Carry-on bag: 10" x 16" x 24"

20 lbs

$60 within Hawaii

$225 to/from Hawaii to North America

Kennel Series 100: 21″ x 16″ x 15″, 18 lbs

Kennel Series 200: 28″ x 20.5″ x 21.5″, 25 lbs

Kennel Series 300: 32″ x 22.5″ x 24″, 40 lbs

Kennel Series 400: 36″ x 25″ x 27″, 70 lbs

$125

17" x 12.5" x 8.5"

20 lbs

$100

Soft kennels: 18" x 14" x 9"

40 lbs

$95

18.5" x 8.5" x 13.5"

No limit 

$125

16″ x 11″ x 8″

16 lbs

$125

Hard kennels: 17.5" x 12" x 7.5"

Soft kennels: 18" x 11" x 11"

No limit 

$52 within Mexico

$67 to/from international 

16" x 12" x 8"

20 lbs

$59

Soft Kennels: 16" x 8.5"x 10"

22 lbs
Don't see your airline of choice listed above? View all major international airline pet policies here.
The Federal Aviation Administration "allows each airline to decide if they will allow you to travel with your pet in the passenger cabin." Each airline's pet in-cabin policy is unique. For example, SouthWest allows 6 pets per flight while JetBlue only allows four. We strongly suggest reviewing your airline's pet policy page before booking travel plans.
BOOK EARLY
If you want your dog to fly in the cabin, book his flight early. We always recommend calling your airline's customer service phone number before booking travel and giving them your potential flight number. After the customer service rep confirms there is a spot on the plane for your dog, book your flight. Then call back the airline and give them your confirmation number, so they can add your dog's specifications and secure his spot.
If your flight has multiple legs, you will need to reserve an in-cabin spot for your dog on each flight. If your dog has travel anxiety, consider booking a non-stop, direct flight before 8 a.m. or after 6 p.m. You may want to fly on Tuesday or Wednesday when the airport is quieter and airplane's are sometimes less full.
Keep in mind that your dog's airline-approved travel bag is considered carry-on baggage. If your airline allows 1 carry-on and 1 personal item, you can only bring 1 personal item in addition to your dog (i.e. a purse, backpack, briefcase, diaper bag).
Finally, keep in mind that not all countries allow in-cabin pet travel into their hubs. South Africa, Australia, New Zealand, the United Arab Emirates, Hong Kong, and the United Kingdom do not allow in-cabin pet travel. They require all dogs regardless of size to arrive as manifest cargo.
PICK THE BEST SEAT FOR YOUR DOG
If you fly with your dog in the airplane cabin, you cannot sit in the front row or by an emergency door. Because it is harder to get your dog's crate under the seat in front of you from a middle or window seat, consider an aisle seat.
Do you want to avoid air turbulence? Choose a seat toward the middle of the plane over its wings. Are you looking for the quietest seat? Sit near the front of the plane and away from the bathrooms and kitchen (galley). If you want to have an empty seat next to you, consider picking a middle seat near the back of the plane. Keep in mind, however, the back of the plane is typically louder than the rest of the plane. For your dog's overall comfort, you may want to avoid the very last rows where it is noisiest.
THE WEEKS AND DAYS BEFORE YOUR TRIP
Teach your dog to love his pet carrier
Here is a great DJANGO Dog Blog resource with step-by-step instructions on how to teach your pet to love riding in a pet carrier and travel crate.
At least a month before your flight, introduce your dog to his pet travel carrier. Place it in the busiest area of your home with the door open. Encourage your dog to explore, play, relax, and rest in the carrier during the day.
If your dog is very wary of a new airline-friendly pet carrier, place the new bag on the floor of your home and sneak a high quality dog treat inside. Allow your dog to wander over to the bag in search of the treat. Once your dog finds the treat, praise him and tell him how good he is. This will help to create a positive association with the pet carrier. Eventually, start carrying your dog around your home in the enclosed pet carrier for a few minutes at a time. As soon as your put the carrier on the floor, give your dog a small treat. Extend the time your dog is in the carrier until he seems perfectly relaxed inside.
If your dog is comfortable in his crate at home, he will be more relaxed in it when he flies in the airplane's cabin.
VISIT YOUR VETERINARIAN
Because air travel is stressful for many pets, some airlines require an up-to-date health certificate from a licensed veterinarian within 10 days of your dog's flight. Confirm with your airline of choice if this documentation is necessary. For in-cabin pet travel within the United States, a health certificate is typically not required. For international in-cabin pet travel to the European Union and Great Britain, however, a health certificate is always mandated.
The health certificate lists all of your dog's vaccinations and is valid for 30 days. It also includes information about your dog's age, breed, and microchip registration, and vaccination history.
24 HOURS BEFORE TRAVEL
EXERCISE YOUR DOG
Try to exercise your dog extensively in the 24 hours before you trip. Before you leave for the airport, play with your dog for 30-60 minutes. According to a 2010 study in The FASEB Journal, exercise decreases a stress hormone called cortisol. Cortisol increases your dog's heart rate and blood pressure. Exercise also releases chemicals called endorphins. They reduce your dog's pain and make him feel calmer.
LIMIT YOUR DOG'S FOOD
Give your dog food and water 4-6 hours before you arrive at the airport. This gives him time to digest his food and prevents him from having an accident in his travel crate. If your dog suffers from motion sickness, do not feed him mid-flight or just after you land. An empty stomach will help reduce whining and pacing, trembling, nausea, vomiting, and diarrhea.
FREEZE YOUR DOG'S WATER
Because the airplane cabin has a low humidity level, your dog can easily become dehydrated if he does not drink enough water. The night before your flight, freeze a tray or dish of water for him. While you make your way through the airport, security, and boarding, it will not spill out, and it will melt by the time your dog gets thirsty.
TREAT YOUR DOG'S TRAVEL ANXIETY
According to a 2011 study by Thunderworks, 5% of dogs have travel anxiety. If your dog is scared of flying, consider these calming aids:
As always, please talk to your veterinarian before giving your dog any over-the-counter medications or natural pet supplements.
THE DAY OF YOUR TRIP
ARRIVE AT THE AIRPORT EARLY
On the day of your flight, arrive at the airport early to make sure that there is enough time for your dog to be properly checked in and boarded. Keep in mind that you cannot check him in more than 4 hours before your flight. Once you're checked in, encourage your dog to go to the bathroom outside one last time before passing thorugh security.
Consider printing your boarding pass and make sure that his signed and dated health and rabies vaccination certificate are easy to find. The airline staff will need to see these documents before they will let your dog be checked on the flight.
GOING THROUGH THE SECURITY CHECKPOINT
Because your dog's airline-friendly pet carrier will have to go through a baggage scanner, you will need to carry him in your arms through the human screening device. Take off your shoes, and then place your toiletries and phone or laptop into the plastic bins. Remove your dog from his pet carrier, and send the bag through the x-ray machine. Make sure your dog he is wearing a harness and leash with proper ID tags, in case he wiggles out of your arms. Once you have gone through the medical detector with your dog, put him back in his pet carrier and collect your personal belongings.
AIRPORT PET RELIEF AREAS
Although most airport pet relief areas are located outside of the airport, some larger airports have designated areas inside one or more terminals for pet relief. When checking in, ask the airline representative if there is a pet relief area in your terminal or a nearby one. You should also be able to find information about pet relief areas on your airport website.
Before you go
Have you ever flown with your dog in the airplane cabin, or are you planning to take your dog on an in-cabin flight? Do you have a helpful in-cabin pet travel tip that we missed? Let us know in the comments. We would love to hear from you!
Also, if you are planning to travel with your pup during the busy holiday season, check out these expert holiday-specific pet travel trips from our furends over at Wag!
Also, make sure to follow our traveling sausage dog Django on Instagram  and Facebook. You can also follow our brand and dog blog account @djangobrand on Instagram!
Additional Resources
Leave a comment
Comments will be approved before showing up.