How to Train Your Dog to Love Riding in a Pet Travel Carrier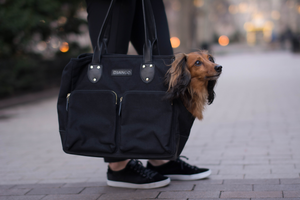 Please note that some of the links below are affiliate links. If you purchase an item, we may receive an affiliate commission at no extra cost to you. We only recommend products we know and love, and all opinions expressed here are our own.
In an increasingly pet friendly world, dog carrier bags allow us to take our four-legged family everywhere.
Mike and I (Steph) have taken our dog Django all over. We lived in New York City up until a few months ago, and Django would always ride the subway with me and accompany me in pet-friendly retail stores. I'll never forget watching two incredibly kind employees at Cole Haan take turns cradling baby Django as I tried on winter boots! When Mike and I flew across the Atlantic for our honeymoon, Django happily snoozed in an airline-friendly pet carrier at our feet.
In addition to being incredibly convenient, dog carrier bags are often essential. Pet carriers and dog purses allow unvaccinated puppies to safely explore the world and avoid unfriendly dogs and contaminated waste. They provide a cozy and comfy bed when your puppy undoubtedly needs a nap. Pet carriers also allow elderly or special needs dogs to enjoy being with their owners without the strain of walking. Even small and active dogs need a lift sometimes! When Mike and I lived in Oregon and went hiking every weekend with Django, we always brought along a high quality dog backpack carrier. Steep mountain trails, uneven terrain, and extended outings meant that Django often needed a lift.
Whether you are about to board an international flight, ride on public transportation, go hiking, or spend the afternoon running errands, getting your dog used to a pet carrier is essential.
Is your dog new to pet carriers? Is he or she nervous, excited, or jumpy in any type of dog bag or pet purse? It is very common for dogs to be scared of new carriers or even try to jump out, especially if they're not used to being carried. How do you teach your dog to love riding in a bag?
In this DJANGO Dog Blog article, we provide several steps to help your dog get used to a new pet carrier.
STEP 1: INTRODUCE YOUR DOG TO THE PET CARRIER
Put your dog carrier bag or pet purse on the floor of your home where your dog can see, smell, and safely explore the bag. Avoid putting the bag in a high traffic part of your home. If the pet carrier is tall or difficult to step into, turn it on its side so your dog can more easily explore it. Leave the carrier on the floor for a few days.
STEP 2: MAKE THE PET CARRIER A FUN AND SAFE SPACE
Once your dog is used to seeing and being around the pet carrier, place a very high-value treat inside the bag (i.e. cheese, cooked chicken, ham). Use a bright and cheery tone to call your dog over to the bag. When your dog reaches into the carrier and finds the treat, shower him with praise and tell him that he is a good boy. Doing this several times and over the course of a few days will help your dog  build a positive and non-threatening association with the pet carrier.
You can also put your dog's favorite plush toy or blanket in the dog carrier. These comfort objects will remind your dog that the new carrier is a familiar, safe, and cozy place.
Dog trainer Steffi Trott and founder of SpiritDog Training in Cedar Crest, New Mexico, recommended giving your dog a long-lasting chew inside the pet carrier. "If your dog chews them every time he is in the purse, it creates a positive association," Trott says.
Let your dog interact with the pet carrier at his or her own pace for 5-10 minutes. Repeat this step until your dog is confidently diving in the carrier for treats. 
STEP 3: CLOSE THE PET CARRIER WITH YOUR DOG INSIDE
Call your dog over to the pet carrier and give him a high quality dog treat. Say "Crate!" or "Bag!" and point at the carrier while holding another high-value dog treat in your hand. Once your dog enters the carrier, praise him and give him the treat. If your dog is too small to jump in the carrier by himself, gently lift up your dog and place him inside the bag. Continue giving your dog tons of praise while placing him into the bag.
Zip up the pet carrier for a few seconds. Make sure to open the carrier back up before your dog has the time to whine or cry. Give your dog tons of verbal praise and then give him another treat.
Repeat this step until your dog sits calmly and quietly in the crate for 5-10 minutes.
STEP 4: PRACTICE CARRYING YOUR DOG IN THE PET CARRIER
Gently lift the pet carrier with your dog in it. Carry the bag around your home for a few minutes at a time. Make sure to praise your dog for being good and staying put while you're walking in your home, and slip him a tiny treat every minute or two. Give your dog another small treat once you place the bag back down on the floor. This exercise reinforces the idea that being carried around by you is a positive thing.
If your dog is at ease being carried within your home, carry your dog around your backyard or a quiet neighborhood street. Is your dog still sitting calmly in the bag? Consider taking him or her on a noisier street for a few minutes at a time.
Repeat this step until your dog sits comfortably in the carrier for 20-30 minutes without becoming nervous or whiny.
STEP 5: PUT THE PET CARRIER IN THE CAR
Once your dog is comfortable being carried around the neighborhood, put the dog carrier in your car. Place your dog's favorite plush toy, blanket, or a high-quality dog treat inside is bag. Sit in the vehicle for 5-10 minutes, then exit it. If your dog seems ready, take a 5-minute trip around your block. During the drive, speak positively to your dog. You can also consider playing soft rock, reggae, or classical music to help your dog relax.
STEP 6: GO ON A TRIP!
Before you take your dog on his first long-distance trip in the pet carrier, make sure he is not buzzing with energy or jumping off the walls. "If your dog is exhausted, you can put him in the crate, and he will associate that kind of sleepy and relaxed state with being in it," Trott says. "If your dog has an hour of socialization every day, you can carry him around five more hours."
On your dog's first trip in the pet carrier bag, go somewhere he will love. Visit a dog park, dog beach, or pet store. Avoid the vet's office, the groomer, and crowded or loud places. If your dog is suddenly startled by movement or noises, pop a few treats into the pet carrier and soothe him with your voice. These actions will keep the situation positive. If someone asks if they can pet your dog, it is best to turn them down politely.
THE GOOD NEWS
Almost all dogs grow to love being carried since it means they get to go on adventures with their humans! Here at DJANGO, we design high quality, modern, and durable pet travel carriers and other stylish dog accessories. We receive tons of photos of our four-legged friends riding in their DJANGO dog bags and even sleeping in their carriers at home. They basically refuse to leave their DJANGO bag and end up passing out on the floor inside!
About DJANGO's Dog Carrier Bag
DJANGO's waxed canvas and leather dog carrier bag is a modern, comfortable, functional, and stylish open-ended pet tote. Four large zipper pockets provide maximum storage and can comfortably hold your essentials—phone, wallet, keys, passport, poop bags, dog leash, dog treats, and more.
Adult dogs and puppies love poking their heads out of the comfy front scoop and watching the world go by from their owner's side. A bag-to-harness leash provides an extra level of safety and security for your dog. The dog bag's interior lining is silky, water-resistant, and stain-resistant. The sturdy foot base is wrapped in a soft Sherpa zipper sleeve which can be removed and machine washed.
DJANGO's widely acclaimed waxed canvas and leather dog carrier bag has been featured across the media spectrum and was rated the best dog carrier for hands-free travel by the American Kennel Club and best travel carrier for small dogs by Bark.
Two carrier sizes are available for your for legged-friend. DJANGO's medium waxed canvas pet travel tote measures 14.5 inches in length and 12.5 inches in height and is best for dogs up to 15lbs. DJANGO's large size waxed canvas tote bag measures 17.5 inches in length and 14.5 inches in height is best for dogs up to 25-30 lbs.
If you have any questions about how to train your dog to ride in a pet carrier or want to share your experience with our dog loving community, please leave a comment below. We'd love to hear from you!
Additional Resources
2 Responses
Leave a comment
Comments will be approved before showing up.