TOTES Magotes: The Story of a Modern Dog Carrier Bag and the Dachshund Who Inspired It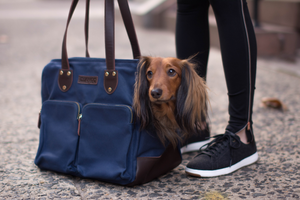 Updated July 2019
The Beginning. 
Django was 10 weeks old when I skipped class at Columbia Business School, rented a neon green Ford Fiesta, and drove several hours north of the city to a Taco Bell parking lot. I cuddled Django close to my chest, grabbed a few carnitas tacos to go, and drove back to NYC with my new best buddy.
I took Django everywhere once he was fully vaccinated. When Django was pocket-sized, I'd slip him under my puffer coat and walk down into the subway. No one noticed the beady little eyes and tiny black nose poking out below my scarf. A few wonderful sales ladies at Cole Haan once took turns cradling and fawning over a smiling baby Django as I tried on leather boots. When Django was a few months older, we'd ride into Greenwich Village, grab a latte on Waverly Place, and practice 'heeling' down 6th Avenue as passersby smiled at Django with fondness.
The Idea.
Once Django grew bigger, I started transporting him in this hideous beach bag of mine – a bright green potato sack that I got for free at a work-sponsored golf event. The bag had zero structure, so Django would sink to the bottom unless I propped him up with two folded bath towels. Django would crane his neck to get a better view from the bag, sometimes putting pressure on his neck until I readjusted the bath towels.
I knew dog carrier bags existed. I had searched extensively for one that fit my style, taste, and budget… but I never found anything I loved. Either the bag was affordable ($50 and under) but cheaply made, flimsy and unstylish… or it was extremely basic in style and function and grossly overpriced.
So I started designing my ideal dog carrier bag.
The Design.
I spent well over a month in early 2016 researching existing pet carriers, learning about materials, documenting key features, and reading every customer review ever posted online. What did dog owners like and dislike about their pet travel bag? What features were missing, and which ones would they improve? If you want to know passion, spend a few minutes reading negative customer reviews on Amazon…
I also poured over the most popular travel bags and handbags outside of the pet space. Why were certain travel totes and duffel bags more popular than others? What tote bags were the best sellers at Nordstrom, Macy's and Neiman Marcus, and why? What features and functions were most highly valued and aesthetically pleasing?
I began sketching my ideal pet carrier, quickly realized I had no idea how to draw, and hired a graphic artist to put my ideas on paper.
Taking a Break.
I put my dog carrier bag dream on hold for the remainder of 2016 and didn't revisit the design until early 2017. The complexity of the carrier and cost of bringing it to life were extremely intimidating.
DJANGO officially launched in late 2016 with our Reversible Puffer, an Amazon best seller, and The Dog Hoodie. These two items were my gateway into the world of product design, material sourcing, and manufacturing. For the first time I learned how to find, vet, and deal with reputable manufacturers around the globe. I learned what materials to use and why, and how to design a product that will last season after season - while I respect the industry, I've never been a fan of 'fast fashion'.
Making It Happen.
I revisited my dog travel bag design in mid 2017. DJANGO started receiving some really great press by then, and sales had picked up nicely. I was finally comfortable bringing a more complex and costly product to market.
After weeks of contacting and interviewing manufacturers, I stumbled across an incredibly well regarded company in southeastern China. This supplier works with some of the largest and most respected bag brands in the US and Europe. They were also open to working with us, a small but growing pet company with a modest budget (relative to mature, high volume brand like Herschel and Michael Kors).
Throughout the second half of 2017, I fine-tuned the design with our new manufacturing partner.
We sampled various weights of canvas to determine which was most suitable for our design (we proceeded with 20 oz. canvas). We tested waxed and non-waxed cotton canvas prototypes. Waxing provides a layer of protection from rain, moisture and time. Staying true to DJANGO's goal of offering weather-resistant and lasting dog gear, we proceeded with waxed cotton canvas for the final design. That was an easy decision.
I also spent months testing various handle styles to maximize carrying comfort. Django and I would go for long early morning "walks" around Philadelphia – I'd put him in the latest bag prototype and carry him around on my bare shoulder to test the feel of the bag. We ultimately upgraded our leather twice to ensure max comfort against one's shoulder and arm.
Above: Steph and Django on South 20th Street in Philadelphia 
Introducing (drumroll please...) THE DJANGO DOG CARRIER BAG
After a year of designing, testing, redesigning, and retesting… we are thrilled to introduce The DJANGO Dog Carrier Bag! DJANGO's newest design is beautifully constructed waxed canvas and leather dog carrier tote featuring a silky water-resistant lining, a bag-to-harness tether to ensure your pup's safety, a machine washable sherpa footpad sleeve, and 4 zipper pockets to secure your essentials.
The pet tote is absolutely stunning, and we owe a lot of thanks to our amazing (and patient) manufacturing partner who worked with us over many months as we kept saying, "Nope, IT CAN BE BETTER!".
December 2018 Update: Amazon Launch and Lots of Amazing Press
In mid 2018, we launched our waxed canvas and leather dog carrier bags on Amazon. Since then, we've received an incredible amount of feedback and support from DJANGO customers, Amazon customers, and the media.
Shortly after our Amazon launch, we were blown away to see the DJANGO Dog Carrier Bag featured by Bark ("The Best Travel Carriers for Small Dogs") and Guide ("The Best Dog Purses for Every Outing"), two insanely popular media outlets. Then in September 2018 the unthinkable happened... Business Insider (Yes! Business Insider!) ranked our dog carrier as the "Best Dog Carrying Bag Overall". If I wasn't 2 months pregnant at the time, we would have popped a bottle of champagne that evening in celebration!
We've continued to receive wonderful support from the media and our DJANGO friends and family into the holiday season. Just a few weeks ago we were ranked by MSN as one of the "Most Popular Holiday Gifts Ordered on Amazon". Surreal.
What is the absolutely greatest feedback we've received though? Hands down, the most heartwarming responses to our new design have been from our customers. Specifically, photos of pups riding around town, commuting on the train, buckled into the backseat of a car, and PASSED OUT on the floor at home in their DJANGO dog bags. The last type of photo especially makes us laugh aloud every time. We take it as a very good sign that your dog doesn't want to leave his or her DJANGO bag once you arrive back home!

JULY 2019 Update: Size LARGE is here!
We heard you loud and clear! In the past year, we have received countless inquiries asking if we had a larger version of our dog carrier bag and, if not, when it might be available.
We are so incredibly thrilled to announce that a LARGE version of the DJANGO dog carrier bag is now available here on djangobrand.com as well as Amazon.
Size large measures 17.5" length  x 8" width x 14.5" height and is designed dogs weighing up to 30lbs. The features of our large dog bag are identical to size "medium" (our original design measuring 14.5" L x 8" W x 12.5" H). Our large dog carrier bag is made with the same premium materials (20oz. waxed canvas cotton, 230T poly with water-resistant protection, leather, etc), has a sherpa-enveloped sturdy foot base (which is slightly thicker to support heavier dogs) and 4 interior and exterior secure zipper pockets.
Size large is best for most dogs weighing between 15-30 lbs. We say most because we've seen 18-20 lb dogs fit in our medium carrier, and we've seen 14 lb pups riding in our large carrier bags! French bulldogs, boston terriers, pugs and cavalier king charles spaniels... these are some of the dog breeds that generally do best in our large pet carrier tote due to their build. With that said, back length (from neck to base of tail) and height (measured from the floor to where the neck meets the shoulder joint) are the most important dimensions to get right when selecting your DJANGO dog carrier bag.

Questions? Comments?
We always love hearing from you! If you have any questions, comments, or just want to say hi, please leave us a comment below! You can also send us a picture (or three) of your dog anytime. Just email us at hello@djangobrand.com.
5 Responses
Leave a comment
Comments will be approved before showing up.