Are Pets Allowed in First Class and Business Class?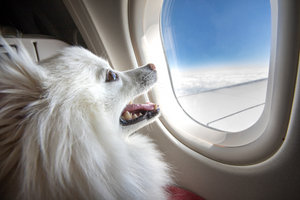 Airlines have become increasingly pet-friendly over the past few years as more and more pet choose to travel with their four-legged family. For a fee ranging anywhere from USD 50-200, pet owners can have their dog or cat relax in an airline-approved carrier under the seat in front of them.
These days it is very common to see several pets and emotional support animals flying alongside of you in economy. But what about first class and business class? Are pets allowed in the front cabin? If so, which pets are allowed and on what routes? Here is everything you need to know about flying with pets in business class.
As always, don't hesitate to leave a comment or question below. We'd love to hear from you!
Are pets allowed in first class?
The majority of US and international airlines allow pets in the economy cabin assuming they are traveling in an airline-approved pet carrier and do not exceed weight and size limits. We outline every international airline's in-cabin pet policies and pet fees in this DJANGO Dog Blog article.
Only some airlines permit pets in first class. Policies differ across airline and depend largely on route and aircraft.
Delta Airlines permits no more than 2 pets in Domestic First Class and Domestic Business Class. Domestic includes flights to and from Canada, the U.S. Virgin Islands, Puerto Rico and Guam. Pets are not allowed in the front of the airplane if the seats are flat-bed designs since there is no under-seat storage area.
United Airlines similarly permits 2 pets per flight in "premium" cabins, although there are certain restrictions. Pets are not permitted in premium cabins on Boeing 757, 767, 777 or 787 aircraft because of limited storage space under the seat.
American Airlines offers "First Class Pet Cabins"on A321T aircraft. The service is available on select cross-country routes most recently cost USD 125 per pet carrier.
As mentioned above, first class pet policies differ largely across airline and depend on route and aircraft. If you are looking to fly with your dog or cat in first class, we first recommend confirming if your airline of choice allows pets in-cabin. Here is a list of every airline that permits in-cabin pet travel. Your next step is to contact the airline's customer service team to determine if the route and aircraft you are flying allows pets in first class. We always advise calling reservations before booking your trip to ensure your four-legged family is welcome onboard your flight.
Can pets fly in first class on US-Europe and other transatlantic routes?
Typically no... Most airlines do not allow even small pets in first class on transatlantic routes. This is because premium seats are often lie-flat designs and/or offer no under seat storage for a pet carrier.
Lufthansa is the only airline we currently know of that allows dogs and cats in first class on certain transatlantic flights. Allowance depends on the aircraft's first class seat design (i.e. whether or not there is room under the seat for a pet carrier) and availability (usually only 1 pet is allowed in Lufthansa first class per flight).
Air France, Delta, and United Airlines do not allow pets in first or business class on transatlantic routes. American Airlines does not allow in-cabin pet travel on ANY transatlantic flights. Here is a list of every major international airline and its in-cabin pet policies.
Can large dogs fly in first class?
No airlines currently allow large dogs in-cabin. When we say large, we are referring to dogs that cannot fit under a plane seat in an airline-approved pet carrier. The only exceptions are if the dog is a certified service animal (i.e. a guide dog for the blind) or, in some cases, an emotional support or therapy dog. More on this below.
What about Service Animals and Emotional Support Animals?
Service Animals
Service animals - those trained to perform specific tasks for the benefit of disabled people - are always welcome onboard aircraft and may sit in any part of the cabin. Service animals do not need to be meet size and weight limits that apply to regular pet dogs and cats. There is typically additional paperwork that must be completed before flying with a service animal (i.e. veterinary health form, immunization record, etc), so be sure to visit your airline's service animal policy page well in advance of travel.
Emotional Support Animals
Emotional Support Animals (ESAs) are also welcome on the majority of flights flying to and from the United States and are generally allowed in first class. Similar to Service Animals, ESAs do not need to be contained in an airline-approved pet carrier. With that said, ESAs cannot exceed the footprint of your seat and must sit on the floor by your feet if they do not fit on your lap.
Documentation is always required when flying with an ESA. This paperwork includes a letter from your medical professional and up-to-date health and vaccination records.
Due to the growing number of travelers abusing ESA policy (i.e. buying ESA letters from anonymous websites and/or "doctors" online), airlines have become much more strict about verifying ESA paperwork. Additionally, many airlines now require additional forms before allowing an ESA on board. Delta, for example, requires that travelers have their medical/mental health professional fill out this form within 48 hours of flight departure.
Additional resources
Leave a comment
Comments will be approved before showing up.