BarkBox Review and Unboxing: Is the Subscription Dog Box Worth It?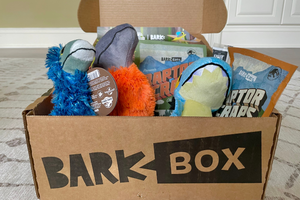 Disclaimer: Some of the links below are affiliate links. This means if you purchase an item, we may receive an affiliate commission at no extra cost to you. We only recommend products we know and love, and all opinions expressed here are our own.
Updated March 2023
Since bringing home our adorable dachshund Django in 2015, Mike and I (Steph) have signed up for countless monthly dog subscription boxes. Two of our favorites are BarkBox and Super Chewer. They provide a fun assortment of original, themed dog toys, treats, and chews.
Here is a detailed overview and review of BarkBox. It is based on our own experiences after receiving treat- and toy-filled boxes for our sausage dog Django. To give you an idea of what to expect in each BarkBox, we have included personal feedback, details, and photos.
WHAT IS BARKBOX?
BarkBox is a monthly subscription service that sends (sans customization or upgrades) 2 meticulously-designed plush dog toys, 2 full-sized treat bags, and a delicious chew straight to your door. Every BarkBox has 5 BarkShop items tailored to your dog's food preferences and size. BarkBox comes in 4 sizes: 
When you order your first BarkBox, you can exclude ingredients based on your dog's allergies (e.g., turkey, beef, chicken, or gluten).
Before the 15th of each month, you can also change how many chews, toys, and treats come in your BarkBox. This means that you can order an all-toy or all-treat BarkBox at no extra cost (except for lite or half box plan).
BARKBOX VERSUS SUPER CHEWER
Bark has 2 subscription dog boxes: BarkBox and Super Chewer. Both boxes are packed with exclusive, monthly-themed dog toys, high-quality dog treats, and meaty dog chews. Classic BarkBox's plush dog toys are geared toward pups that like to cuddle while Super Chewer's all-natural rubber dog toys are made to stand up to the toughest chewers. Super Chewer includes 2 dog chews while BarkBox only has one.
HOW DOES THE BARKBOX SUBSCRIPTION WORK
When you sign up for BarkBox, it sends your dog a custom, themed box each month. Unless you pay upfront (more on this below), the New-York based company will automatically charge you before shipping out your next BarkBox.
When you order your first BarkBox, you can choose a monthly, 6-month, or 12-month subscription. Once you sign up for your first box, you will automatically be charged, and it will be shipped. If you signed up for a multi-month subscription, you will be billed on the 1st of each month for the remaining boxes.
If you pick a 6 or 12-month plan, you will have to pay for each box until it ends. Even if you cancel your plan 2 months into your 12-month subscription, you have to pay for the next 10 boxes.
When your subscription ends, your BarkBox plan also auto-renews. Want to cancel it? Chat with BarkBox's support team or turn off auto-renewal. If you want to get a BarkBox every other month or pause your subscription, email at happy@barkbox.com or call +1 (855)-520-2275.
"I AM NOT INTERESTED IN A MONTHLY SUBSCRIPTION. CAN I JUST BUY ONE BARKBOX?"
Yes! You can buy or gift a single BarkBox year-round. It is worth mentioning that you can also sign up for BarkBox Lite ($14.99/month). The half box includes 1 custom-themed dog toy, 1 full bag of dog treats, and 1 meaty chew. 
Mike and I now prefer a month-to-month subscription because our sausage dog Django has a lot of dog toys. He also goes through the bags of dog treats very slowly.
If you sign up for a 6 or 12-month BarkBox plan, you will save 26%-34%. If you want to buy several boxes, a 6 or 12-month subscription is 35%-43% less than the retail price. We provide more details about how much BarkBox costs below.
Sign up for a BarkBox subscription here.
UNBOXING: WHAT COMES IN A BARKBOX?
Each BarkBox box contains 2 original themed plush toys, 2 full-sized treat bags, and a crunchy chew stick. BarkBox's plushies are made with a variety of textured fabrics, stretchy and soft t-shirt rope, and short and long fuzz. They are often stuffed with crinkle paper, classic squeakers, or spiky balls.   
Each BarkBox has an exciting monthly and/or seasonal theme as well. Think colorful desert creatures and rough-n-tumble college football mascots.
Django's latest box was filled with Jurassic World-themed dog toys and treats. It was an amazing theme! We opted for an extra dog toy and received three adorable stuffed dino toys, two tasty treat bags, and a chew. Here's a full list of the items in Django's Jurassic World box:
Here are other themes that have been sent out in the past:
As you can see from our images of Django's Jurassic World BarkBox and via the links to past BarkBoxes, all of the toys and treats are truly one-of-a-kind, high quality, and absolutely adorable.

HOW MUCH DOES BARKBOX COST?
Each's BarkBox price is based on how long you subscribe. If you sign up for a multi-month plan, you will save 25%-34%. Here are BarkBox prices in 2022:
Subscription prices:
1 month subscription: $35/box (12.5% off retail price)

6-month subscription: $26/box (35% off retail price)

12-month subscription: $23/box (43% off retail price)
Extra toy club: For just $7 per month (50% off the retail price), you can add an extra super-premium plush dog toy to your BarkBox. Extra toys in the past have included Squirrelzilla (BarkBox's largest dog toy ever) and Karla the Chameleon (BarkBox's first color-changing plush dog toy). 
Double Deluxe: For $17 per month (or once for $22), you can double your BarkBox. You will receive 2 extra plush dog toys, 2 extra full-sized dog treat bags, and an extra dog chew.
Shipping is free in the lower 48 states and Washington, D.C. There is an $8 flat shipping fee for shipments to Hawaii, Alaska, or Canada.
"CAN I PAY FOR MY BARKBOX SUBSCRIPTION ALL AT ONCE?"
After you are billed for your first BarkBox, you can pay for your 6 or 12-month plan upfront. The 6-month subscription costs $139 or $23 per box. The 12-month subscription costs $234 or $19.50 per box. 
"DOES BARKBOX TAKE RETURNS?"
Returns are not allowed. Share unwanted dog toys and dog treats with a four-legged friend, or donate them to your favorite local animal shelter. 
"WHAT IF MY DOG DESTROYS A PLUSH TOY WITHIN SECONDS?"
Does your pup love to pull the stuffing out of his plush dog toys? BARK's Happy Team can upgrade your box to the More Durable Classic plan for free. The plush toys in this box have stronger stitching and are reinforced with a liner. Have a power chewer? Consider trying out Bark's Super Chewer Box. Its toys are fluff-free and made from all-natural rubber.  
"DOES BARKBOX HAVE A MONEY-BACK GUARANTEE?"
Every BarkBox has a 100% happiness guarantee. Are you unhappy with an item in your BarkBox? Email happy@barkbox.com and The Happy Team will send you a free replacement item.
IS BARKBOX A GOOD VALUE?
If you want to see your dog overjoyed and excited each month when his or her next BarkBox arrives at the door, then BarkBox is absolutely worth it! Django easily identifies his BarkBox as soon as I bring it inside from the front stoop, and he becomes happy, energetic and even a little crazed at times.
From a numbers standpoint, each BarkBox has a retail value of around $40. When you sign up for a 12-month subscription plan at $23/box or a 6-month subscription at $26/box, you lock in a significant 35%-45% discount. If you pay upfront, you save an extra 10-20%. In other words, BarkBox is a fantastic deal when you sign up for a multi-month subscription.
It's worth mentioning the convenience of BarkBox as well. It is amazing to have high-quality plush dog toys and healthy dog treats shipped to our house. I'm pretty sure this is because of BarkBox, but Django often waits by the window for the mail person to arrive. It seems he believes that every cardboard box that arrives in the mail is for him. Or maybe he hopes that every cardboard box that arrives is his next BarkBox!
HOW TO SIGN UP FOR BARKBOX
Ordering 
your first BarkBox
is very easy. Here is how to do it:
Step 1:

Visit the BarkBox website.

Step 2: Answer basic questions about your pup (name, gender, size, dog breed, and adoption day or birthday).

Step 3: Specify if your dog is allergic to turkey, chicken, or beef. You can remove any or all of these

common dog food allergens

from your BarkBox. If your dog has additional food allergies or dietary needs (e.g., vegan or low fat), send

happy@barkbox.com

an email after checkout.

Step 4: Fill in your email address. Then choose a subscription plan (i.e., 12-months, 6-months, or monthly), and decide whether you want to enroll in The Extra Toy Club.

Step 5: Select your first BarkBox's theme (i.e., surprise me, a top-rated theme, or the current month's theme). Then enter your first and last name, shipping address, and payment information. BarkBox accepts American Express, Discover, MasterCard, PayPal, and Visa credit cards.
OUR VERDICT: IS BARKBOX WORTH IT?
If you want to spoil your dog with adorable, plush toys and tasty dog treats each month, then in our opinion BarkBox is 100% worth it. Django's sheer joy when he gets to tear into a new BarkBox is priceless. The monthly dog box makes him truly happy, and so Mike and I are glad to keep treating him to the dog boxes.
Are BarkBox's plush dog toys indestructible? No. Some only last for a day in our household. But when Django safely rips the plushie apart, there is often an extra toy inside of it as a special surprise. Also, given Django loves ripping apart new toys, and since he has a million toys already, one toy gone isn't a huge deal to us. As we mentioned above, if you prefer more durable toys, check out BARK's Super Chewer monthly dog box for aggressive and tough chewers. 
Overall, BarkBox is a great monthly dog subscription box for all dog breeds. If you pay upfront or sign up for a multi-month plan, it is an excellent value.
Questions about our experience with BarkBox? Want to share a BarkBox story of your own? Leave us a question or comment below.
A FEW MORE COOL FACTS ABOUT BARK
Carly Strife, Henrik Werdelin, and Matt Meeker founded Bark in December 2011. Meeker wanted to create

 

Disney in a box

 

for his 130 lb. Great Dane Hugo. Bark has

 

1.05 million subscribers

 

and more than

 

23,000 retailer partners

.

During your dog's birthday month

,

 

you can

 

buy extra birthday-themed goodies

 

(e.g., Birthday Beefcake and a Party On Hat!) to add to his BarkBox.

Bark's dog treats and chews are wheat, soy, and corn-free and have a 24-month shelf life.

Bark donates 5% of its proceeds to nonprofits across the country that provide free or low-cost spay and neuter surgeries.

The

 

BarkGood program

 

has partnered with more than

 

3,000 animal shelters and rescues

 

across the U.S. and Canada. When you

 

sign up for a multi-month BarkBox subscription

 

using their custom code, Bark sends them $25.
The BarkGood program donates a steady stream of chews,

 

treats

, and toys to rescue and shelter programs throughout Ohio and New York City.

BarkBox proudly supports U.S. active-duty military, retired military, veterans, the National Guard and Reserve, and their canine companions. It offers $10 off BarkBox and $14 off

 

Super Chewer

 

(a 28%-33% discount). If you are currently enlisted or have served in the U.S. armed forces, email

 

happy@barkshop.com

.
ADDITIONAL RESOURCES
Leave a comment
Comments will be approved before showing up.