Tumble Rugs Review: Best Washable Rug for Toddlers, Pets, and Modern Living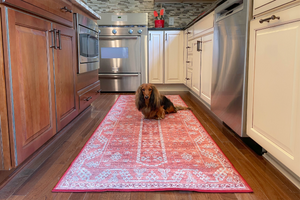 Disclaimer: Some of the links below are affiliate links. This means if you purchase an item, we may receive an affiliate commission at no extra cost to you. We only recommend products we know and love, and all opinions expressed here are our own.
After living in New York City for 12 years, Mike and I (Steph) decided to move to the New Jersey suburbs. A growing family, a need for more space, and escalating living expenses in NYC prompted the move.
When we got to our new home, we reveled in the spacious layout. Compared to a 650 square foot apartment, our modest new home felt like a palace. We soon realized, however, we had a lot of furnishing to do. Our hardwood floors, in particular, needed immediate protection. We have a boisterous 3-year old toddler, a long-haired dachshund, and a newborn. The last thing we wanted was for our toddler's toys, our baby's spit ups, and our pup's nails to destroy our new hardwood floors.
While researching the best rugs for families with kids and pets, I came across Tumble. Tumble offers machine washable and spill-proof area rugs with modern patterns and colors. Mike and I ordered 3 rugs for our home—a kitchen runner and two area rugs—and we never looked back.
The following is an honest review and in-depth overview of Tumble rugs based on our family's personal experience using several of the rugs in our home. We currently have a 2.5x7' runner and 6x9' area rug in our kitchen and an 8x10' area rug in our family room. If you have any questions about our experience with Tumble or want to share an experience of your own, feel free to post a comment below!
Tumble Rug Code and Discount Link
Tumble doesn't do discounts often, but you can currently get $20 off your Tumble rug order with this link. This Tumble rug code won't last long, so make sure you take advantage of it sooner than later.
What are Tumble Rugs?
Tumble rugs are machine washable, spill-proof and stain-resistant area rugs designed for modern homes and family-friendly environments. Made from 100% polyester, the rugs are also non-toxic and hypoallergenic. These two attributes are especially important to Mike and I since we have a toddler, a newborn, and a dog. If you have a kid and/or pet, you'll understand that having non-toxic rugs and floor-mats is essential. Toddlers and dogs put food from the floor in their mouth—our 3-year old boy recently learned what the 5-second rule is, if that says anything!—and babies always have their hands in their mouth.
What makes Tumble rugs even more ideal is that they can be machine washed and dried as needed. Even the largest 8 x 10' Tumble rug fits nicely in a standard washing machine.
Having machine washable area rugs is a game changer for our family. No matter how hard Mike and I try, we cannot prevent our toddler William from dropping and spilling food on our kitchen floor. Before discovering Tumble, we were considering area rugs that would protect our hardwood floors but be at the mercy of our toddler's dinner. It made no sense for us to invest in a rug that would get ruined in a matter of days. We now have a 6x9' Tumble rug under our kitchen table that not only protects our hardwood floors, but also is easily wiped clean after each meal. Every few weeks we throw the rug in our washing machine.
Styles and sizes of Tumble rugs
Tumble offers a wide assortment of rug patterns, colors, and sizes to fit just about every interior space. You can find modern geometric patterns, bohemian designs, and more traditional Persian motifs. Our kitchen has lots of ivory, tan, and brown tones with red accent pieces and appliances, so we went with the Hali pattern in Coral/Khaki. It works beautifully in our kitchen setting and adds a much needed pop of color. For our family room, we selected the neutral and southwest-inspired Canyon rug in color Oatmeal/Grey.
Tumble currently offers 6 different rug sizes including 3x5', 5x7', 6x9', 8x10', 2.5x7' (runner), and 2.5x10' (runner).
"Do I need to purchase a rug pad for my Tumble rug?"
Nope. Every Tumble rug comes with its own 1⁄4 inch thick cushioned rug pad. You do not have to pay extra for the rug pad.
Tumble's rug pad design is quite creative. Rather than coming as one huge and difficult-to-manage unit, the rug pad comes in separate jigsaw-style pieces. To set up the rug pad, you simply line up all pieces, interlock the edges by pressing them into place, and position the pad in your room. It is incredibly easy. If you have no idea what I mean by "jigsaw-style" pieces, the below photo should explain what I mean.
Tumble Rug Unboxing
We've always received each of our Tumble rugs quickly. Each Tumble rug and cushioned rug pad comes packaged neatly in a box with a few inserts on set up and care instructions. Every box also includes optional "rug grippers" that allow you to adhere your rug into place on the floor. We haven't used the grippers yet as we haven't needed to, but Tumble confirms that they are safe for all floor types including hardwood. When you go to wash your rug and wipe clean the area pad, you can simply leave the grippers secured to the floor.
As mentioned above, setting up the Tumble rug is easy and quick. Once you lay out the jigsaw-style rug pad pieces and press the edges into place, you simply lay your Tumble rug right over the rug pad. Each rug corner has a triangular sleeve, and the next step is to fold each rug corner over each pad corner. This is a really creative Tumble feature that ensures your rug corners do not roll up over time. Without naming names, I can tell you that we had that exact problem with another washable rug company. I love how Tumble rugs avoid this potential issue in a creative and effective way.
Set up advice? For larger Tumble rugs, make sure you lay out the rug pad pieces  exactly where you want the rug to go. It was difficult to move our 8x10' rug pad once the pieces were connected on the floor. Ours was off center by a few inches, and each time we tried to shift the rug pad over, one or two jigsaw pieces would come unlocked. This wasn't a huge deal, of course, but it added a few more minutes to set up time.
We usually see mild crease marks right after laying out a Tumble rug. This is to be expected given the rugs are neatly folded when they arrive at our home. The fold lines always go away after a week or two of use.
How do Tumble rugs hold up over time?
I'll provide an update in another 6-9 months, but so far our Tumble rugs have held up well. Each of our three Tumble rugs is in a very high traffic room of our house (2 in the kitchen, 1 in the family room). Our kitchen runner and area rug see a ton of crumbs, spills, thrown food, and dog hair. For crumbs and dog hair, I simply vacuum the rugs on the low setting—super easy. Spills also come off nicely given Tumble's water-based and spill-proof protective coating.
Will the Tumble spill-proof coating last forever? My guess is this will fade over time after many machine washes. Tumble even acknowledges on their website that "the spillproof effect will begin to diminish after washing" and the "coating is meant to serve as a "first line of defense". We'll see exactly how stain-resistant the rugs are after a year or two of machine washing and more spills from our toddler! For now, they're holding up nicely.
Any cons with Tumble rugs?
Tumble rugs are thin, even with the cushioned rug pad underneath. I wouldn't call this a con, but definitely something to consider before purchasing your Tumble rug. Are you looking for a super plush and cozy rug? Something with a high pile that you can lay down on in front of the TV? If yes, Tumble rugs aren't for you.
Tumble Rug Promo Code & Discount
Tumble doesn't do discounts often, but you can currently get $20 off your Tumble rug order with this link. This Tumble rug code won't last long, so make sure you take advantage of it sooner than later. Happy shopping!
Conclusion
If you are looking for attractive and washable rugs that can withstand spills, pet hair, food, and drink, Tumble rugs are an excellent option. They've held up really well in our hectic home, wash easily, and are truly beautiful in person!
11 Responses
Leave a comment
Comments will be approved before showing up.