A Pup Above Fresh Dog Food Review | Our Personal Experience With the Sous-Vide Dog Food Subscription Service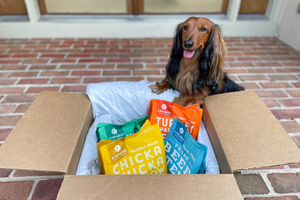 This post is sponsored by A Pup Above. We only recommend products we know and love, and all opinions expressed here are our own.
In our ongoing quest to find the healthiest, most nutritious, and highest-quality food for our 14 lb dog Django, we (Mike and Steph) have tested almost every fresh dog food subscription service on the market. We are selective with what we feed Django and look for dog food brands that use high quality animal proteins, nutrient-packed and wholesome ingredients, and avoid fillers, preservatives, and artificial ingredients.
We currently feed our celebrity sausage dog half fresh dog food and half premium dry dog food. Whenever we want to bump up Django's breakfast or dinner bowl, we add plain organic chicken, half an organic egg, or minced strawberries. Lately, we've been feeding Django a layer of A Pup Above on top of his small breed dry dog food.
We discovered A Pup Above earlier this year and have been very happy with our experience. We feel good about giving Django A Pup Above because it is made with free-range animal protein, non-GMO veggies, rich and natural gravy, and super spices. The company is also environmentally conscious and strives to keep its carbon footprint small. It uses ugly produce that would be chucked into landfills, and it stores its recipes without using fossil fuels. This is a mission we can get behind because we built our family-owned small business to be environmentally philanthropic.
In this DJANGO Dog Blog post, we provide an in-depth and unbiased review of A Pup Above sous-vide fresh dog food. All opinions are our own and based on our own personal experience feeding A Pup Above to our dachshund Django.
Use discount code DJANGO25 to get 25% OFF your dog's first A Pup Above meal delivery when you subscribe. Enter the code at checkout, and the discount will be applied to your first subscription!
WHAT IS A PUP ABOVE?
A Pup Above is a fresh dog food company that sends nutrient-packed meals straight to your door. It uses a sous-vide (which is French for "under vacuum") cooking method that locks in juices, protein, vitamins, and minerals. To sous vide cook its food, A Pup Above mixes together non-GMO veggies and all-natural meat. It then vacuum seals the food into BPA-free packages and cooks it in 180°F water for more than 2 hours.
A Pup Above is also fully transparent when it comes to its ingredients and sourcing. Each 1 lb bag of A Pup Above has a lot number you can type into A Pup Above's site to trace the origins and description of each ingredient (i.e., certified-human, no hormones/antibiotics added, non-GMO, and/or pesticide-free). This transparency is incredibly refreshing and unique to the broader dog food industry—most dog food brands never reveal food safety protocols and analyses, and many even try to hide the true sources of their ingredients.
A PUP ABOVE SUBSCRIPTION VS. ONE-TIME PURCHASES
A Pup Above allows you to place a multi-week subscription or simply make one-time purchases. If you only want to order once and not sign up for recurring purchases, simply go to A Pup Above's website, click "Shop", select your recipe and bag size, and make sure to select "One-Time Purchase" before checking out. As of September 2021, a 3 lb bag is priced at $34.99, and a 7 lb bag is $69.99.
It is worth noting that you save when you enroll in a 2-8 week subscription. As of writing, you will save 10-25% (3 lb bag: $31.49; 7 lb bag: $52.49). Just remember that you will also indefinitely be charged until you end your A Pup Above subscription (more on this below).
A PUP ABOVE UNBOXING EXPERIENCE
Every A Pup Above order is shipped and delivered within 1-3 business days. Each 3 lb bag of A Pup Above includes three individually vacuum-sealed 1 lb patties. The 7 lb bag includes seven individually vacuum-sealed 1 lb patties. Since Django is a smaller dog breed at 14 lbs, we have always proceeded with the 3 lb bags. For larger dogs and dogs who are exclusively eating A Pup Above, it probably makes sense to buy in bulk, upgrade to a 7 lb bag, and save 25% per pound of food. Just make sure you have room in your freezer!
We have never had any issues with our A Pup Above shipments. A Pup Above places dry ice inside of its boxes to keep its fresh dog food frozen during delivery. The dry ice is typically gone by the time the food reaches our front door, but the patties have always been rock solid frozen upon arrival.
As I mentioned above, each 1 lb patty is individually vacuum-sealed. If you cannot picture how big 1 lb of A Pup Above dog food is, check out our photos! It typically takes 24 hours to thaw the patty in our refrigerator. It obviously takes much less time to thaw one patty if you leave it on your counter.
We also are pleased to report that all A Pup Above's packaging is 100% recyclable. Its cardboard boxes are curbside recyclable while its liners are made from recycled denim that can be recycled through grocery store collection bins. Even A Pup Above's plastic pet food bags are 100% recyclable. You can mail in 30 dirty pouches to TerraCycle for free.
RECIPES, NUTRITIONAL CONTENT, AND QUALITY INGREDIENTS
RECIPES AND GUARANTEED ANALYSIS
A Pup Above currently offers four dog food recipes: Chicka Chicka Bow Wow, Porky's Luau, Texas Beef Stew, and Turkey Pawella. You can choose between a "Full Portion Plan" (i.e., your dog exclusively eats A Pup Above) or a "Half Portion Plan" (i.e., your dog eats 50% A Pup Above and 50% another high-quality dog food brand). All of A Pup Above's recipes meet AAFCO's Dog Food Nutrient standards. They are made with a human-grade single source protein, non-GMO veggies, collagen- and amino acid-rich gravy, and superfoods like tumeric and thyme.
We show the ingredients, guaranteed analysis, and calorie content for each A Pup Above fresh dog food recipe here:
WHY SOUS-VIDE COOKING?
A Pup Above's sous-vide cooking method lets it pack in 72% more protein on average than its competitors. It also reduces ingredient shrinkage to as little as 3%, compared to traditional cooking methods of 40% or more. The sous-vide cooking method evenly cooks ingredients from the edge to the center.
QUALITY OF INGREDIENTS
A Pup Above's certified-humane animal protein and pesticide-free produce come from USA-based ranchers and farmers. Its non-GMO herbs and spices are sourced from their native habitats.
HOW IS A PUP ABOVE DIFFERENT FROM STORE-BOUGHT CANNED DOG FOOD? 
Store-bought canned dog food often contains many low quality and even unhealthy ingredients. This is mainly done to maximize company profits. By sourcing cheap ingredients and adding preservatives and chemicals to extend product shelf lifespan, the company can reduce its overall costs and make more money on every can of dog food sold.
Canned dog food often contains the following low quality, non-nutritious, and unhealthy ingredients: animal digest and by-products, fillers like corn and potato starch, gums like guar and xanthan, added salt, preservatives (i.e., BHA/BHT), and added colors and dyes. On top of all of this, canned dog food is highly processed and therefore stripped of many natural nutrients, vitamins, and minerals.
A Pup Above dog food obviously does not contain any of the above listed ingredients. Its sous-vide cooking process works to preserve the nutritional integrity of every ingredient. This means your dog is getting more nutrition with every bite of food.
DJANGO'S EXPERIENCE AND FEEDBACK
We introduced A Pup Above to Django this summer, and he took to the new food immediately. We made sure to start slowly since this was a new food for Django. On the first night we only gave Django about a tablespoon of food in his dinner bowl. Over the next two weeks, we gradually increased the amount of A Pup Above in Django's bowl until it accounted for half of his breakfast and dinner meals. As mentioned earlier, Mike and I (Steph) like to feed Django half fresh dog food like A Pup Above and half high quality dry dog food. We do this mainly to cut the cost of fresh dog food in half—every bag lasts twice as long this way!
Unlike some other fresh dog food which doesn't always have much of a fragrance, A Pup Above is surprisingly aromatic (in a very pleasant way!). I recently compared the scent of Django's Texas Beef Stew patty to meatloaf I'd buy for our family. For this reason, I am never surprised when Django gets extra perky and excited as I'm preparing his dinner bowl with A Pup Above! He literally licks the vacuum-sealed food if I let him, and he always seems very satisfied after he completes his meal. He usually comes over to me, burps, and wags his tail. I like to think this is Django telling me "Thanks, Mom!" for such a yummy meal.
So long as Django continues to do well and enjoy eating A Pup Above, Mike and I will continue treating him to this high quality sous-vide fresh dog food.
HOW TO ORDER A PUP ABOVE
It is incredibly easy to order your first A Pup Above box, and you can currently enjoy 25% off your first subscription with A Pup Above discount code DJANGO25!
Here is how to place your first order:
Step 3:

You also can choose between a 'Full Portion' (i.e., your dog only eats A Pup Above) or a 'Half Portion' plan (i.e., your dog eats 50% A Pup Above and

50% another high-quality dog food brand

).To find out how many bags your dog will need, what size they should be, and how often to schedule your home deliveries, see our feeding and price guide below. 
Step 4:

 Choose between a one-time purchase or a subscription (3 lb bags: save 10%; 7 lb bags: save 25%). Order three or more bags of A Pup Above, and you will get free shipping. Need less than 3 bags? There is a $15 shipping and handling fee.
Step 5:

If you have

a small dog breed

but want to avoid the $15 shipping fee, increase the amount of bags and then push back your next shipment's delivery date. To skip or change the date of your subscription, simply log into your

A Pup Above Account

. Then select "Delivery Schedule" to see all your upcoming delivery dates. Click "Skip" to the right of each date to reschedule. 

Step 6:

Enter your email address, full name, shipping address, and phone number. Then enter your credit and/or debit card information and confirm your billing address.
HOW MUCH DOES A PUP ABOVE COST?
The cost of A Pup Above depends on your dog's size and whether or not you are feeding exclusively A Pup Above. In this graphic, we show pricing as of September 2021 for four dog sizes and two scenarios: your dog eats only A Pup Above ("Full Plan") and your dog eats 50% A Pup Above and 50% another dog food ("Half Plan").
What about shipping?
Shipping is available across the lower 48 states (excluding Hawaii and Alaska). FedEx or UPS ground shipping costs $15. If you order 3 or more bags of A Pup Above, shipping is free. You can choose to have A Pup Above delivered every 2 weeks, 4 weeks, 6 weeks, or 8 weeks. You also can change recipes or cancel (more on this below) before your order is marked processed or shipped by going to the Subscriptions tab of your A Pup Above Account.
A PUP ABOVE FAQS 
1. IS A PUP ABOVE'S FRESH DOG FOOD SAFE?
According to the U.S. Food and Drug Administration, none of A Pup Above's fresh dog food recipes have ever been recalled. Additionally, A Pup Above tests every batch of dog food for foodborne germs and then flash freezes it to ensure the quality and safety of its food. Here is a third-party report from a safety inspection on a Turkey Pawella batch.
2. WHERE IS A PUP ABOVE'S FOOD MADE?
A Pup Above makes all of its fresh dog food recipes in a USDA-inspected, human-grade kitchen in Austin, Texas.
3. WHERE CAN I BUY A PUP ABOVE?
A Pup Above is available on the company's website, apupabove.com, and in the freezer section at select retail stores nationwide. Use A Pup Above's Retail Locator to find out if its products are carried in a local store near you.
4. DOES A PUP ABOVE HAVE A BOARD-CERTIFIED VETERINARY NUTRITIONIST?
Board-certified veterinary nutritionists create and review all of A Pup Above's fresh dog food recipes. Each full-time, highly-qualified nutritionist has at least 10 years of Veterinary medical experience and is a member of the American Academy of Veterinary Nutrition and the American Veterinary Medical Association.
5. CAN PUPPIES EAT A PUP ABOVE?
Puppies should not exclusively eat A Pup Above. This is because all of A Pup Above recipes are formulated for adult dogs. Growing puppies need extra vitamins and minerals to strengthen bones and teeth, keep their skin and coat healthy, and have the overall energy that they need to function. For puppies, A Pup Above can be used as a dinner bowl topper or mixer. In general, small dog breeds can be fully transitioned to A Pup Above at 6-8 months of age. Medium- and large-sized dogs can make the switch at 12 months old. Giant dog breeds should wait until they are at least 18 months old before switching over.
6. HOW LONG DOES A PUP ABOVE STAY FRESH AFTER IT IS BEING DEFROSTED?
Unopened individually sealed 1 lb patties will remain fresh for up to 14 days. Open and defrosted patties will last in the fridge for 7 days. Mike and I typically put our thawed and opened food in an airtight Tupperware container, then mark the container via pen and masking tape with the date it was opened.
7. IS A PUP ABOVE GRAIN-FREE?
Porky's Luau and Texas Beef Stew are grain-free while Chicka Chicka Bow Wow and Turkey Pawella contain rice.
8. IS A PUP ABOVE ORGANIC?
A Pup Above is not organic, but it does use hormone- and antibiotic-free meat and non-GMO fruits and veggies in its fresh dog food recipes.
9. IS A PUP ABOVE RAW DOG FOOD?
No, A Pup Above is not raw dog food. A Pup Above cooks its products under non-boiling water for over 2 hours before freezing and packaging.
10. WHAT IS A PUP ABOVE'S RETURN POLICY?
Because A Pup Above's home-delivered fresh dog food is perishable, no returns or exchanges are accepted. But it offers a money-back guarantee on all first-time orders. For subsequent orders, A Pup Above may pay for a replacement meal, provide you a full or partial refund, or provide you with credits that can be used on future deliveries under your meal subscription. Unhappy with your purchase? Email contact@apupabove.com.
11. HOW DO I CANCEL MY PUP ABOVE SUBSCRIPTION?
To cancel your A Pup Above Subscription, login into your account and tap the Subscriptions tab. Next to each of the products you are subscribed to, you will find a Cancel button. Click the Cancel button, and you will automatically be unsubscribed from the subscription product. Meal orders marked as processed or shipped cannot be canceled.
A FEW MORE COOL THINGS ABOUT A PUP ABOVE
A Pup Above won Nestlé Purina PetCare's 2021 Pet Care Innovation Prize for its sous vide-style fresh dog food formulas. The Austin, Texas-based company competed against 100 pet brand startups spanning 43 cities around the globe.
Whether a bell pepper cannot stand straight up or a deformed carrot looks like a foot, it has the same amount of nutrients as cosmetically perfect veggies. Sadly, ugly produce makes up 40% of the total food waste in the U.S. That is why a Pup Above uses only the wonkiest, most grotesquely deformed, most "this came out of the earth?" produce in its recipes.
A Pup Above's plastic pet food bags are 100% recyclable. You can mail in 30 dirty pouches to TerraCycle for free. The U.S.-based recycling business will upcycle them into something new like laptop cases and picnic tables. 
A Pup Above's fulfillment center runs on 100% clean energy like solar power and wind. 
A Pup Above donates 1% of annual sales to White Buffalo Land Trust's 1,000+-acre flagship farm in Summerland, California. The nonprofit is committed to regenerative agriculture. It is a farming system that reverses climate change by rebuilding healthy soil and removing carbon dioxide from the air.
Use discount code DJANGO25 to get 25% OFF your dog's first A Pup Above meal delivery when you subscribe. Enter the code at checkout, and the discount will be applied to your first subscription!
We hope you enjoyed our review and overview of A Pup Above! If you have any questions, comments, or want to share your experience with A Pup Above, please leave a comment below. We'd love to hear from you!
Additional Resources
Leave a comment
Comments will be approved before showing up.