13 Best Gifts for Dogs and Dog Lovers this Holiday Season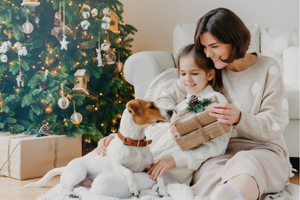 Need some holiday gift ideas for the dog parent in your life? Looking for the perfect present for a pandemic puppy or a frosty-faced senior dog? 
We have rounded up the best gifts for dog lovers and their dogs this year, including luxury dog accessories, "pawesome" household accessories, drool-worthy dog food and dog treats, and epic monthly dog toy subscription boxes. Our present picks are based on our own Amazon bestsellers, consumer reports, customer reviews, and product testing.
IN THIS POST: 
LUXURY DOG ACCESSORIES
Provide next-level comfort for your pup with Paw's PupRug Bundle which includes a gorgeous faux fur orthopedic dog bed and matching pet blanket. The PupRug Faux Fur Orthopedic Dog Bed has a 2-inch, human-grade memory foam mattress. It also features a waterproof mattress cover, a removable and machine washable faux fur cover, and a non-skid rubber bottom. This premium orthopedic memory foam dog bed comes in 2 styles (i.e., square and wavy), 3 sizes (i.e., small/medium, large/extra-large, or giant), and 10 modern colors and prints.
The matching PupProtector Waterproof Blanket is available in 2 sizes (i.e., original and large) and 17 colors like blush pink. "Our two dogs love their dog bed. We love throwing the protective waterproof blankets over our velvet couch," Leah says. "We have a 30-pound dog and an 80-pound one. Both enjoy cuddling up in the fur fabric. These are tasteful and add to our space rather than detract from the decor."
Here is our full product review of Paw.com's orthopedic dog bed and waterproof dog blanket.
DJANGO's Nolita Belt Bag is the most luxe and functional dog walking fanny pack. The stylish belt bag features six interior and exterior pockets, a premium water-repellent nylon exterior, waterproof tape zippers, and a silky, water- and stain-resistant interior lining. The dog walking fanny pack also has an extra-wide, incredibly soft webbing waist strap to maximize comfort for extended wear. Custom cord pulls, a metal D-ring, and vegan leather trims add functionality and flair to this high-end belt bag.
The Nolita Belt Bag has 2 front zipper pockets and 1 front mesh pocket for quick stashing. It features a spacious main compartment that has a secure key clip and a smaller zipper pocket. It is large enough to hold an iPhone, a dog leash, dog treats, and even a standard-sized water bottle. The back side of the Nolita Belt Bag has a discreet, built-in poop bag roll holder and dispenser, headphone portal, and 3 pickpocket-proof cardholder slots. It comes in 3 colors: Olive Green, Sand Pink, and Black.
PAWSOME HOUSEHOLD PRODUCTS 
Tumble rugs
 are beautiful, machine washable, non-toxic, and hypoallergenic area rugs designed for families with pets or children. Made from 100% polyester, these low-pile rugs are stain-resistant, spill-proof, and machine washable.
 The hand-illustrated rugs come in 6 sizes and many different styles (i.e., Persian & Traditional, Neutral & Contemporary, Bohemian & Southwest, and Kids & Nursery).
 Every Tumble rug comes with a cushioned, non-slip rug pad.
What is the secret to crumb- and fur-free hardwood floors and carpets? The iRobot Roomba s9+. It features two extra-wide, counter-rotating rubber roll brushes that trap 99% of pet dander and pollen. This 3.5-inch tall robotic vacuum excels at picking up pet hair on low- and medium-pile flooring. The iRobot Roomba s9+ also empties itself for up to 60 days and works with Google Home and Amazon Alexa devices. The high-end vac can even sync with the iRobot Braava Jet M6 to keep your hardwood floors clean and dust-free. Need a mid-tier or a budget robot vacuum? Check out the 7 best robot vacuum cleaners for pet hair, bare floors, and carpets.
Good Dog: A Collection of Portraits features 150 playful, warm, tender, and heartfelt canine portraits. This adorable coffee table book features snapshots of rescue dogs beaming with joy and show dogs oozing elegance. American photographer Randal Ford also donates its proceeds to Emancipet: a non-profit that provides affordable and accessible veterinary care.
DROOL-WORTHY DOG FOOD, TREATS, AND TOPPERS 
BARK Bright cleans your dog's teeth without brushing. The dental care system works like a dog toothbrush but tastes like a dog treat.
The BARK Bright Dental Kit includes a 1.89-oz tube of triple enzymatic dog toothpaste and 30 chicken-flavored chews. They work together to freshen your dog's breath and remove tartar and plaque. Just squeeze a strip of BARK Bright toothpaste into the dental treat's deep groove. Then let your dog do all the dirty work!
Sign up for a 6-month BARK Bright subscription ($25 per month) or buy one BARK Bright Dental Kit for $30. Check out our comprehensive review of BARK Bright here.
The Farmer's Dog is a fresh dog food delivery service that offers 4 recipes (i.e., turkey, chicken, beef, and pork). The frozen, pre-portioned meals are prepared in USDA-inspected kitchens. They are made with antibiotic-free, all natural organic meats and nutrient-dense legumes and vegetables, such as Brussels sprouts, kale, spinach, bok choy, and sweet potatoes. 
The Farmer's Dog recipes are boosted with a 'TFD Nutrient Blend' of essential vitamins and minerals. They are also slow-cooked to preserve their nutritional value. "The Farmers Dog cleared up all of my dog's allergies, and Pip just absolutely loves his fresh food," Cindy says. 
Use this link to get 50% off your first Farmer's Dog order. Check out our full review of The Farmer's Dog here. 
We Feed Raw is a subscription raw dog food company that delivers biologically-appropriate, human-grade meals to your door. All 6 recipes (i.e., chicken, turkey, duck, beef, lamb, venison, and pork) are made in a USDA-certified kitchen and meet BRCGS Global Standard for Food Safety. We Feed Raw also uses high-pressure processing (HPP) to neutralize pathogens like Salmonella.
We Feed Raw's meals are approximately 90 organ/meaty meat (i.e., muscle meat with connective fat and tissue), 10% edible neck bones, and a vitamin/mineral premix. Its vitamin/mineral premix, turkey, chicken, duck, and beef are sourced from U.S. farms. We Feed Raw's pasture-raised, grass-fed, and grass-finished lamb and venison come from New Zealand. 
"My two pups have been eating We Feed Raw for the last 3.5 years, and I plan to be a customer for life. Both my dogs are healthy and happy. They never grow tired of their daily breakfast," Jenna says. "We Feed Raw is an incredible company with amazing customer service that truly cares for your canines."
Use this link to get an extra 20% off your first We Feed Raw order.
Boost your dog's bowl with Gussy's Gut Daily (135 teaspoon servings per 7.5 oz pouch). The fermented, probiotic-rich dog superfood topper has 19 enzymatically-activated, human-grade ingredients. They include organic spinach, wild blueberries, ancient sea salt, grass-fed goat kefir, etc.
Created by Dr. Ian Billinghurst, the father of raw dog food, it is packed with more than 180 antioxidants, enzymes, flavonoids, probiotics, vitamins, and minerals. Fermented for 2 weeks and then freeze-dried for 29 hours, Gussy's Gut Daily mimics the gut contents of birds, rabbits, and lizards. "My three dogs absolutely love Gussy's Gut! I sprinkle some over their daily meal, and they lick their bowls clean," Crysantha says. "I have noticed an improvement in their digestion (especially my German shepherd, who has always had a bit of trouble in that regard) and better, firmer stools."
Read our full review of Gussy's Gut Daily here.
EPIC MONTHLY DOG TOY SUBSCRIPTION BOXES 
KONG Club is a monthly pet subscription service that combines KONG's award-winning toys, treats, and accessories with AskVet's vet care app. KONG Club is available for both cats and dogs. KONG Club members receive a fun assortment of KONG toys, accessories, treats, and training tools each month.
Using the KONG Club phone app, KONG club members can connect with licensed veterinarians 24/7. They can access KONG Club's searchable library and the AskVet Clubhouse on Facebook. KONG Club members are also eligible for a Rainy Day Fund that pays up to $1,000 for emergency veterinary visits.
Read our full KONG Club review here.
With 3 million subscribers, BarkBox is the top dog subscription box. Each BarkBox has 2 exclusive plush dog toys, 2 full-sized bags of dog treats, and an all-natural meaty chew based on a festive monthly theme. Themes include everything from The Wizarding World of Harry Potter to the National Park Foundation.  Each BarkBox is customized for your canine based on his food allergies, size, age, and breed. BarkBox subscriptions start at an affordable price of $23 per month.
Does your dog love to rip open plush toys and let the stuffing fly? Upgrade to Bark Super Chewer for $25-$30 per month with a 12- or 6-month subscription. Unlike Classic BarkBox's plush toys, Super Chewer's all-natural rubber dog toys are made to withstand the toughest and roughest chewers. Each Super Chewer box also has an extra meaty chew and a fun, seasonal monthly theme like Hairy Metal. 
MORE RESOURCES
Leave a comment
Comments will be approved before showing up.