The Ultimate Gift Guide for Dogs & Dog Owners (2019-2020 Edition)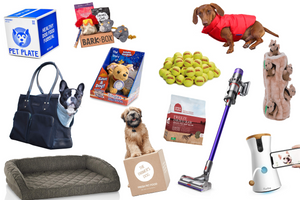 Updated September 2022
Disclaimer: Please note that some of the links below are affiliate links. If you purchase an item, we may receive an affiliate commission at no extra cost to you. We only recommend products we know and love, and all opinions expressed here are our own.
Want to spoil you, your dog, or a dog-loving friend or family member this holiday season? We rounded up our favorite dog toys, accessories, apparel, and technology available for dogs and dog owners. We and our long-haired dachshund Django personally love and use every one of these items and have tried them all. So don't hesitate to leave a comment below if you have a question about anything. Did we miss a great gift idea? Leave your ideas in the comments below! Happy holidays!
Gifts for Dog Owners

Mike and I can't say enough good things about Dyson's V11 Animal Cordless Vacuum Cleaner. We ordered this cordless vacuum last year to replace our very old, heavy and outdated model. What a difference! Dyson's Animal vacuum works incredibly well on our carpets and hardwood floors and manages to remove all of Django's dog hair from the surfaces.
The convenience of having a cordless model and the compact shape of the Dyson Animal are also worth emphasizing. Suddenly vacuuming our apartment is incredibly easy and convenient. We're able to easily get under our bed and furniture with the Animal and have no problem storing it in our tiny NYC apartment closet. 
DJANGO's dog carry bag is designed for you and your pup's daily commute or next weekend adventure. The 20 oz. cotton canvas is waxed, providing a layer of protection from rain, moisture and time. Soft leather handles are engineered for max carrying comfort, and the 230T nylon lining is silky, durable and water-resistant. A soft and sturdy foot pad and bag-to-harness tether ensures your pup's comfort and security. Four exterior and interior zip pockets ensure essentials (poop bags, keys, your passport) don't get lost in the fray.
Mike and I have traveled and adventured with Django throughout the US, Canada and Europe. We have so many incredible photos of our travels and use Fracture to turn our most artistic shots into stunning glass wall art. Fracture allows you to easily upload a favorite photo of your dog. Fracture then prints the image directly onto durable, frameless glass in vivid color. Choose from multiple sizes that can be easily mounted or displayed via stand. For your reference, our above Fracture prints are 11 x 11 inches (left) and 4.8 x 6.4 inches (right).
We've owned Furbo's treat-tossing dog camera. Furbo is essentially a baby monitor for your dog. It allows you to monitor and speak to your dog when you're away with 1080p HD video, 2-way audio, and even night vision. Furbo also allows you to fling treats to your dog remotely. An extra benefit? We leave Furbo on whenever we travel with Django for an extended period of time for home security and peace of mind.
When Home Depot reached out to Mike to test and review their new SmartWash Automatic Carpet Cleaner, we welcomed the opportunity. We were getting ready to move out of our Philadelphia apartment - a one bedroom rental - and the light cream carpet in the bedroom showed clear signs of Django's presence. We ultimately were very impressed with our new Hoover's power, effectiveness, and ease of use. Link below for a full and very detailed product review of our Hoover.
Here is our full product review of Home Depot's SmartWash Advanced Pet Carpet Cleaner.
Petsies creates custom stuffed animals of your pet. And when we say custom... we mean the stuffed animal looks exactly like your pet. After uploading a few clear photos of your pet and completing a quick questionnaire about your pet's breed and distinguishable markings, a team of designers works on and perfects your stuffed animal. They actually use air brushing techniques to ensure your stuffed animal looks exactly like your pet - markings, hair and all. The end result is incredible. Keep in mind that because every Petsies order is custom, it usually takes 1-2 weeks for your order to arrive.
If you're looking for a special gift for a dog loving child or young adult, consider Operation ResCUTE's Story of Jingles. The Story of Jingles is the first book in a series of three. Based on the true story of a real life rescue dog, the book comes with an adorable stuffed animal. The best part? 100% of profits go towards helping shelter dogs get adopted.
We know the family behind Operation ResCUTE and have only wonderful things to say about them. Their cause is honorable and generous. Operation ResCUTE is a non-profit organization intended to educate and encourage the next generation of young readers to think about adopting shelter dogs in need of a loving home.
I've been on the search for more thoughtful presents this year and absolutely fell in love with PrintArtKids. PrintArtKids is a woman-owned and operated small business that transforms your favorite pet and family photos into custom stationary, puzzles and other creative personalized gifts. We ordered Django-themed holiday cards (above left) and a beautiful custom Django-themed puzzle (above left) for our baby boy. Both are incredibly high quality and the puzzle is truly one-of-a-kind. Our puzzle is 30 pieces since Django's baby brother is so little, but you can also select higher count puzzles! The company will also be rolling out 500- and 1000-count puzzles near term! If you're looking for a more thoughtful, innovative, and personalized gift for a dog lover, head over to printartkids.com.
Gifts for Dogs
Django's favorite hobbies including eating, cuddling, and absolutely obliterating new toys. He loves nothing more than taking a perfectly new toy and ripping it to pieces. We stopped paying more for premium "destroy-proof" toys since Django would ruin them in minutes! You can imagine Mike and I were thrilled when Bark rolled out a new Super Chewer monthly subscription box for dogs who play harder and demand more of a challenge with their toys. We most recently received Bark's Thanksgiving-themed box which came with 3 amazing toys (including a Smash Potato, see photo above), two healthy super chews, and two bags of meaty treats. Django was particularly obsessed with his new Smash Potato toy and 100% Salmon Skin Roll chew. The toys are incredibly durable yet still keep Django's attention. They're made of all-natural rubber or nylon and contain zero fluff.
Note that during sign-up, we opted-in to the "Extra Toy Club" to receive three toys in every box instead of two. If you don't opt-in for the extra toy, each monthly subscription box includes 2 tough toys, 2 full-size bags of treats, and 2 meaty chews. Each box is themed around different types of play and senses such as fetch, mentally stimulating puzzles, and scents for nose work.
Help your pup brave the chilly months of the year in this reversible, durable, and uber-comfy cold weather dog coat. The windproof and weather-resistant outer shell provides warmth, insulation, and protection from the elements. The interior lining is made from extremely soft, strong and long-lasting 100% cotton fiber that offers additional comfort and warmth for your adventure dog. Oversized arm holes enable maximum range of motion whether you are walking down a city sidewalk or running up a snowy mountain trail. Use the structured leash portal to incorporate your favorite dog's harness and leash attachment. Velcro closure for easy on and off. Machine washable.
The Farmer's Dog is a subscription dog food company that delivers high quality, nutrition-dense, ready-to-eat frozen dog food meals to your door. All three recipes offered (turkey, beef, and pork) are made in the USA with USDA-certified and human grade meats. High quality animal protein is always the first ingredient, and each recipe is complemented by nutrition-dense legumes, carbs and vegetables such as chickpeas, sweet potatoes, broccoli and carrots. Django is always very excited when we bring out Farmer's Dog at night for dinner. We've been feeding Django this for some time now and highly recommend it.
We recently published an honest review and comprehensive overview of The Farmer's Dog. You can read it here.
Django absolutely loves his Brentwood Home memory foam dog bed. He is actually sleeping on it now as I write! Django has slept on his Brenwood Home dog bed every night since we brought it into our home, and he often walks into our bedroom during the day to nap on it. We're huge fans of the waterproof, removable, and machine washable bed cover. We've washed the cover countless times and it's held up well. It is also non-toxic - a huge plus. This is a wonderful option for your dog if you want a very high quality, comfortable, and long-lasting dog bed.
For your reference, Django is 16 inches long (from neck to base of tail). We own the Runyan Pet Bed in size medium and color mocha which is perfect for Django's long sausage dog body.
The first time Django ate Pet Plate, he actually carried his dinner bowl out of the kitchen and into the living room so he could continue licking it. He had never done that before, and Mike and I took it as a very good sign.
There are a couple things Mike and I really respect about Pet Plate. Most importantly, the quality and nutritional value of Pet Plate ingredients stands out. Pet Plate's chicken, turkey, beef, and lamb are all high quality sources of protein from USDA-registered suppliers. All fruits and vegetables are flash-frozen, preserving higher nutritional value relative to dry dog food recipes. The second factor making Pet Plate a favorite in our household is convenience. Every Pet Plate box comes delivered to your door with pre-packaged frozen meal containers. Mike and I keep all the meals in our freezer until the day before we are ready to serve them to Django.
Upgrade your dog's diet with Open Farm's Freeze Dried Raw meals and toppers. Each recipe are packed with nutrient-rich, whole food ingredients, such as humanely raised meats, organic leafy greens, and organic pumpkin. For an added nutritional benefit, every blend is topped off with superfood ingredients like coconut oil and turmeric.
This is by far one of the most popular dog toys on Amazon and easily one of Django's favorite toys. Each plush 'log' comes with tiny plush squirrels that squeak and hide inside the log. Watch with amusement as your dog rips each plush squirrel out from the log over... and over... and over again. My only complaint about the toy? Django broke the squirrels' squeakers pretty quickly. With that said, he still plays with them regularly. I also just saw you can buy replacement squirrels on Amazon for only $7. Not bad at all.
If your dog refuses to wear boots outside, consider a high quality wax-based paw balm. By far the most popular product for winter adventures and one we personally recommend is Musher's Secret Paw Balm. Musher's Secret is a blend of 100% pure and natural waxes including white and yellow beeswax, carnauba wax, candelilla wax, and vegetable oils. Once a thin layer is applied to your dog's paws, the wax-based cream protects against snow, salt and ice. You can even rub the wax between your dog's pads to help prevent snowballing (a problem we are very familiar with given Django's hairy paws!). The balm also contains Vitamin E to help soothe dry paws during brittle winter months. Tub sizing ranges from 60g (the one in my hand) to 200g, and the reasonable cost of this winter necessity makes it a great stocking stuffing.
If your dog loves tennis balls and/or destroys a tennis ball within 10 minutes of getting it consider treating him or her to this massive bag of very affordable and lasting tennis balls. Before I found this, we were purchasing pro tennis balls (3 to a can) which started getting expensive. Although I wouldn't play tennis with these balls, they are 100% perfect for a pup looking to play fetch. One tip? Store them in a garage bag or other scent-proof container... Otherwise your dog will find them with his nose and whine relentlessly at the closet door until you give him one (we know from experience).
Additional resources
3 Responses
Leave a comment
Comments will be approved before showing up.