Tumble Rugs Review #2 - Washable Rug Review - Read Before Buying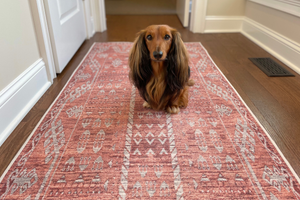 Disclaimer: Some of the links below are affiliate links. This means if you purchase an item, we may receive an affiliate commission at no extra cost to you. We only recommend products we know and love, and all opinions expressed here are our own.
Updated June 2023
Tumble washable rugs review #2!
It's been over six months since we wrote our first review of Tumble rugs. Since then, our Tumble rugs have been through a lot. We have a rambunctious toddler who is almost 4 years old, a 10 month old baby who is learning he can throw spaghetti, and a low-riding long-haired dachshund who tracks in dirt, mud, and debris after every walk. Our Tumble rugs have seen milk and OJ spills, marker and crayon stains, dirt streaks, marinara splotches, endless dog hair...you name it.
We have 7 Tumble area rugs and runners throughout our home. Based on the location, each of our Tumble rug sees different levels of foot traffic, spills, dirt marks, and dog hair. We currently have:
In this DJANGO Dog Blog article, we provide an updated overview and review of Tumble rugs based on our family's personal and extensive experience with the machine washable rugs. If you have any questions about Tumble rugs or our experience, please leave a comment below! We'd love to hear from you.
Tumble Rug Discount Code
Tumble doesn't do discounts often, but you can currently get $20 off your Tumble rug order plus free shipping with this link. This Tumble rug code won't last long, so make sure you take advantage of it sooner than later.
Tumble Rugs Overview and Review - Read Before Buying
Tumble rugs are machine washable, spill-proof and stain-resistant area rugs designed for modern homes and family-friendly environments. Made from 100% polyester, the rugs are also non-toxic and hypoallergenic.
Non-Toxic and Hypoallergenic Rugs and Runners
The non-toxic and hypoallergenic attributes are especially important to Mike and I since we have a toddler, a baby, and a dog. Our toddler regularly drops and eats food off of our kitchen area rugs, our baby boy is currently crawling and teething—think chubby baby hands touching everything on the floor and then immediately going inside his mouth, and our dachshund Django is always licking crumbs dropped from the dinner table.
Confirmed: Tumble rugs are 100% spill-proof and stain-resistant
Spill-proof and stain-resistant, too? YES and YES.
Admittedly, I was very skeptical of these two claims when we first received our Tumble rugs back in early 2022. I was even more skeptical of the stain-resistant claim when our toddler mashed one of his thick indigo blue crayons (not the washable Crayola kind) into our 6x9 Tumble kitchen area rug. When I first gently rubbed at the dark stain with a damp washcloth, nothing happened. I immediately panicked inside, thinking "How is this stain-resistant!?". I then rubbed at the stain harder and more aggressively. In 20-30 seconds, the dark and deep stain completely disappeared from the rug, and there was not a trace of crayon left in sight! The rug also appears in perfect condition despite my aggressive rubbing. Somehow none of the beautiful color or pattern where I rubbed was affected.
As for the spill-proof claim, I am happy to report that Tumble rugs easily wipe clean whenever liquid spills on them. Additionally, we haven't experienced any staining or discoloration on our Tumble rugs from the frequent spills in our home.
For small spills and water spills, I simply take a dry paper towel and blot the rug. For larger, non-water spills—like when our 4-year old dropped a full glass of milk on the rug a few weeks ago—I usually blot the spill thoroughly and then throw the rug into our washing machine to ensure there is no lingering odor.
Best Machine Washable Rugs
Machine washable? Yes. All Tumble rugs can be machine washed and dried as needed. Even the largest 8 x 10' Tumble rug fits nicely in our standard washing machine.
For full disclosure, we avoid washing our Tumble rugs in the washing machine unless it is truly necessary. Almost all of our dirt marks, stains, and spills have been easily wiped up by hand. Tumble also states on its website that the "spill-proof effect will begin to diminish after washing" and should be considered a "first line of defense".
Our high-traffic runners in our kitchen have been washed the most (3-4 times each in the past year), and I haven't yet noticed a diminishing of the spill-proof coating. Rather, the rugs still wipe up really nicely when something like pasta sauce or salad dressing spill on them.
Since I'm not sure how many machine washes will render the spill-proof coating ineffective—and in order to extend the lifespan of each Tumble rug we own—I limit machine washing our rugs unless truly necessary.
How to wash Tumble rugs
It is incredibly easy to wash Tumble rugs. First, place your rug in your washing machine with the dirty side of the rug facing out. This is especially important for larger area rugs which may not turn as easily in the washing machine. Next, wash your Tumble rug using a delicate cycle, cold water, and standard non-bleach laundry detergent. Finally, hang dry your rug or tumble dry it low using low heat.
I always hang dry our Tumble runners since we have space in our laundry room to do so. I tumble dry our larger area rugs since we have no drying rack that can support such a large rug. Both drying methods have worked beautifully for all of our Tumble rugs.
"Can you vacuum a Tumble rug?"
Yes. We regularly vacuum all of our Tumble rugs. We typically vacuum our high-traffic kitchen Tumble rugs every other day (sometimes daily) given the endless crumbs that find their way on the floor after our toddler and baby eat. When I'm not in the mood to vacuum, I'll take our Tumble runners outside the back kitchen door and simply shake them off from the deck.
Tumble says that it is best to avoid vacuuming the woven edges of the rug. Frankly, I haven't followed this instruction and vacuum our entire rug surface areas frequently. I do see that some of the edge stitching on our rugs appear slightly worn from my vacuuming, so I'd recommend to readers to take Tumble at their word and not vacuum the edge stitching .
As a reference, we have this Dyson Torque Drive Cordless Vacuum Cleaner and find that the medium-suction setting works most efficiently at removing all crumbs and debris off of the rugs. The highest-suction setting sometimes pulls on the rugs too aggressively, and the lowest-suction setting sometimes fails to remove all crumbs as effectively.
Tumble Rug Styles and Sizes
Tumble currently offers 6 different rug sizes including 3x5', 5x7', 6x9', 8x10', 2.5x7' (runner), and 2.5x10' (runner).
Tumble offers a wide assortment of rug patterns and colors to fit just about every interior space. You can find modern geometric patterns, bohemian designs, and more traditional Persian motifs.
Our kitchen has lots of ivory, tan, and brown tones with red accent pieces and appliances, so we went with the Hali pattern in Coral/Khaki in this room. It works beautifully in our kitchen setting and adds a beautiful pop of color.
We selected the neutral and southwest-inspired Canyon rug in color Oatmeal/Grey to go under our dining room table. Unlike the other rooms of our new home which have this light, bright, and very neutral Benjamin Moore 'Olympic Mountains' paint color on the walls, our upper dining room walls (above the wainscoting) are painted 'Wild Flower', Benjamin Moore's beautiful and dusty shade of red with hints of pink and orange. Since the room had a pop of color already, we wanted a very neutral and muted area rug that wouldn't take away from the rich wall color.
"Do I need to purchase a rug pad for my Tumble rug?"
Nope. Every Tumble rug comes with its own 1⁄4 inch thick cushioned rug pad. You do not have to pay extra for the rug pad.
Tumble's rug pad design is quite creative. Rather than coming as one huge and difficult-to-manage unit, the rug pad comes in separate jigsaw-style pieces. To set up the rug pad, you simply line up all pieces, interlock the edges by pressing them into place, and position the pad in your room. It is incredibly easy. If you have no idea what I mean by "jigsaw-style" pieces, the below photo should explain what I mean.
Where are Tumble rugs made?
Tumble rugs are designed in the United States and manufactured in China. 
This information isn't readily available on the Tumble website, so we emailed the Tumble support team directly to verify this information. Here is the reply we received:
"While our design team is based in the US, we have partnered with a leading rug manufacturer in China for the production of Tumble rugs and rug pads. Our collaboration with our overseas partner allows us to fulfill our mission of providing high-quality machine-washable rugs at affordable prices. We have been fortunate to work with a manufacturer who shares our commitment to craftsmanship and attention to detail."
Any downsides to Tumble rugs?
As mentioned in our first Tumble rugs review, Tumble rugs are not thick and plush. Even with the 1⁄4 inch thick rug pad, they are still rather thin. Tumble rugs are excellent for high traffic rooms, entryways, and hallways. They are perfect for pets, kids, kitchens, and mud rooms. If you are looking for a high-pile and plush rug that you can cozy-up on in front of the TV, however, these rugs are not for you.
For full disclosure, we originally had our 8x10 Tumble area rug (Canyon - Oatmeal/Gray) in our family room. After several months, we moved this rug to our dining room. The neutral area rug is now a beautiful and functional accent rug under our large dining room table.
Although our Canyon Tumble rug looked beautiful in our family room and held up really nicely over time, we ultimately decided to get a much more plush area rug for the space. Mike and I are constantly playing on the floor with our dog and boys. What's more, our 10 month old is now pulling himself up to a standing position, rolling around, and tumbling over all the time. For all of these reasons, we decided to switch to a much more plush area rug that would not only provide max comfort but also offer ample protection for our baby boy when he inevitably topples over.
In case you're wondering, we opted for SAFEVIEH's Hudson Shag area rug in our family room in color Ivory/Grey. The 2-inch pile rug is plush, modern, neutral, beautiful, and it holds up and vacuums incredibly well! Highly recommend for anyone who wants a superior quality, plush, and reasonably priced shag rug. We ordered the rug from Amazon.com and it was delivered quickly and in perfect condition.
Final thoughts
If you are looking for attractive and washable rugs that can withstand spills, pet hair, food, and drink, Tumble rugs are the best option out there. Our 7 Tumble area rugs and runners have held up incredibly well and repelled countless messes and stains over time. They clean easily, machine wash easily, and are truly beautiful in person.
Tumble Rug Promo Code & Discount
Tumble doesn't do discounts often, but you can currently get $20 off your Tumble rug order plus free shipping with this Tumble rug discount link. This Tumble rug promo won't last long, so make sure you take advantage of it sooner than later. Happy shopping!
KEY TUMBLE LINKS & TUMBLE RUGS DISCOUNT
ADDITIONAL RESOURCES
4 Responses
Leave a comment
Comments will be approved before showing up.