Paw.com Review: Best Orthopedic Dog Bed and Waterproof Dog Blanket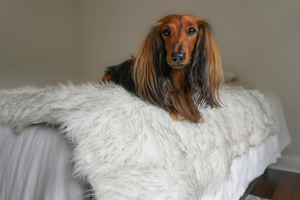 Disclaimer: This article is sponsored by Paw.com. Some of the links below are affiliate links. This means if you purchase an item, we may receive an affiliate commission at no extra cost to you. We only recommend products we know and love, and all opinions expressed here are our own.
In January of this year, our adorable sausage dog Django had back surgery for Intervertebral Disc Disease (IVDD).  Four weeks after Django's surgery, Mike and I (Steph) moved into a new home with hardwood floors everywhere. Although Django has fortunately been recovering nicely after his surgery, his back legs are still wobbly at times, and he tends to slip on smooth surfaces—especially hardwood! Since moving, our goal has been to find top-quality pet products that not only help Django be comfortable in the home but also protect our new floors and furniture. We want to have many areas in our house where Django can safely play, walk, sleep, and relax.
In addition to looking for a new orthopedic dog bed for Django, I began searching for high quality and nice looking pet blankets for the couch and bed. Although we don't let Django sit alone on furniture—we'd never want him to jump off and re-injure his back—we often let Django cozy up next to us on the sofa or bed when we're relaxing together. In my search, I soon discovered Paw.com and the high quality pet products they offer.
Paw.com offers modern orthopedic dog beds and matching faux fur waterproof pet blankets, among other original designs. After reading reviews from passionate Paw.com customers, I ordered the PupRug Bundle for Django which includes both Paw.com's memory foam pet bed and faux fur blanket. Django has been obsessed with his bed and blanket ever since we opened our Paw.com boxes!
The following is an honest review and in-depth overview of Paw.com's PupRug Faux Fur Orthopedic Dog Bed and PupProtector Waterproof Blanket based on our experience with both. If you have any questions about our Paw.com experience or want to share a story of your own, please leave us a comment below!
PAW.COM COUPON CODE & DISCOUNT LINK
For a limited time only, DJANGO Dog Blog readers can take 15% off Paw.com's luxury waterproof pet blankets and memory foam orthopedic dog beds with the coupon code DJANGO15.

WHAT ARE ORTHOPEDIC DOG BEDS?
Orthopedic dog beds are pet beds designed to cushion your dog's bones, joints, ad muscles. What do orthopedic dog beds do? They provide both support, comfort, and proper weight distribution when your dog is relaxing, and they typically have a medium-firm feel to them. Any puppy and adult dog can enjoy and benefit from an orthopedic pet bed.
Because of their high level of support, orthopedic dog beds are often recommended to senior dogs, pups recovering from surgery, and dogs with arthritis or hip dysplasia. Dogs that are healthy today but prone to arthritis or hip dysplasia later in life can also greatly benefit from supportive memory foam pet beds.
Orthopedic dog beds can be made out of many materials, but the main material typically used in their construction is polyurethane foam. The material, also known as slow spring back foam, softens when it touches your dog's body and instantly molds to his unique curves. When your dog jumps off the bed, the polyurethane foam springs back to its original shape.
"Are orthopedic dog beds worth it?"
All puppies and adult dogs can benefit from memory foam beds. Our little guy Django has been sleeping on an orthopedic pet bed since he was a puppy! We've tried all dog beds over the years: cheap ones from big box stores that tend to rip at the seams after a week, mid-quality pet beds that are washable but not super durable, and high quality orthopedic pet beds like Paw.com's one that include machine washable zipper covers and are made to last. Django's favorite pet beds have always been his higher quality memory foam ones.
If your dog has or will be prone to arthritis and/or canine hip dysplasia with age, now is the time to invest in a high quality orthopedic dog bed. Dog breeds including English bulldogs, Labrador retrievers, and pugs are all prone to canine hip dysplasia. Orthopedic dog beds benefit these pups by increasing blood flow over the dog's lifetime and dramatically decreasing pressure points that cause dogs discomfort and pain.
Thin breeds like Chihuahua and Whippets with little-to-no natural padding also do wonderfully in orthopedic pet beds. The memory foam provides ample cushion for these more slender dogs and maximizes comfort during sleep, rest, and play.
THE BEST ORTHOPEDIC DOG BED
Django has been obsessed with his Paw dog bed since day 1. As you can see from our photos, we ordered the "curve"-shaped PupRug Faux Fur Orthopedic Dog Bed in neutral and modern color "white with brown accents". Django is 13.5 lbs and 16 inches in back length (neck to base of tail), so we ordered the small/medium bed. If you're not sure how to measure your dog, here is a great resource for you.
Django's Paw bed has multiple components that easily make it the most comfortable, unique, and attractive pet bed we've owned. The most obvious of these is the ultra-soft faux fur bed cover. Django loves curling up in the cozy and cloud-like faux fur layer. He's always been attracted to faux fur blankets and pillows, so it's no wonder his Paw bed has quickly become his favorite place to play, sleep, and relax.
Another great perk about the faux fur exterior? This bed cover is both removable and machine washable. As soon as it needs a wash, Mike or I simply throw it in the washing machine (cold water, delicate cycle) and then hang it to dry.
Django's PupRug Faux Fur Orthopedic Dog Bed also features a durable memory foam mattress, a protective and waterproof mattress cover which keeps the memory foam perfectly clean and stain-free, and a non-skid rubber bottom. Paw's 2-inch foam is guaranteed to not flatten for 10 years.
"WHAT SIZE PAW BED SHOULD I ORDER?"
If you want your dog to enjoy his Paw.com orthopedic bed, he needs to be able to stretch out completely. You also want your dog to have ample room to roll around and play with a toy or two. To ensure you select the correct Paw bed size, measure your dog from the tip of his nose to the base of his tail. Every dog has a unique body shape, so dog weight isn't always the most accurate measurement.
Paw's luxe PupRug Faux Fur Orthopedic Dog Bed comes in 3 sizes (i.e., small/medium, large/extra-large, or giant), 2 styles (i.e.,wavy and square), and 10 contemporary colors. For sizing reference, Django is 13.5 lbs and 16 inches in back length (neck to base of tail). We have the small/medium bed and it fits Django perfectly. Django has more than enough room to fully stretch out when napping or boisterously playing with his toys.

OUR FAVORITE FAUX FUR DOG BLANKET FOR THE COUCH AND BED
We got Django Paw's PupRug Bundle which includes the PupRug Faux Fur Orthopedic Dog Bed and matching PupProtector Waterproof Blanket. Similar to Django's orthopedic pet bed, his PupProtector Waterproof Blanket is incredibly soft, cozy, and lush. It has ultra-soft microsuede on one side and plush faux fur on the other. The microsuede side breathes like cotton; it is cool and dry during the summer but warm and toasty during the winter.
And yes, the Paw pet blanket is waterproof! Although Django is housebroken, accidents still happen on occasion. In addition to protecting our couches, chairs, and bed from dog hair and dirty paws, our Paw blanket also protects against spills and the inevitable pee accident.
Funny enough, Mike and I own a way-too-expensive faux fur human blanket that Django has always been obsessed with. Even though Django always tries to snuggle in it, we've always limited his use since the blanket is pricey and not machine washable. With our PupProtector Waterproof Blanket, Django now has his own glam, pet-friendly, and machine washable faux fur blanket.
STYLES AND SIZES OF PAW'S WATERPROOF PET BLANKET
The PupProtector Waterproof Blanket comes in two sizes: original (50" L X 60" W) and large (80" L X 62" W). We own the original size, and it provides more than enough coverage for our furniture and room for Django to play. This patent-pending throw is also available in 17 fashionable colors and prints like short fur gray plaid.

BUNDLE AND SAVE
When you order the PupRug Bundle like we did, you will save 15% on an orthopedic dog bed and a matching waterproof blanket. Get an extra 15% off Paw's PupRug Bundle + free shipping with Paw.com discount code DJANGO15 at checkout.
ANY CONS WITH PAW'S FAUX FUR DOG BED AND/OR WATERPROOF BLANKET?
Paw.com's orthopedic and faux fur dog beds are more expensive than standard pillow beds. Similarly, the PupProtector Waterproof Blanket is pricier than other thin pet blankets you can find anywhere. But you get what you pay for.
Standard pillow beds are filled with cotton, foam pellets, polyester, or cedar chips. As the inexpensive stuffing separates or clumps over time, your pup sinks into the floor. Additionally, most of these lower quality pet beds need to be replaced every year. Their seams rip open, they don't hold up to rough play, or they are not able to be washed.
ONE LAST THOUGHT...
If you are looking for a well-made, supportive and incredibly comfy orthopedic pet bed that your dog will love, we highly recommend Paw.com's PupRug Faux Fur Orthopedic Dog Bed. Similarly, if you want to invest in a modern pet blanket that is not only comfy but also waterproof, you cannot go wrong with Paw's PupProtector Waterproof Blanket. Both items are Django's favorite places to sleep, relax, play, and cuddle. They also feel and look luxurious and blend effortlessly into our modern home decor. In our experience, they are 100% worth the investment. 
PAW.COM COUPON CODE & DISCOUNT LINK
Take 15% off Paw's patent-pending memory foam pet beds and waterproof blankets with promo code DJANGO15 at checkout. This Paw.com promo code won't last long, so make sure you take advantage of it sooner than later.
Additional Resources
2 Responses
Leave a comment
Comments will be approved before showing up.