Muddy Trails and Sandy Paws: The Story Behind DJANGO's Adventure Dog Harness and Leash Collection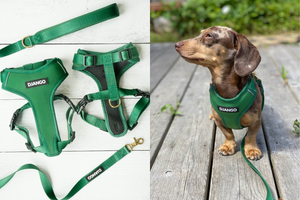 In mid 2016, Mike and I (Steph) packed up our small New York City apartment, put almost everything we owned into storage, and flew to the Pacific Northwest with two suitcases and our dachshund Django. We rented a small furnished apartment in downtown Portland and bought a pre-owned Maggiolina Airlander car roof tent for camping trips. On weeknights after work, we'd drive east into the Columbia River Gorge and explore endless trails and waterfalls. On weekends, we would drive south and explore Central Oregon. Days were spent hiking dog-friendly trails and exploring out-of-this-world attractions - think hot springs, lava fields, and more waterfalls. Evenings were spent sleeping as a family of three in our surprisingly comfortable Maggiolina Airlander car roof tent.
Mike and I were both working remotely at this time and fully location independent. So when it started to rain in Portland in mid-October and didn't stop for 3 consecutive weeks, we decided to pack up and drive south to warmer weather. 17 hours and 1100 miles later, we concluded our road trip in one of San Diego's most beautiful beachside communities, La Jolla.
For the next 6 months, Mike, Django and I lived in a quaint beachside rental 500 feet from Windansea. Windansea is a breathtakingly beautiful beach with a steep, rocky shoreline and rough surf. During evenings at low tide, we'd run down our street with Django to the water's edge and let him run free while we took in the most epic sunsets.
The Idea.
DJANGO dog gear company officially launched in late 2016, and we've done a ton in those three short years. In the midst of our Pacific Northwest adventures, we launched a trail-friendly winter dog coat that has since gone on to be an Amazon best seller. After moving back from the west coast to NYC, we designed and launched our stylish, functional, and widely acclaimed waxed canvas and leather dog carrier bags. We were thrilled to see our pet totes featured across the media spectrum and ranked the #1 best overall dog carrier bag by Business Insider.
The first sketches of our Adventure Dog Harness and Leash designs were officially drawn up in early 2019, but we had been discussing these new designs for months beforehand. Our overall goal was to engineer high quality, durable, and comfortable dog harnesses and leashes that would withstand rugged terrain and the elements (water, mud, sand, snow, dirt, etc.) while also upholding DJANGO's modern and stylish aesthetic. How could we design a dog harnesses and leads that were equally adventure-friendly and stylish? It all starts with the materials.
The Materials.
When designing new products, we never consider skimping on material quality to save a few dollars. Quality, durability, and longevity of DJANGO designs is one of our leading principles, and we will never take the low-cost-low-quality approach of fast fashion brands. We want you to tell us 5 or 10 years from now that your dog still wears his original Reversible Puffer Dog Coat! We upheld this core principle when designing our Adventure Dog Harness and Leash sets. 
Selecting the main material of our dog harnesses and leash handles was actually an easy decision. We needed a material with immense physical strength that was also lightweight, pliable, and comfortable... a fabric that would repel water, mud, snow, and dirt... and hold up after endless adventures and aggressive play... and be incredibly easy to clean. The answer? Neoprene.
Neoprene, the material that wetsuits are made of, is the most commercially successful synthetic rubber on the market. It is known for its soft, cushioning texture and water-, dirt-, and stain-repellent capabilities. Neoprene is incredibly lightweight and flexible. It is also elastic. This means that after hundreds of walks or hikes or swims with your pup, your four-legged family's DJANGO dog harness will not stretch out but maintain its original shape and performance capabilities.
Neoprene is also an incredibly strong and abrasion-resistant fabric. Picture surfers' wetsuits scratching across surfboards for hours at a time and never showing a mark of chafing, deterioration, or weakness.
What does all of this mean for us? Neoprene was clearly the perfect material to proceed with when designing our Adventure Dog Harnesses and Leashes.
We also selected solid cast brass hardware for our collection. Each DJANGO dog harness features a beautiful, marine-grade brass D-ring. Every DJANGO dog leash features a solid brass swivel snap hook and functional D-ring at the base of the handle.
Why solid cast brass? Solid brass is incredibly strong, durable, and resistant to salt water, rust and corrosion; it is used widely in boat and marine construction for these reasons. Solid brass also gives our Adventure Dog Harness and Leash sets a modern and sophisticated style that cannot not be replicated with lower cost metals and alloys used widely by big-box pet retailers.
Since our goal was to design high quality, durable, and contemporary dog harnesses suitable for every wet and muddy adventure, solid cast brass was always the clear choice as we debated and tested high quality hardware.
The Design.
When designing the shape and function of our new harnesses and leashes, we prioritized comfort, fit, and ease of use. 
DJANGO's Adventure Dog Harness has a super sleek, slender, and deep body. This shape not only minimizes harness weight but also prevents any risk of chafing around your dog's arms and armpits (no matter how long or aggressive your outing). The harness body is also lightly padded to ensure comfort if and when your dog decides to pull. With our dachshund Django, pulling is sometimes inevitable!
The dog harness features four points of adjustment. The neck and chest straps both have two adjustment pieces that allow for easy resizing and a custom fit for your dog.
Two heavy-duty side-release buckles on the chest strap allow for easy on and off. The dual buckles also make this harness a fantastic option for dogs with arthritis since there is no need to lift a leg and/or step into the harness.
Introducing... (drumroll please)... DJANGO's Adventure Dog Harness and Leash Collection
We are thrilled to bring you the newest line of DJANGO dog gear, our Adventure Dog Harness and Leash Collection. We truly hope you and your dog love your new harnesses and leashes and enjoy endless outings and adventures in your new gear.
As always, please share any photos you take of your dog in his or her Adventure Dog Harness or Leash by tagging @djangobrand on Instagram or emailing us photos directly (hello@djangobrand.com). We LOVE hearing from you, seeing your photos, following your adventures, and sharing your epic pics with our dog-loving community.
1 Response
Leave a comment
Comments will be approved before showing up.