How Much Does Professional Teeth Cleaning for Dogs Cost?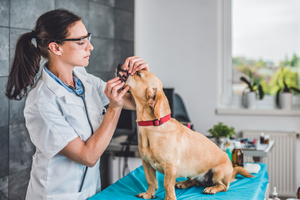 Dogs, just like humans, need professional teeth cleanings. While ongoing at-home canine tooth care is important, having a veterinarian professionally clean your pup's teeth once every year or two is very important to support your dog's dental  health and overall wellbeing.
Without professional cleanings, your dog may experience bad breath, inflamed gums, periodontal (gum) disease, and tooth loss. Over time, periodontal disease can cause chronic pain, receding gums, bone loss, and even heart diseases like endocarditis, a potentially fatal bacterial or fungal infection of the heart's chambers and valves.
In this DJANGO Dog Blog article, we explain what actually happens during doggy teeth cleanings, we discuss the average cost of professional canine dental care, and we review what dog owners can do at home to promote their dog's dental health.
WHAT HAPPENS DURING PROFESSIONAL TEETH CLEANINGS FOR DOGS?
Preliminary Dental Exam
In order to have their teeth examined and cleaned thoroughly, dogs must be put under anesthesia. Before this happens, however, your vet will complete a preliminary dental exam with you in the room. During this exam, the vet is looking for canine dental problems including:
Bite misalignment

Broken, chipped, or cracked teeth

Extra baby or adult teeth 

Bad breath (canine gingivitis) 

Plaque or tartar buildup

Bleeding or swollen gums

Yellow- or brown-colored teeth

Blood or stringy saliva 
During the preliminary exam, tell your vet if your dog has been eating less (which might be a sign he has gum disease), excessively drooling, chewing abnormally, or dropping food from his mouth.
Now is also a good chance to ask your vet any other questions you might have related to anesthesia, your dog's dental heath, and/or the teeth cleaning process in general.
Mandatory Pre-Op Lab Work
After the preliminary exam, your vet will order pre-op lab work to confirm that your dog is able to go under anesthesia. Assuming your dog is in good health, you will then be able to schedule and proceed with your dog's teeth cleaning.
Teeth Cleaning and Exam
Your dog will be under anesthesia throughout the entire teeth cleaning and exam. During this time, the veterinarian will take x-rays of your dog's mouth and probe each tooth to measure the depth of its pocket. The veterinarian will also perform a complete oral exam (tooth-by-tooth) and charting. He will use hand and ultrasonic scalers to remove tartar and plaque from your dog's teeth and under his gum line. Then the vet will polish your dog's teeth to fill in any microscopic scratches. Finally, he will apply fluoride and a dental sealant to stop tooth decay.
HOW LONG ARE DOGS UNDER ANESTHESIA FOR A PROFESSIONAL TEETH CLEANING?
According to Cherry Hill Animal Hospital, a reputable animal hospital in New Jersey, dogs are typically under anesthesia for 1 to 1.5 hours. This time estimate assumes that there are no teeth extractions during the cleaning and exam process.
If a dog ultimately needs one or more teeth extracted, he may need to be under anesthesia for as long as 2-4 hours. Total time under anesthesia will largely depend on the size of the dog and how many teeth ultimately need extraction.
DOG TEETH CLEANING COSTS
Estimated cost for dog teeth cleaning and exam
Professional teeth cleaning for dogs can range anywhere from $250-$750 when performed by a general practitioner veterinarian. This estimated cost range is for the anesthesia and actual cleaning and exam while your dog is under. Pricing will vary based on geographic location, the size of your dog (cleanings for larger dogs take more time and thus are typically more expensive), and even the reputation of the veterinarian who performs the service.
As a pricing reference, professional canine teeth cleanings in New Jersey (where we live) average $500, assuming no tooth extractions. This $500 does not include a few additional expenses relative to the cleaning process (more on this in the next section).
For dogs that need teeth extracted while the dog is under anesthesia for the cleaning and exam, pricing starts around $1,000 and goes up from there. To be clear, this amount covers the cleaning and exam as well as the tooth extractions.
Additional costs to be aware of
In addition to your dog's teeth cleaning and exam, there will be a few more expenses associated with your pup's dental care. Veterinarians will charge for:
Initial consultation / preliminary dental exam: $50-100

Pre-op lab work that determines your pup can handle anesthesia: $100-250

Any necessary tooth extractions while your dog is under anesthesia: $300-500+.
All of these estimated costs are in addition to the cleaning/exam cost we listed above ($500 on average where we live in New Jersey). Any aftercare medications, root canals, and advanced imaging will also increase the price further.
Finally, know that dog owners can pay as much as $4,000 for professional dog teeth cleanings if they go to a board-certified veterinary dentist (DAVDC) at a high-end facility. Board-certified veterinary dentists are trained in anesthesia, pain management, and reading computerized tomography scans (CTs) and x-rays.
DOES PET INSURANCE COVER DOG TEETH CLEANINGS? 
Standard pet insurance typically does not cover professional teeth cleanings for dogs. But some pet insurance companies like Embrace Pet Insurance offer wellness add-ons that cover up to $1,000 in dental care each year.
If you have a senior dog or a dog with poor dental health, it may make sense to find a pet insurance program that offers canine dental care options.
WHAT CAN I DO AT HOME TO PROMOTE MY DOG'S DENTAL HEALTH?
While professional dog teeth cleanings are crucial, there are a lot of things dog owners can do at home to promote their pup's dental health. Here are 4 easy ways to keep your dog's chompers clean at home. 
1. USE A DOG TOOTHBRUSH
Brush your dog's teeth daily, or as frequently as you can. Use a traditional pet-friendly toothbrush or a toothbrush that slips over your finger (example in the video below). Since human toothpaste may include ingredients like xylitol that are not safe for dogs, purchase a high quality dog toothpaste such as Arm & Hammer's Tartar Control Enzymatic Toothpaste for Dogs. Canine toothpaste usually comes in drool-worthy flavors like beef, chicken, and peanut butter.
If your pup violently squirms away from dog toothbrushes and wipes, use our effective bully stick method. It's a great trick for dogs that hate teeth brushing. Watch this YouTube video to learn more.
2. SPRING FOR DOG DENTAL CHEWS
Dog dental chews are delicious dog treats designed to scrape plaque and tartar off your pup's teeth. Many all-natural dog dental treats also contain enzymes that break down food particles and repair tooth minerals.
Mike and I (Steph) highly recommend the BARK Bright Dental Kit. It comes with a 30-day supply of triple-enzymatic toothpaste and chicken-flavored dental sticks. After you squeeze BARK's triple enzymatic toothpaste into the dental chew's deep groove, your dog does all the dirty work. Here is our full product review of the BARK Bright Dental System.
Other dog owners swear by Greenies Dental Treats for Dogs. These oral health dog treats have a unique texture that helps to clean dogs' teeth down to the gum line and ultimately fight plaque and tartar and freshen bad dog breath.
While none of these dog dental chews are magic solutions to dental problems and bad breath (and should not replace professional dog teeth cleanings), they are a cheap and easy way to promote doggy dental health on a small scale and from the comfort of your own home.
3. ADD DOG MOUTHWASH TO YOUR PUP'S WATER
Simply add a dog mouthwash, such as TropiClean Fresh Breath Original Dog Dental Water Additive, to your dog's water bowl. The tasteless and odorless formula fights plaque and tartar formation. It also provides fresher breath in 14 days or less.
4. TRY DOG DENTAL WIPES
You can also try disposable dog dental wipes, such as Vet's Best Dental Care Finger Wipes. While they cannot squeeze into the same nooks and crannies a dog toothbrush does, dog dental wipes are often easier to use.
FINAL THOUGHTS - IS IT WORTH GETTING YOUR DOG'S TEETH CLEANED?
Yes. Professional teeth cleaning does not just keep your dog's bad breath at bay. It also helps fight gum disease that can cause abscesses, inflamed gums, infections, pain, and tooth loss.
In the long term, poor oral health can even affect your dog's heart, liver, and kidneys. Not only would serious health problems arising from poor dental care be devastating to you and your four-legged family, they would also be extremely costly to address.
Are professional dog teeth cleanings cheap? No. But they can potentially save you thousands of dollars in future doggy medical bills in the future while also promoting your dog's long-term health—the most important thing! Ask your vet about professional teeth cleaning for your pup at your next visit.
If you have any questions or comments, please feel free to leave a comment below! 
EXTRA RESOURCES 
Leave a comment
Comments will be approved before showing up.