How to Find the Best Walking Harness for Your French Bulldog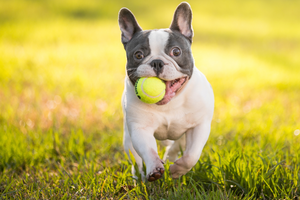 Frenchies are bright, playful, and adaptable, so it is not surprising they are America's second favorite dog breed.
Despite the breed's popularity, it is hard to find a dog harness that fits the French bulldog's unique shape. With a barrel chest, square-shaped head, large bat ears, and a flat face, many dog harnesses are too tight around the neck or chest. Others are too loose and allow your Frenchie to slip free.
In this DJANGO Dog Blog article, we discuss how much exercise your French bulldog needs. We also examine what features to look for when buying a harness for your Frenchie.  
Adorable French bulldog Vinnie of @daphneandvinnie above is adventuring in his DJANGO Tahoe No Pull Dog Harness in color Dark Teal Green. 
HOW MUCH EXERCISE DOES A FRENCH BULLDOG NEED?
How long you should exercise your French bulldog depends on age and activity level. Short walks and daily outdoor play are typically all Frenchies need to stay in shape.
"Frenchies should be allowed to decide their own activity. They should not be forced to walk for any longer than they want," says Dr. Paula Simons, a veterinary consultant at K9 of Mine. "A 10-20 minute walk is typically fine."
Temperature and humidity are also very important factors to consider before exercising your French bulldog. All brachycephalic dog breeds are sensitive to  humid weather and midday heat. They can have difficulty breathing in very hot and humid environments. With this in mind, keep your Frenchie inside when temperatures rise above 80°F. Walk your French bulldog at sunrise or in the cooler evenings. The best outdoor temperatures for French bulldogs are in the 50s and 60s.
"French bulldogs should never exercise on warm or hot days outdoors, especially when it is humid. Even short walks can be lethal," says Dr. Simons. Dogs who live in colder climates can exercise more freely. 
FINDING THE BEST DOG WALKING HARNESS FOR YOUR FRENCH BULLDOG 
French bulldogs have flat faces, narrow nostrils, and an extra long soft palate that blocks part of their windpipe. "For this reason, harnesses are always a better option for bulldog breeds," Dr. Simons says. While Frenchies can indeed wear a comfortable dog collar with an ID tag, harnesses put less pressure on their back and airway and are the best choice for leash attachment. 
To find the best French bulldog harness, look for comfortable yet durable materials that are easy to clean. The fabric should never stretch out during use or over time. "Some of these materials include polypropylene webbing, which is less likely to wear out than nylon, and polyester webbing, which is strong enough for larger dogs," says Dr. Melissa M. Brock, a board-certified veterinarian. 
DJANGO dog harnesses are made with premium neoprene, the water-slicking and lightweight fabric used to make wet suits, and have a soft and breathable polyester sports mesh lining. The chest and neck straps are made with a super soft custom poly webbing that sits gently and comfortably against the dog's body.
Harness weight is also an important factor. "French bulldogs should wear lightweight dog harnesses and clothing in the summer months. This material should be breathable and potentially have cooling properties," Dr. Simons says. "You can use lightweight hoodies during the winter to provide warmth without overheating." 
Additional considerations when buying a harness for your Frenchie
Preventing Skin Fold Pyoderma
French bulldogs are prone to skin fold pyoderma. When moisture or bacteria gets trapped in their folds, it causes redness, hair loss, and puss-filled pimples. To prevent this, look for a breathable dog harness and one designed to withstand water play, snow days, and rainy weather. The harness should not absorb water but repel it and quickly dry in wet conditions, like this neoprene dog harness by DJANGO. 
Look for a harness designed to prevent uncomfortable rubbing
"Harnesses can also irritate regions where they rub," Dr. Simons says. All DJANGO dog harnesses have a narrow, deep harness body. This unique design was intentional and prevents the risk of rubbing or chafing under the front legs.
Frenchies with joint problems and arthritis
If your Frenchie is a senior dog and suffers from joint problems like arthritis, look for an adjustable dog harness that can be put on and off without needing to lift your dog's paws. DJANGO dog harnesses feature quick release buckles on each side of the chest strap, so you never need to lift your dog's front legs. The design also allows for easy on and off.
For Frenchies that pull during walks
Does your Frenchie have a tendency to pull when excited? If yes, consider a no pull harness. These harnesses feature a front D-ring for leash attachment. Using the front D-ring will deter pulling. How so? Every time your Frenchie pulls like a sled dog, with his front clip in use, his body will turn to the side—not the desired outcome! Over time, your pup will be conditioned to stop pulling since he is no longer getting the desired outcome from pulling.
Beautiful French bulldog Daphne below is wearing her DJANGO Tahoe No Pull Dog Harness in color Raspberry Purple. DJANGO's Tahoe dog harness features both front and back D-rings for leash attachment and pairs perfectly with the Tahoe Waterproof Dog Leash.
WHERE CAN I GET DJANGO HARNESSES FOR MY FRENCH BULLDOG?
Shop DJANGO harnesses at djangobrand.com.
DJANGO is a small, family-owned business founded in the Pacific Northwest and grown in New York City and New Jersey. We design high quality outdoor gear for small and medium sized adventure dogs and their humans. Our mission is to inspire you and your Frenchie to enjoy the great outdoors together more often.
You can also find DJANGO dog harnesses on Amazon and at various pet boutiques throughout the United States, Canada, the European Union, and the United Kingdom. Ask your local retailers if they carry DJANGO dog harnesses.
Double cuteness! Frenchies Peaches and Plum of @sweetpeachnplum are wearing their DJANGO Adventure Dog Harnesses in colors Indigo Blue and Quartz Pink. Both Frenchies are wearing a size medium dog harness.
YOU MIGHT ALSO BE INTERESTED IN
Leave a comment
Comments will be approved before showing up.