How to Find the Best Walking Harness for Your Senior Dog with Arthritis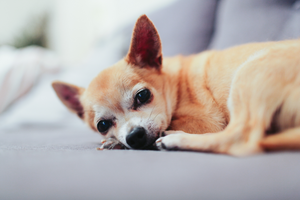 Updated May 2023
Finding the best harness can help your arthritic dog cope with pain and mobility issues. It can also help your aging canine companion enjoy his golden years by allowing comfortable movement and exercise. With that in mind, we explore what features to consider when buying a harness for your arthritic pup. We also discuss exercise routines for senior dogs with arthritis—whether staying mobile is good for them (it is!) and how much exercise and walking arthritic dogs need each day.
FINDING THE BEST DOG HARNESS FOR YOUR ARTHRITIC DOG
With a high quality, proper-fitting, comfortable, and lightweight dog harness, your senior dog can take several brief walks each day.
Comfort and fit are key
"First, make sure the harness is comfortable for your dog to wear," says Dr. Melissa M. Brock, a board-certified veterinarian and canine welfare expert at Pango Pets. "It should not rub against [your dog's] skin or chafe. There should not be any pressure points where the straps meet to keep them from rubbing against each other."
As for fit, the harness you select for your dog should be adjustable in more than one area. The best dog harnesses have four points of adjustment—two adjustment areas on the chest strap and two adjustment areas on the neck strap. This allows you to create a custom harness fit based on your dog's unique size and shape.
Taking the above points into account, DJANGO dog harnesses were designed intentionally with a deep, padded, and lightweight body that will not rub your arthritic dog's skin the wrong way or cause chafing behind the front arms. DJANGO's custom webbing is also a super soft weave that is comfortable, light, and flexible against the body. As for adjustment, all DJANGO dog harnesses have four adjustment points (two on the neck strap and two on the chest strap), ensuring every arthritic dog has a proper and comfortable fit.
Pain-free and easy on and off
"Placing the harness on your dog and removing it may aggravate a previous injury like canine arthritis," Dr. Ireifej says. Most senior dogs have arthritis in their shoulders, hips, elbows, and knees. For this reason, it is important to find a high quality dog harness that can be put on and taken off without affecting your dog's sensitive areas and lifting his front paws and legs.
DJANGO dog harnesses have a chest strap with two side-release buckles—one on each side of the body. After you slide the harness over your pup's head, gently move the chest straps under your pup's chest and behind the front legs; then clip each chest strap to its respective buckle. This design prevents you from having to lift your dog's stiff, achy, or swollen front legs. Removing the DJANGO dog harness is equally easy and pain free for arthritic canines with pain or lameness. Just undo the chest strap's side release buckles, and gently pull the harness over your dog's head. Again, there is no need to lift your dog's front legs or bother his shoulders.
Prevent pulling
If your dog is an aggressive puller, Dr. Ireifej says "a back clip harness may worsen his arthritis" since it will encourage more pulling. If this sounds like your dog, consider investing in a high quality no pull dog harness. 
DJANGO's Tahoe No Pull Dog Harness is the best dog harness for aggressive walkers and pullers and features both front and back D-rings for leash attachment. To discourage your arthritic dog from pulling, attach your dog leash to the front clip. If you use a double ended leash, clip your leash to both Tahoe No Pull Dog Harness D-rings. This walking style will put even pressure on your pooch's chest and back.
Red for Ruby! Beautiful senior dachshund Ruby of @miamiglen is wearing her DJANGO Adventure Dog Harness in the color Crimson Red.
WHERE CAN I BUY DJANGO DOG HARNESSES?
Shop DJANGO harnesses at djangobrand.com.
DJANGO is a USA small business founded in the Pacific Northwest and grown in New York City and New Jersey. We design high quality outdoor gear for small and medium sized adventure dogs and their humans. Our mission is to inspire you and your dog to enjoy the great outdoors together more often.
You can also find DJANGO dog harnesses on Amazon and at various pet boutiques throughout the United States, Canada, the European Union, and the United Kingdom. DJANGO's Amazon storefront is amazon.com/django. If you prefer to shop local and in-person, ask your local retailers if they carry DJANGO dog harnesses.
SHOULD MY SENIOR DOG WITH ARTHRITIS EXERCISE? 
Daily walks are crucial for senior dogs with arthritis. They help keep your pup's muscles, joints, and ligaments strong and flexible. Regular leash walks will deepen your bond with your dog. They also will decrease attention seeking-behaviors like biting.
Walking your arthritic dog too little can worsen his condition. On the other hand, walking and exercising him excessively can cause pain and damage to the joints. 
How long should you walk your arthritic dog? It depends on your dog's breed, age, abilities, and current medical conditions. Additionally, listen to your dog! Is he excited and happy to walk more than usual one morning? If yes, allow your dog to dictate the pace and distance that you walk (within reason, of course). If your dog seems more sluggish and lazy than usual, however, there is no need to push your pup. Give him the morning or afternoon off.
If you have specific questions about your arthritic dog's exercise needs and abilities, please consult your dog's veterinarian. 
And remember—every dog and breed is different. "Some dogs, such as Labrador retrievers, can ignore their own arthritic joint pain. Other breeds may be more in tune with their achy joints," says Dr. Shadi Ireifej, founder of VetTriage. Generally speaking, small and/or athletic dogs can handle more exercise than flat-faced brachycephalic breeds, such as French bulldogs and Boston terriers, that are not built to exercise as rigorously.
EXTRA RESOURCES
2 Responses
Leave a comment
Comments will be approved before showing up.