23 Best Gift Ideas for People Who Just Really Love Beagles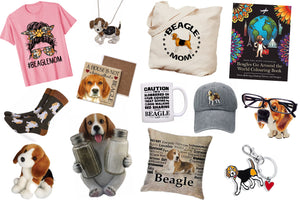 Disclaimer: Some of the links below are affiliate links. This means if you purchase an item, we may receive an affiliate commission at no extra cost to you. We only recommend products we know and love, and all opinions expressed here are our own.
Beagles are sometimes called "a nose with feet." These scenthounds track down the things they like, and we are betting you do, too. Hunting for a meaningful beagle gift for your favorite beagle fan? 
We have rounded up 23 Beagle gift ideas guaranteed to make any beagle lover grin, even if that is you! We have included Beagle Gifts for Her, Beagle Gifts for Him, Beagle Gifts for Children, and Beagle Gifts for the Home. 
IN THIS POST:
BEAGLE GIFTS FOR HER 
BEAGLE GIFTS FOR HIM
BEAGLE GIFTS FOR CHILDREN
BEAGLE GIFTS FOR THE HOME
BEAGLE GIFTS FOR HER 

Designed by French Canadian-American artist Marc Tetro, this chrome-plated split keyring is a reminder that love is being owned by a Beagle. The tri-color Beagle charm is 2 inches long and 1 1/2 inches wide. It includes a snap hook and heart charm with a debossed signature. 
2. 'BEAGLE MOM' REUSABLE CANVAS TOTE BAG
This 'Beagle Mom' canvas tote bag says, "trendy" and "I love my beagle." The roomy, reusable shopping bag is available in 2 sizes and 15 designs.
If you are busy being a Beagle mom, DJANGO's Nolita Belt Bag will keep your keys, phone, wallet, earbuds, poop bags, or dog treats (nudge, nudge) all in one place. The modern and ultra-functional fanny pack features a water-resistant nylon exterior, a spacious main compartment, and 3 zipper pockets for safe stashing. It also has a secure key clip, 3 credit card slots, and a discreet built-in poop bag holder and dispenser. Designed for hands-free functionality, this luxe belt bag can be worn across your chest or waist. It comes in black, sand pink, and olive green. 
4. 'CRAZY BEAGLE LADY' COFFEE CUP
Rise and shine, Beagle moms! This funny 11-ounce white ceramic coffee cup reads: "Caution, I'm a slobbered-on, fur covered, treat giving, dog walking, bed-sharing, Crazy Beagle Lady." As you wake up with a cup of Joe, you can also bet your Beagle will be sniffing everything!
Beagle moms may have messy buns, but they are getting stuff done. This beagle tee for women comes in 10 bright colors, including lemon and grass green. So you will always look great taking a walk with your Beagle in any season.
6. PAMMYJ BEAGLE CHARM NECKLACE
Keep your Beagle close to your heart with this crystal necklace by PammyJ. The Beagle charm is 1 ⅛ inch wide by 7/8 inch tall. It features black, brown, and clear Swarovski crystals. It also has a 17.5-inch silvertone snake chain and a lobster claw clasp that easily opens and closes.
7. DJANGO WAXED CANVAS AND LEATHER DOG CARRIER BAG
Take your Beagle on everyday adventures with DJANGO's Waxed Canvas & Leather Pet Travel Tote. With over 200 4.5-star reviews on Amazon, it was picked as the "Best Overall Dog Carrying Bag" by Business Insider. The stylish open-ended pet tote features smooth leather handles with a snapping flap. Its sturdy footpad is enclosed in a cozy, machine-washable sherpa zip sleeve. DJANGO's dog carrier bag also includes 4 zipper pockets for storage. Pocket Beagles under 13 inches tall will need a medium. Regular Beagles between 13 and 15 inches will need a large.
8. BEAGLES GO AROUND THE WORLD COLORING BOOK
This hand-drawn beagle-themed coloring book will unleash your passion and creativity. It features Beagles in famous cities like London and New York, so you can travel around the world from the comfort of your couch. Each single-sided illustration is complex enough to offer stress relief but simple enough not to overwhelm tweens. Feel Happy Colouring also donates 10% of its sale price to a U.K. charity called Hearing Dogs for Deaf People.
BEAGLE GIFTS FOR HIM
Get it? They are both chart-toppers! Perfect for music-loving Beagle dads, this cotton-blend tee is a parody of the Beatle's famous Abbey Road album photo. The Beagle-themed shirt comes in 5 bold colors and is available in women's and youth sizes.
10. COLOR-CHANGING BEAGLE COFFEE MUG
This 11-ounce color-changing coffee cup is ideal for Beagle dads on the go. Cold drink? It turns black, and the Beagle falls asleep. Hot drink? It turns white while the Beagle catches a red and yellow ball. The outside bottom also features a dog's tongue that will elicit giggles from your littlest Beagle lovers. Handwash only.
11. DJANGO ADVENTURE DOG COLLECTION: MATCHING DOG HARNESS, DOG COLLAR, STANDARD ADVENTURE DOG LEASH, AND DOG WASTE BAG HOLDER

Persuade your stubborn scenthound to follow your orders (instead of his nose) with DJANGO's Adventure Dog Collection. The Adventure Bundle includes DJANGO'S 4.5-star rated Adventure Dog Harness and Adventure Dog Collar with an ID tag attachment and a high-density branded buckle for easy wear. This walk set also includes a classic Standard Adventure Dog Leash and an oversized Waste Bag Holder. Each item features rust-resistant, 100% solid brass hardware.
12. BEAGLE VINTAGE BASEBALL CAP
This vintage denim-style 'Prideful Beagle' baseball cap is essential to any Beagle dad's wardrobe. The 100% cotton hat features a silkscreen Beagle and an adjustable snapback rear closure that allows for a personalized fit.
13. GOOD LUCK BEAGLE DOG SOCKS
Here is a pair of Beagle socks to howl about. Made from 85% cotton, 10% polyester, and 5% spandex, they come low-to-mid calf. The dark gray-and-brown socks will add a touch of intrigue and charm to any Beagle dad's casual business attire.
BEAGLE GIFTS FOR CHILDREN
14. 'WHAT PART OF AROOO DIDN'T YOU UNDERSTAND!?!' T-SHIRT
What is comfy and shows just how adorable Beagles can be? This comical 'What part of AROOO didn't you understand?" cotton-blend tee, of course. It is available in 3 sizes and 9 cool colors, including this popular olive green shade.
15. CUTE VINYL BEAGLE STICKERS - 24 PACK
Is your child a wannabe vet who listens to his stuffed animal's heartbeat with a toy stethoscope? Or is his new best friend a merry and fun-loving Beagle? Your littlest beagle fan will love these colorful stickers. The vinyl Beagle stickers in this 24-pack are waterproof, sun-resistant, and anti-wrinkle. Your kid can stick them on his tablet, phone, or acoustic guitar, and they will not leave any residue when he removes them.
16. BEAGLE DOG BREED LOVERS NOVELTY EYEGLASS HOLDER
Never hunt for your lost glasses again with this hand-painted, 4.5-inch Beagle figurine guarding them for you.
17. DOUGLAS BALTHEZAR BEAGLE DOG PLUSH STUFFED ANIMAL
All Beagles are cute, and this 12-inch stuffed animal is no exception. Balthezar the Beagle has a cuddly tri-color coat and resilient polyester fill that will withstand hours of play. His big, brown eyes and long floppy ears will also ignite your dog-loving child's imagination.
BEAGLE GIFTS FOR THE HOME
18. BEAGLE SALT AND PEPPER SHAKER SET
Finally, a Beagle that won't beg for scraps at the dinner table! This hand-painted resin Beagle figure holds two removable glass containers for you to fill with salt and pepper.
19. 'BEAGLE JAZZ BAR' METAL WALL SIGN
No, Beagles are not all doe eyes and floppy ears. These hunting dogs will not hesitate to 'sing' if someone plays the tuba, piano, or guitar. Luckily, this 8-by-12 inch 'Beagle Jazz Bar' wall sign will let everyone know to expect free live music daily. 
20. BEAGLE WALL ORGANIZER & HOOKS
Spruce up your entryway with this beagle-themed key hook and keychain holder. It has 5 rounded hooks for hanging your keys, leashes, waste bag holders, necklaces, medals, or other small items. The powder-coated black wall organizer is available in two sizes. It also includes matching black screws for easy wall mounting.
21. FLEECE BEAGLE THROW BLANKET
Get your snuggle on with this fleece throw blanket. Available in 4 sizes, it features a pack of beagles on one side and an ultra-soft white polyester sherpa on the other. Then just wait for your Beagle to burrow under this fluffy blanket with you. 
 22. 'A HOUSE ISN'T A HOME WITHOUT A BEAGLE' COASTER - SET OF FOUR
These 4-by-4 inch stone coasters will keep your Beagle-loving friends' tables scratch- and stain-free. It will also remind their guests that 'A house isn't a home without a Beagle.'
More Beagles to cuddle! This 18-by-18 inch pillow cover features a tri-color Beagle and breed traits (e.g., brave, intelligent, and lovable) on both sides. The delightful design is printed on a velvety soft and durable polyester blend that will not shrink. 
YOU MAY ALSO BE INTERESTED IN
1 Response
Leave a comment
Comments will be approved before showing up.